Illinois went live with legal sports betting in March of 2020, and the industry has exploded. Three years and over $28 billion in handle later, The Prairie State is one of the top markets in the country for online sports betting.
Below are our staff's picks for the best sports bars for betting in Illinois. These are a great place to meet buddies, watch the Cubs, Bears, or the Bulls. You can also track your wagers as the games conclude.
Best Sports Bars Near You:
Best North Chicago Area Sports Bars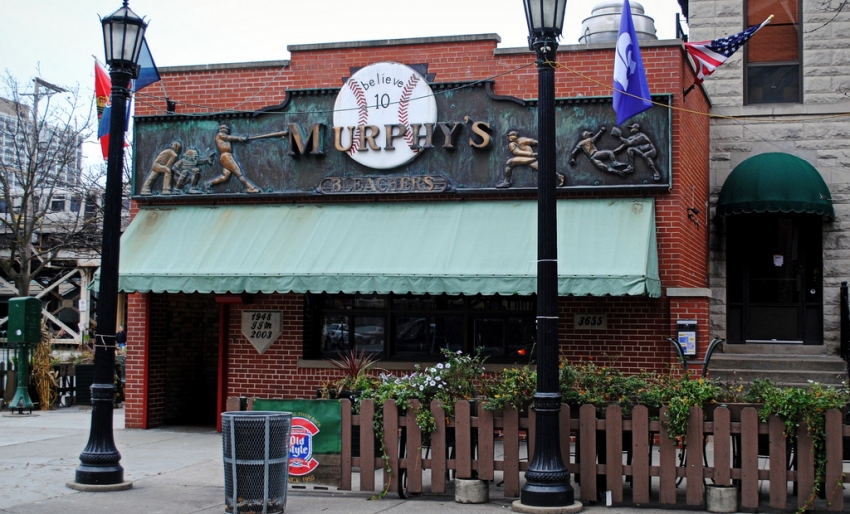 Murphy's Bleachers
3655 N Sheffield Ave, Chicago, IL 60613

Best Dish: BBQ Ribs
A Wrigleyville tradition, Murphy's Bleachers can be found in the heart of Chicago's Wrigleyville. It is just a stone's throw away from the iconic Wrigley Field. It has been a haven for the hardcore Cubs fans and game-day enthusiasts for over four decades.
An authentic Chicago experience since 1980. Murphy's Bleachers is the ultimate game day spot. The pub's proximity to Wrigley Field makes it the perfect pre-game and post-game hangout, as well as a fun place to meet even when baseball season is over.
Murphy's Bleachers has the typical bar menu favorites, like mozzarella sticks, golden onion rings, and quesadillas. They also have made-from-scratch pizzas.
But the thing I wanted to try the most was the award-winning ribs, an absolute masterpiece that has won Best Ribs at RibFest Chicago six times. The key must be the Irish whiskey BBQ sauce! It is served with a side of slaw and fries. The food is delicious, but you want to know the best part? It's all reasonably priced.
What is a sports pub without beer? Well, Murphy's Bleachers boasts an impressive array of draft craft beers, and here's the best part – they are all $6. Try some of the best local brews while enjoying the game, or just taking in the ambiance that can only be found in a true Chicago pub. Murphy's Bleachers doesn't just serve a wide variety of beers, they all have an impressive selection of whiskeys to try. The best part is all whiskey, bourbon and scotch shots are $11.
Murphy's Bleachers is a piece of the Chicago baseball legacy. It is a celebration of good times that can be shared among friends and fellow baseball fans. So, if you are looking for a place watch a Cubs game or simply looking for a genuine Chicago experience, Murphy's Bleachers is where the place to go.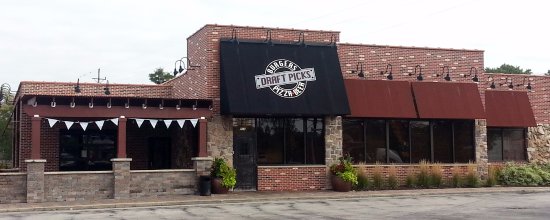 Draft Picks Bar
912 Busse Rd, Mt Prospect, IL 60056

Best Dish: Hangover Burger
If you are in Mt. Prospect, Illinois you need to check out Draft Picks Bar. Draft Picks' logo says it all: "Guard your beer. Tackle your food." It isn't just an ordinary sports bar, it's a place to enjoy sports, enjoy great food, have a cold beer, and have fun with friends.
Draft Picks' menu boasts typical bar food. But the jumbo wings caught my eye and I had to give them a try. The wings are coated in your choice of sauces that span the flavor spectrum – from Tangy Habanero to BBQ, and everything in between. The burger menu is something special to mention.
There is the Cubbie Blue Burger, a tribute to the hometown heroes. There is also the Texan Burger and the signature Draft Picks Burger. But the Hangover Burger, the ½ pound patty cooked to a perfect medium rare, with its bacon, cheese, grilled onion, jalapenos, and a fried egg was delicious!
When I asked what the restaurant is famous for, the quick response was the Broasted Chicken. It is a half-chicken breaded in their own secret recipe and served with a side of mashed potatoes, slaw, and garlic bread. It looked and smelled amazing. I will need to try that the next time I go back.
Draft Picks has some incredible daily specials. But perhaps the most legendary is the Sunday Special: $3 Burgers, $12.95 Broasted Chicken meal, $4 mimosas, $5 Bloody Mary's, and unbeatable beer specials. It's the perfect way to cap off your weekend or enjoy the football game.
Draft Picks Bar also has a daily $14 buckets of beer special. Enjoy your favorite ice-cold domestic beer in a convenient and cost-effective way. They also have draft beer specials that change daily.
Bannerman's Sports Grill
858 S, Illinois Rte 59, Bartlett, IL 60103

Best Dish: Wings
If you are a Chicago sports fan, you gotta give Bannerman's Sports Grill in Bartlett, IL, a try! If you're looking for a spot to satisfy your sports cravings and your appetite, look no further.
The menu is huge! The appetizer has a great selection of deep-fried goodness. I highly recommend the Bannerman's Basket; it has bit of everything: mozzarella sticks, onion rings, mac & cheese bites, fried pickles, jalapeno poppers and waffle fries.
The menu also has sandwiches, wraps, tacos, burritos, flatbreads, pizza, and burgers. And speaking of burgers, their Mon-Fri lunch special featuring a burger or mini-gyro with chips for just $2.99 is reason enough to give Bannerman's a try. But you will soon find more reasons to come back.
One reason, the wings. Bannerman's isn't playing around when it comes to these bad boys. They are huge and juicy. With 11 different sauces, if you like them hot and fiery or sweet and tangy, they've got a sauce for you. I did the sweet Thai chili sauce. So incredibly tasty. I also had to give the Bannerman's Famous Broasted Chicken a try. Wow! No wonder it is "famous" – crispy, juicy, and full of flavor.
A sports bar isn't a sports bar without decent drink menu, and Bannerman's has that. Fun shots, interesting margaritas, and incredible selection of martinis, it was hard to know where to start or where to finish. With over 20 draft beers and a whopping 30+ canned or bottled options, including a lineup of craft and local beers there is a brew for everyone to enjoy.
Bannerman's has some killer specials. Mondays is $9 Wraps, Tuesdays is $9 Burgers, Thursday is half price Pizza, but the best special must be Wing Wednesday, where you can score their delicious 10 wings for just $9. There are also some great drink and beer specials every night.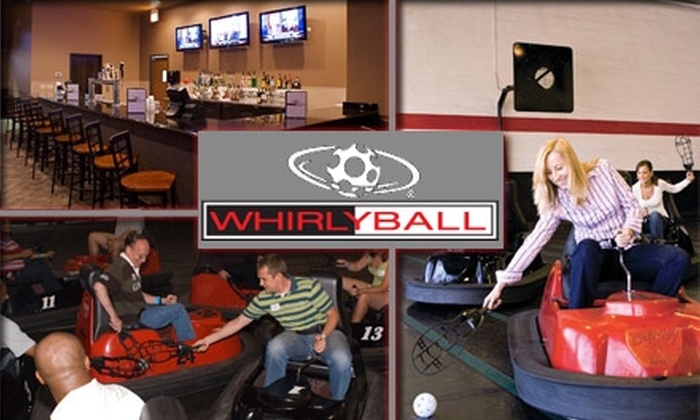 WhirlyBall
1825 W Webster Ave, Chicago, IL 60614

Best Dish: Pizza
Whirlyball – a place where fun, games, food, and drink collide. A great place to take a date or do a group outing. Laser Tag, Bowling, and Whirlyball under one roof to create an unforgettable experience. What is Whirlyball you ask? Well, imagine lacrosse, hockey, basketball, and bumper cars all wrapped into one. You have got to see it for yourself.
After game, it was time to eat and as a group of 5 we opted to do shareable food, and there is plenty to choose from. They have an extensive pizza menu. We had the Caprese Pizza and the Chicken Bacon Ranch Pizza, both were delicious and plenty for the 5 of us to share and save room for the Boozy Brownie Extreme. A warm, gooey brownie, generously drizzled with fudge and Godiva liquor, topped with vanilla ice cream, Oreo cookies and sprinkles. But, for an added touch of fun, a sparkler.
While we were sharing food, a few of us decided to share the Whirly Punch – a colossal bowl full of booze and juice that was large enough for 3 of us to enjoy. The rest of the gang opted for beer and there was plenty for them to choose from with an impressive selection of 24 craft beers on tap. I don't think they tried the same beer twice.
If you are looking for an unforgettable group outing or a fun date idea, you must give Whirlyball a try.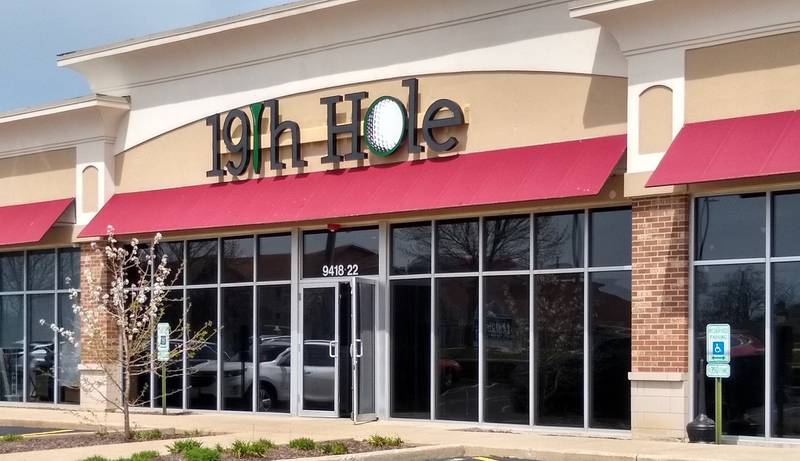 19th Hole
9418 W 191st St, Mokena, IL 60448

Best Dish: Tater Barrels
If you're a golfer, a sports enthusiast, or just want to have a great time, the 19th Hole in Mokena, IL, is a must try for you! Located at 9418 W 191st St, it is a unique dining experience.
With several Full Swing golf simulators bays you can play up to 90 different golf courses without worrying about the weather or the time of year. Rain or shine, heat or cold, you can play year-round and never leave Illinois.
But wait, there's more – 19th Hole isn't just about golf. You can also play other games like bocce, hockey, soccer, or even zombie dodgeball. Yes, you read that right – zombie dodgeball! The diversity of activities ensures that everyone in your group will find something they love.
You can also eat some tasty food while you play. We started with the Tater Barrels, they are oversized tots stuffed with a melty cheddar cheese, crispy bacon, sour cream, chives. They were delicious.
We also tried the Beer Charcuterie A jumbo pretzel, stuffed with an assortment of salami, gouda, mini pickles, spicy mustard, and beer cheese. It took a jumbo pretzel to a whole new level. For dinner we shared Nashville Hot Chicken and Waffles. Crispy, spicy, and tasty, this dish took comfort food to a whole new level. It was savory and sweet and had that Nashville kick.
I highly recommend 19th Hole for everyone from the avid golfer to those just looking for a great night out with friends and family.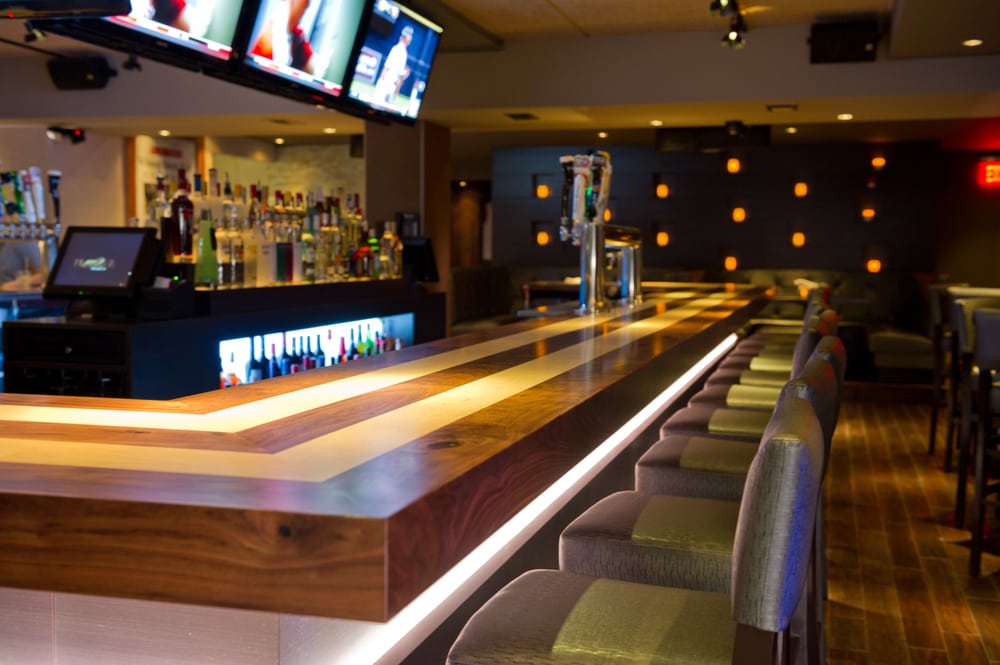 Play Book Sports Bar
6913 N Milwaukee Ave, Niles, IL 60714

Best Dish: Super Sampler
Play Book Sports Bar, located at 6913 North Milwaukee Ave in Niles, IL, is the place to go for those looking for a traditional sports bar experience. With over 30 flat screen televisions, you won't miss a moment of the action while enjoying great food and drinks.
One of my favorite parts of Play Book is the Players' Lounge, you can try your luck on slot machines and enjoy drinks from the dedicated bar. It is a little bit of Vegas right here in Illinois.
When it comes to food, the Play Book menu does not disappoint. I personally recommend the Super Sampler from their appetizer menu. It has a little bit of everything. It has tortilla chips, spinach and artichoke dip, boneless wings, chicken quesadilla, mozzarella sticks, boom-boom sliders, waffle fries, and egg rolls, complete with a variety of sauces. It is perfect for sharing among three or more people.
Their extensive menu covers all the bases, offering burgers, sandwiches, tacos, sliders, wraps, and wings. No matter your craving, you are likely to find something that hits the spot.
To be honest, I found the beer menu to be a bit on the basic side; however, the cocktail menu was fun and included a large martini section, to which I am partial. They also offered a wide selection of whiskeys if that is more your style.
Best South Chicago Area Sports Bars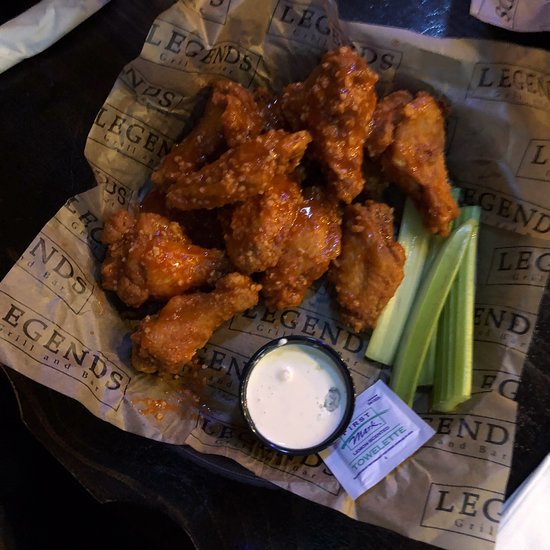 Legends Grill and Bar
9710 191st St, Mokena, IL 60448

Best Dish: Jumbo Shrimp
Legends Grill and Bar is worth the trip to try their famous Jumbo Wings and Jumbo Shrimp, and I must say, they are famous for a reason. With an array of 11 diverse sauces and 5 distinct rubs to choose from, it was hard to choose which I wanted to try.
I went for the Jumbo Wings, opting for the Spicy Garlic sauce. Jumbo is an understatement. These days when you order wings, they are so scrawny. Not at Legends, these were HUGE! And perfectly sauced. The spicy garlic was delicious. I also gave the Jumbo Shrimp a try. I chose the Old-Bay rub for a classic touch. The shrimp were succulent, and the rub added a delightful kick. I never would have thought to put Old-Bay on shrimp.
What truly sets Legends Grill and Bar apart are their unbeatable daily specials. Starting the week right, on Monday it is 1/2 price apps. Tuesdays are $2 Tacos, and Wednesdays boast 99-cent wings and shrimp, which I will certainly return for.
Thursdays are $9 burgers, while Fridays serve up a fish fry. As for the weekends, Saturdays and Sunday's feature changing specials that keep you coming back for more surprises.
The drink selection is equally impressive. The martini menu caught my eye. Nearly half a dozen different to try. And for the beer enthusiasts, Legends doesn't disappoint either. With over 25 tap beers that span from macro brews to local craft selections, you're sure to find a brew for you.