Find the details for our current OwnersBox bonus offer for the 2022 MLB season in the table below. This promotion will only be available for a limited time and given it is one of the top offers in DFS, we don't see it lasting much longer.
| | |
| --- | --- |
| Promo Code | EWB |
| Offer | 100% Deposit Bonus, Up to $500 |
| Terms | Offer restricted to new players in eligible states. |
| Last Verified | July 1, 2022 |
The current $500 deposit bonus with a $5 registration bonus from OwnersBox is one of the best new player offers in DFS for several reasons. Here are three reasons to jump on our OwnersBox referral code offer today:
The $5 registration bonus is the only non-deposit promo code offer available in daily fantasy sports at this point of the 2022 MLB season.
The $500 deposit bonus is not only equal to the current FanDuel DFS offer, but is a 100% deposit match offer. The current FanDuel promo code offer is a 20% deposit match offer.
The funds received when using our referral code will last longer on OwnersBox. With less experts, less rake, and smaller contests, this is a guarantee.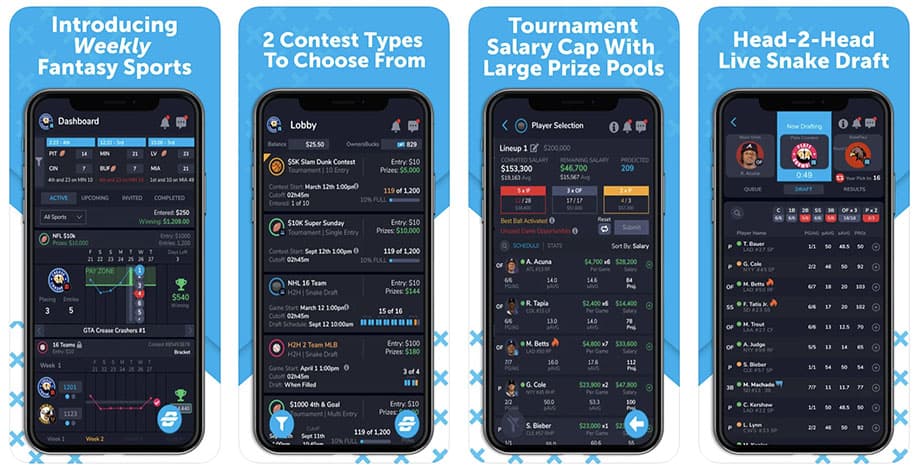 What is OwnersBox?
Many sports fans are reluctant to sign up for a full season of fantasy sports because a several months-long commitment isn't feasible for them. This is why Daily Fantasy Sports have risen in popularity over the last few years. However, some sports fans aren't interested in DFS because of its short-term nature.
So if season-long fantasy sports are too long and DFS is too short, what's a sports fan to do? Check out OwnersBox, which is the perfect mix since it focuses on weekly results.
OwnersBox is a sports-tech company that offers weekly fantasy contests in all four of the major sports (football, baseball, basketball, hockey). OwnersBox was founded on the premise that the average sports fan doesn't want the grind of a full season of fantasy sports or the quick turnaround of Daily Fantasy Sports.
The goal of OwnersBox is to take the positive parts of both season-long and DFS but leave out the annoying parts that turn off the average sports fan. Have more questions about OwnersBox? This quick review guide will help you decide if OwnersBox is the right choice for your fantasy sports needs.
How does OwnersBox work?
Visit the OwnersBox Sign-Up Link
Type in all the needed information (Note: you must be 18 or over in most states; 19 or over in AL and NE; 21 or over in MA)
Pick your sport
Decide between a Tournament or a Head-2-Head Contest
Draft your team or build your 10-player roster while staying under the set salary cap
Does OwnersBox offer any sign-up bonuses or promotions?
Yes, OwnersBox currently offers two different sign-up bonuses. Every player who signs up for a new account automatically receives a free $5. This promo doesn't require a code or even a deposit.
The more lucrative bonus is the Deposit Match bonus. After signing up for your account, make your first deposit. OwnersBox will give you a 100% match of up to $500.
This is a fantastic way to increase your fantasy sports budget and it allows your money to stretch even further. Note that the bonus money is issued as site credit known as OwnersBucks. The OwnersBucks convert into real money each time you enter a paid contest. There is also no promo code needed to get this nice bonus.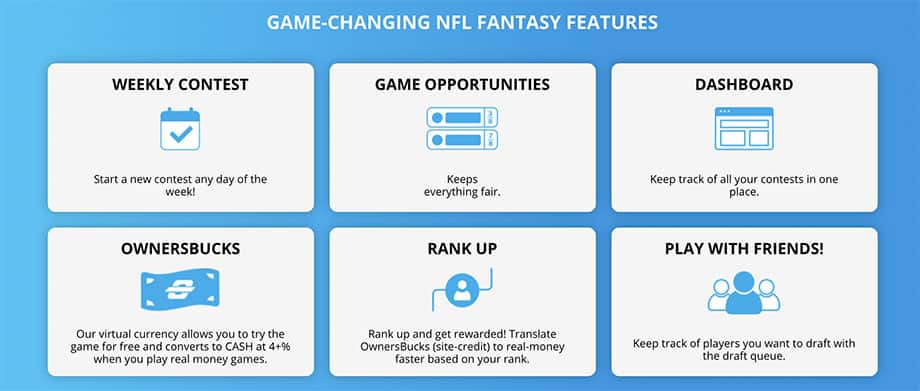 Pros of OwnersBox
OwnersBox does quite a few things well with their fantasy sports website. Here is a summary of where OwnersBox excels:
Weekly Contests: OwnersBox hits a home run by offering weekly contests. Hats off to their founders for recognizing the need for weekly fantasy sports.
Nice Bonuses: The $5 bonus just for getting an account is a nice gesture. The 100% deposit match bonus up to $500 is a big benefit to serious fantasy players.
Variety: OwnersBox offers fantasy players a ton of variety. It's nice to get to choose from a tournament or a head-2-head format. It's also a plus to offer users the chance to compete in public contests or private ones with just their friends. Don't forget that OwnersBox also lets you choose from either a Live draft or an automated draft.
Easy To Use App: The OwnersBox app is available on all iOS and Android devices. While the amount of info on the app can be overwhelming at first, there are helpful pop-up hints to guide users in the right direction.
Rewarding Refer-A-Friend Program: OwnersBox rewards its patrons who help them bring in more business. There are three different tiers to make the referral program even more advantageous for players.
Cons of OwnersBox
No fantasy sports site is perfect and it's impossible to please all fantasy players. Here are a couple of things that OwnersBox could improve on in the future. Keep in mind that OwnersBox has only been around a short while and that they are likely to improve on these two aspects.
Confusing OwnersBucks Program: The OwnersBucks program is a nice gesture but it's extremely complicated to understand. For example, customers do not receive all of their first deposit match bonus as real money. The bonus is given in OwnersBucks and then converted into real money on a weird percentage scale as paid contests are entered. The conversion rate is anywhere from 4% to 5.75% depending on how many fantasy contests the customer has entered.
Lack of Cashier Options: Currently, the only way to deposit or withdraw funds is through a debit or credit card or your bank account. While both of these options work just fine, it would be nice if OwnersBox had more than just two options.
We confidently give OwnersBox a high rating of 4.6 out of 5 stars, making them one of the highest-rated new DFS apps on the market. OwnersBox saw a niche that needed to be fulfilled in the fantasy sports marketplace and created a great product in response to it.
The majority of sports fans don't want to play season-long fantasy sports or even the daily grind of DFS. Most players just want to make the sports they love even more entertaining by having some weekly skin in the game. We expect big things from OwnersBox in the future!