What is Betano All About?
If you're a fan of sports and casino games, we think you'll enjoy Betano. They're a powerhouse of gaming and sports betting options, with an impressive selection of both excellent casino games and sporting events available to bet on. 
Betano is all about delivering a quality betting experience. They've got a diverse range of sports and events to bet on - everything from football and basketball to tennis and esports. Their platform is user-friendly, making it a breeze for both novices and experienced bettors to place their wagers.
From the moment you go to their site or the Betano app, everything is designed with the customer in mind. They have an intuitive design, making it easy to find what you're looking for. To be honest, we were pleased with what we saw the first time we logged in.
But Betano isn't just about sports betting. They've also got an impressive online casino packed with thrilling games that'll keep you entertained for hours on end. From slots and table games to live dealer options, it feels like there's no end to the options.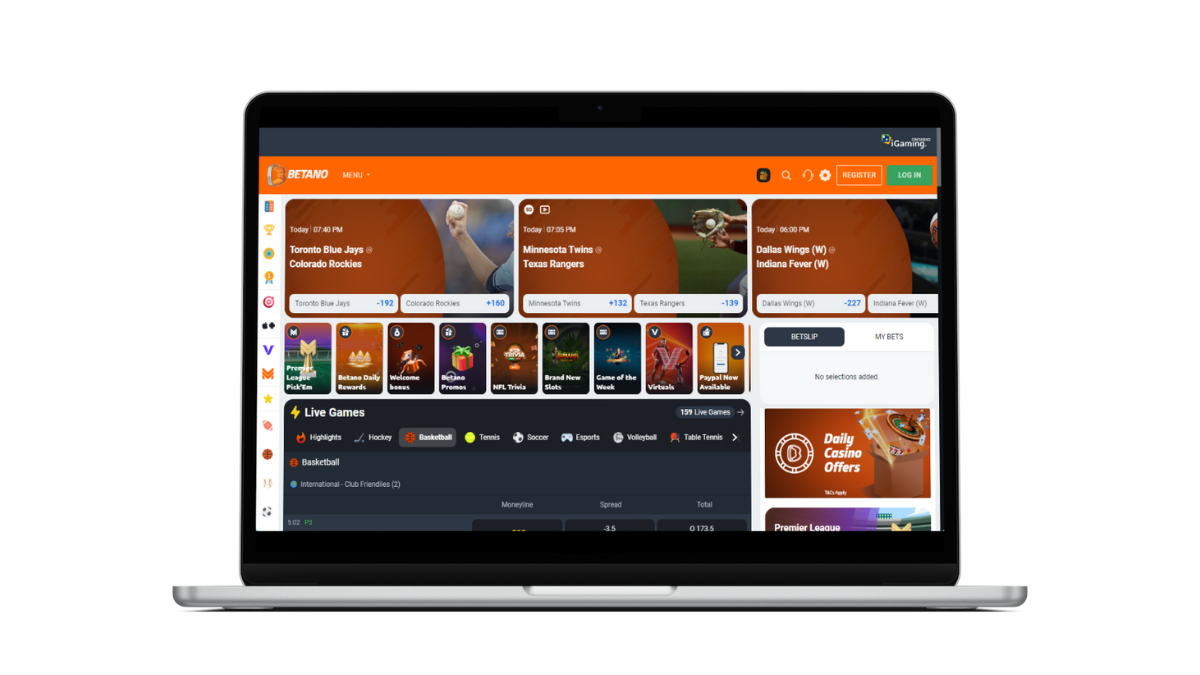 Betano Betting Markets
One thing that stands out about Betano is its betting markets. They've got everything from football and tennis to esports and horse racing, so you'll never be short on options. 
When we were testing Betano, we were thrilled to see all of the major sports leagues as well as the smaller, lesser-known leagues and games. 
For example, when checking out the baseball games, they had typical MLB games but also the Chinese Professional Baseball League. Want to bet on the Toronto Blue Jays or even the Fubon Guardians? Betano has both. This is a great example of how Betano's selection of games and sports goes beyond the typical mainstays.
Taking their betting markets even further, their eSports selection is like nothing we've seen. You can place live bets on the most popular games like League of Legends, Counter-Strike: Global Offensive, and Dota 2. 
The selection of betting markets at Betano is impressive, and they're constantly adding more to their lineup. 
Lines & Juice
As if their betting markets weren't enough for you, Betano also has great lines and juice. If you've read our other reviews, you'll know we like to get into the lines. We think many sports bettors glaze over the juice and lines, but it's so important to their bankroll.
Fortunately, Betano's lines are competitive with other top sportsbooks, and they update them regularly so you can get the most up-to-date information on your bets. 
The best thing about Betano's lines is that they're very fair — they don't have any hidden fees or costs attached to them like some of the other major online sportsbooks.
To compare how their lines look, we noted that Betano has the Kansas City Chiefs as favorites over the Detroit Lions with -111 odds. However, when you look at competing sportsbooks like DraftKings, they have the Chiefs at -112. 
On the surface, that might not seem like a big difference, but when it comes to betting, this can make a huge impact. This is just one example of how Betano's lines are much more competitive than the other sportsbooks.
Sure, some games weren't much different than what you'd find at other sportsbooks, but Betano definitely had a few surprises. This shows how competitive their lines are and how they're always looking for ways to make your bets more profitable.
Overall Gameplay
Now that you know which markets Betano covers and how competitive their lines are, let's talk about the overall gameplay. 
It's worth mentioning that Betano does have Android and iOS apps; however, they have several different apps for each country they operate in. You'll have to find the Ontario version of the app and download it.
On top of that, the Android version is not in the Google Play Store. You have to download the app from the Betano website and install it from there. It's a bit more cumbersome, but it's still worth the effort.
Once you're in, though, Betano provides a smooth and enjoyable experience. They make it easy to navigate and quickly find exactly what you want. Plus, deposits are quick and secure - no waiting involved. 
Whether you're placing your bets from the website or the Betano mobile app, the overall process is painless and stress-free. And since they have such competitive lines, you don't have to worry about feeling like you got a bad deal afterward.
One thing we liked about the user experience was how easy it was to find the games we wanted. Up front, they list the major sports like football, basketball, and baseball, making it simple to find what you're looking for.
Taking that a step further, they have live games, top games, and smart picks on the home screen. It's super simple to find the game you want and get betting in no time.
Compared to some of the other major online sportsbooks, we think Betano has a much smoother overall experience. Of course, each sports bettor will have their own opinion, but we think it's worth trying Betano out for yourself.
Get Rewarded For Betting and Referring Friends
Even if you're not a fan of all the betting markets and don't like low juice, at the very least, you can get rewarded for betting and referring friends. 
Betano has an awesome loyalty program that gives you points every time you place a bet. With these reward points, you can get extra spins in the Betano Casino (more on that in a minute) or even bet credits. So it pays to stick around and play for a while.
In addition to their excellent rewards program, they also have a great referral program where you can get free bets for referring friends. It's simple — just share your unique friend code with someone, and you'll get rewarded instantly when they place their first bet.
No matter which way you look at it, there are plenty of rewards up for grabs in the Betano loyalty program.
Don't Forget About the Betano Casino Games
We've spent a lot of time discussing the sportsbook side of the house. Frankly, we're big fans of it, but we'd be remiss if we didn't talk about the Betano Casino. 
Like their sportsbook, they have hundreds of options for casino games. From slots to table games and, of course, their live casino, there's something for the style of gambler.
Play Online Slots at Betano
When it comes to their online casino, the Betano slot selection really stands out. They have literally hundreds of games you can choose from. 
Whether you like the classics such as Blazin' Hot 7s, 88 Fortunes Megaways, or Starburst, or something more modern like Betano Bonanza or Tiki Tiki Boom, they have it all. 
Not to mention, if you're a fan of progressive jackpots, Betano has those, too. Some of their most popular games include Buffalo Blitz and Age of Gods: God of Storms. And with the chance to win millions on any given spin, how can you say no to that?
Live Dealer Casino Options

Not everyone loves slot machines, which is why Betano also has a live casino. Here, you can play games like Live Roulette (we love playing Betano Ontario Roulette), Live Blackjack, various Live Game Shows, and more in real time with actual dealers. 
It's the perfect way to get that Vegas feeling without having to leave home. You'll find all of your favorite classic casino table games as well as some unique variations like Rugby Fever Roulette and Jumanji. 
All-in-all, it's one of the most impressive collections of live betting we've found. We didn't count all the games, but it appears Betano is shy of 1,000 live dealer games.
Virtual Games

Their virtual games are probably the wildest assortment of games you can find in the Betano casino. These are essentially simulated races and sports events that happen instantly. 
Betano has everything from horse racing to basketball, football, tennis, and even snooker. All you have to do is pick your game and make the bet - each event starts in mere minutes.
We watched a virtual game between the Orlando Magic and the Philadelphia 76ers and were quite impressed with how realistic it was. It's fun to test your predictions in an environment that looks and feels as authentic as real sports.
Marble racing... Seriously. We bet on marble racing. You can choose a color and watch the marbles travel around a track. It's silly but oddly satisfying.
Overall, Betano offers an impressive selection of casino games for all types of players - no matter what your style may be. And with their rewards program, you get more bang for your buck.
Betano Sportsbook FAQs
Still in the air as to whether Betano is right for you? Don't worry; we've got a few useful answers to the most commonly asked questions. 
Is Betano legit?
Absolutely! Betano is a fully licensed and regulated online sportsbook with years of experience in the industry. They are also audited regularly by third-party organizations to ensure fairness for all players.
What countries is Betano legal in?
What makes Betano different than many other sportsbooks is all of the countries they operate in. Betano operates in Portugal, Romania, Germany, Bulgaria, the Czech Republic, Chile, Peru, Ecuador, Canada, Nigeria, Greece, and Cyprus.
Does Betano have a mobile app?
Yes! Betano has an excellent mobile app available for both iOS and Android devices. You can download it directly from the website or in the Apple App Store.
What types of sports can I bet on?
At Betano, you can find lines for all the major sports like football, basketball, baseball, hockey, golf, and more. They also have markets for obscure sports such as MMA, Aussie Rules Football, and eSports. It's one of the biggest collections of betting markets we've seen.
Can I play casino games at Betano?
Yes, you can play thousands of online casino games at Betano. They have hundreds of slot machines, a full suite of table games, live dealer casinos, and even virtual sports. With so many options, it's hard not to find something you like. But we always recommend trying various games to see how you like them.
Betano Review Summary
What we love about Betano is that there's something for every type of sports bettor and gambler. From their sportsbook with a huge selection of betting markets to their unmatched loyalty program and excellent casino games, you won't be disappointed. At least, we weren't.
Sure, Betano has all the usual features like cashouts, live streaming, and more. But what really stands out is how well they treat their customers. With great customer service and rewards programs, you'll feel like a valued player here. That's something that not every sportsbook can say these days.
When comparing Betano to other sports betting sites like DraftKings, FanDuel, BetMGM, and others, Betano stands out from the pack. Because of this, we're giving Betano 4.7 stars. Of course, there are some areas for improvement, but it's a solid choice for sports bettors in Ontario.