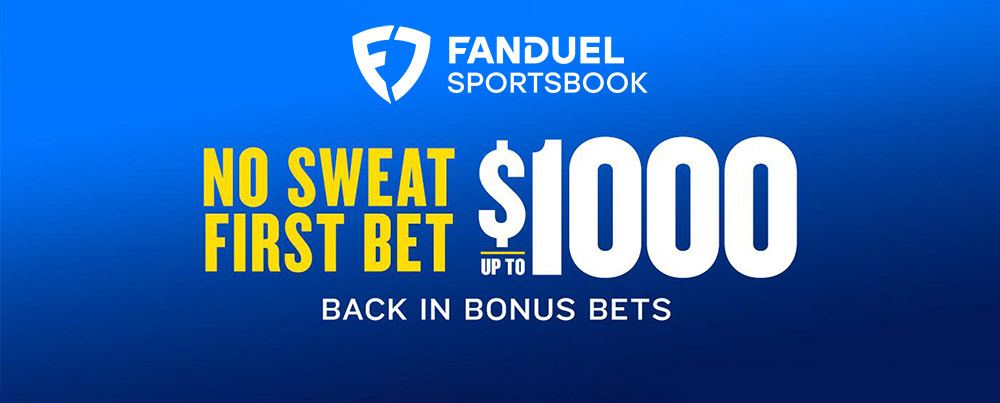 FanDuel Sportsbook Review Overview
FanDuel is one of the best online sports betting apps on the market. They have a wide variety of sports to bet on, including soccer, football, basketball, baseball, hockey, and more. Additionally, they offer live betting and prop bets on many games. Get your bet slip ready and let's take a deeper look at what FanDuel sportsbook offers compared to the rest of the industry.
FanDuel launched its sportsbook in September of 2018 with legalized online sports betting. They currently own the lion's share of the various US sports betting markets with a 37% market share. As of this September, FanDuel offers mobile sports betting on all major sports in 15 US states and retail sports betting in an additional 5 states. The FanDuel mobile app is also available in an additional 43 states.
As one of the biggest players in the industry, they follow all rules and regulations outlined by the gaming enforcement in each state.
With such a major stake in the betting markets, we thought we should provide an in-depth review of the FanDuel Sportsbook. After all, we provide commentary and reviews on a plethora of sports betting apps for daily fantasy sports, so why not provide a FanDuel review?
Below you will find our detailed analysis of its features, bonus bets, customer support and more. We'll help you determine if FanDuel Sportsbook offers the best gambling site in terms of all of the betting options out there.
What FanDuel Players are Saying About FanDuel's Online Sports Betting
An important aspect to consider when comparing sportsbooks are the reviews of their current client pool. We've looked over reviews and ratings for FanDuel Sportsbook across both the App Store, Play Store, and Trustpilot. Find the current FanDuel rating on each platform, as well as a compilation rating across all reviews, in the table below.
Our team picked through hundreds of FanDuel reviews to identify what current players think are the best and worst features of the sports betting app. We take a look at all of these FanDuel reviews with the assumption all of them have FanDuel accounts and have thoroughly used the betting app.
It is worth noting that online reviews tend to swing more negatively than positively by nature, so an aggregate rating of 4.6 is an overwhelmingly positive sentiment from existing players.
This tells us that FanDuel is providing a quality sports betting experience and meeting the needs of its current players. We also found that the majority of reviews mention the ease of use, quick withdrawal times, large selection of leagues and markets, and great customer service as some of the most liked features.
Player complaints were mostly centered around odds, limited bonuses, and lack of live streaming. 
Overall, FanDuel Sportsbook is a great option for both new and experienced sports bettors alike. The app offers a wide selection of markets, easy-to-use features, and solid customer support.
| | |
| --- | --- |
| Sportsbook App | FanDuel |
| App Store Rating | 4.8 (1,033,600 Reviews) |
| Play Store Rating | 4.7 (203,129 Reviews) |
| Trustpilot Rating | 1.7 (72 Reviews) |
| Total Reviews | 625,541 |
| Aggregate Rating | 4.75 |
| Best Feature | Availability (Currently 21 States) |
| Worst Feature | High Juice |
If you were wondering just how popular FanDuel is, these reviews should tell you everything you need to know. With over 1.2 million reviews across the App Store and Google Play Store, FanDuel is, by far, the most reviewed sports betting app available in the U.S. Despite having so many reviews, FanDuel Sportsbook has maintained an overall rating of 4.75.
FanDuel Lines and Juice
We are starting this FanDuel review on a low note with our grade for their lines and juice. The first thing of note here is that this is not a shot against the lines at FanDuel. They are fast, accurate, and update constantly throughout the day.
The issue for us here is the juice you have to pay to place a bet. Bettors will typically win more for placing the same bet on a sportsbook like PointsBet or BetMGM.
For instance, a $100 bet on the Chiefs for Super Bowl LVII would have paid $110 on PointsBet and only $90 at FanDuel. This is consistently an issue for both FanDuel and DraftKings.
These major players in the sports betting markets have the clout to demand higher juice and it appears they are doing so in this case.
Final rating for lines and juice at the FanDuel sportsbook.
For that reason, we have to knock down their rating from a 5.0 to 4.8. The lines are fast, but is the juice worth the squeeze?
While this is obviously a concern for both us and daily fantasy sports bettors, we'll dig into the app features, bonus offers, and support options to see if these limitations can be overcome.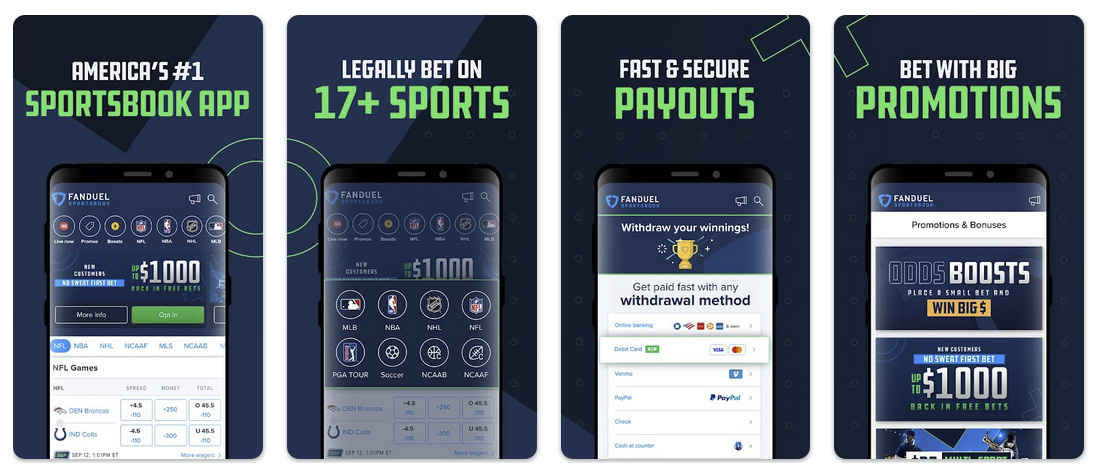 FanDuel Site and Mobile App Review
There is a reason FanDuel mobile app is wildly popular despite the unreasonable juice they charge their customers. They offer a superior sports betting website and app, loaded with features that makes betting a considerably more enjoyable experience.
The current version of both the Apple and Android apps is the second-highest rated sports betting app available in the app and play store.
We are especially impressed with the user experience when live betting. They offer a wide variety of betting options that update seamlessly throughout most professional and collegiate sporting events.
One of the best things about FanDuel's daily fantasy sports app is their in-game betting feature. This allows you to place bets in real time, as the action unfolds on the field.
Their live bet slip keeps track of all your open bets, so you can easily monitor your portfolio without navigating away from the game.
The website version also offers an impressive range of features and options, including advanced wagering tools and a user-friendly design to manage your FanDuel account. The cashier is intuitively laid out and deposits are often processed instantly whether through online bank transfer or credit card. Withdrawal times are also quite fast when compared to other sportsbooks, especially those based in the US.
Overall, FanDuel offers an impressive betting experience on both the mobile app and website. It's easy to navigate, intuitively laid out, and offers a great range of markets and features.
Whether you're looking for prop bets on college football or combination bets with competitive odds for an NFL game, their mobile betting experience makes it easy to place bets.
The only major downside is the high juice they charge their customers. If you are able to overlook this issue, then FanDuel may be a great option for your sports betting needs.
Final rating for the FanDuel sportsbook mobile app.
For this FanDuel review, we have to give the mobile app a solid 4.9 (out of 5). Their mobile app is just too clean and intuitive compared to other sportsbooks to not give them a near-perfect rating.
The one area we think FanDuel could improve is juice. Bettors will often find reduced juice on same game parlays and player props (when compared to FanDuel) at either DraftKings or BetRivers.
Review of Current FanDuel Promotions
FanDuel offers new players a wide variety of promotions including bonus bet offers, deposit bonus offers, and odds boosts. Their top promo code offer for new players this September is a $200 bonus (and $100 off Sunday Ticket) with any $5 wager! Place your bet and, win or lose, FanDuel will give you $200 in bonus bets!
This is a great FanDuel promo code considering their promos for fantasy sports aren't all that great. However, we'll cover that in just a minute.
There are multiple sportsbook offers available including a $10 bonus on Mondays when you deposit and wager $100. Don't pass up bonus money.
FanDuel DFS players are also eligible to receive a $10 site credit when they deposit $10 and enter any contest. So the next time you're at an online sportsbook, make sure you grab your $10 in site credit as you walk through the door! You can thank us later for the bonus bets, especially after your bet wins!
While the promotions at FanDuel are rarely the top in the popular betting markets, they do offer player-friendly terms for most of their one day fantasy sports offers. We always prefer a slightly smaller promotion that does not have an unreasonable rollover requirement attached to it.
Typically, any bonus bets or deposit match offers at FanDuel must be wagered through 1x before being eligible for a withdrawal. This is quite reasonable considering most online sportsbooks require anywhere from 5x to 10x rollovers for promotional offers. We've even seen some rollovers as high as 25x! Personally, I don't care how their competitive odds stack up if I need to rollover the winnings 25 times!
Final rating for promotions at the FanDuel sportsbook.
For this, we have to give them 4.9 out of 5.0 in this FanDuel review. Their promos and bonus bets might not be the best, but the terms are favorable for most sports fans.
FanDuel Customer Support
Customer support is one area we think FanDuel Sportsbook trails other US sportsbooks. While the majority of books operating in the US offer 24/7 support through chat or phone, FanDuel only offers a ticket system to their players.
While their team has a ridiculously fast response time to these tickets, it is of little help when you need immediate support before a game/line closes or during live betting. Imagine that you're trying to deposit money to jump into some fantasy football or horse racing that is about to start and you're having issues. It happens to new users all the time.
In these cases, it is especially important your sportsbook offers immediate support to address issues that may arise right before a line locks.
This ticket system isn't limited to the FanDuel sportsbook, either. Their online casino leverages the same system. That means, when you're browsing casino games and slot machines and you run into an issue and need to contact support, you have to create a ticket and wait. That's not what you want to see in an online casino.
We tend to prefer online sports betting sites that offer a chat or phone number so you can get real time support from a live representative. Especially for new users that aren't familiar with the FanDuel sportsbook.
Final rating for customer service at the FanDuel sportsbook.
For this, we have to give an overall score of 4.8 out of 5.0 in this FanDuel review for customer support options.
We understand a ticket system might be the only option when dealing with certain types of issues, but it is not ideal when you are trying to address an immediate issue. However, just because they have a ticket system, doesn't mean it's slow!
FanDuel Sportsbook Review Summary
FanDuel Sportsbook has the largest market share among all U.S. sportsbooks for a reason. Their FanDuel mobile app is second to none offering a wide variety of sports, every major league, live betting, same game parlays, and some of the top bonus offers in the industry.
Looking even closer at the FanDuel sportsbook app, it is secure, loads fast, has had zero down time over the past year, and is backed by one of the best customer support teams in the industry (although via a ticket system). It is hard to find a weakness when reviewing FanDuel Sportsbook, especially when comparing it to other sports betting apps. Heck, even the FanDuel casino is a leader in the market. So it goes without saying, when it comes to mobile betting compounded with a FanDuel promo, it's one of the best in the game.
Go with a sportsbook that has an established repuation.
So if you're wondering is FanDuel sportsbook legit? We tend to think so. They're one of the leading daily fantasy sportsbooks in the US and have a solid reputation for offering great value and customer service. As long as you can overlook their high juice when you're dropping spread bets on a sporting event, then the FanDuel sportsbook may be perfect for your sports betting needs.
Combine the quality of the FanDuel sportsbook with a top 3 DFS app and a top 3 casino app, and FanDuel checks all of the boxes. We give them a total grade of 4.9 out of 5 stars and highly recommend the sportsbooks to bettors in all markets.
We definitely recommend you join FanDuel yourself and see what all of the fuss is about. And as always, please practice responsible gaming.
FanDuel Review Summary

FanDuel is the most popular sportsbook in the US for a number of reasons. First, the app is arguably the best in the industry. It's user-friendly, loaded with features, and looks great. The only issue we found while creating this FanDuel review was a lack of promotions. That being said, this is a great app, with great odds, low juice, and plenty of live betting options.
Price: Free
Price Currency: USD
Application Category: Game
Pros
Top-rated mobile sportsbook and DFS apps.
Sportsbook is available in most U.S. sports betting markets.
Apps are easist to learn given how well they are built.
Cons
Lack of bonus options outside of no sweat bet promotions.
Smaller DFS contests than DraftKings.
21+ to wager. Please Gamble Responsibly. Gambling problem? Call 1-800-GAMBLER. Call 1-800-NEXT-STEP (AZ), 1-877-770-7867(CO), 1-800-522-4700 (KS, NV), 1-800-BETS-OFF (IA), 1-800-9-WITH-IT (IN), 1-877-770-STOP (7867) (LA), Call 1-800-327-5050 (MA), Call 1-800-GAMBLER or visit mdgamblinghelp.org (MD), 1-800-270-7117 for confidential help (MI). Call 877-8-HOPENY or text HOPENY (467369) (NY), 1-888-532-3500 (VA).