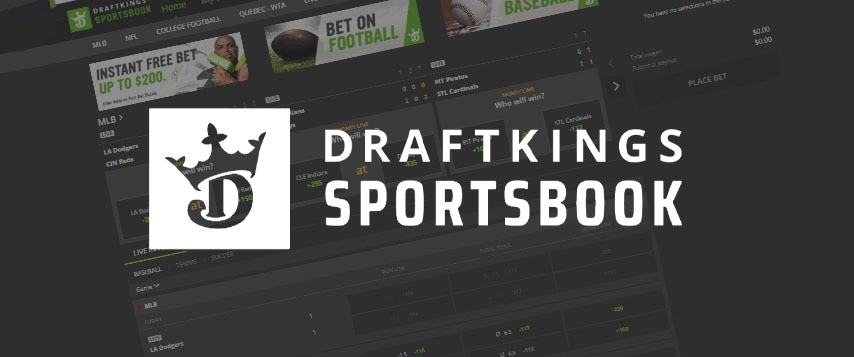 DraftKings Review Overview
By now, most US sports bettors are familiar with the name DraftKings. The company has been around since 2012, operating exclusively as a daily fantasy sports website prior to launching their sportsbook in 2019.
Having a player pool of millions of DFS players here in the US allowed both DraftKings and FanDuel to have a leg up on their competition once sports betting was officially legalized.
Today, DraftKings holds roughly a 27% share of the US sports betting market, but is the product worthy of that large of a chunk of the total handle here in the US? 
We will break down exactly that question in this DraftKings sportsbook review.
We're providing this DraftKings review in-depth look at their sportsbook product and all of their features in order to provide the best possible information to our readers.
We cover everything from bonus offers, promotions, wagering options, odds boosts, customer service, banking methods, loyalty programs, and more.
We even throw in a brief DraftKings FAQ at the end of this review for any outstanding questions you might have.It's a comprehensive look at the DraftKings sportsbook product, so let's dive in!
What DraftKings Customers are Saying
An important thing to look at when comparing sportsbooks are the opinions of their current customers. After all, they're the ones using the product on a daily basis and they have the best insight into how good or bad the experience is.
We've compiled reviews and ratings for DraftKings Sportsbook across both the App Store, Play Store, and Trustpilot. Find the current DraftKings rating on each app, as well as an aggregate rating across all reviews, in the table below.
Our team picked through a large array of DraftKings sportsbook reviews to identify what current players think are the best and worst features of the sports betting mobile app and their sports betting site.
It is worth noting that online reviews tend to swing more negatively than positively by nature, so an aggregate rating of 4.6 is an overwhelmingly positive sentiment from existing players.
Most of the positive reviews come from the bonus bets and generous promotions they offer. We can't blame them, we also love the bonus bets!
With that in mind, you should probably take the overall customer sentiment regarding the DraftKings website and mobile app with a grain of salt. Fans seem to really enjoy the app's user interface and design, as well as the massive selection of sports betting markets available.
On the downside, we found negative reviews that focused on customer service issues and slow withdrawal times. Those are both common complaints across most US online sportsbooks, so it is important to keep that in mind.
To get around any biases in the sentiment, we've taken a look at the DraftKings mobile app ourselves and provided our own DraftKings review in the following sections. 
| | |
| --- | --- |
| Sportsbook App | DraftKings |
| App Store Rating | 4.8 (545,000 Reviews) |
| Play Store Rating | 4.6 (88,000 Reviews) |
| Trustpilot Rating | 1.3 (286 Reviews) |
| Total Reviews | 600,000+ |
| Aggregate Rating | 4.8 |
| Best Feature | Wide Variety of Prop and Live Betting Options |
| Worst Feature | Limited Customer Support |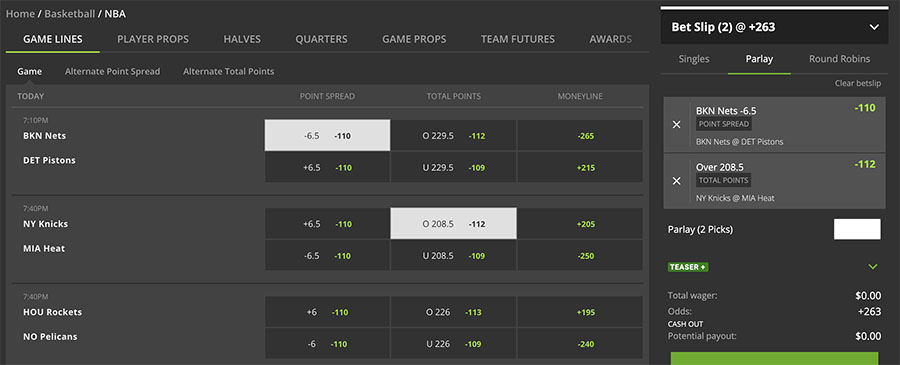 DraftKings Lines and Juice Review

Looking at our ratings for the DraftKings sports, lines and juice is clearly the only place we see them really trailing their competition. That says a lot given that the DraftKings sportsbook is a leader in various live betting markets.
That being said, it is not all bad for DK so let's start with the positive.
Competitive Lines and Odds
Lines on the DraftKings sportsbook update constantly, are consistently well set, and their live betting odds are a close to perfect as you will find in the US sports betting market. As a sports bettor, you will be hard-pressed to find anything wrong with the lines and odds at DraftKings. Their odds are competitive and consistent when comparing them to any other sports betting site.
Is the Juice Worth the Squeeze?
So if lines are great, then clearly the juice is what we are taking issue with at DraftKings. There are really two points worth considering here. 
The first is that placing the same bet on DraftKings and a sportsbook like PointsBet will often pay out less on DraftKings. Of course, this is not a good thing for bettors.
The second is that you can make the argument that, in 2023, all sportsbooks have fast-updating lines and a solid website and app... which means juice is arguably the number one thing you should be considering when choosing a book.
It is worth pointing out that DraftKings is not necessarily the worst book in the US market when it comes to juice, and often times FanDuel can be even worse.
As the Industry Leader, DraftKings Sets the rules.
Because these two books combine for a market share greater than 60%, they can afford to keep juice high while smaller books are forced to lower juice to try to attract new bettors. That's a common trend not just in online sports betting, but various casino games as well.
While juice is an important consideration, we're going to take a look at other aspects of the DraftKings mobile app and see how well it shakes out in the rest of this Draftkings review.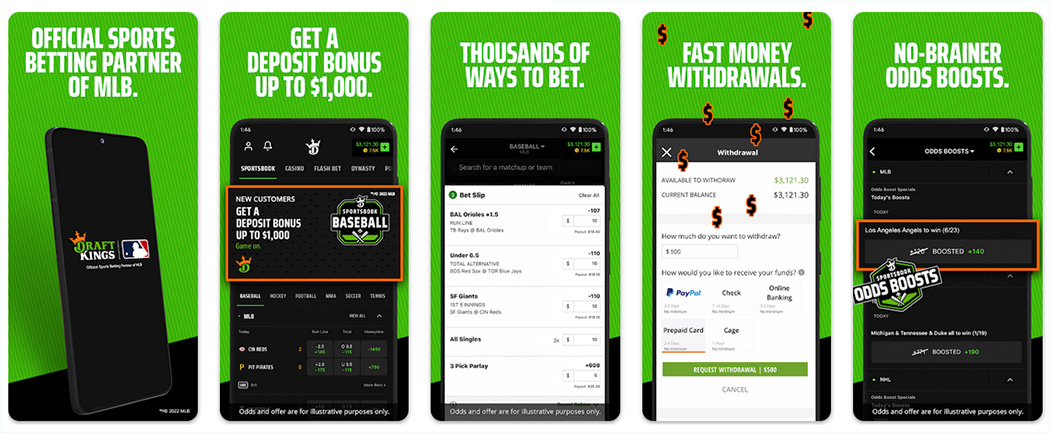 DraftKings Website and App Review
The overall quality of the DraftKings sportsbook website and app is where they separate themselves from just about every sportsbook outside of FanDuel.
The company is clearly committed to providing the absolute best possible betting experience to their users and it shows.
This is an important point to consider when choosing a sportsbook as the last thing you want is an unreliable website or app that crashes constantly, especially with live betting on the line.
DraftKings Has Built an Infrastructure to Handle the Demand
Having the resources and player pool that DraftKings does means they are able to build an infrastructure for their website, app, and data provider that guarantees no downtime, lag issues, or any other technical headaches that have plagued other sites.
So the same thing that negatively affects the juice, positively affects the gaming options.
While other sportsbooks and betting sites have outdated user interfaces and suffer from bottlenecking during peak traffic hours, DraftKings always runs flawlessly.
Impeccable User Experience
As we tested the DraftKings mobile app we found that it was one of the best user experiences when it comes to online sports betting. This is a key finding in our DraftKings review.
The online sportsbook app is extremely user-friendly and intuitive, making it easy for new bettors to find their way around and place their bonus bets without any confusion compared to other betting sites. Plus, DraftKings offers tons of prop betting options in addition to the traditional spread, moneyline, and total bets which can be a lot of fun.
The Reviews are In, Bettors Love DraftKings
The DraftKings app, with nearly 600,000 reviews on the App Store, has a ridiculous 4.8 star rating (out of 5).
Clearly sports bettors love using this app and there are several features that help it stand out including a near perfect live betting experience, more player props than any other sportsbook in the industry, and a layout that makes it easy to move between sports, events, and bet types.
---
Review of DraftKings Promotions
This is the part of the DraftKings review that most of our readers are likely looking for. DraftKings offers some great promotional opportunities that you simply won't find anywhere else in the US sports betting market.
From deposit match offers to bonus bets, bettors have plenty of options when it comes to taking advantage of the extra value provided by the company.
The top promo code offers at DraftKings consistently outperform the average US sportsbook offer, and that is certainly the case as we enter the 2023 NFL season. 
Bonus Bets for New Players
The new DraftKings sportsbook offer gives every new player $200 in bonus bets with any $5 NFL or CFB wager.
The sportsbook bonus is major leagues of promos. It's the best promotion available at a U.S. sports betting app this September. Our second-highest rating goes to the current FanDuel Sportsbook bonus offer, which includes $200 in bonus bets and $100 off Sunday Ticket.
In addition to the sportsbook bonus, new DFS players can get a free DraftKings Millionaire entry when they use our promo code. DraftKings Fantasy is one of the top-rated DFS apps available, offering the largest weekly contests in the industry.
Massive bonus with a deposit match offer!
You are also eligible to receive a maximum bonus of $2,000 at DraftKings Casino if you live in NJ, MI, PA, WV, or Ontario. In addition to the 100% deposit match offer, all new players get $50 in site credit to test out the various games on the website and app. So if you're in the mountains of West Virginia, don't hesitate to get your match offer! Well, not just West Virginia, but you get the idea.
This is lucrative and lands itself as a top user bonus compared to other online sportsbooks. Sure, other sportsbooks might offer odds boosts, cash prizes, and other types of promos, but with the low maximum bet limits and second chance bets compounded by their amazing promotions, you can't pass up DraftKings.
Bonus Bets are Great, but Rollovers are Rough
The one downside for the current DraftKings sportsbook bonus offer is the terms and conditions.
The bonus funds you receive when you use our DraftKings promo code require a rollover that is 5x larger than most sportsbooks. In general, DraftKings' terms and conditions aren't as player-friendly as you will find at other sportsbooks.
If you're looking for an online sportsbook that offers great promotional opportunities and an excellent user experience, then DraftKings is worth taking a look at.
Despite the high rollovers on the bonuses, they still offer some of the best promo codes in the legal sports betting industry and one of the most enjoyable sports betting experiences overall.
Whether you want to enter a same game parlay on Major League Baseball games or maybe some prop bets on an NFL game, their promotions will make it all worthwhile.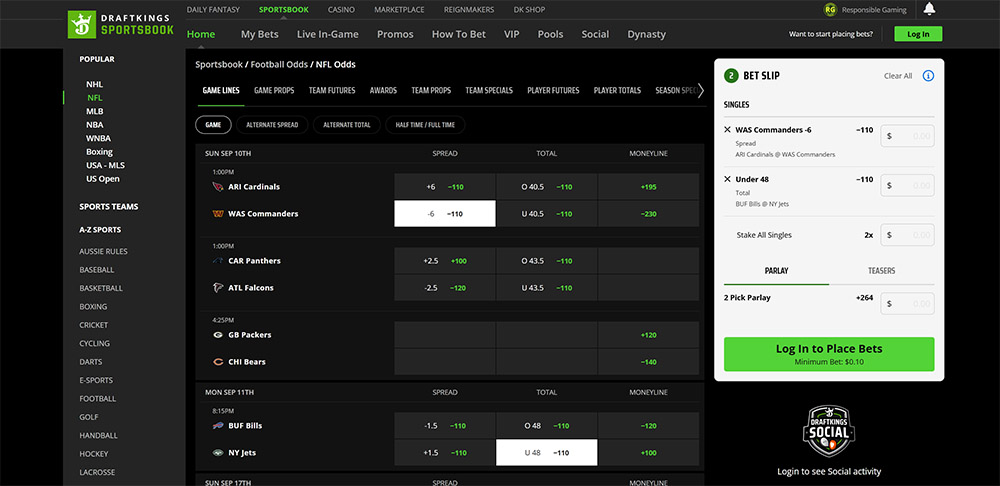 DraftKings Customer Support Review

When you're dealing with your money and the chance to win big, you want the peace of mind to know that your sportsbook is backed by a reliable customer support team.
So we've taken a holistic look at the DraftKings customer support system to make sure that bettors are in good hands if they ever run into any issues.
To be fair, we may have been a bit harsh on DraftKings regarding their unfavorable juice earlier, but we think we are being generous with a 4.2-star rating here on customer service.
The first thing we consider is overall player satisfaction, and with overwhelmingly positive player reviews everywhere this is clearly an area DraftKings shines.
These positive reviews clearly reflect that bettors are happy with the product they are receiving. However, what happens when you are not satisfied? What support options are available? This is where DraftKings does not quite fit the bill in our opinion.
Email is the Only Support Option
At the moment, DraftKings offers support on the contact us page of their website through one medium: email/ticket. Submit an email, their support system generates a ticket, and an agent addresses your concern.
While for the majority of issues this may suffice, what if you are having trouble finding or placing a bet moments before a game starts?
Waiting for a response to an email is less than ideal in these situations, and every other US sportsbook offers a 24/7/365 live chat option for exactly this reason.
Obviously, when you're placing fantasy sports bets on the DraftKings website or mobile app, you need to ensure the support team is responsive. When email is your only support option for your online sports betting, the team must be proactive and attentive.
By all accounts this is true of DraftKings, with quick response times and helpful resolutions.
So if you are okay with email support as your only option then the DraftKings sportsbook is definitely a great sportsbook to consider. If instant customer support is more important to you, then you'll want to look elsewhere.
DraftKings Customer Support Tips
At the end of the day the DraftKings sportsbook offers excellent customer support; it's just a matter of whether or not email correspondence is your cup of tea. For us, we would love to see them add live chat and telephone options so that bettors can have even more peace of mind.
Despite not having live support available on the website, the AI chat support is quite good. Players are able to find support articles and videos with answers to the majority of requests.
Other than that, you can rest assured that the DraftKings sportsbook will take care of your gaming concerns in a timely manner if ever needed.

Addition Benefits of Choosing DraftKings

DraftKings is the most innovative sportsbook operator in the U.S. and is constantly creating new ways for sports fans to play daily fantasy sports or bet on their favorite team. 
DraftKings was one of the first sportsbooks to offer same game parlays, and have pushed live betting considerably further than the next-best sportsbook. If you're looking for the leading edge of legal online sports betting sites, the DraftKings sportsbook is the place to be.
Reignmakers for NFT and DFS.
In addition to the latest innovations in sports betting and daily fantasy sports, DraftKings announced recently the addition of a new feature they call DraftKings Reignmakers. This is a completely new way to play, offering a unique combination of NFTs (non-fungible tokens) and fantasy football.
In true DraftKings style, the product launched with million-dollar contests already live in the lobby. No other betting sites other than the DraftKings sportsbook app offers anything similar. This is great in all betting markets and will please both competitive and new sports bettors.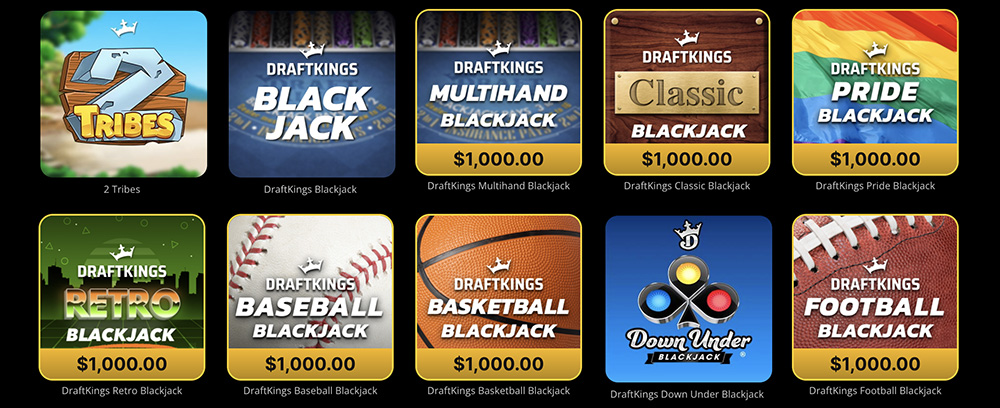 DraftKings Casino Goes Beyond Just Legal Sports Betting
While most sports fans are familiar with the DraftKings DFS and Sportsbook products for sporting events, fewer know that DraftKings Casino is one of the best online casino apps on the market today.
The DraftKings Casino app is also constantly evolving. New casino games are added weekly, including both slots and table games.
Draft Kings also excels at live dealer offerings, with hundreds of games/rooms to choose from.
We have covered the bonus offers available to new DraftKings users and sportsbook players for sporting events and daily fantasy contests, but the best bonus available at DraftKings applies to new casino players.
Get a 100% deposit bonus for your initial deposit (up to $2,000 deposit match) and $100 in casino credits when you sign up for a DraftKings account this September.
Use those credits however you want including up to 10,000 free slot spins. And who doesn't love online slots? They're a lot of fun!
The bottom line, if you aren't playing on DraftKings, you're missing out on the most innovative sportsbook, DFS, and casino products on the market.
---
DraftKings FAQ
While we covered our thoughts on DraftKings extensively in this review, there are still some common questions that sports fans have. As more questions about DraftKings daily fantasy games and casino games comes up, we'll continue to answer them here.
Here is a quick look at the most popular FAQs about DraftKings.
Is DraftKings legal?
Yes, DraftKings is totally legit and one of the most trusted online sportsbooks in the US. DraftKings launched their sports betting operations legally since 2018 since the repeal of the Professional and Amateur Sports Protection Act and are fully compliant with all state and federal laws and the gaming enforcement agencies in each state.
Is there a DraftKings app?
Yes, the DraftKings Sportsbook mobile app can be downloaded for both iOS and Android devices. It's quite popular among players and worth a shot.
Can I cash out my winnings from DraftKings?
Yes, you can withdraw your deposited money and winnings at any time from the DraftKings Cashier. They offer several withdrawal options, including ACH transfers and PayPal. Be mindful of their rollover limits on their deposit match.
Does DraftKings have customer service?
Yes, they offer only email support. The response times are typically very quick and the customer representatives are knowledgeable and helpful. They do not yet offer live chat or telephone support like US and offshore sportsbooks do, but this may change in the future if customer demand is high.
Does DraftKings offer promotions?
Yes, they offer a variety of daily fantasy promotions both for new and existing customers. New players can take advantage of deposit bonuses while existing players can benefit from bonus bets, enhanced odds, and more. So when your bet wins, it really wins!
DraftKings Review Summary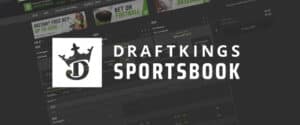 DraftKings offers an exciting take on both sports betting and daily fantasy sports. They offer the best bonus offers available to new sportsbook players, and DFS players get access to the largest contests in the industry. It was nearly impossible to find a weakness while writing this DraftKings review, and if we could choose only one sportsbook app, DraftKings would be it.
Price: Free
Price Currency: USD
Application Category: Game
Pros
Industry-leading mobile app.
Great bonus offers across DFS, sports betting, and casino.
Wide variety of betting options.
24/7 customer support through the website and app.
Cons
High rollover on bonus funds.
High rake on DFS contests.
21+ to wager. Please Gamble Responsibly. Gambling problem? Call 1-800-GAMBLER. Call 1-800-NEXT-STEP (AZ), 1-877-770-7867(CO), 1-800-522-4700 (KS, NV), 1-800-BETS-OFF (IA), 1-800-9-WITH-IT (IN), 1-877-770-STOP (7867) (LA), Call 1-800-327-5050 (MA), Call 1-800-GAMBLER or visit mdgamblinghelp.org (MD), 1-800-270-7117 for confidential help (MI). Call 877-8-HOPENY or text HOPENY (467369) (NY), 1-888-532-3500 (VA).