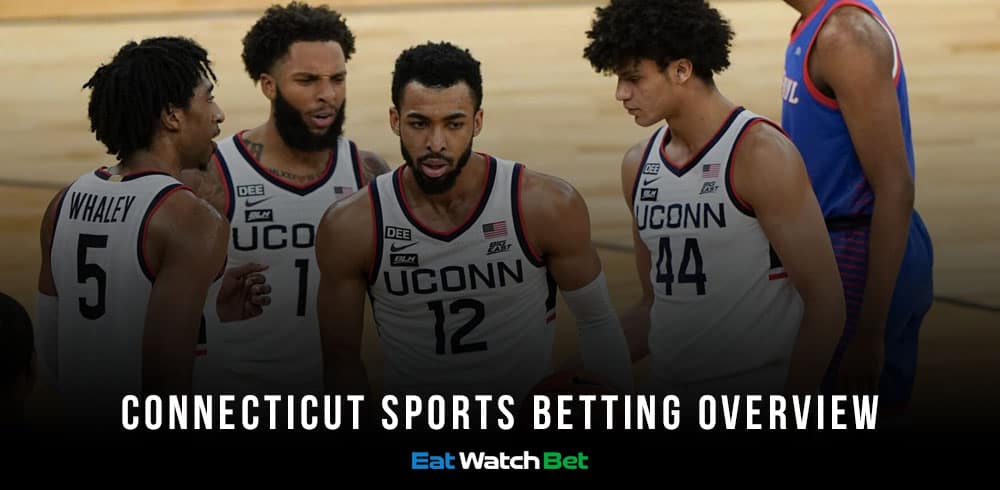 Legal Betting Timeline for Connecticut
Legal sports betting officially launched in Connecticut on October 7, 2021! Connecticut legislators were able to push House Bill 6451 through in time for at least a portion of the NFL season.
The current legislation marks the sixth attempt by CT legislators to legalize sports betting in the state. Four Senate bills and one House bill failed to pass before this current House bill made its way to Governor Ned Lamont's desk. Here are some of the key facts from the bill:
Three skins were awarded in Connecticut. One went to the Mashantucket Pequot who has already partnered with DraftKings, another went to the Mohegan who partnered with Kambi who will ultimately partner with an operator, and the last belongs to the CT Lottery. The Lottery has accepted dozens of bids for that last skin. Each license lasts for 10 years.
In addition to the online skin, the CT Lottery can operate up to 15 retail sportsbooks.
Sports betting revenue will be taxed at 13.75% in Connecticut.
Connecticut Sports Betting Fact Check
Legal sports betting has now been available for quite a while in Connecticut. The following table will you some fast facts about sports betting in CT as well as some of the rules and regulations that apply to bettors and sportsbooks in the state.
| | |
| --- | --- |
| ✅ Launch Date | October 7, 2021 |
| 📅 Legal Betting Age | 21 |
| 🏬 Number of Retail Sportsbooks | 15 |
| 📱 Number of Mobile Sportsbooks | 2 |
| 💰 Total Connecticut Handle (2022) | $1.5 Billion |
| 📈 Total Connecticut Handle (All Time) | $2.5 Billion |
| 💸 Largest Sportsbook Handle | DraftKings |
Best Sportsbook in Connecticut: FanDuel

Our pick for the best sportsbook in Connecticut is FanDuel Sportsbook. FanDuel has a lightning-fast website and an app that is super user-friendly. Sports bettors of all experience levels will enjoy FanDuel's expansive live betting options and outstanding customer service!
Same Game Parlay - FanDuel was one of the first sportsbooks to offer same game parlays, which have skyrocketed in popularity in recent years. This unique type of wager allows folks to bet on different types of outcomes within the same game.
Player Props - FanDuel offers a huge amount of various player prop bets across a ton of different sports. This allows sports bettors in Connecticut to have action on not only their favorite team but their favorite player as well.
Best Bonus Offer & Prop Options: DraftKings
Our sportsbook pick with the best variety of betting options in Connecticut is DraftKings! DraftKings was one of the first websites on the fantasy sports scene and they've been around since 2012.
DraftKings offers betting options on just about any sport that you can think of whether it's football, cricket, curling, or cycling. There's truly something for every type of sports bettor at DraftKings!
Connecticut sports bettors will never get bored at DraftKings. Not only does DraftKings offer an impressive lineup of sporting events, but they also offer a plethora of options for both player props and game props. No matter how you want action, DraftKings has more of it than any of the other sports betting apps in Connecticut.
Connecticut Legal Sports Betting Launch Details

Connecticut has officially joined the growing list of states to successfully legalize sports betting. After coming to an agreement with the Native American tribes in the state, both online and in-person sports betting is legal in the state. Folks in the state now have three sports betting apps to choose from.
Online sports betting began in CT on October 7th with some brick-and-mortar casinos taking bets even earlier than the online launch. The timing came at the height of the sports betting season allowing bettors to begin betting before week 5 of the NFL season, the middle of college football season, right before the start of the NBA and college basketball seasons. Retail sports betting and online sports betting have been a big hit in the state so far.
The state and casinos expect to have a huge influx of out-of-state bettors from neighboring states like Massachusetts, which has not legalized sports betting. Sports betting has grown to become a huge industry and Connecticut may lead the way for other states in that region of the country to follow the trend and legalize sports betting.
How to Signup with an Online Sportsbook in Connecticut
While signing up for an online sportsbook used to be quite an ordeal, that is no longer the case for folks in Connecticut. Each online sports betting app in the state makes the entire signup process as easy as possible. Here's a quick step-by-step guide on how to register for a Connecticut sports betting app:
Download the Connecticut sports betting app of your choice
Copy the appropriate bonus code that can be found at the top of this page
Type in all of your personal details like your name, address, phone number, and email address
Paste the promo code into the correct box when prompted by the app or website
Make your first deposit using one of the sportsbook's cashier methods like credit card, debit card, online banking, or PayPal
Enjoy the lucrative bonuses from each Connecticut sports betting app
Connecticut Sports Betting News and Numbers
Connecticut isn't one of the largest sports betting markets, but they still bring in a ton of action. This is especially true when you consider the state's smaller population. Here's how the handle has looked over the last couple of years.
2022 Handle Cruises Past $1.5 Billion
In its first full year of legal sports betting, Connecticut had no problem writing action. The state showed a gross revenue of $135 million, thanks to a nearly 9% hold.
How Has 2023 Started for Connecticut?
The Constituion State has accepted over $790 million in sports bets through June of 2023. That means that with the NFL regular season about to start, Connecticut should easily eclipse their 2022 totals for both handle and revenue.
What SportsBooks Available in Connecticut?
There is one important note regarding the current Connecticut sports betting bill, it limits the total number of operators to three. One skin for each of the state's two casino operators, with another going to the state lottery.
Of course, both FanDuel and DraftKings found a way to claim one of the three skins available in Connecticut. FanDuel's partnership with Mohegan Sun was announced in July, with the DraftKings deal with the Mashantucket Pequot tribe being announced shortly after.
After months of bidding and negotiating, the Connecticut lottery announced it was awarding its skin to Rush Street Interactive. RSI operates BetRivers Sportsbook which is now available in 13 U.S. betting markets. BetRivers offers retail sports betting at several sites as well.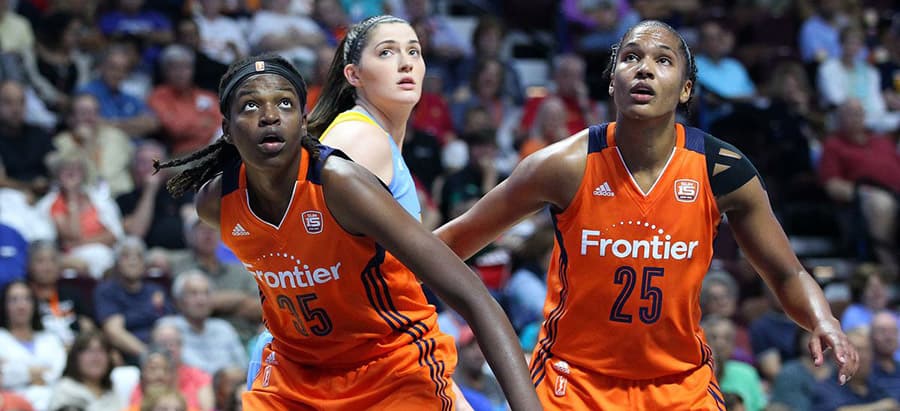 Retail Sportsbook Locations in Connecticut
Sports betting has not been in the great state of Connecticut for very long, but several retail sportsbooks are already open and doing loads of business. Here is a list of the brick-and-mortar sportsbooks within the state. Connecticut plans to offer at least 10 retail sportsbooks, so this list will be updated as more locations open. Online sportsbooks are very convenient but there's just something special about betting at a casino.
DraftKings Sportsbook at Foxwood
DraftKings has a strong presence in the Northeast since its headquarters are in Boston. Guests at Foxwoods can enjoy sports betting, slots, table games, fine dining, comedy shows, and live music.
Address: 350 Trolley Line Boulevard, Mashantucket, CT 06338-3777
FanDuel Sportsbook at Mohegan Sun
FanDuel hit a home run by partnering with the Mohegan Sun! This brand new sportsbook has a 140-foot video wall, 39 betting kiosks, and an incredibly food and drink menu!
Address: 1 Mohegan Sun Boulevard, Uncasville, CT 06382
BetRivers Sportsbook at Sports Haven
Sports bettors can now enjoy some amazing food at Sports Haven Bar & Grille while watching your bets win! Sports Haven has 20 betting kiosks to fulfill all your sports wagering needs.
Address: 600 Long Wharf Drive, New Haven, CT 06511
BetRivers Sportsbook at Bobby V's
Bobby V's doesn't just serve regular bar food. These folks make everything from scratch and they have some of the best cocktails in the area.
Address: 268 Atlantic St, Stamford, CT 06901
Sports betting kiosks through Winners are also located in New Britain, Manchester, and Waterbury.
Online Sportsbooks Available in Connecticut
As we mentioned, there are only 3 available online sportsbooks in Connecticut, but they're still amazing. Of course, we would love to see others like Caesars, maybe even Bet365 or even PointsBet. However, for the three they have, we did a complete review and rundown of each one to help you make the most of their sports betting apps.
---
DraftKings Connecticut
Connecticut Launch Date: December 2021
Current Connecticut Bonus Offer: Bet $5, Get $150 in Bonus Bets (Bonus Code: 150BV1)
DraftKings Sportsbook, one of the most well-known sportsbooks in the industry, has made its grand entrance in Connecticut in December 2019! The welcome offer for new users is nothing short of impressive. By placing their first wager of $5, they can unlock a generous bonus of up to $150 in free bets. Simply use the unique bonus code "150BV1" to claim this offer and start betting. Beyond their unbeatable welcome bonus, DraftKings offers one of the most engaging user experiences in the sports betting world. Their Live Betting feature lets users place bets on games in real-time, and even cash out early if they sense trouble. It's an exciting feature that sets DraftKings apart from its competition. While their promotions may not be as flashy as others, their unique features and generous welcome bonus make them a strong contender in Connecticut's thriving sports betting market. With DraftKings, sports enthusiasts can enjoy an unparalleled online betting experience, one that is full of adventure and rich with rewards.
DraftKings Review
FanDuel Connecticut
Connecticut Launch Date: October 2021
Current Connecticut Bonus Offer: $1,000 No Sweat Bet
In October 2021, FanDuel - one of the most popular sportsbooks in the US - launched in Connecticut. With their incredible $1,000 No Sweat Bet sign-up offer, new users are sure to jump at the chance to get in on the action! As fellow avid bettors, we appreciate a good welcome bonus. But that's not all that makes FanDuel a top sports betting choice. Their sleek and user-friendly interface is one of their standout qualities. And with their diverse live in-play betting market, there's never a dull moment for bettors. However, it's important to note that FanDuel's promotions are typically only available for the first 24 hours of betting. So, sign up to FanDuel and don't waste any time placing your bets to maximize on their great offers and bonuses.
FanDuel Review
BetRivers Connecticut
Connecticut Launch Date: October 2021
Current Connecticut Bonus Offer: $500 Second Chance Bet
BetRivers is a sportsbook that you definitely don't want to miss out on. When you sign up, you can get a $500 second chance bet right out of the gate - that's bonus cash in your account that you can use to start betting right away. While we love their app and find it extremely intuitive to use, we do think that their promotions could be a little more beefed up. However, their current promo is more than enough to get you started and increase your chances of winning at the same time. Just be sure to read the terms and conditions carefully to ensure you're getting the most out of it.
BetRivers Review
Popular Sports Teams to Bet On in Connecticut
While Connecticut is home to several minor league franchises, the only professional sports team that they have is the Connecticut Sun in the WNBA. However, college sports betting is a big deal in Connecticut. Devoted fans of the Connecticut Huskies football and basketball teams will help drive revenue for online sports betting within the state.
Connecticut Huskies Football
UCONN football has had a rough go of it of late. However, the hiring of Jim Mora as head coach has helped reinvigorate a restless fan base. Now that online sportsbooks are legal in Connecticut, look for folks to get involved by betting for (or against) the UCONN football team.
Connecticut Huskies Men's Basketball
The UCONN Huskies have a rich tradition of hoops greatness. Their men's basketball team has won four NCAA titles, seven Big East Tournament titles, and ten Big East regular season titles. You can bet that online sportsbooks within the state will get loads of action on the hometown Huskies if they make the Big Dance again this season.
Connecticut Huskies Women's Basketball
UCONN Women's basketball has been one of the most dominant programs in all sports. Led by legendary head coach Geno Auriemma, the Huskies just keep churning out championships. They've won an astounding 11 national titles and some sports betting apps will even offer odds on their games once they reach the NCAA Tournament.
Connecticut Sports Betting FAQs
Given Connecticut's proximity to both New York City and Boston, the state represents a larger player pool than its 3.6 million population would indicate. The rush of new sports bettors that legal sports betting in Connecticut would attract makes it important to get accurate information to the players that need it most.
Find answers to the most pressing questions regarding Connecticut sportsbooks and the sports betting laws, rules, and regulations in CT in the FAQ section below. These commonly asked questions will help you learn all there is to know about Connecticut sports betting.
Is sports betting legal in Connecticut?
Yes, sports betting is legal in Connecticut and has been since 2021. All three online sportsbooks have been doing a ton of handle since launching in the state.
What sports can you bet on in Connecticut?

The only betting restriction in CT applies to in-state college teams. Bettors can only wager on college teams from Connecticut if they are playing in an intercollegiate tournament such as March Madness. While this is a big volume loss for CT sports betting, some tournament action is better than nothing.

Is mobile betting legal in Connecticut?
Yes, there are currently three mobile sportsbooks in Connecticut. FanDuel, DraftKings, and BetRivers all have apps available for iOS and Android users. All three of these online sportsbooks have helped usher legal online sports betting into the great state of Connecticut.

What is the legal sports betting age in CT?
The minimum age to engage in mobile sports betting in Connecticut is 21.
Is online betting on horse racing legal in CT?
Yes, folks in Connecticut can wager on horse racing. Interestingly, the legal age for horse racing betting is only 18, even though it's 21 for Connecticut sports betting.
Is DFS legal in Connecticut?
Yes, DFS is currently legal in Connecticut. That being said, FanDuel recently announced that they are pausing all DFS activity in the state until the start of the 2023 football season. This is due to the new state regulations on DFS apps.
What was the start date for legal sports betting in CT?
While the state had hoped to live in time for the 2021-2022 NFL season, mobile sports betting officially began in Connecticut on October 19, 2021. Though the state didn't quite reach its goal, 2023 promises to be a banner year for sports betting in Connecticut. Connecticut sports betting apps are hoping to do a ton of volume during the NFL season.
What sportsbooks are available in Connecticut?
The three sportsbooks currently available in Connecticut are FanDuel, DraftKings, and BetRivers. All three operators have a mobile app so customers can bet on the go. The apps are also available for both iOS and Android users.
What is the best bonus for Connecticut sports betting?
The best bonus available in Connecticut is the $1,000 No Sweat Bet from FanDuel. This is essentially a second chance bet that gives players up to $1,000 in bonus bets if their first bet loses.
What taxes do I have to pay on sports betting winnings in CT?
Sports bettors should consider placing their bets in this state as the tax rate on sports betting revenue is only 13.75%, which is relatively low compared to other states.
What sports betting deposit methods are available in Connecticut?
Major credit cards such as Visa and Mastercard, e-wallets like PayPal, and bank transfers are the three main deposit options. These three offer quick and secure deposits with minimal fees or wait times.
A bonus bet is a promotion sportsbooks offer to incentivize customers to place bets. It usually takes the form of free bets or wagers and can be used to increase the chances of winning. In general, if your bet loses, the sportsbook will make up some or all of the losses with bonus funds up to a certain amount.
What are the most popular bets in Connecticut?
Connecticut's most popular types of wagers are point spreads, money lines, totals, parlays, and prop bets. Point spreads, money lines and totals are the most basic types of wagers, while parlays and props offer more complex action for experienced bettors.