Details for Our Underdog Fantasy Promo Code Offer
Underdog Fantasy offers the top best ball product in fantasy sports, the highest-rated DFS app, and up to $100 free on signup. The Underdog Fantasy app checks every box the typical fantasy player is looking for. The app includes a sleek, user-friendly cross-platform design and a player pool large enough for drafts to fill constantly.
In addition to being one of the best fantasy apps in the industry, Underdog offers some of the best new player bonus offers available. New players can get up to a $100 cash bonus this June! Taking advantage of this offer could not be easier. Simply head to Underdog Fantasy, click 'sign up,' and register using the promo code 'EWB100.'
Underdog will match 100% of your initial deposit when you register using our bonus code. If you deposit $50, Underdog will add $50 in bonus funds to your account. These funds are yours to use however you want, and anything you win using your bonus funds is yours to keep.
| | |
| --- | --- |
| 🐕 Underdog Promo Code | EWB100 |
| 💸 Bonus Offer | 100% Deposit Bonus, Up to $100 |
| 📅 Offer Last Verified | June 8, 2023 |
| ✅ Terms | New players only, must be 18 years of age, and live in eligible state. |
Best Underdog Bonus Offers for the 2023 NBA Season
By now, most fantasy players know Underdog Fantasy as the home to season-long best ball fantasy football. However, the action does not stop once the season gets rolling. Here are our two favorite ways to use your $100 deposit bonus during the 2023 NBA Season:
NBA Pick'em Contests - These higher/lower contests allow you to pick two or more players to go higher or lower a given stat total, and win up to 20x your entry. Underdog has dozens of player stats listed for every game of the NBA and NHL Finals.
NBA Snake Drafts for Every Night of the NBA Finals - If you enjoy traditional snake draft fantasy basketball, these contests are just for you. Underdog Fantasy lets you prove your NBA knowledge with daily and weekly snake draft contests. These leagues work exactly like Underdog's Best Ball contests, but you are only selecting a starting lineup and the contest only lasts a week.
Why do we think new DFS players should choose Underdog over other apps? New players that sign up using our Underdog Fantasy promo code (EWB100) can get $100 in free entries that can be used for any NBA or CBB pick'em or best ball contests.

Additional Underdog Promotions
In addition to the current Underdog promo code offer, players will often find promotions available on a nightly basis. These include reduced pick'em stat projections. For example, Underdog has offered popular players like Nikola Jokic at higher/lower than 0.5 points. These promotions give you a guaranteed win as one part of a pick'em entry.
These promotions are available to new and existing players and are always listed at the top of the pick'em section on the website and app. You may only use these offers once per run, so check the Underdog app regularly to ensure you don't miss out.
You can also earn free cash on Underdog by referring friends to the app. Get $10 for every friend who signs up, and your friend will also get $10 in free entries. Drop your link in your season-long league and get paid to challenge your friends to daily and season-long contests with Underdog!
As an added bonus for your friend, if they register using the promo code EWB100, Underdog Fantasy will provide them with the featured 100% deposit bonus. Referrals are the only way to get more than $100 free at Underdog.
Be sure to review the terms for each promotion before signing up. There are limits to how many players you can refer and rollover requirements for any bonus funds received.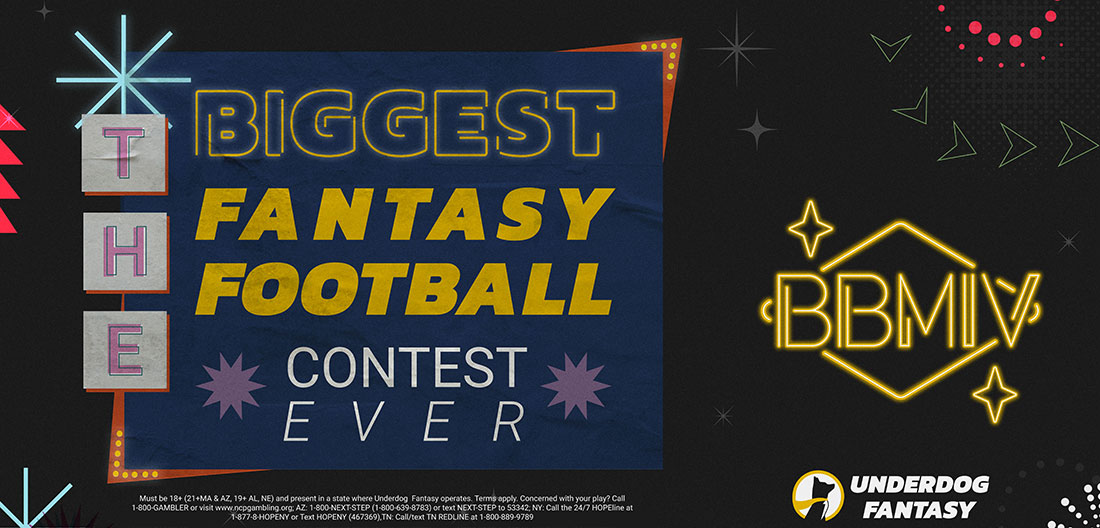 Why Choose Underdog Fantasy?
The current terms attached to our top-rated Underdog Fantasy promo code offer are straightforward. New players that register using the promo code EWB100 will receive up to a $100 cash bonus with a minimum deposit of $10.
There are two important things to note with this new promotion. First, the cap is a full 10x higher than the previous promo code offer and puts this Underdog promotion on even ground with the current PrizePicks promotion.
Second, this bonus is paid out in cash, meaning you can use it to enter contests and immediately withdraw your winnings. This gives Underdog users a huge advantage over other apps like FanDuel DraftKings, which require a 25x rollover before withdrawing funds.
To be eligible to take advantage of this offer and play on Underdog, new players must meet the following requirements:
Must be a new Underdog Fantasy user, making an initial deposit of at least $10.
Must live in a state that Underdog Fantasy is allowed to operate in.
Must be at least 18 years of age and not on a self-exclusion list.
That is it. If you meet these three simple requirements, you are eligible to take advantage of our offer and start playing on the Underdog Fantasy app today. Happy drafting!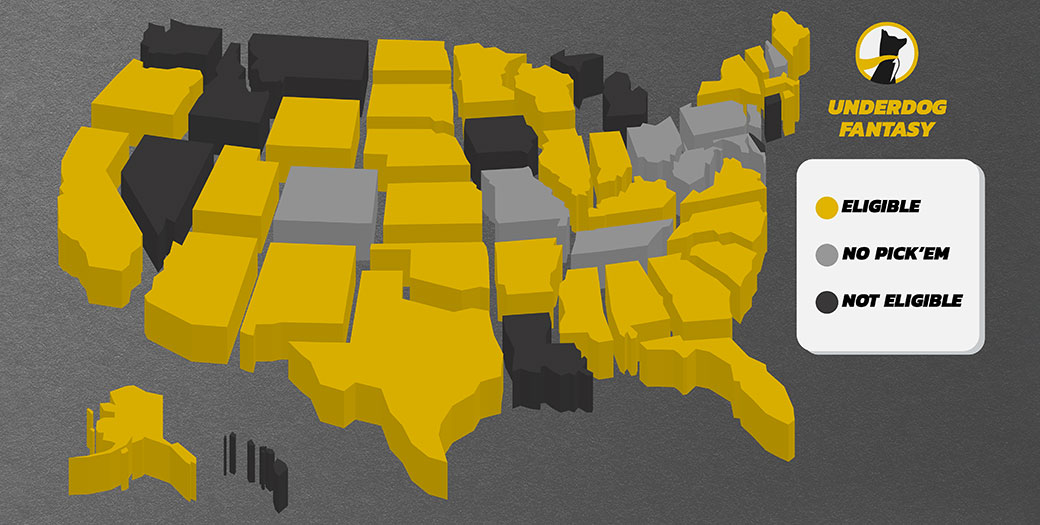 Where is Underdog Fantasy Available?
Underdog Fantasy is available in all US states, excluding Connecticut, Delaware, Hawaii, Idaho, Iowa, Louisiana, Michigan, Montana, Nevada, and Washington. Pick'em is not available in Colorado, Maryland, Missouri, New Hampshire, New Jersey, Ohio, Pennsylvania, Tennessee, and West Virginia. Underdog is legal in every every providence in Canada.
In recent news, Underdog pulled out of the Michigan DFS market due to a regulation issue. The company released a statement that they were temporarily stopping their Michigan operations, but expect to resume operations in the state in the very near future.
In addition to living in an eligible state, players must meet the age requirement for their state. The minimum age to play DFS is typically 18 years but could be 19 or 21, depending on your state. You must also be a citizen of the United States of America or Canada to use Underdog Fantasy. Review the current Underdog Terms of Use for a complete breakdown of who is eligible to use the app.
Note that our Underdog Fantasy bonus offer is available in every state the app is available. Anyone who opens a new Underdog account is eligible to receive a $100 deposit match.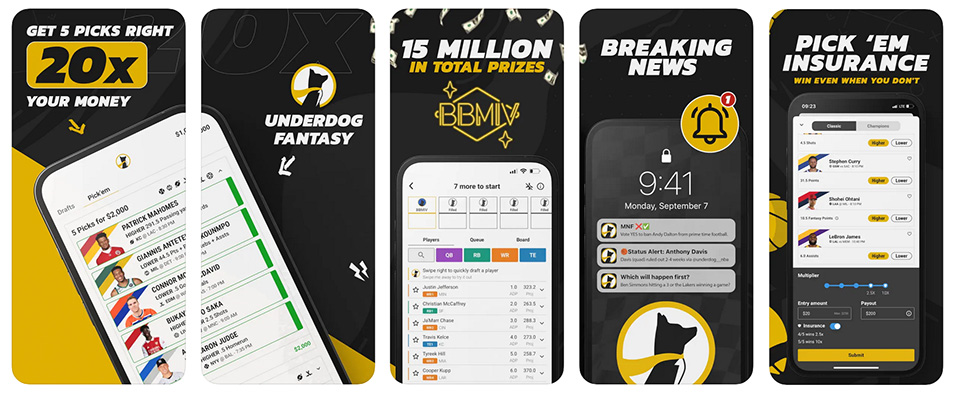 Terms for Our Underdog Fantasy Promo Code Offer
Not only is Underdog Fantasy one of the fastest-growing apps in the fantasy industry, but it's also one of the highest-rated apps in the industry. The current iteration has a 4.9 rating on the App Store and 4.5 rating on the Play Store. There are several factors behind Underdog's rise in popularity, and these are more than enough reasons for you to give it a try today.
Best Ball Mania IV: Underdog Fantasy's Best Ball Mania IV contest features the largest prize pool ($15 million in prizes) in the history of daily fantasy sports. Best ball drafts are available 24/7 for this contest, and new players can find fast drafts (30 seconds per pick) or slow drafts (8 hours per pick) in the Underdog Fantasy app.
Better than mock drafting: Each year, as fantasy draft season rolls around, season-long fantasy players flock to mock draft sites to hone their drafting skills ahead of their league's big day. However, mock drafts have one major flaw: with nothing at stake, at least one owner will go AFK, make a ridiculous pick, or intentionally ruin the draft. Even in a $1 draft, every Underdog Fantasy player has a reason to take the draft seriously.
Better than salary cap: By now, most DFS players are exhausted of the class salary cap fantasy products. You spend hours building lineups to be crushed by sharks with 150 lineups in every big contest. As good as your lineup is, they have ten variations of it ready to take you down. On Underdog, there is no advantage. Every owner gets one team, one shot at drafting the best lineup.
A near-perfect app: The one advantage both FanDuel Fantasy and DraftKings Fantasy have over startups is the quality of their app. As much as we love new higher/lower apps like Vivid Picks, the Underdog app is much more polished, offers a wider variety of sports, and much bigger contests. The Underdog website and app offer a flawless fantasy experience. Fast loading, user-friendly, and with a great design that is a pleasure to use.
Contests for college sports: Underdog offers player pick'em contests for college football and college basketball, which is something the majority of the apps in the DFS industry do not offer. Availability for college contests will vary state-to-state, but the majority of Underdog users will be able to find them in the app. Payouts for Underdog CFB pick'em contests are higher than what you find in most sportsbooks.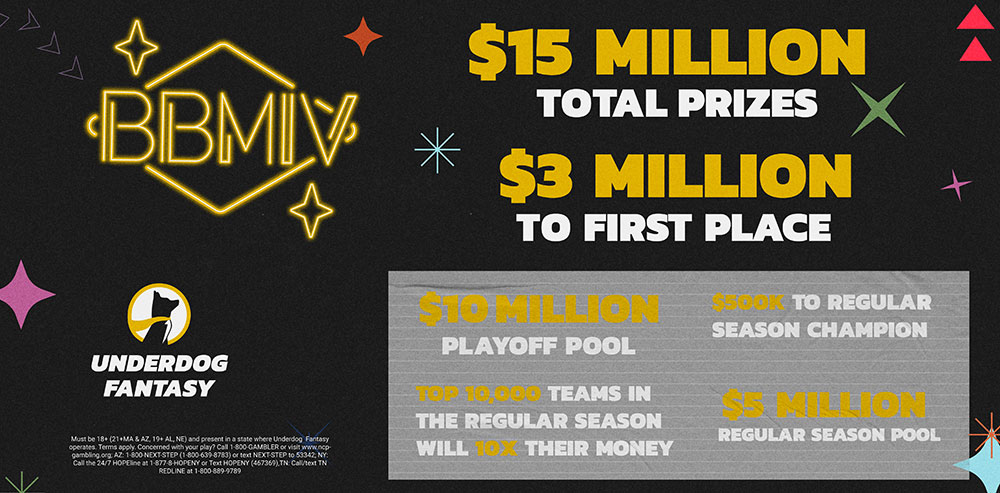 Underdog Fantasy FAQs
Underdog Fantasy offers a wide variety of fantasy products, from the highest-rated best ball fantasy product to unique pick'em fantasy contests. Many of these games are unique to Underdog and could take some time for DFS players to get used to.
The FAQs below address many of the questions we receive from subscribers trying Underdog for the first time.
Is Underdog Fantasy legal?
Underdog offers legal daily fantasy sports contests in the United States and Canada. The states Underdog does not accept players include Connecticut, Hawaii, Idaho, Nevada, Louisiana, Montana, Washington, Delaware, and Iowa. Additionally, Underdog has temporarily halted it's operations in Michigan, but should offer contests to MI residents again in the near future.

How does best ball work on Underdog?
The best ball format works precisely as a traditional season-long fantasy league would. However, you do not manage your team during the season. Using the roster you draft, the Underdog app will automatically put together the lineup that scores the most fantasy points after the games are played each week. This format places a significant emphasis on the draft and rewards the owner that is most prepared today, not the owner that is most active in-season.
Does Underdog offer a refer-a-friend bonus?
Yes, Underdog is currently offering a $10 referral bonus. Players can request a unique referral code to email their friends. Once a friend signs up, makes a deposit, and plays through that deposit, you'll both receive a $10 bonus!
How does the Underdog bonus offer work?
The current bonus offer will provide new players with up to a $100 deposit bonus when they register using the promo code EWB100. Your bonus funds are equal to the amount of your initial deposit and are instantly available to be used to enter any contest in the Underdog lobby.
Is my money safe with Underdog?
Yes, any money you deposit with Underdog is safe. Underdog's website and app are incredibly secure, using the latest technology to keep your personal information private. Players can deposit via PayPal or any credit card. Daily fantasy sports sites are highly regulated at the state level and must verify that player funds are secure at all times.
How long does Underdog take to payout?

From the time you request a withdrawal to receiving your funds typically takes 2-3 days, depending on where the money is being deposited. This gives Underdog one of the fastest payment processing times in the DFS industry.

What makes Underdog our top-rated DFS app?

Underdog Fantasy checks all of the boxes for being an awesome DFS app. Their bonus structure is competitive with top fantasy sports apps like PrizePicks and OwnersBox. The terms for the welcome bonus are amongst the best in the industry. Underdog Fantasy is the only DFS app that offers a money-back guarantee of up to $100 if you don't love their app. This refund policy makes Underdog the safest way to play fantasy sports for real money.
How quickly does Underdog process payout requests?
Underdog Fantasy does a fantastic job of processing payments quickly and efficiently. Simply submit a withdrawal request, and your payout arrives in 2-3 business days, with most payouts occurring in less than 24 hours. Underdog pays players through PayPal or your online banking service.
What happens when you tie on Underdog?

Any contest that ends in a tie will result in a split pot. So, in a 3-team league, if two teams tie for first, they would split the prize pool 50/50.

How old do you have to be to play on Underdog Fantasy?
Players must be 18 years old to create an account with Underdog Fantasy. This minimum age requirement is in stark contrast to online sportsbooks, where all players must be 21 years or older.
What sports are available on Underdog?
Underdog offers contests for every professional sport, including NFL, NBA, MLB, NHL, MLS, and PGA. They also offer pick'em and snake draft contests for college football and college basketball. The largest player pool in the industry means Underdog best ball contests fill quickly, with drafts available 24/7 for most sports.
What is Battle Royale on Underdog?

Underdog recently announced a new game format called Battle Royale. These contests work exactly like snake draft leagues on Underdog, but rather than playing against a 6-12 person league, you are playing against multiple leagues. This means these contests have much larger prize pools and much longer odds.

When will Underdog Sportsbook launch?

Underdog Sportsbook is coming to multiple U.S. betting markets by the start of the 2023 NFL season. The exact launch date has not officially been announced, but could come in time for the NBA Playoffs. Underdog Sportsbook is already licensed to launch in Ohio.

What customer support options are available?

Underdog offers customer support through email (support tickets) and phone. Ticket response time great with most issues getting resolved on the next business day. Underdog Fantasy's customer support phone number is 917-267-2182.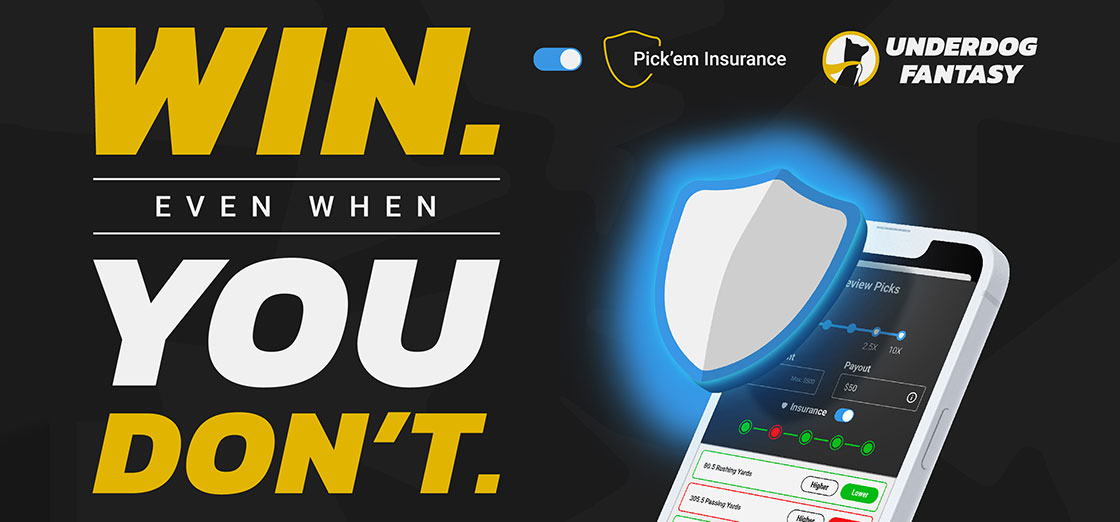 Pros and Cons of the Current Underdog Promo Code Offer
Underdog provides one of the best DFS apps on the market, but how does their current promo stack up against their competitors? Let's look at the pros and cons for the current Underdog promo code offer.
Pros of the Underdog Bonus Offer
100% deposit match (up to $100 free) is the best DFS promotion available this June.
Underdog's state-of-the-art app has a 4.8 rating in the App Store and Google Play Store.
Best snake draft and best ball app in the DFS industry.
At just $10, Underdog has one of the industry's lowest deposit requirements.
Cons of the Underdog Bonus Offer
Limited cashier options when compared to FanDuel and DraftKings.
No rewards or loyalty programs are available.
No free entry on signup.
Our Rating for the Current Underdog Promo Code Offer
The rating and review found below compare the current Underdog promo code offer directly with the offers from FanDuel and DraftKings. The deposit bonus from Underdog has a rating of 4.9, whereas the current FanDuel and DraftKings DFS offers come in at 4.8 and 4.7, respectively.
In addition to considering the quality of the current bonus offer, this review considers the app's overall quality. Underdog Fantasy's app is our top-rated DFS app, and the massive best ball tournaments make this our #1 rated daily fantasy sports platform for 2023.
Underdog review and bonus offer rating was last updated on June 8, 2023, and includes ratings from over 900 verified Underdog players.
| Review | Current Underdog Fantasy Promotions |
| --- | --- |
| Details | Players love Underdog's instant deposit bonus with a generous $100 cap for several reasons. First, the $10 minimum deposit means that players at all income levels can take advantage of this offer! Second, your bonus from Underdog is immediately made available to you, while other DFS apps require as high as a 25x rollover. Lastly, Underdog's format makes it easier for new players to win and eventually receive a payout for their efforts. A higher bonus, higher odds of winning, and a better product make Underdog a must for any fantasy player. |
| Author | Chris Lollis |
| Rating | 4.95 (out of 5) |
Compare the Underdog Offer to Competing DFS Apps
As great as Underdog Fantasy is, it is worth keeping in mind that PrizePicks offers pick'em format contests, and DraftKings offers a best ball product. With that in mind, we recommend that players compare the current Underdog promo code offer with those available at competing apps. Find the details for the current PrizePicks and DraftKings offers below.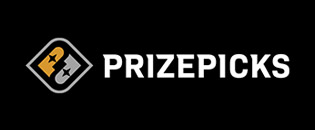 Current PrizePicks Bonus Offers
PrizePicks is clearly Underdog's closest competitor, and has a bonus offer that matches the Underdog deposit match. Get up to $100 free this June.

Offer Details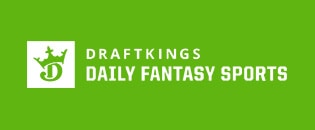 Current DraftKings Bonus Offers
New DraftKings fantasy players can receive a free Millionaire entry. Which holds more upside than the free contest included with our Underdog promo code.

Offer Details

Must be 18+ (21+MA & AZ, 19+ AL, NE) and present in a state where Underdog Fantasy operates. Terms apply. Concerned with your play? Call 1-800-GAMBLER or visit www.ncpgambling.org; AZ: 1-800-NEXT-STEP (1-800-639-8783) or test NEXT-STEP to 53342; NY: Call the 24/7 HOPEline at 1-877-8-HOPENY or Text HOPENY (467369), TN: Call/text TN REDLINE at 1-800-889-9789.