Attention all sports betting enthusiasts! The largest online retailer of sports apparel now has its very own sportsbook. Fanatics Sportsbook is live in Ohio, Massachusetts, Maryland, and Tennessee, and they recently acquired PointsBet Sportsbook, which means they could be coming to your state soon.
Fanatics Sportsbook Pros and Cons
Pros
Polished mobile betting experience with great live betting options.
Great welcome offers, including free gear from Fanatics.com.
Personalized app allows you to easily find the sports and games you love.
Cons
Higher juice (lower payouts) on most fixed odds wagers.
Only available in four states: MA, MD, OH, and TN.
High minimum bet required for most bonus offers.
Fanatics Sportsbook Review Details
About a couple of years of hype, Fanatics has just positioned itself as a major player in the sports betting industry. Acquiring PointsBet puts Fanatics Sportsbook on the fast track to compete with industry giants like DraftKings, FanDuel, BetMGM, and Caesars.
As one of the titans of the online commerce world, Fanatics has cash reserves and access to some of the best technology. This means that they're poised to take the sports betting industry by storm as the 2023 NFL season edges closer.
In this review, our team will cover everything from betting options, live betting, customer support, cashiering methods, loyalty programs, and more.
If you still have questions at the end of this review, don't worry! Our team has put together a brief FAQ section to help with any further info you may need about Fanatics Sportsbook.
What Fanatics Sportsbook Users are Saying
A crucial thing to look at when comparing sportsbooks is the opinions of their current users. After all, they're the ones using the app or site regularly, and they have the best insight into how good or bad the offerings really are.
We've compiled reviews and ratings for Fanatics Sportsbook across both the App Store and Play Store. Find the current Fanatics Sportsbook rating on each app, as well as an aggregate rating across all reviews, in the table below.
Our staff read through each and every review to bring you the most accurate rating possible. Keep in mind, that Fanatics is only currently live in 2 states, so there isn't a plethora of reviews out there yet. This will change as they enter more markets in the near future.
| | |
| --- | --- |
| Sportsbook App | Fanatics Sportsbook |
| App Store Rating | 4.0 (35 Reviews) |
| Play Store Rating | 4.3 (18 Reviews) |
| Total Reviews | 53 |
| Aggregate Rating | 4.1 |
| Best Feature | Easy to Use App |
| Worst Feature | High Juice on Moneyline Bets |
Fanatics Sportsbook Review: Odds and Payouts

One of the basic rules of sports betting is to know how much you're really paying to bet. Juice is known as the great equalizer and paying too much of it can make you broke in a hurry. We'll give you the ins and outs of how much juice Fanatics charges in this section.
Standard Juice on Point Spread Sports
Fanatics is a solid option for traditional point-spread sports like basketball and football. In most instances, they charge a standard -110 juice on both sides, which is common in the industry.
Every once in a while Fanatics will offer -115 and -105 juice on point spread sports. This means that you should keep them in your arsenal if you're shopping around for the cheapest juice on an NBA or NFL game.
Fairly Expensive Juice on Moneyline Sports
Here's an area that Fanatics could improve in as they expand across the US. They charge way too much juice on moneyline sports like baseball and hockey. While competitors like FanDuel and WynnBet will often offer a dime line in baseball (think -140 / +130), Fanatics usually deals a 20-cent line (think -140 / +120).
That may seem like an insignificant amount of juice, but baseball and hockey bettors at Fanatics are essentially paying double the juice of other sportsbooks in the business. If you're an avid bettor of moneyline sports, make sure you have lots of other options besides Fanatics!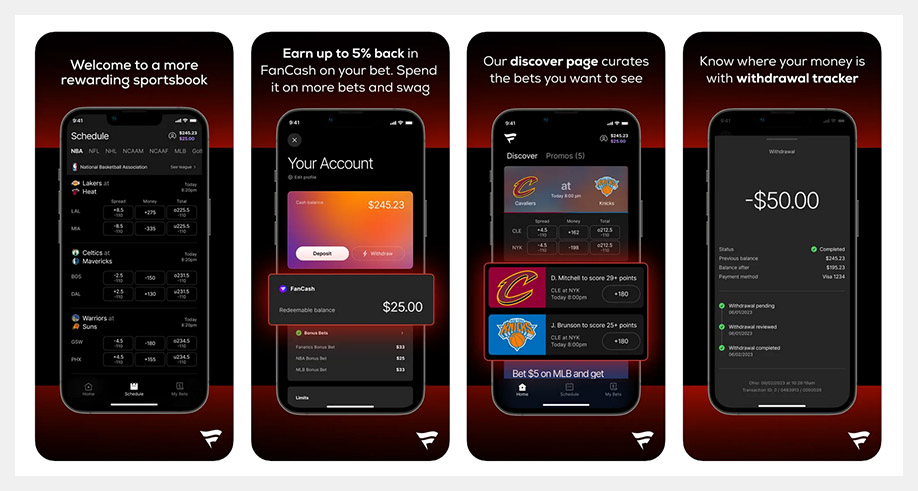 Fanatics Sportsbook Review: Website and App
The website and app portion of our testing is where Fanatics Sportsbook really shined. With their online commerce knowledge and technology, it's no surprise that their betting app is top-notch. Here are some of our favorite features of it.
Phenomenal Layout of Games
Don't you just hate it when you have to click through a bunch of buttons to find the game you want to bet on? You won't have that headache with Fanatics Sportsbook. They list all of that day's most popular sporting events right on the home page. The rest can be found on the Schedule Tab. This will save you a ton of time.
Easy as Pie to Deposit Funds
Though there aren't a ton of options yet, Fanatics makes it incredibly easy to deposit money into your sportsbook account. They currently accept credit cards, debit cards, bank transfers, or wire transfers. There is also an option to deposit cash at a Fanatics Sportsbook retail location.
Not a Lot of Reviews Yet
While Fanatics has been around for quite a while as a company, their sports betting app is brand new. That's why there aren't a ton of reviews out on it yet. Nevertheless, the app has received high praise from clients in Ohio and Tennessee.
---
Fanatics Sportsbook Customer Support
Here's another area that Fanatics Sportsbook does a great job in! Even the beta version of their betting app makes it easy and convenient to get ahold of a customer support person.
Live Chat Function
Need help with anything pertaining to your Fanatics Sportsbook account? They've got you covered. To get assistance 24/7 simply click on your account icon at the top right-hand side of the app. After that, simply click Chat With Support.
Other Ways to Reach Customer Service
While most bettors prefer live chat in the digital age we're living in, Fanatics also offers other ways to contact customer support. Customers can call 855-438-9701 for help via phone. Fanatics can also be reached on Twitter @FanaticsSupport.
---
Fanatics Sportsbook: FAQs for New Players

Since Fanatics is new to the sportsbook industry, plenty of folks will have lots of questions about that portion of their business. Our team has compiled the following list of FAQs to give you all of the info you need in one tidy space.
Is Fanatics Sportsbook legit?

Absolutely, Fanatics is a legally licensed sportsbook that's currently doing business in Ohio and Tennessee with its online sports betting app. The company also has a brick and mortar sportsbook in Maryland at FedEx Field, which is home of the Washington Commanders. You won't have to worry about your funds when you deposit at Fanatics!

What states will soon get access to Fanatics Sportsbook?

According to Fanatics CEO of Betting & Gaming, Matt King, Fanatics has set a goal to enter every legal betting market by the end of 2024. At the moment, the sportsbook is available in Maryland, Massachusetts, Ohio, and Tennessee.

Can Fanatics really compete with DraftKings and FanDuel?
While there's no way to be certain, Fanatics seems to be on the fast track to taking some market share from some of the industry leaders like DraftKings and FanDuel. The PointsBet acquisition was a giant step forward for Fanatics. PointsBet already does a great job attracting new members, and with the Fanatics Sportsbook launch, we think they'll drop a Fanatics Sportsbook bonus code as well which will give them an extra boost into sports markets currently cornered by DraftKings and FanDuel.

Does Fanatics Sportsbook have customer service?
Yes, the live chat function is available 24/7/365 in the Fanatics app. The customer service team will also respond to messages on Twitter @FanaticsSupport. So far, this is some of the best customer service in the sports gambling market. After all, they've been a leader in the sports world for year, so they know a thing or two.

How do I deposit at Fanatics Sportsbook?
Fanatics currently accepts credit cards, debit cards, bank transfers, wire transfers, and the Cash at Retail option. All of these methods make it incredibly easy to get started with your sports betting journey! Funds are deposited instantly so you can start placing bets as soon as possible.

Do I have to be in Ohio or Tennessee to bet on Fanatics Sportsbook?
Yes, currently you must be located within the state of Ohio or Tennessee to place bets using the Fanatics Sportsbook app. This is a limitation due to gambling laws and regulations. However, with Fanatics acquiring the PointsBet Sportsbook US assets, we think they're going to leverage those licenses to get in front of more people in more states. It's still early in the acquisition process, so we'll have to wait and see what comes of it. But, things are looking up for Fanatics!

What sports can I bet on with Fanatics Sportsbook?
At the moment, Fanatics offers a variety of betting options including NFL, NBA, MLB, NHL, college sports as well as international soccer and more. As the sportsbook continues to develop, you'll likely see more and more betting options become available. It's an exciting time for bettors in Ohio and Tennessee - and hopefully others!

What overall rating does Fanatics Sportsbook get?
Overall, we give Fanatics Sportsbook a pretty impressive rating of 4.6! The layout of the app is incredible and it adds to the overall customer experience. If their signup promo ends up being anything like the one they're using in TN ($210 in Bonus Bets), their overall rating could increase pretty soon!

21+ to wager. Please Gamble Responsibly. Call 1-800-NEXT-STEP (AZ), 1-800-522-4700 (KS, NV), 1-800-BETS-OFF (IA), 1-800-270-7117 for confidential help (MI). Gambling problem? Call 1-800-GAMBLER (CO, DC, IL, IN, LA, MD, MS, NJ, OH, PA, TN, VA, WV, WY). Call 877-8-HOPENY or text HOPENY (467369) (NY) Call 1-800-327-5050 (MA).