It is officially November on the calendar, which means we are officially in the heart of the NFL season. Fans will get treated to a loaded slate of NFL action this year with marquee matchup every week of the season.
For sports bettors, the toughest sport to make a profit on is the NFL. This is why we wanted to compile a brief NFL betting guide to help out new (and even veteran) sports bettors. Here are our top 6 tips for betting and beating the NFL in 2023.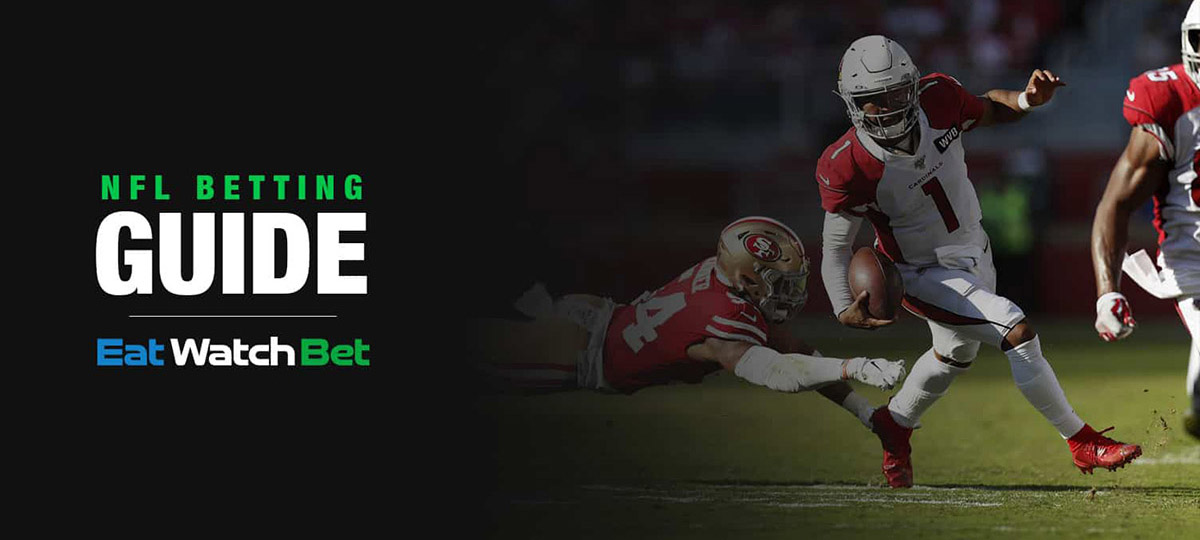 1. Shop Every NFL Bet
If you live in a state with legal online sports betting, odds are there are several sportsbooks to shop a line at prior to making any bet. If you typically bet at a sportsbook like FanDuel or DraftKings, it is almost a given you can get lower juice on the same bet at PointsBet or BetRivers. Reduced juice means bigger wins and an advantage over the house.
Shopping odds is one of the few advantages a sports bettor has over the house. While one book may have the Packers as a 3.5-point favorite, another may have the number at 2.5 points. That is a massive swing in your favor and one that you would miss if you bet at only one sportsbook.
EatWatchBet offers an odds comparison tool that makes it easy to find the best odds and best juice for every bet. The tool does all of the work for you, showing you the best spread for each side, the lowest over total, highest under total, and even favors whichever book offers the lowest juice if the lines are identical.
Sportsbooks have gotten unbelievably good at setting lines and the juice is rarely in your favor. This means finding advantages over the house is a must if you want to be a successful NFL bettor.
---
2. Never Buy Points Unless The Key Number of 3 is Involved
Buying points is rarely a good idea when you are betting on the NFL. Most sportsbooks will let you buy a half of a point on any NFL side or total, but the catch is you must pay extra juice. The normal vigorish on a wager is 10% or -110.
This means you must bet $110 to win $100. However, if you choose to buy that tempting half of a point, you now must bet $120 to win $100. Doing this means that you have to win your bets at a higher percentage rate just to break even.
The only time buying points must be considered is when the key number of three is involved. Games land on the magic number of three around 15% of the time (way more than any other number) so taking a +2.5 underdog up to +3 or a -3.5 favorite down to -3 is worth considering. Make sure you are not paying more than -125 in juice though. Any higher than -125 does not make good mathematical sense.
---
3. Be Careful with the 'Good' Teams
The best teams in the league are the ones that the majority of the betting public loves to bet on each week. For example, last year a lot of gamblers bet on the Bucs every week since they were the defending Super Bowl champions. What was the result?
Tampa Bay had a fine season by posting a 13-4 regular-season record. However, for the entire season (including the playoffs) the Bucs only covered the point spread in 10 out of their 19 games. If you had bet the Bucs in every game on the point spread, your bankroll would have basically broken even. This is a classic example that a 'good' team is not necessarily good to bet on.
On the other hand, the Detroit Lions were considered to be one of the worst teams in the NFL last season. However, the Lions rewarded their financial backers with an against-the-spread record of 11-6 and cleared +4.4 units of profit. Most of the time, the betting value lies with the average teams and not the powerhouses.
---
4. Never Ever Chase!
We get it. It's so tempting to load up on the Monday Night Football game to try and 'get even' during a losing week. However, most of the time you will double your losses instead of breaking even.
We have seen too many sports bettors lose their bankrolls early in the NFL season because of chasing. Chasing can also ruin your winning weeks as well. If you had a great Sunday of NFL betting, you may be tempted to 'let it all ride' on the Sunday Night Football game. So much of being a winning NFL bettor is staying disciplined with your bankroll and never chasing.
---
5. Limit Your Volume
Lots of crazy action junkies love to bet on every single NFL game. This is a recipe for absolute disaster as far as your bankroll is concerned. Here is why.
More money is wagered on the NFL than any other sport on the planet. The bookmakers know this, so they employ some extremely intelligent people to make the point spreads for the NFL games each week. The folks making the NFL lines work 60+ hours a week, if not more.
Do you honestly believe that you can find value in every single NFL game? It is simply not possible. There are only 32 NFL teams and the guys setting lines at each US sportsbook know them inside and out.
On a full week's slate of 16 NFL games, only three to five of them may have any betting value. Pick your spots wisely and don't be afraid to pass on a game if you cannot identify a legitimate betting edge. On a weekly basis, we personally never bet on more than five NFL games per week, and lots of times we only wager on three games.
---
6. Avoid Parlays
The biggest mistake most NFL bettors make is playing parlays. Instead of wagering on a single game, a parlay means betting on two or more outcomes. For example, instead of betting only on the Chiefs at -3, you also parlay that bet with a wager on the Titans at +7. The two bets are correlated, which means that both of your wagers must win in order for you to cash your ticket.
We know that the huge payout odds of 12 to 1 on a nice four-team parlay are great to look at on paper. However, the math on parlays is enormously skewed in the sportsbook's favor. In fact, the house edge on a straight bet is only 4.75%. The house edge on a four-team parlay at 12 to 1 odds is a gigantic 18.75%.
While you may get lucky and hit a parlay every once in a great while, you cannot outrun the math over the long haul. The near 5% edge on straight bets is tough enough to overcome. Don't willingly give your book nearly four times the mathematical advantage right out of the gate.
Make single bets on sides and totals (or even some player props) the cornerstone of your NFL betting strategy. Your bankroll will thank you!
Be certain to always practice responsible gaming, set and stick to limits, and take a break if you are in a losing streak. The start of the NFL season is an exciting time for sports bettors, but remember it is a long season with plenty of betting opportunities along the way!