Details for Our BetFred Promo Code Offer
While BetFred Sports is immensely popular in Europe, they are relatively new to the US market. However, BetFred's popularity and reach continue to grow, and the app is now available in 6 U.S. betting markets, including Arizona, Colorado, Iowa, Louisiana, Nevada, Ohio, and Pennsylvania.
New players in these six states can sign up using our BetFred promo code and receive $250 in free bets with their first $50 wager. You don't need a promo code to take advantage of this promotion. Follow these three steps and lock in your $250 in free bets today:
Sign up with BetFred Sportsbook through the offer's landing page and deposit $50 or more.
Place your first $50 wager on any game with minimum odds of -200 or better (a -210 moneyline wager would NOT qualify).
Get $250 in free bets, regardless of the outcome of your first wager.
Review the full terms for this offer and take a moment to familiarize yourself with the house rules prior to placing your first wager. Only one offer per household an you must be 21+ to wager.
| | |
| --- | --- |
| Online Sportsbook | BetFred Sportsbook |
| Promo Code | No code needed, follow link for offer. |
| Bonus Offer | Bet $50, Get $250 Free |
| How to Redeem | Place a $50 wager, get $250 Free! |
| States | AZ, CO, IA, NV, OH, PA |
| Last Verified | June 2, 2023 |
This is our top-rated bonus offer available from an online sportsbook this June. The only downside is BetFred is only available in 6 markets, while sportsbooks like DraftKings and FanDuel are available in as many as 17 which is better than BetFanatics which hasn't been released yet.
That being said, BetFred received approval to launch in Ohio when sports betting went live in the Buckeye State on January 1, 2023. Ohio bettors can track every Ohio sportsbook to see how the current BetFred promo code offer compares to other sportsbooks expected to launch in the state.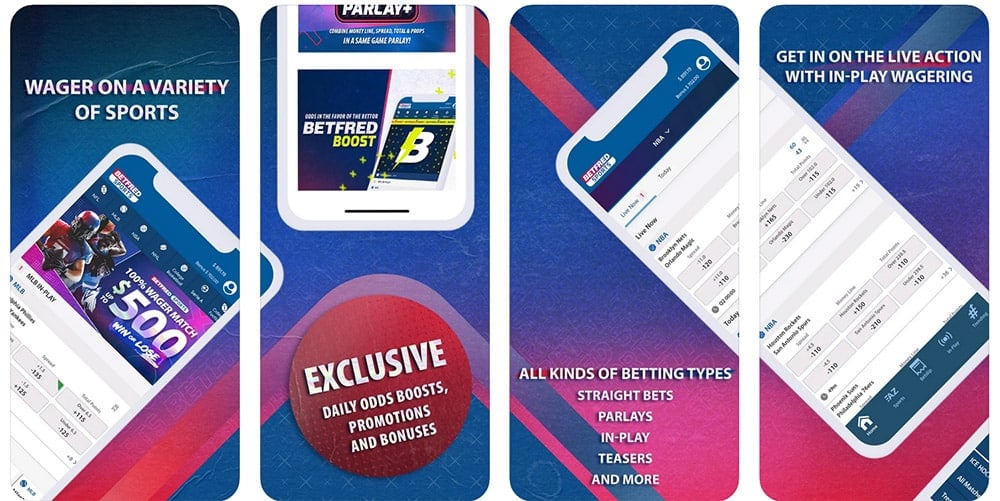 Top BetFred Sports Promo Code Offers by State
While our current BetFred promotion is live in every betting market the app is currently available, the sportsbook will occasionally offer exclusive promotions to certain markets. In the past, BetFred has featured exclusive offers to new players in Colorado, Iowa, and Arizona.
BetFred Sportsbook Colorado Bonus Offer
BetFred Sports launched in Colorado in September of 2020 and has our top-rated Colorado sportsbook bonus this June. New players can sign up through the link at the top of this page to lock in the max bonus.
With Russell Wilson arriving in Denver, CO football fans have plenty to look forward to this season. If you are new to sports betting, or just new to BetFred, the current $250 bonus offer is a great way to kick off the 2022 NFL season!
BetFred Sportsbook Arizona Bonus Offer
With arguably the most active sports betting market in the U.S., bettors in Arizona seem to have all the luck, and that carries over to BetFred Sports promotions. BetFred always makes their top offer available to new AZ players, and that is certainly the case this June.
While both Arizona and Arizona State look like they are rebuilding, the Cardinals are set to be one of the better teams in the NFL this season. While BetFred does not have a retail sportsbook in AZ, bettors can play online anywhere through the mobile app.
BetFred Sportsbook Iowa Bonus Offer
BetFred Sports is well aware of the importance of college football in the state of Iowa and has a number of promo code offers to get the casual IA sports fan on board this December. New players that join BetFred Sportsbook can take advantage of our featured offer when they place any $50 college football wager.
The Iowa Hawkeyes ended up going 7-5 this season but will at least get a bowl bid. A $50 wager on the Hawkeyes would count as your required bet to lock in our deposit bonus offer.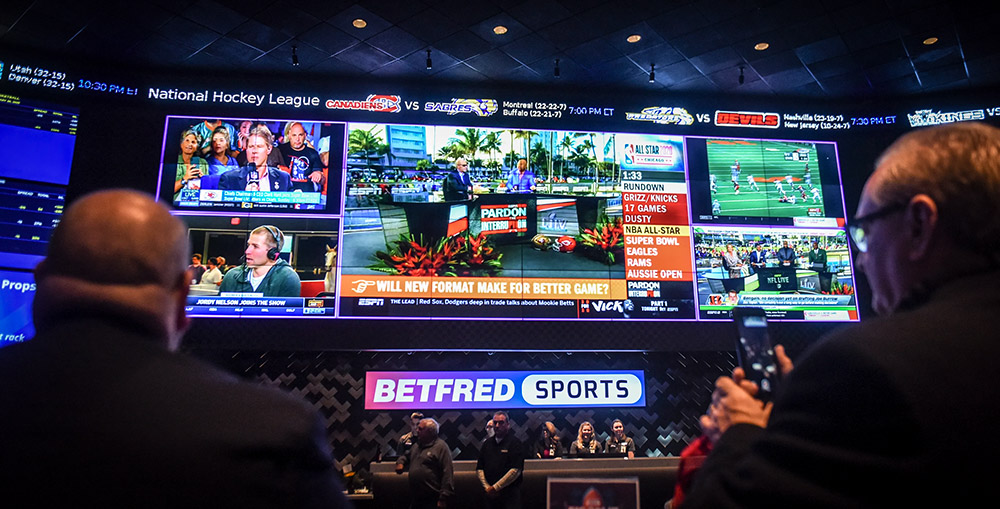 Where is BetFred Legal in the U.S.?
BetFred currently offers online sports betting in Arizona, Colorado, Iowa, and Pennsylvania. Additionally, they offer betting at retail sportsbook locations in Nevada and Washington, and are expected to launch in Louisiana and Ohio sometime during the 2022 NFL season. With new states like Massachusetts legalizing online sports betting we think they might make a run for that market as well. Here is an overview of where it is legal to bet using BetFred Sportsbook in the U.S.
BetFred Arizona
BetFred launched in Arizona earlier this year, and have been one of the fastest growing sportbsooks in the state ever since. The AZ promo code offer includes $250 in free bets, which is the most amongst all Arizona Sportsbooks. In addition to online betting, the BetFred Sportsbook at We-Ko-Pa Casino opened in Fort McDowell in September and offers live betting, 4K televisions, and great food and drinks.
Launch Date: February 2022
Online/Mobile Betting: Yes
Land-Based Partner: We-Ko-Pa Casino
Retail Sportsbook: 10438 Wekopa Way, Fort McDowell, AZ 85264
BetFred AZ Bonus Offer: Bet $50, Get $250 Free
BetFred Colorado
BetFred offers online, mobile, and retail sports betting in the state of Colorado. While we love the retail sportsbook (located in Black Hawk), new players should register online first and take advantage of the $250 bonus offer. This is currently our top-rated Colorado sportsbook bonus offer.
Launch Date: September 2020
Online/Mobile Betting: Yes
Land-Based Partner: Saratoga Black Hawk Casino
Retail Sportsbook: 101 Main Street, Black Hawk, CO
BetFred AZ Bonus Offer: Bet $50, Get $250 in Free Bets
BetFred Iowa
Thanks to state legislators setting up an operator-friendly environment, and an avid base of sports fans, Iowa bettors have a ton of sportsbooks to choose from. At the moment, BetFred Sportsbook has our top-rated offer amongst all Iowa sportsbooks, and the overall betting experience is on par with industry-leaders DraftKings and FanDuel.
Launch Date: February 2020
Online/Mobile Betting: Yes
Land-Based Partner: Grand Falls Casino
Retail Sportsbook: 1415 Grand Falls Blvd, Larchwood, IA 51241
BetFred AZ Bonus Offer: Bet $50, Get $250 in Bonus Bets
BetFred Louisiana
BetFred is approved to offer online and mobile betting in Louisiana, but, at the moment, only offer betting through their retail location at the Paragon Casino Resort. We reached out to the team at BetFred Sportsbook and were told the app would launch in Louisiana in the coming weeks. Once live, bettors will be able to sign up to receive $250 in free bets with any $50 wager.
Launch Date: Pending
Online/Mobile Betting: Yes
Land-Based Partner: Paragon Casino Resort
Retail Sportsbook: 711 Paragon Pl, Marksville, LA 71351
BetFred AZ Bonus Offer: Bet $50, Get $250 Free (Pending Launch)
BetFred Nevada
BetFred Sportsbook has been working on obtaining it's license in Nevada for nearly two years. Once ready, the sportsbook plans to open a retail location at the Mohegan Sun. While Nevada still requires in-person registration for all sportsbooks, legislation is pending to repeal that requirement and open up mobile registration in the state.
Launch Date: Pending NV License
Online/Mobile Betting: Yes
Land-Based Partner: Mohegan Sun
Retail Sportsbook: 4455 Paradise Rd, Las Vegas, NV 89169
BetFred AZ Bonus Offer: In-Person Registration Required
BetFred Ohio
Following the launch of legal sports betting in Kansas, Ohio appears to be the next state up here in the U.S. BetFred already holds an Ohio license, and appears to be ready to launch in the state as soon as they get the green light from the Ohio Casino Control Commission. BetFred was recently named the official betting partners of the Cincinnati Bengals, opening the door to a possible retail location at Paycor Stadium.
Launch Date: Pending
Online/Mobile Betting: Yes
Land-Based Partner: Cincinnati Bengals
Retail Sportsbook: Plans to open a sportsbook location at Paycor Stadium.
BetFred OH Bonus Offer: Bet $50, Get $250 in Bonus Bets (Pending Launch)
BetFred Pennsylvania
BetFred's iconic sportsbook first launched in PA in November of 2020. Given sports betting has been legal in Pennsylvania for over three years, there is plenty of competition in the state. However, thanks to our top-rated PA bonus offer, BetFred remains one of our highest rated sports betting apps in the state.
Launch Date: November 2020
Online/Mobile Betting: Yes
Land-Based Partner: Wind Creek Casino
Retail Sportsbook: 77 Wind Creek Blvd, Bethlehem, PA 18015
BetFred AZ Bonus Offer: Bet $50, Get $250 Free
BetFred Washington
BetFred opened it's first retail sportsbook in Washington state in September of this year. Warren Moon placed the first wager at the new sportsbook, which is located in at the Silver Reef Casino Resort in Ferndale. Mobile and online betting are only allowed when you are on casino grounds in the state of Washington.
Launch Date: September 2022
Online/Mobile Betting: No
Land-Based Partner: Silver Reef Casino Resort
Retail Sportsbook: 4876 Haxton Way, Ferndale, WA 98248
BetFred WA Bonus Offer: In-person only, no online sign up bonus available.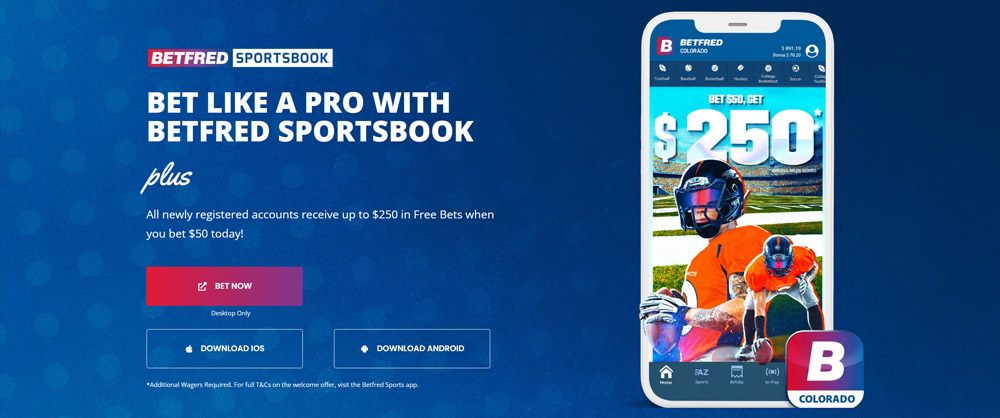 Terms for the Current BetFred Promo Code Offer
The terms for this offer are relatively straightforward. If you live in a state where the BetFred Sports app is available and are at least 21 years old, you are eligible for this promotion.
Our favorite feature for this offer can be used on any wager with odds of -200 or better. This allows you to bet a heavy favorite's moneyline (-200 or better), likely win your $50 bet, and get $250 in free bets.
Assuming you deposit $50 and place a $50 bet at -200 odds, your account balance would be $75, and you would have $250 in free bets available. This makes it easy to build a bankroll with your new BetFred sportsbook account.
Important terms for the bet $50, get $250 offer: You may use only one BetFred bonus code offer and can not combine promotions. Your free bets are credited to your account within 72 hours of when your $50 bet settles, and the $250 in free bets expire after seven days. These bets have no cash value, but anything you win with them is yours to keep.
Promotions Offered By BetFred for Existing Customers
The BetFred Sportsbook promo code offers are just the tip of the iceberg as far as promotions available in the app are concerned. BetFred works to keep its existing player base happy by running tons of ongoing promos throughout the year. Here's a list of some of the promotions and bonuses they are currently running:
BetFred Boosts - Odds boosts are slowly becoming all the rage at many sportsbooks in the US. With the BetFred Boosts, they select a few games each day and boost the odds on them. All sports bettors have to do is click the Today's Boosts button to see what is offered on that specific day.
Same Game Parlay - BetFred is aware that same game parlays are getting more and more desirable amongst gamblers! That's why they offer incredible betting odds for their NFL and CFB same game parlays. In addition to favorable odds, players can take advantage of parlay insurance on these wagers and get a portion of their stake back if they lose.
Player Rewards - There are several ways for current BetFred players to earn either free cash or free bets, including player rewards and a refer-a-friend program. Both programs can be accessed and tracked through your account on the website or BetFred sports app.
We're impressed with the number of existing promotions that BetFred offers. While most sportsbooks offer excellent welcome bonuses, few strive as hard as BetFred to keep their current bettors satisfied.
This is evident with the variety of promo code offers available for the 2022 NFL season. The current welcome offer at BetFred Sportsbook is our top-rated promotion for December, just slightly ahead of the offers from BetMGM and DraftKings.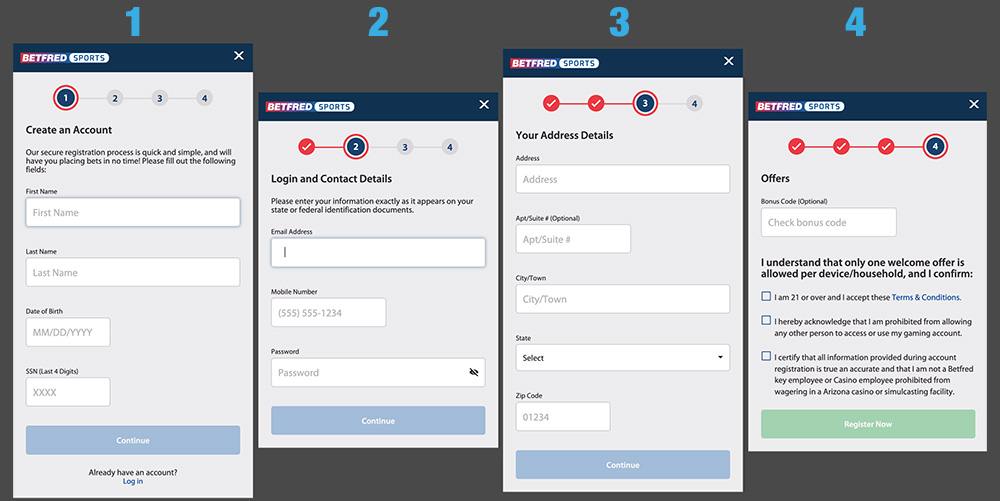 Tips for Getting Started With BetFred Sportsbook
BetFred Sportsbook has been a household name in the UK for over 50 years, but they haven't been in the United States for very long. However, Betfred's app is available in 6 US states, including Arizona, Colorado, Iowa, Louisiana, Pennsylvania, and Nevada.
They also have a brick-and-mortar sportsbook in Louisiana, located inside of The Draft Room at the Paragon Casino Resort in Marksville. BetFred will also have a location in Las Vegas soon at the Mohegan Sun Casino at Virgin Hotels.
BetFred has a fantastic app that is easy to use and pleasing to the eye. Their website is also top-notch, offering plenty of depositing and withdrawal options to make things as easy as possible for new players.
If BetFred is available in your state, we highly recommend giving them a shot!
What Betting Options are Available at BetFred?
BetFred Sportsbook offers a wide variety of sports, including every professional sports league, college sports, international sports, and even eSports.
Additionally, players can find various bet types in the BetFred Sportsbook app. This includes fixed odds wagers, parlays, teasers, same game parlays, round robin bets, player props, live betting, and more.
BetFred's mobile app is well designed, fast-loading, and a great UI/UX makes it easy to find the bet you are looking for and add it to your bet slip. Combine this with competitive odds and low juice, and you get one of the best online sports betting apps on the market today.
Since BetFred is a reasonably new name in the US, most sports bettors will have many questions about them. The following frequently asked questions will provide some basic info for bettors curious about BetFred.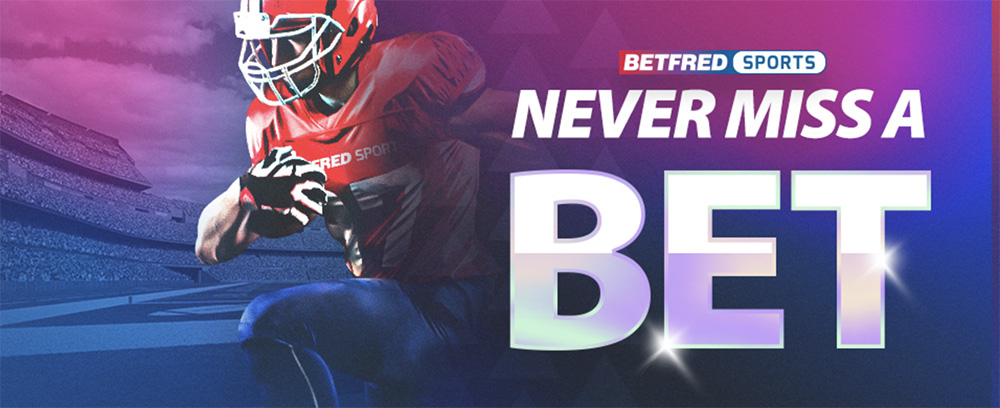 Pros and Cons for the BetFred Promo Code Offer
New player promotions are the easiest way to earn free cash from an online sportsbook, without having to risk your initial deposit. That being said, there are often hidden terms and conditions that new players should consider before signing up. We recommend review the full pros and cons for the current welcome bonus before registering with BetFred.
Pros for the Current DraftKings Offer
The $250 bonus is currently the largest available from an odds boost offer.
With minimum odds of -200 or better, the terms attached to the odds boost offer are amongst the best in the inudstry.
In addition to a welcome bonus, BetFred players get access to daily odds boost offers, a great rewards program, and additional promotions such as parlay insurance.
BetFred's mobile app is one of the best in the industry.
Cons for the Current DraftKings Offer
BetFred is currently limited to just six U.S. betting markets.
While BetFred offers live betting and same game parlays, they don't offer quite as many betting options as leading sportsbook operators FanDuel and DraftKings.
There are currently no deposit bonus or risk-free bet offers available at BetFred.
Rating for Current BetFred Bonus Offers
If you ask yourself how the current BetFred promotions stack up with the likes of PointsBet, DraftKings, and Caesars, our rating system can help. We compare the current BetFred Sportsbook welcome bonus to the offers available at other online sportsbooks to determine which operator has the best promotion.
Our rating also considers the overall quality of the BetFred sports betting app and the overall sports betting experience they provide their players. Read our BetFred Sportsbook review for an overview of how the app stacks up to other online sportsbooks.
The current BetFred promo code offer earned our team a 4.7 (out of 5) rating. This makes BetFred one of our highest rated apps in the U.S. sports betting industry. Please find the details for our current BetFred rating below, an aggregated score that includes our editor's rating and ratings provided by existing players.
BetFred Sportsbook rating and review last updated: June 2, 2023
| Review | BetFred SportsBook |
| --- | --- |
| Details | While one of the largest sportsbook operators in Europe, when compared with some of the biggest sportsbooks in the U.S. industry, BetFred isn't nearly as popular. That being said, they offer a nice welcome bonus and a wide variety of promotions for existing players. Once BetFred breaks into a few more betting markets, we expect their overall rating to increase even more. They offer a great betting experience, a solid app, and a wide variety of sports. The current 4.8 rating puts them slightly behind leaders FanDuel and DraftKings but ahead of most US sports betting apps. |
| Author | Chris Lollis |
| Rating | 4.7 (out of 5) |
21+ to wager. Please Gamble Responsibly. Gambling problem? Call 1-800-GAMBLER. Call 1-800-NEXT-STEP (AZ), 1-800-522-4700 (KS, NV), 1-800-BETS-OFF (IA), 1-800-9-WITH-IT (IN), 1-877-770-STOP (7867) (LA), Call 1-800-327-5050 (MA), Call 1-800-GAMBLER or visit mdgamblinghelp.org (MD), 1-800-270-7117 for confidential help (MI). Call 877-8-HOPENY or text HOPENY (467369) (NY), 1-888-532-3500 (VA).