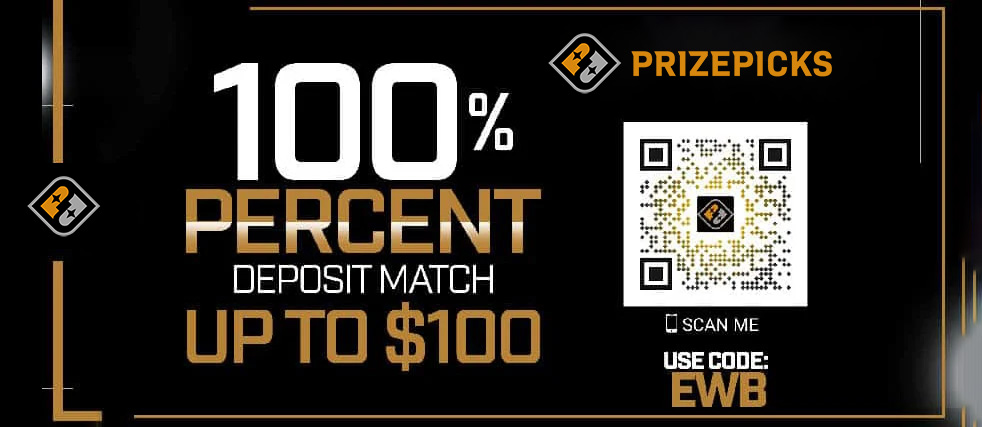 Details for our PrizePicks Promo Code Offer
While some sportsbook and DFS bonus offers can be tough to navigate, our current PrizePicks bonus is straightforward. Register using our exclusive PrizePicks promo code (EWB) and receive a 100% deposit bonus, up to $100.
Find the details for this bonus offer and the terms attached to our promo code in the table found below:
| | |
| --- | --- |
| Promo Code | EWB |
| Bonus Offer | 100% Deposit Bonus |
| Terms | $10 minimum deposit, new players only. |
| Offer Dates | Deposit Bonus available 9/1/2023 through 9/31/2023. |
| Eligible States | PrizePicks operates in 30 US States and Canada |
Note that this offer is for eligible first-time depositors. New players must be physically located in a state where PrizePicks is licensed to operate. Following their recent launch in Colorado and Maryland, PrizePicks is available in the following states: AK, AL, AR, AZ, CA, CO, DC, FL, GA, IL, KS, KY, MA, MI, MN, NE, NM, NC, ND, OK, OR, RI, SC, SD, TX, UT, VT, VA, WI, WY. We'd love to see them in emerging markets like Ohio, but time will tell. You can always find the list of excluded states on the PrizePicks Terms page.
It is worth pointing out that players in states like Texas that do not have legal sports betting can enjoy legal prop betting contests at PrizePicks. Of course, PrizePicks is not the only fantasy company that offers these contests, but they have some advantages over their biggest competitors.
How to Use a PrizePicks Promo Code
Signing up with one of our PrizePicks promo codes is a simple three-step process. Here is how to get signed up and earn your 100% deposit match:
Copy our PrizePicks promo code: EWB.
Enter the code into the registration form on the website or PrizePicks app.
Make an initial deposit of at least $10.
Receive a 100% deposit bonus worth up to $100 in site credit.
Terms for Our PrizePicks Promo Code Offer
As with any daily fantasy sports promotion, reviewing the complete terms and conditions for the PrizePicks promotions before starting the sign-up process is important. Here are the most important terms that apply to the current bonus offer:
This promotion is only available to new users.
The minimum age to open a PrizePicks account is 18.
The total bonus can not exceed the amount of your initial deposit or $100.
This offer includes bonus money that can be used on the PrizePicks app but can not be withdrawn until it has been used at least once.
Top PrizePicks Prop for September 19
If you need help finding the top PrizePicks prop each day, you'll love this section! Our team analyzes the numbers and brings one of the best selections on the board each day. Here is today's top PrizePicks prop.
Brock Purdy Under 226.5 Passing Yards
The Niners are a double digit favorite over the Giants, so we're expecting limited passes from Purdy in the second half. Let's take the Under!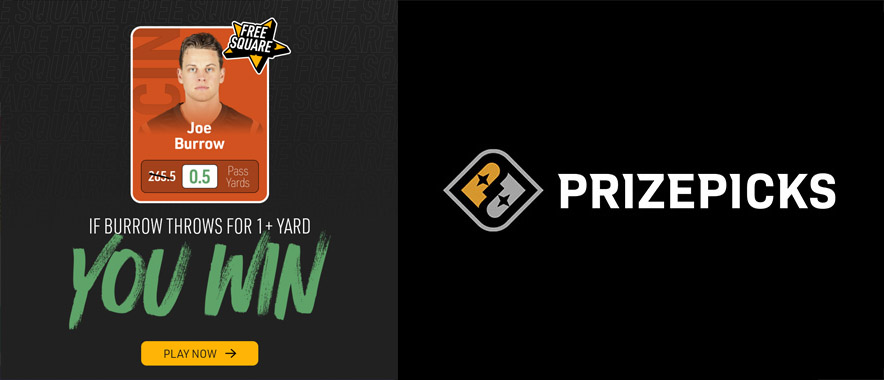 How Does the PrizePicks Bonus Code Offer Compare to Competitors?
PrizePicks consistently offers some of the best promotions in the DFS industry. Their $100 deposit bonus offer matches the new Underdog Fantasy bonus offer. However, PrizePicks edges out Underdog in a few areas.
When compared with brands like Vivid Picks, ParlayPlay, and Lucra Fantasy, the PrizePicks promotion is a multiple higher in terms of total bonus. While Monkey Knife Fight also offers a $100 deposit bonus, the terms for the current PrizePicks offer are considerably more player-friendly.
Apps like PrizePicks will always struggle to compete with industry leaders FanDuel and DraftKings, but they tend to have a massive advantage over both brands in the terms and conditions of their bonus offer. PrizePicks makes it easy to instantly receive your $100bonus, while FanDuel and DraftKings may require you to play through your deposit up to 25 times before receiving your full bonus.
How Does the PrizePicks App Compare to Competitors?
While we are big fans of the PrizePicks app, from the design and user interface to the customer support team, it is still worth seeing how it stacks up to its competition.
Compared to Monkey Knife Fight, PrizePicks offers a considerably better website and app. When comparing PrizePicks to Vivid Picks, they offer more variety in contests, sports, and slightly more payout options. Lastly, PrizePicks' biggest competitor this September is Underdog Fantasy which offers a slightly inferior prop format but does offer snake-style fantasy drafts and season-long best ball.
After closing a round of funding led by big-name investors like Matt Ryan and John Collins, PrizePicks looks poised for even more growth and innovation in 2023. We expect them to expand their product and get even more aggressive with their promotions by the start of the 2022-2023 NFL postseason.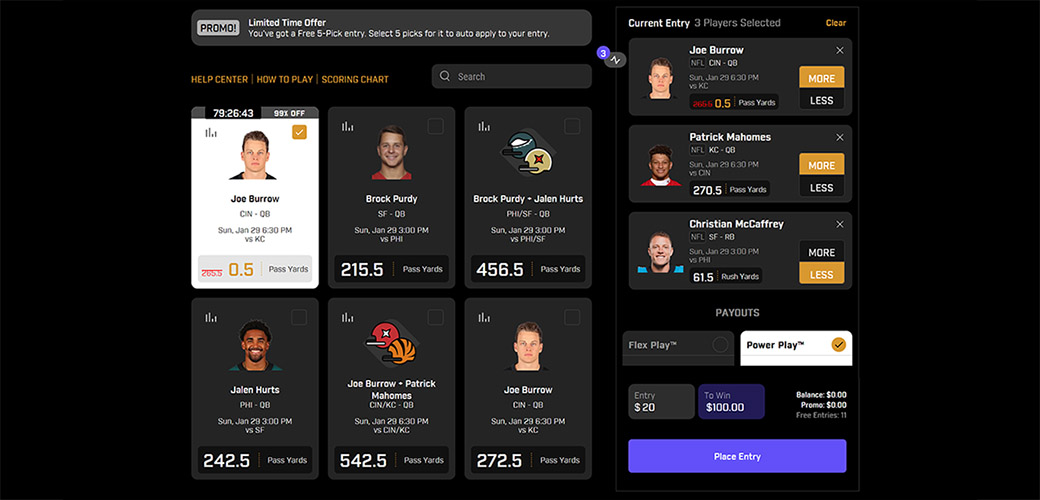 How Does PrizePicks Work?
Whether you enjoy DFS or sports betting, you will enjoy the experience considerably more when using the PrizePicks app. With as sleek and intuitive an interface as they come, the PrizePicks platform allows users to make entries ranging from two to five players/stats from any combination of sports. Below, we go over just how simple and user-friendly it is to play on PrizePicks:
For each entry on PrizePicks, users:
Select either a single stat or a fantasy points projection for your entry pick.
Choose between the over/under on the selected stat or score.
Repeat steps 1 and 2 for up to five single stats/fantasy scores.
Select a traditional parlay format or flex play. With the traditional format, you must get all of your picks correct. With flex play, you can win money even if your pick(s) miss.
And that's it! The payout multiplier is determined by the type of play you select in step 4.
Types of Plays & Payout Multipliers
PrizePicks offers a variety of contest types that users will want to familiarize themselves with. It is worth noting that the deposit bonus you receive with our promo code can be used on any of these formats. The types of plays and accompanying multipliers for PrizePicks contests are as follows:
Flex Plays:
As the name would suggest, Flex Plays allow for flexibility when it comes to winning an entry.
Flex Plays allow for one wrong pick: On a four-pick entry, 3/4 correct picks on a Flex Play would still pay 1.5x (+150) your entry amount.
If you hit all four correct on that entry, the payout would be 5.0x (+500).
Power Plays:
Power Plays require every pick to be correct for an increased multiplier.
While a four-pick flex play would pay out 1.5x or 5x your entry, a Power Play entry on the same lineup would return a considerable 10x payout.
Here is a breakdown of the payouts based on the number of picks and type of play:
Two Picks:
Flex Play: 0.5x (-200) for 1/2 correct picks; 2x (+200) for 2/2 correct picks
Power Play: 3x (+300) for 2/2 correct picks
Three Picks:
Flex Play: 1.25x (+125) for 2/3 correct picks; 2.25x (+225) for 3/3 correct picks
Power Play: 5x (+500) for 3/3 correct picks
Four Picks:
Flex Play: 1.5x (+150) for 3/4 correct picks; 5x (+500) for 4/4 correct picks
Power Play: 10x (+1000) for 4/4 correct picks
Five Picks:
Flex Play: 0.4x (-250) for 3/5 correct picks; 2x (+200) for 4/5; 10x (+1000) for 5/5 correct picks
It is worth noting that you do not need to memorize the payout structure. The PrizePicks website will show you a breakdown of the payout structure for every contest before you submit your entry.

FAQs for PrizePicks App and Promotions

While PrizePicks is not the newest name in the DFS industry, its player pool has exploded over the past six months. With a massive influx of new players that may not be accustomed to how the PrizePicks DFS app works and how prop contests work, we have received plenty of PrizePicks-related questions.
Below are answers to questions regarding how our PrizePicks promo code works, what customer support options are available, and who is eligible to play on the app.
Yes, PrizePicks is a legal, licensed daily fantasy sports company.
Where is PrizePicks available?

PrizePicks operates in 30 U.S. states and Canada. The company is headquartered in Atlanta, GA, and was recently named one of the fastest-growing companies in the U.S.

What is the minimum age to play on PrizePicks?

You must be at least 18 years of age to use PrizePicks. However, the minimum age is determined by the rules in your state, and the minimum age could range between 18 and 21 years old.

What types of promotions do PrizePicks offer?
PrizePicks typically offers two types of promotions: deposit bonus offers for new players and odds boost offers for current players. The current deposit bonus offer includes a 100% deposit match with a $100 cap. A typical odds boost offer lowers a player prop to make it a lock, such as .5 points for the best player in an NBA game.
Is there a rollover that applies to the PrizePicks promo code offer?
When you sign up using our PrizePicks promo code, the bonus is paid out as site credit. This site credit must be used in the PrizePicks mobile app before it can be withdrawn. Rollovers apply to the current welcome bonus at every daily fantasy sports app.

How does the PrizePicks promo code offer stack up to others?
The current $100 deposit bonus that PrizePicks is offering is very generous and right in line with most of the DFS industry. Competitors like Underdog, Vivid Picks, Bet365, and Thrive also give new players a $100 bonus.
Does PrizePicks offer any promos for existing players?
Yes! PrizePicks likes to reward their current customers by giving away free squares, contest entries, and payout boosts. These can be found via email, Twitter, or Instagram at different times of the year.

How long will PrizePicks offer their $100 deposit bonus?
No one knows how long PrizePicks will keep offering their current deposit bonus for new players. However, they haven't changed it in quite some time so we expect it to continue at least through the end of the Super Bowl.

Do the bonus funds expire on PrizePicks?
Yes, bonuses expire on PrizePicks after 90 days so make sure to use those funds before that time.

What is the Taco Tuesday promo that PrizePicks offers?
Everyone loves Taco Tuesday, so PrizePicks decided to bring that concept to DFS. Every Tuesday, PrizePicks will discount a number of player projections by 15 to 25%. This is a huge advantage for folks that like to bet Overs!

What sports/leagues are offered on PrizePicks?
PrizePicks offers contests for a wide variety of sports. This includes the NFL, NBA, NHL, MLB, PGA, Nascar, and eSports. PrizePicks also added college football and college basketball contests. Only PrizePicks and Underdog Fantasy offer prop bet contests for college football players.
What customer support options does PrizePicks offer?
PrizePicks has a very helpful and responsive customer service team to help DFS players if an issue arises. Simply click the live chat button on the app, and a customer care agent will answer your questions. Their response time is almost always under 5 minutes. If you think the app or website is down, PrizePicks Support on Twitter is a great resource to check.

What deposit methods are available on PrizePicks?
Players can deposit via PayPal or Debit/Credit Card. Any funds you deposit are immediately available to start entering contests on the app.
Does PrizePicks have a referral program?
Yes, PrizePicks has a very generous referral program for its customers. If you send a friend to PrizePicks and they deposit $10, you'll get $25. That's 2.5x higher than other DFS apps and a fantastic way to build up your DFS bankroll.
Does PrizePicks have a mobile app?
Yes, the PrizePicks app is one of the highest-rated fantasy apps in both the App Store and Google Play Store. You will find it is one of the best-designed DFS apps on the market, easy to use, with a sleek interface and tons of contest options.
How fast does PrizePicks process payout requests?
PrizePicks does a good job of getting withdrawal requests completed promptly. After submitting a request, most players receive their money within 2 to 5 business days.
Yes, PrizePicks goes to great lengths to secure your personal and financial information. They are one of the largest DFS operators in the country and are highly trustworthy.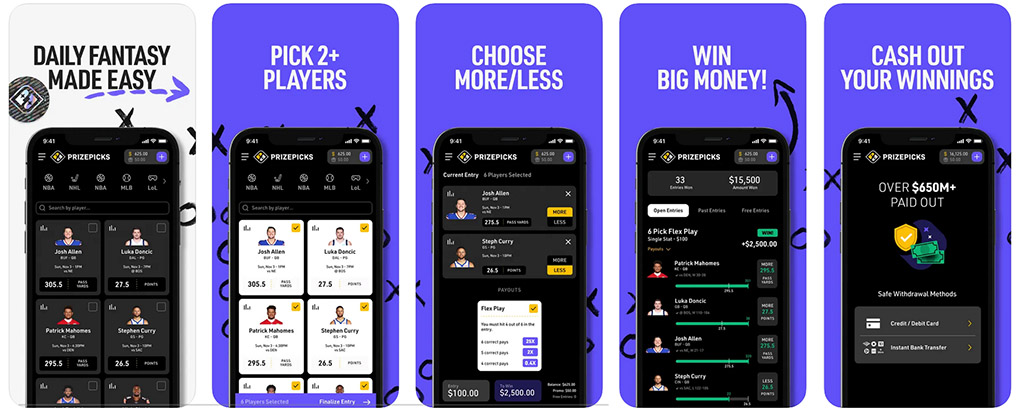 PrizePicks Promo Offer Pros and Cons
PrizePicks has a stellar reputation in the DFS industry, but how does their 100% deposit match (up to a $100 bonus) compare to other DFS apps? Look at the pros and cons of the current PrizePicks promo code offer to get an idea of how good this promotion is.
Pros of the PrizePicks Deposit Bonus
The $100 deposit match is the best bonus offer on a daily fantasy sports app.
PrizePicks deposit bonus terms are much more player-friendly than FanDuel and DraftKings.
Power Play and Flex Play contests allow you to win even if you miss on picks.
The PrizePicks mobile app is arguably the easiest to use in the industry.
Cons of the PrizePicks Deposit Bonus
No best ball or season-long leagues.
No way to interact with other PrizePicks users.
PrizePicks, Underdog, Vivid Picks, and Thrive all offer similar promotions, great apps, and a wide variety of contest options. We recommend testing each app to see if you prefer playing on one over the other options.
In a head-to-head comparison, PrizePicks offers a wider variety of player prop options, Underdog offers more ways to play outside of just player props, and Vivid Picks offers the best experience for players looking to enter e-sports contests.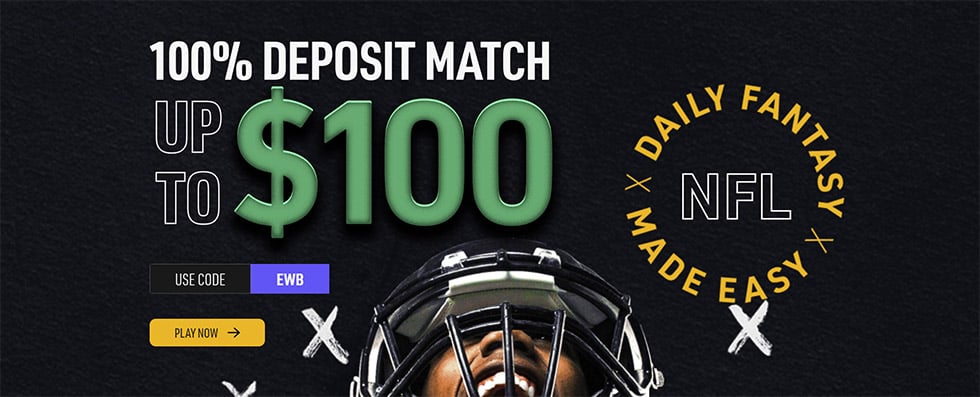 Current PrizePicks Rating
PrizePicks offers one of our favorite daily fantasy sports apps in the industry this September. There is plenty to love about the product, but for us, it starts with the overall design and feel of the app. PrizePicks did a great job of building a mobile app that looks great and functions perfectly. Finding the game/player/prop/contest you want could not be easier.
The second major factor that played into our current PrizePicks rating is the bonus offers. Our exclusive promo code is always tied to the best PrizePicks promotions, so there is no need to shop offers.
As an added bonus, there are never confusing terms and conditions with any of the promotions. Simply download the PrizePicks app, sign up, make a deposit, and receive your bonus.
Find our current rating, updated using user feedback (400+ reviews) on September 19, 2023.
| Review | PrizePicks Fantasy |
| --- | --- |
| Details | PrizePicks offers one of the best-looking DFS apps in the industry. Beyond being pleasing to the eye, the app is well laid out and easy to use. They also offer the widest variety of sports amongst the prop-style fantasy products and were the first to offer college football and basketball contests. The current promo code offer, which includes up to a $100 bonus on signup, is the new industry standard and a player favorite. PrizePicks comes in as our top-rated DFS product earning 4.9 out of 5 stars. |
| Author | Chris Lollis |
| Rating | 4.9 (out of 5) |
Must be 18+ (19+ in AL and NE, 21+ in AZ, IA, LA, and MA) and present in a state where Fantasy operates. Terms apply. Please Gamble Responsibly. Concerned with your play? Call 1-800-GAMBLER or visit www.ncpgambling.org; AZ: 1-800-NEXT-STEP (1-800-639-8783) or test NEXT-STEP to 53342; NY: Call the 24/7 HOPEline at 1-877-8-HOPENY or Text HOPENY (467369), TN: Call/text TN REDLINE at 1-800-889-9789.
Register with confidence, as our team updates the terms and details for our PrizePicks promo code on a daily basis!