Play Online Casino Games at these Legal Online Casino Options in PA
The great state of Pennsylvania has a long track history of accepting gambling. Residents began to legally bet on horse races way back in 1965.
Slot gaming was made legal in 2004 and several popped up in Pennsylvania around that time. That was a key first step to getting PA casino apps legal. Since that time, Pennsylvanians have enjoyed the convenience of playing legal casino games for real money.
Is online gambling legal in Pennsylvania?
Online gambling is legal in PA. In 2017, Pennsylvania legalized sports betting, and roughly one year later (in 2018) the first sportsbook in the state was opened for business. Pennsylvania quickly realized that sports betting was a blossoming business, and in 2019 they started offering mobile apps as a way for their residents to place wagers on sporting events.
Once online sports betting became legal and regulated by the Pennsylvania Gaming Control Board, the action came in record numbers from all over the state from Philadelphia to Pittsburgh. Every popular online sportsbook wanted in on the action with the rest of the regulated online casinos.
In fact, PA residents legally wagered 365 million dollars on sporting events in August of 2020 (a pretty impressive amount since that was during the teeth of the Covid-19 pandemic). Nearly 90% of the amount wagered was via PA's legal online gambling sites and online casino apps. Needless to say, PA online casino apps are here to stay and they're only going to get bigger!
There is no shortage of legal, real-money online casino apps in the state of Pennsylvania. It is one of the most competitive casino markets in the US, which means PA bettors get access to better apps, a wider variety of casino table games, and better casino promotions. Each online casino app also offers plenty of online slots to keep you entertained.
Beyond a wide selection of sports gambling and online casino apps, Pennsylvania is also one of only five states to offer legal online poker. PA residents and visitors can play online poker for free and compete in tournaments with not only other PA poker players but anyone located in a state that has legalized multi-state online poker.
This means even more action with bigger tournaments and bigger payouts. These are some of the best table games from across the country.
Are you a PA resident? Are you interested in what PA online casinos offer the best online apps? Here is a quick list of the best online casinos for you to check out so that you can legally play online casino games (assuming you are 21 or older, of course) from the comfort of your own home.
Promos from the best PA online casino apps!
While we're discussing some of the most prominent PA online gambling sites and their exclusive games, we don't want to forget about the phenomenal promotions that PA casinos offer. Every single one of the legal online casino apps in Pennsylvania offers a promotional code or some other bonus for new players that can be used to start playing with more money.
Getting started is quick and easy, just check out our list of exclusive promos for these online casinos. You'll find some excellent bonuses that will give you extra money to wager with for their various casino games.
In addition, some PA online casinos offer special bonuses and discounts for their loyal players. Whether it's a no-deposit bonus or free spins on some of your favorite casino games, you can always find something enticing at the top Pennsylvania online casinos.
What games are talking to you?
Taking advantage of promotions is a no-brainer. Obviously, you want free money, but what casino games can you play at these online casinos? The answer is anything!
Not only can you play every table game that a land-based casino can offer, but you'll also have access to unique variations of games like blackjack, roulette, and baccarat. These can be live dealer games or in video format such as video poker.
If slots are more your thing, then you're in luck. Some of the biggest developers in the industry have created and released hundreds of different slot games for PA online casinos.
As we go through the various casino brands, we'll discuss what types of games they offer so you have a better idea of what you can expect from each of these online casinos.

Best Pennsylvania Casino App Bonus Offer: Caesars Online Casino PA
Caesars casino has been around for several decades as one of the premier places to gamble in the whole world. Any visit to Las Vegas is not complete without a trip to Caesars Palace. Did you know that if you are in PA you can gamble in online poker and other table games via the Caesars Casino App?
Caesars has partnered with Harrah's Philadelphia to provide online gaming to all PA residents. Their deposit bonus is the most generous one in state as folks can get up to $3,000 extra dollars for registering today.
They also offer plenty of live dealer games. Games such as Blackjack, Baccarat, Roulette, and Casino Hold'em are all offered. For those that enjoy the slots, Caesars offers over 600 different online slot games to choose from.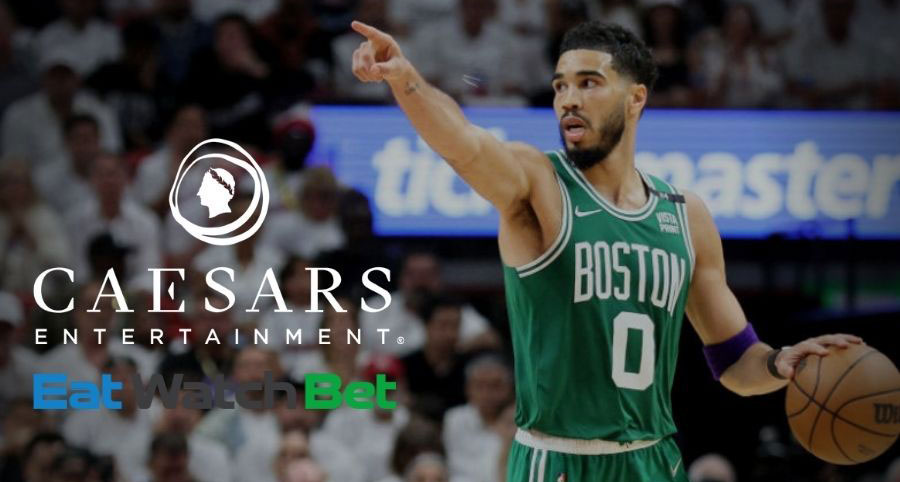 Caesars sports betting options.
Another great option that Caesars offers is online sports betting. In addition to their selection of table games and live dealer casino games, they have a wide selection of single game bets and parlays you can get into. They're one of the few real money casino apps that offer both casino and sportsbook options.
Not all online casinos are created equal and that's why Caesars stands out to us.
Their customer service is the pinnacle!
Caesars Casino PA gets high marks for its outstanding customer service support. They offer both email and phone support for their customers, and they also have a live chat option available. Their response times are quick and their customer service reps are friendly and knowledgeable.
So when you're having trouble or experiencing glitches in your live dealer games, you can get instant support from their support team.
Not all casino apps rate very high for their customer service options so that's something to keep in mind if you're looking for a reliable and trustworthy casino app.
Lucrative bonuses and more!
One of the best things about Caesars is their lucrative bonus program. They offer a variety of different bonuses and rewards for their players, including no-deposit bonuses, reload bonuses, loyalty points, and more.
They also offer a VIP program for those that really want to get the most out of their online casino experience. The VIP program offers extra bonuses and rewards for those that are loyal to Caesars and keep returning to their casino app for some online play.
One of the best and smoothest apps on the market.
Their app also rates as above average in terms of user-friendliness and ease of use. It's available on both the Google Play Store and Apple App Store, so you can play from your phone or tablet.
It's easy to navigate and the games run smoothly with no lags or glitches. This is one of the smoothest-running casino apps on the market, so if you're looking for a clean gaming experience then Caesars Casino PA should definitely be on your list.
We highly recommend these guys, as their slots, table games, and sports gambling offerings are some of the best in the state.
In addition to the online casino bonus offer, Caesars Sportsbook offers the state's top sports wagering bonus and WSOP is our top-rated Pennsylvania poker app for 2023. Combine these offers with Caesars Rewards and this app is an easy choice for PA gamblers.
You can always find the best Pennsylvania casino bonus when you sign up through EatWatchBet. Our team works directly with all of the online casino apps in Pennsylvania to ensure we have the best promotions listed on our site. Every page is audited daily to ensure our offers are current and the terms are accurate.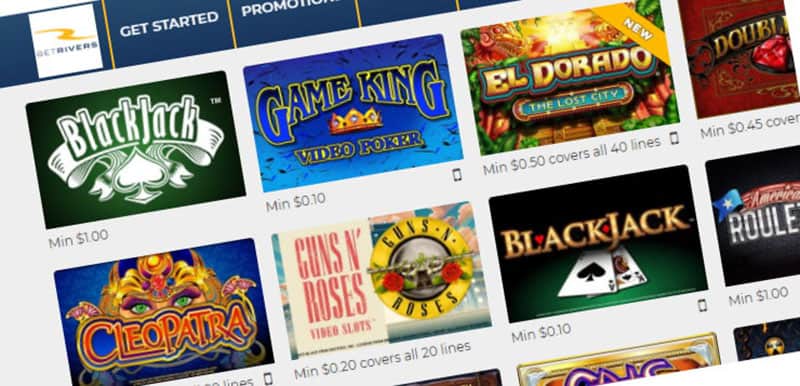 BetRivers Online Casino PA
Another good app option for PA gamblers is BetRivers. This app covers all of your online gambling and sports investing needs. Most online gambling sites specialize in slots and the rest of their offerings are so-so.
This is NOT the case with BetRivers, as they offer the opportunity to play craps, Roulette, Blackjack, and plenty of immensely popular slot games as well.
And if it's live dealer games you want, you're in luck there too! You can get into all of the action with their table games right in their online casino app.
Betting options for the game day sports bettor.
BetRivers also has an easy-to-use sportsbook for sports bettors to enjoy. BetRivers Sportsbook app offers loads of LIVE betting options for the most avid sports investors.
Whether you want to place a same game parlay or just create a bet slip on a traditional bet, the BetRivers PA online casino app has the options you're looking for. And while you're watching the game and waiting to win big, jump over to their online slot machines to rack in some more winnings.
Integrated news feature.
Their website and the app also have a cool news feature on the right side as well. So when you want to stay up-to-date on all of the latest and greatest sports events, you can get your fix right in the BetRivers app.
Bonuses and rewards for casino games you don't want to pass up.
BetRivers online gambling bonus is pretty nice as well. Our current BetRivers promo code is attached to a $250 bonus that requires only a 1x rollover for both the sportsbook and the online casino! This is the most player-friendly deposit match offer available to PA bettors for 2023. On our list, this is the only online casino that has a 1x rollover. Most PA casino apps have a multiple rollover requirement.
BetRivers online casino also offers some pretty nice merchandise to their most loyal clients through their iRush Rewards program. Some of the VIP customers receive a free Apple or Android device, access to faster withdrawal times, and various other luxury gifts. These are things you'll often find in land-based casinos, but for an online casino to offer these perks is almost unheard of.
Overall, we love the BetRivers online casino. With their wide selection of casino games such as online slots and table games, and tons of sports betting options, this is easily one of the best PA casino apps you'll find in the market. Go and download their PA casino app on any of your mobile devices.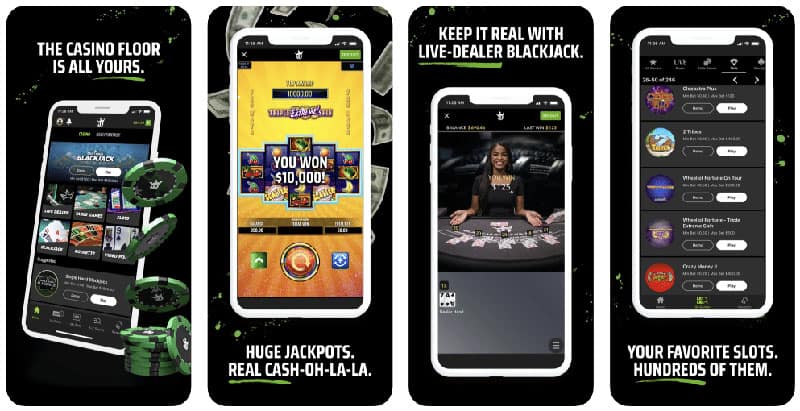 Best Casino Features: DraftKings Casino PA
We simply cannot leave out the Daily Fantasy giant known as DraftKings. These folks exploded onto the PA online casino scene a little over a year ago. While they've been on the national stage for quite some time now, it wasn't until recently they brought their online gambling to the PA market.
Who wants a bonus!?
DraftKings will give any PA resident $45 in their new account for FREE! Who doesn't like free money?
There are other great DraftKings promos you can take advantage of as well. Whether that is using a promo code when you sign up or placing some free bets, they have it all. Of course, some of their promos might not be as lucrative as some of the other online casinos. After all, a big name like DraftKings has an established reputation and doesn't need to lure in players like the smallers sites. However, they do offer some free money options you'll be sure to enjoy.
DraftKings not only offers a wider variety of online casino table games and one of the industry's best apps, but they consistently offer the best bonus offers of the Pennsylvania online casinos.
Their bonus structure is excellent because they offer to match your first deposit up to a max of $1500! Geez, that is a quick way to build up your betting bankroll! Remember to use promo code CASINOBV for this amazing deal!
Sports betting options for the fanatic.
DraftKings has a state-of-the-art online sportsbook that offers plenty of sports betting and DFS options for sports fans who want lots of action. After all, they started out as a daily fantasy sports app and slowly evolved into the online gambling industry.
Now one of the most trusted names in DFS offers sports betting options that can't be matched by any other online casinos.
Table games, live dealers, and more!
In addition to being one of the most trusted online sportsbooks in PA, DraftKings has really come a long way in its offerings of slots and table games.
Their online app offers a LIVE dealer 24 hours a day and seven days a week! Wow, talk about going above and beyond to give their customers a pinnacle gaming experience.
DraftKings caters to all players both big and small. For example, even if you do not have a large online gambling bankroll, you can still enjoy $1 Player's Suite Blackjack, $1 Baccarat, and 10-cent GameKing Poker! It is really refreshing to see a big brand like DraftKings give smaller players the opportunity to get in on the fun!
Overall, we love DraftKings for their options and promos. Their online casino is one of the most polished online gambling experiences you'll enjoy in Pennsylvania. So whether you're looking for table games, online slots, sports betting or any other casino games, definitely give DraftKings a shot.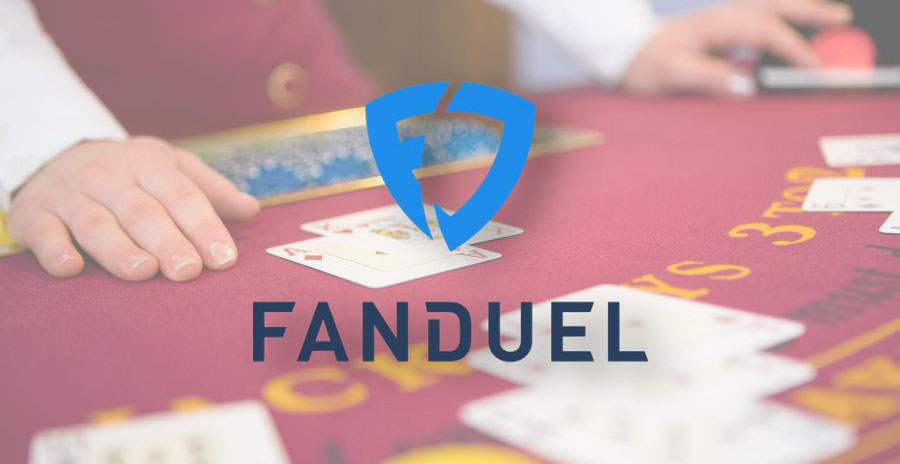 Best New Bonus at a PA Online Casino: FanDuel Casino PA
Attention, all online casino players in Pennsylvania! One of the biggest names in sports betting and DFS now has its own online casino! Not only that, they're offering a massive bonus to players that move to them for all of their online gambling needs.
To encourage new player sign-ups, FanDuel is offering a $1,000 Play It Again bonus! That is lucrative by all online casino standards and it's definitely one you don't want to miss. You can use this in online poker games or even progressive jackpot slots!
On top of all of that, FanDuel PA Online Casino is giving new players $100 free when they complete their registration.
Here's a quick guide on how it all works for Pennsylvania casino gamblers:
Complete your registration with all the necessary info like your name, email, address, phone number, etc. It's pretty simple and straightforward.

Make your first deposit of at least $10. A modest deposit for a lot of fun!

Start playing your favorite table games or online slots. That's what you're after anyways, right?

FanDuel will then give you $25 in free site credit per week for four weeks. That's nuts! Free money just to play some table games and online slots!?

Also, if you have incurred any losses after your first day, FanDuel Casino will reimburse you for up to $1,000.
Not many PA online casinos will let you try out their site with very little risk! This is why we think this offer from FanDuel is one of the best in the online casino industry!
What's even better is that you don't even need a promo code to take advantage of this amazing offer!
With that, that's why we're calling FanDuel one of the best Pennsylvania online casino apps for new bonuses. Between playing online casino games and getting a massive bonus just for doing so, signing up with FanDuel is a no-brainer.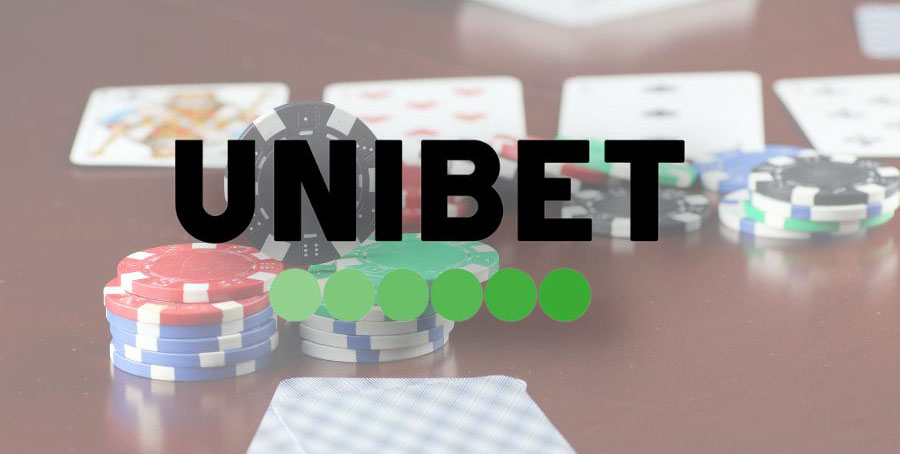 Unibet Dips Its Toes Into the PA Online Casino Market
FanDuel isn't the only company to try its hand in Pennsylvania. Unibet has also chosen to enter the fold with its online casino. Right now, Unibet is giving away $10 free to all Pennsylvania customers once they complete their registration.
We call that a no-deposit bonus. It's like being handed $10 when you walk in the door of a casino. Drop it into online slots or play some table games, the option is yours. The great part is that you can do it carefree because it's free money.
Also, Unibet PA Online Casino is rewarding all first-time clients with a $500 deposit match! Wow! That shows that Unibet is serious about signing up new online casino players in PA! It doesn't get any better than free money!
All you have to do is make your first deposit of at least $10 and Unibet will match it up to a whopping $500! That's way above the industry standard for online casino bonuses and one of the best from a PA online casino. The toughest decision is where to play because this online casino has all of the options from live dealer games to video poker and everything in between. It's easy to see why Unibet is one of the best mobile apps for online gaming.
Don't forget the bonus codes!
Remember to use the bonus code UBCASINO10 to get $10 of free play in casino games. This is the best way to try out all of your favorite online casino table games for free.
For the deposit match offer, remember to use code UBCASINO500 to get your $500 deposit match! This essentially doubles your bankroll right off the bat, which is a huge advantage for new players in Pennsylvania.
Stamped and approved by the Pennsylvania Gaming Control Board.
Unibet Casino has been approved by the Pennsylvania Gaming Control Board, so all players can rest easy knowing that their money and personal info are in good hands. Folks must be 21 years old or older to play online casino games in PA or use online casino mobile apps.
Unibet is tough to beat. Of course, they're relatively new compared to the rest of the Pennsylvania online casino apps, but they're an established name in the online casino industry.

For Another Great Bonus, Don't Forget About Borgata Casino PA
Need another solid bonus option from an online casino in Pennsylvania? Check out Borgata Casino and their very generous $1,000 deposit match for new users! They also are giving away $20 just for signing up!
This is one of the hottest deals in the PA gaming industry, and it's supposed to last until the end of 2023. The crazy thing is you don't even have to make a deposit to get the $20 bonus! Simply sign up and start playing all of your favorite slots, table games, and more at Borgata PA Online Casino!
Just be sure to use your $20 within three days because it will expire after that. The wagering requirement for the $20 bonus is only 1x.
To get the deposit match offer, you must make an initial deposit of at least $10 to qualify. Borgata will then match you dollar for dollar for up to $1,000. The wagering requirement of the deposit match bonus is 15x.
Be sure to use any bonus funds from the deposit match offer within 30 days because they'll be voided after that. You cannot use the bonus money on Roulette, Baccarat, Poker, or sports betting, so keep that in mind.
As of September 2023, Borgata has recently added 52 new online casino games to its repertoire. That's pretty impressive, especially because they already had an almost endless number of slots.
Seamless and intuitive PA online casino app.
One of the things we like the most about Borgata online casino is its intuitive and well-designed mobile app. You'd think that with their massive selection of games that the app would get bogged down and sluggish, but that's not the case. In fact, we love their app for online casino gaming. It's one of the best PA mobile casino apps we've put our hands on.
It's easy to navigate and really user-friendly, which is perfect for those who are new to online gaming in PA. The graphics are crisp and the games play smoothly without any lag or hiccups.
This makes it a great option for those wanting to quickly get up and running with an online casino.
Overall, we think Borgata is a great option for online gaming in Pennsylvania. Their bonus codes are generous (although they have shorter-than-usual expiration dates), their app runs well, and they have tons of games and video poker titles to choose from.
No more excuses - go get on your computer or mobile device and give the mobile casino games at Borgata a try.
There's a whole world of PA mobile casinos.
Pennsylvania betting has never been better, with so many high-quality options available. From FanDuel and DraftKings to BetMGM and Caesars, the top legal, real money casino apps in the state offer a wide variety of games and generous bonus offers.
Whether you're looking for slots or live-dealer blackjack, roulette or baccarat, Pennsylvania has the best PA gambling apps.
With our comprehensive rankings and current bonus offers in the table above, you can easily download online casino apps and the most online casino games to get into all of the action. There are even more online casino operators than what we've mentioned, they just didn't make the list. For example, Hollywood Casino at Penn National Race Course is still a great casino site, but we couldn't fit them in. We still recommend playing at the Hollywood online casino between playing casino games on the FanDuel casino app or any of the other PA online casino apps.
Pennsylvania Casino FAQs
The average PA casino player likely has decades of experience in brick-and-mortar casino, but online casino games have only been around for 5 years. With that in mind, we get plenty of questions from players that are new to online casino in PA. Here are answers to these frequently asked questions: