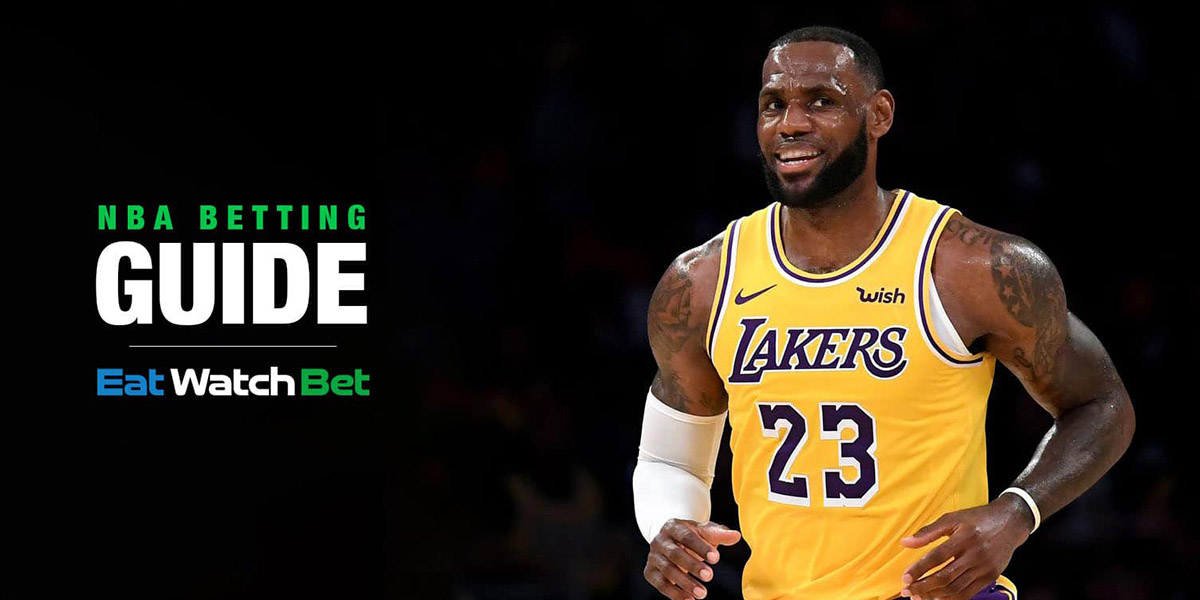 If you are a fan of the NBA and want to learn how to bet on games, this comprehensive betting guide will walk you through everything you need to know. This includes bet types, how spreads work, how totals work, how NBA odds work, and how to choose a sportsbook.
Common Bet Types in NBA Betting
The first thing to familiarize yourself with before betting on an NBA game is the types of bets available. Let's take a look at the way a single game in the NBA is typically displayed on a US sportsbook, and then break down the different ways to bet that game.
Spread Bets
Spread bets are by far the most popular way to bet on the NBA. With this type of bet, the sportsbook identifies a spread (predicted winning margin) and applies juice to each side of the bet.
In the example above, the Knicks are a 4.5-point favorite against the Magic. If you bet on the Knicks, they would have to win by 5 points or more for your bet to cash. If you bet on the Magic, they would have to lose by 4 points or less for your bet to cash.
The number next to the spread is the juice applied to that side of the bet. In this case, the Knicks are juiced at -112 and the Magic at -109. A $100 bet on the Knicks against the spread would pay $190, whereas a $100 bet on the Magic against the spread would pay $192.
Moneyline Bets
NBA moneyline bets are similar to straight bets in that you are picking a side for the game you are betting on. However, in the case of a moneyline bet, you are not laying points or getting points, rather the book has adjusted the line based on each team's probability of winning.
If you look at the example in the image above, the Knicks are a 4.5-point favorite with -112 juice if you choose to bet the spread. A $100 bet against the spread would pay out $190. If you chose to bet the moneyline, you win if the Knicks win, regardless of the winning margin. However, the moneyline is juiced at -180, which means a $100 bet would pay out only $156.
If you need additional help interpreting odds and how payouts are calculated, we recommend reviewing our betting odds article, which not only breaks down how odds work but shares some tips for making odds easier to interpret.
Prop Bets
Player prop bets allow you to bet on a player to go over or under a certain statistic. For instance, a sportsbook may offer a line like Lebron James over/under 27.5 points, with each side juiced at -110. In this case, if you place a $100 bet that James scores over 27.5 points and he does, you would win $190.
Sportsbooks like DraftKings have found they consistently take more money on overs, so the under can be juiced as high as +110 for certain bets. This provides an advantage to bettors willing to target under player prop bets.
Player props are typically available for most starters and include statistics like points, rebounds, assists, 3-pointers, double-doubles, triple-doubles, and even combo stats like points+rebounds+assists.
Player prop betting is particularly popular amongst NBA bettors and offers an ideal transition for fantasy enthusiasts looking to get started with betting on the NBA.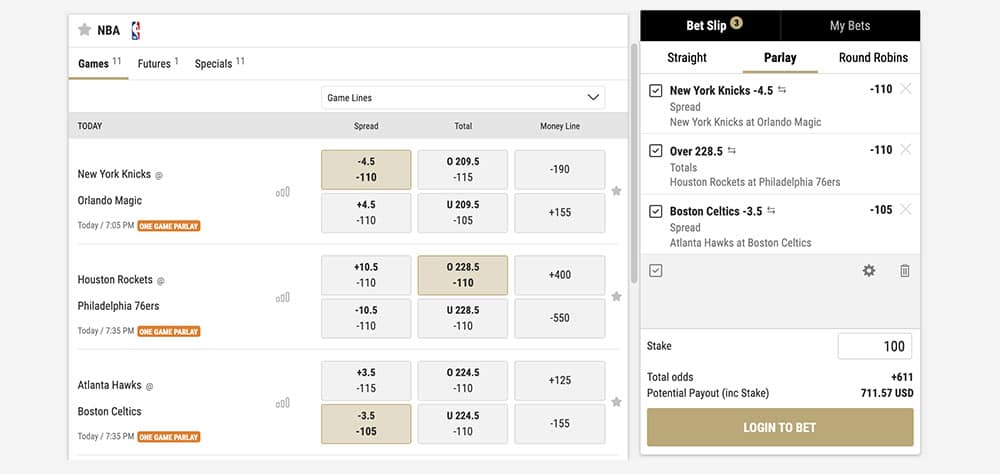 Parlays and Teasers
Parlays and teasers allow you to combine lines for an increased payout. You can combine any spread, moneyline, or total bet to improve your payout.
For instance, if you were to bet $100 across the Bulls +3.5, the Warriors/Suns over 217, and the Spurs +2, your total winnings would be roughly $190 if you hit all three bets. However, if you parlayed those same bets, your total payout would be closer to $600.
A teaser works exactly like a parlay. However, you trade some of your payouts for better lines. A typical NBA teaser will allow you to 'buy' 4, 4.5, or 5 points. Using our example from above and a 4-point teaser, in this case, you would get the Bulls +7.5, the Warriors/Suns total at 213 points, and the Spurs +6. However, a $100 bet here will pay out only $400, you are essentially paying $200 in potential winnings for those 4 points.
If you have not already done so, we recommend reviewing our complete article on types of bets. Here we break down the real odds and probability behind parlays and teasers.
To sum up our position, the house almost always wins when it comes to parlays and teasers. In fact, parlay bets are 6x less likely to cash, and even a 3-leg parlay will reduce your odds of winning by almost 75%.
Teasers obviously hit at a slightly higher rate, but the math is even worse. A 3-leg teaser still decreases your odds of cashing by an additional 50%+ but also decreases your potential winnings by more than 40% on average.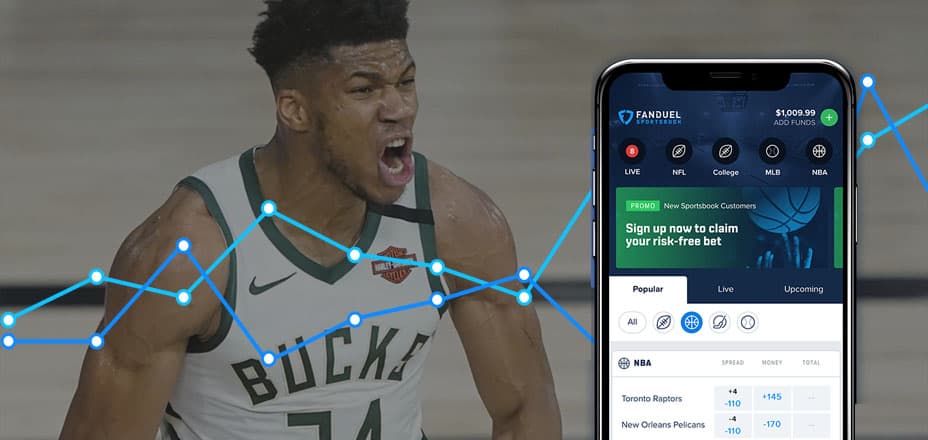 Live Betting
The popularity of live betting has grown tremendously with the rapid improvement of sports betting apps here in the US. Today, live betting is a great way to not only keep games interesting post-tip-off but offers bettors an opportunity to find even better value as games play out.
Sportsbooks offer a wide variety of in-game bets through live betting. Almost anything you can bet before tip-off can bet in live betting. This includes spreads, totals, moneylines, and a wide variety of team and player props.
If you like a particular side of a bet, but they get down early, you will be able to find a considerably better line in-game thanks to live to bet. For instance, if a team is a 3-point underdog at the tip but is down 5 points at the half, you might be able to find them +8 for the game.
If you do decide to try out live betting, it is important to keep an eye on lines throughout the game and act fast when you find a bet you like. As you probably could guess, lines move fast, and a bet you like may be gone in a matter of seconds if you don't act quickly.
Top 5 NBA Betting Tips
While we have covered the first betting tip, understanding how to bet, how odds work, and how to live bet on NBA games, there are a few tips worth noting that could improve your win percentage when betting on the NBA.
It is worth pointing out that most NBA betting systems have run their course. Sports betting has been around since the 1800s. William Hill was founded in 1934. Sportsbooks with Vegas roots, like BetMGM, have been taking bets here in the states since the mid-1980s.
You are going to have to develop and test a betting system that works for you. Sportsbooks try to set lines that keep the bets on each side equal, which means 50% of bets payout, allowing books to make money on the juice applied to each side of the bet.
The house always wins for a reason. Oddsmakers are really good at what they do, and consistently beating them while paying around 10% juice is tough to do. If you are a bettor that likes teasers and parlays, it's going to be even harder, if not impossible, to win consistently.
That being said, here are a handful of tips to get you started building your own NBA betting strategy.

1. Use Advanced Stats to Gain an Edge Betting the NBA
Sports betting may be only a few years old here in the US, but the oddsmakers at US sportsbooks are well-seasoned at analyzing games and setting lines. If you are looking to get an advantage against the house, you are going to have to do your homework.
We have two tips for analyzing NBA data and using it to gain an advantage against the house. One for betting totals and one for betting player props.
Let's start by looking at totals. A great way to identify over/under opportunities is by comparing opposing teams' offensive and defensive strengths. For instance, if you have a high team total for a side that relies on shooting 3's but they are facing a team that excels in defending the 3-point line, that is great under opportunity.
Obviously, the opposite is true as well. If a team is a great 3-point shooting team, facing a team that gives up a high percentage from 3 is a great opportunity. The same could be said with FG%, pace-of-play, and just about every scoring statistic you can find.
On an individual matchup side of things, it pays to think like a fantasy player. A quick search for NBA defense vs. position will give you a rundown of what teams give up the most production to each position. For instance, if a book sets Devin Booker's point total at his season average, but he's facing a team that gives up 15% more PPG to the SG position than the league average, that offers a massive advantage in your favor.
Another way to bet this strategy is to specifically target the opposite side of this bet with an additional factor. Look for players in tough matchups that also have to defend the opponent's best player on the other end of the court. This not only plays in your favor because of the scoring matchup but brings additional fatigue and foul trouble into play.
You can even add an additional factor of targeting players that tend to foul more often. Team Rankings has all of this data in an easy-to-use format.
2. Don't Ignore the Underdog
The underdog covers in the NBA on 52.1% of bets, furthermore, away dogs cover 54.2% of the time. So if the betting public would bet on road dogs in the NBA, they would have a winning record against the house.
The problem is the betting public loves the favorite. The reason underdogs, and specifically road underdogs, cover so often is that they are getting points. Teams get points cover more often than not, and if they are on the road, they get even more points and cover even more frequently.
This same trend holds true in football. As a bettor, we should always strive to take the points.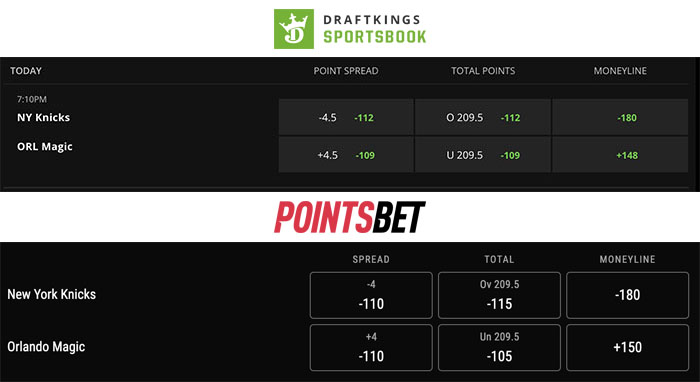 3. Shop Odds Before Betting
So many NBA bettors will tell you that they bet line movement. Essentially going through each NBA slate, make their picks, then wait for a line to move in their favor to place a bet.
This is a solid strategy and does guarantee you an advantage over the average Joe bettor, but leaves out one important alternative. Different sportsbooks offer different lines, if you keep an account with multiple books, you don't have to wait for the line to shift in your favor. You can find better value elsewhere.
As you can clearly see in the example given above, a bettor that likes the Knicks will not only get a better line at PointsBet, but better juice as well. This is true for most games across every NBA slate. Shopping lines will allow you to find a better spread and often times reduced juice for most bets you want to place.
4. Bet Early on Fatigue
One seldomly discussed strategy is to jump on the other side of teams playing a back-to-back, specifically teams playing on the road in the second half of a back-to-back. Oftentimes, sportsbooks will post lines for these games prior to the official list of players sitting.
Even if a star doesn't sit for the road team, fatigue plays a big role in these games. Over the past ten seasons, the average win/loss rate for NBA teams drops by nearly 10% in the second half of back-to-backs.
Additionally, betting teams playing their third game in 4 nights can provide even better value, as these teams' ATS win rate drops by over 3%. Not enough to make this strategy a lock, but certainly worth keeping in your betting tool kit.
5. Always Bet Responsibly
With sports betting's recent rise in popularity, instances of problem gambling are also on the rise. Betting responsibly is not only a way to ensure you don't develop a gambling problem, but it's a great way to ensure you don't develop bad habits that lead to losses.
Visit our responsible gaming section for a wide variety of tips, tools, and resources. Here are five actionable tips you can use to win more of your NBA bets while minimizing your losses:
Set betting limits and stick to them.
Avoid riskier bets like parlays and same game parlays.
Never chase losses, and take a break if you are on an extended losing streak.
Focus on smaller bets anytime you are live betting on the NBA.
Use the time out and opt out tools available at your sportsbook.