With more and more states legalizing online gambling across the US, West Virginia is already one of the oldest markets in the country.
The state legalized online sports betting and online casino gaming in March of 2019, and today, there is no shortage of options for both sports bettors and casino players alike.
WV online casinos and online sportsbooks have been all the rage in the Mountaineer State, and it's easy to see why.
The abundance of choices and promos available make WV an excellent choice for anyone looking to play online.
Whether you're an experienced player or a novice, you'll be able to find something that suits your needs in the WV online casino market.
Several of the top iGaming companies in the US market already operate within WV state lines, with additional operators expected to enter the market in 2023.
With so many options, WV gamblers looking for the best online casino games for their action have a lot of information to pick through. Our goal is to help you quickly find the top online casino sites in the state since we've done the work of ranking and reviewing all WV casinos for you.
Our staff has identified the two best WV online casino apps for 2023 and will explain why we think FanDuel and Caesars offer the best products available in The Mountain State.
Either of these conglomerates is an excellent choice if you need an online casino in West Virginia. Both companies know all the ins and outs of running a successful legal online casino. You'll find fantastic bonuses, a comprehensive selection of casino games, and reliable customer service.
So if you're looking for the perfect WV online casino app to join in 2023, look no further than these two online casinos.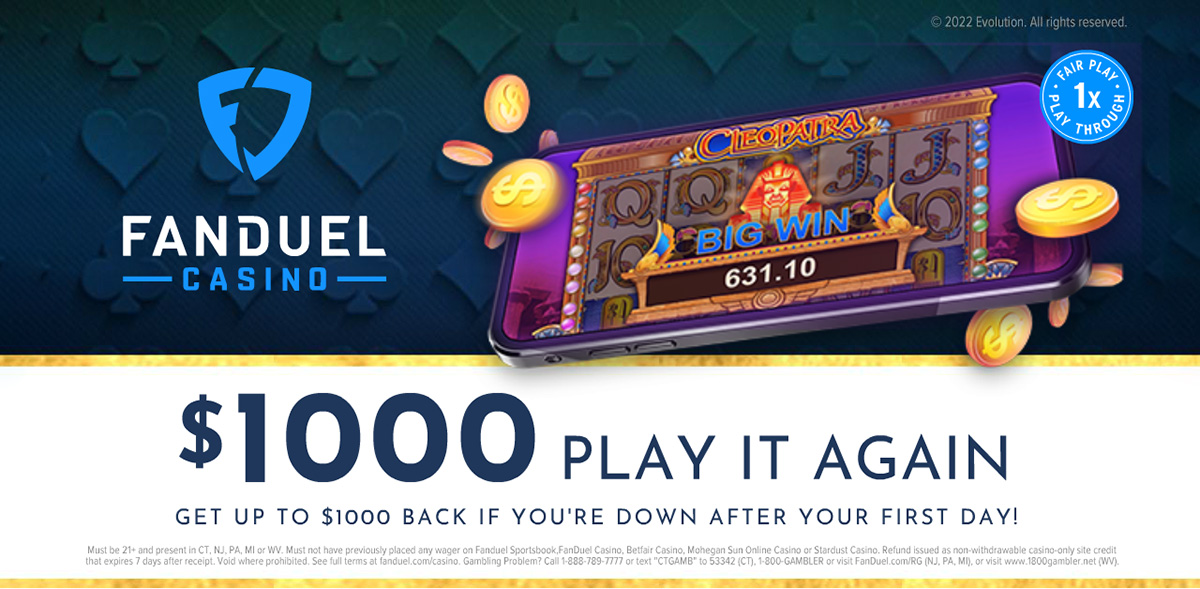 >Best Bonus Offer from a WV Casino: FanDuel
FanDuel, one of the biggest names in online sports betting, recently announced an exclusive promotion available to EatWatchBet online casino players: sign up at our landing page to receive a $1,000 Play It Again offers and $100 in bonus money!
This deposit match bonus is only available through our site and is subject to the following terms and conditions:
Play It Again offer can not exceed the total amount of your initial deposit and caps at $1,000. That's not a bad cap at all!
The $100 site credit pays out regardless of how much you deposit or wager. If you bet $1 or $1000 with their online betting, you'll receive the bonus money.
To receive your $100 free credit, you must place one qualifying bet within the first 24 hours of opening your online casino account. So don't wait after signing up; go get your sports betting on!
This offer is only available to new FanDuel Casino customers aged 21+ years of age and located in West Virginia. Of course, the West Virginia Lottery Commission is going to have their say-so. Better be of the minimum gambling age!
In addition to this great offer, the FanDuel Sportsbook promo code offer is also our top-rated promotion from a WV sportsbook this September. New players can receive a $1,000 No Sweat First Bet.
You simply can't beat this offer if you're looking for the best bonus from an online sportsbook in West Virginia.
We review and rank every West Virginia casino offer to ensure new players always find the best available bonus when they register. We update these rankings any time a new promotion becomes available and work directly with the online casino operators to bring exclusive offers to our readers.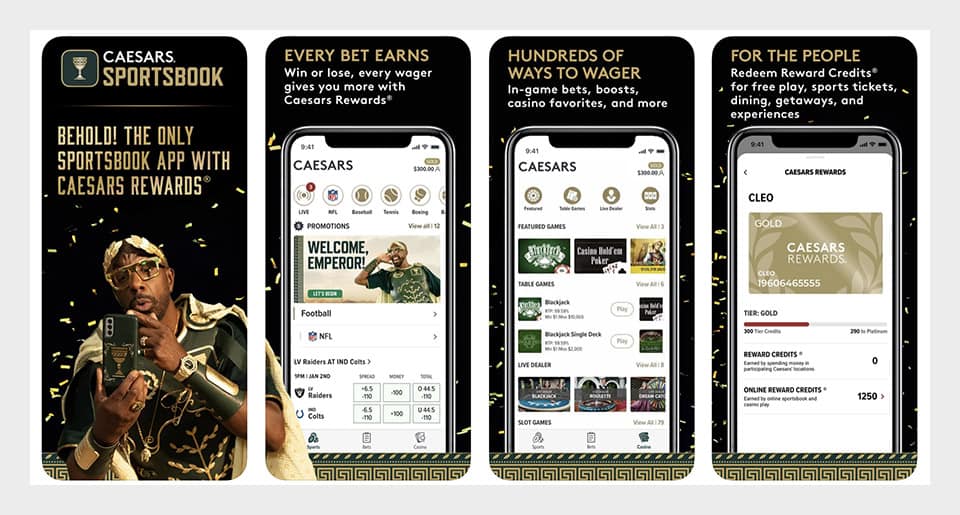 Best Overall WV Casino App for 2023: Caesars
The Caesars online casino app is packed with the online casino games players love, including slot games, online table games, online poker, and live dealer games. The app is a favorite of both iPhone and Android users, with an overall rating of over 4.7 across the two platforms.
If you know anything about ratings on either of the platforms, then you know they tend to lean negatively. So a rating this high is extremely impressive.
The Caesars online casino app is incredibly user-friendly and packed with content, making the overall experience one of the best you'll find in West Virginia. Plus, given their long-standing reputation as a brick-and-mortar casino giant, players know that they're dealing with a reputable brand when they choose Caesars.
If you prefer to play from your laptop, desktop, or iPad, the Caesars experience will not change as you move between devices. The software lets you quickly move between different games, manage your account, deposit and withdraw funds, and get support when needed.
Caesars also offers the best bonus offers available in West Virginia, including offers for both new and existing players. Here is a rundown of just some of the bonus offers available in WV this September:
There are even more features than the app features, games, and promotions that make Caesars our top-rated WV online casino app. These include around-the-clock customer support, convenient cashier options, high payouts on all slots, Caesars Rewards, and an industry-leading sportsbook.
Industry Leading Rewards Program
No online casino app can compare to the iconic Caesars Rewards program, and online gamblers are now eligible to start earning free trips, items, bonus cash, and more through this program.
There is no enrollment for this casino club; all Caesars players are automatically enrolled in the program at registration. This means you are ready to start earning from the moment you sign up through the app or online casino site.
Great Sportsbook and Poker Options
In addition to offering one of the better West Virginia online casino experiences, Caesars has one of the top sportsbooks and poker apps on the market. As a Caesars player, you are eligible to use these apps and earn even more rewards.
The Caesars Sportsbook is arguably the fastest-growing sports betting app as of early 2023. It offers a ton of sports betting options, including live sports betting for every major sporting event, and was recently redesigned to greatly improve user experience.
You may find other online sportsbooks offer a great experience, but none match the performance of this online sportsbook.
WSOP (World Series of Poker) is synonymous with the US poker industry and offers some of the largest poker tournaments in the world. They offer every popular poker format on polished poker software that is easy to use and packed with features.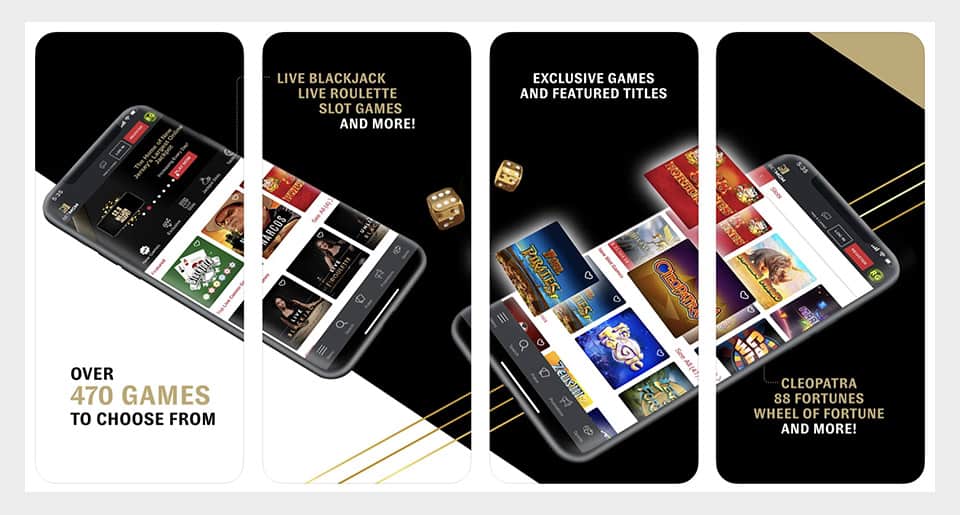 Best Selection of Online Casino Games for WV: BetMGM
BetMGM offers the largest selection of online casino games available in West Virginia for 2023. This includes the largest selection of slot games, live dealer games, virtual table games, and even online poker. It is only December, and BetMGM has already added 80+ new games to their website and app in 2023!
BetMGM does not simply offer blackjack and roulette in West Virginia; they offer over 20 different ways to play blackjack and online roulette. This holds true across the app; every online casino game you could imagine is available and likely available in multiple formats, such as live dealer games.
We love online casino bonuses, and BetMGM doesn't disappoint.
Like Caesars, BetMGM also has a great sign-up bonus available in WV this February. New players that register will receive a 100% deposit bonus match of up to $1,000.
BetMGM also has its own rewards program that, while not quite Caesars Rewards, is arguably one of the stronger features of any WV online casino app.
When you're dealing with one of the biggest gaming companies in the world, you know you're getting a great online casino experience. BetMGM offers an incredible selection of online casino games and even more rewards for playing them.
Unsurprisingly, this fast-growing legal online casino app is quickly becoming one of our favorites in West Virginia. Don't miss out on their vast deposit bonus!
Best New WV Casino App: DraftKings Casino
DraftKings is one of the OGs of the daily fantasy sports and online sports betting industries. DraftKings has parlayed that success into the online casino industry. Online casino players in West Virginia will absolutely love all of the features that DraftKings Casino has to offer.
Incredibly Generous Bonus Offer
DraftKings is known for giving away some of the most lucrative bonuses in the world, and they didn't disappoint folks with their online casino offer either. Right now, folks in West Virginia can get a $2,000 deposit match when they sign up for a new account. They can also receive up to $50 in free credits. Here's how it works:
New customers should sign up for an account with DraftKings Casino. This will trigger the initial $25 of free credits.
After registration is complete, deposit at least $5 into their new account. This will trigger an additional amount of free credits up to $25.
Receive a 100% deposit match that caps out at $2,000.
Use these bonus funds on your favorite online casino games like table games or slots.
The $2,000 deposit match is tied with Caesars for the largest overall welcome bonus in West Virginia. This promo is a no-brainer for folks in the Mountain State.
World Class Mobile App
DraftKings has one of the best sportsbook apps in the world, and its online casino app is just as good. West Virginia gamblers can download it from the App Store or the Google Play Store. They'll be more than pleased with the app's speed, user-friendliness, and overall layout.
DraftKings offers live dealer games like Blackjack and Roulette. They also offer other table games, plenty of online slots, and online poker. There truly is something for every gambler in West Virginia with the DraftKings casino app.
Outstanding Customer Support
DraftKings also has a fabulous customer service team that is ready and willing to assist customers with whatever needs they might have. With offices in Massachusetts, New Jersey, and London, there is always a rep waiting to help customers.
Customer service may be a bit of a dying art, but DraftKings has perfected it. They have a huge help center with FAQs, and agents are available 24 hours a day for assistance. West Virginia gamblers can count on getting their issues handled in a timely manner, which is a huge plus.
---
Is online gambling legal in West Virginia?

Yes, online gambling was legalized in West Virginia in April of 2019. Today, WV residents can gamble with any licensed online casino operator in the state. From table games to a slew of online casino apps, WV residents have plenty of options when it comes to online gambling.

What is the minimum age for online gambling in West Virginia?

You must be at least 21 years of age to bet online in West Virginia. This includes mobile casinos and mobile sportsbooks. So if you want to play online casino games, you must be of legal gambling age to do so.

How do I make a deposit at a mobile casino?

You can fund your account with any of the WV casinos listed on this page by credit card, debit card, or checking account. This includes Visa, MasterCard, Discover, and American Express. Withdrawal requests are typically paid out in the same way you fund your account.

Keep in mind that withdrawals from any of the WV online casinos can take a day or two to process. That is typical for anyone that is online gambling.

What if I or someone I know has a gambling addiction?

Whether it's playing at the WV online casinos or even the West Virginia lottery, identifying a gambling problem early is the best bet. West Virginia has set up help for problem gamblers in the state. Contact the Problem Gamblers Help Network of West Virginia at 1-800-426-2537 or visit the NCPG website for a variety of self-help information. responsible gambling is one of the state's gaming commission's top priorities.

Do I have to be a West Virginia resident to use an online casino app?

You do not need to be a WV resident, you simply need to be of legal gambling age (21 or older) and be located within West Virginia state lines while wagering with an online casino. This means that anyone on vacation or visiting in the state can enjoy some online gambling.

Most, if not all of these apps have geolocation technology built into them so they'll know if you're trying to take advantage of their awesome welcome bonuses from outside the state.

Does West Virginia have any in-person casinos?

Yes! West Virginia has five land-based casinos for folks to enjoy.

While we love online casino gambling in west virginia, we have to acknowledge the land-based WV casinos as well.

If you are anywhere near Wheeling, Nitro, New Cumberland, Charles Town, or White Sulphur Springs, we highly recommend visiting one of them. Two of the most popular choices are Mardi Gras Casino and Hollywood Casino at Charles Town.

Is my money safe with online casinos in West Virginia?

Yes, legal online gambling and casino gaming is regulated by the West Virginia Lottery Commission. This means that all online casinos are held to the letter of the law as far as regulations and rules are concerned. Your money and your personal info will be kept safe and secure as you gamble online with any online gambling site.

Can I still use an offshore casino site while in West Virginia?

You could, but we don't recommend it. We've heard too many stories of folks not being able to withdraw their money from offshore betting accounts. It's simply not worth the risk, especially when there are now plenty of licensed online casinos within West Virginia.

What is the customer service like with online casinos in West Virginia?

The customer service at any of the top West Virginia online casinos is fantastic. The support staff is knowledgeable, friendly, and efficient. Not only that, but you can count on getting your issues handled in a timely manner, which is a huge plus. Some of these online casinos will have real-time chat support and toll-free phone numbers you can call as well. All in all, the customer service at these sites is top-notch.

How do I get started with online gambling in West Virginia?

Getting started with West Virginia online casinos is super easy! All you have to do is find the best online casino for you, then sign up, make a deposit, and start playing. Make sure to take advantage of any bonuses or promotions the online casino has available to give yourself more bang for your buck. Also, be sure to read the terms and conditions of any bonus or promotion before using it.