Details for Current ParlayPlay Promo Code Offers
ParlayPlay is currently offering new players a cash bonus of $10 and a 100% deposit bonus when they sign up with our promo code. With straightforward terms and conditions and a low minimum required deposit, this is the perfect offer for their fantasy product. Follow these four steps to lock in your $10 ParlayPlay bonus this January:
Register at ParlayPlay.io. Registration is free and only takes a few seconds. You can register right from the ParlayPlay app!
Use the promo code EWB. To take advantage of the ParlayPlay bonuses you have to enter the ParlayPlay bonus code.
Get $10 free to enter the contests of your choice and up to a $100 deposit bonus to use on the ParlayPlay daily fantasy sports!
Be sure to follow each step carefully as this is an exclusive ParlayPlay offer that is available only to EatWatchBet readers. Find the terms for this current offer in the table below. You're not going to want to miss out on this one. That's free money right from the ParlayPlay mobile app within seconds!
| | |
| --- | --- |
| Promo Code | EWB |
| Bonus Offer | $10 Free on Sign Up |
| Deposit Bonus | 100% Match of First Deposit |
| Terms | New Players in Eligible States Only |
| Last Verified | January 2, 2023 |
Note that only new players located in states that ParlayPlay currently operates are eligible to receive a ParlayPlay bonus.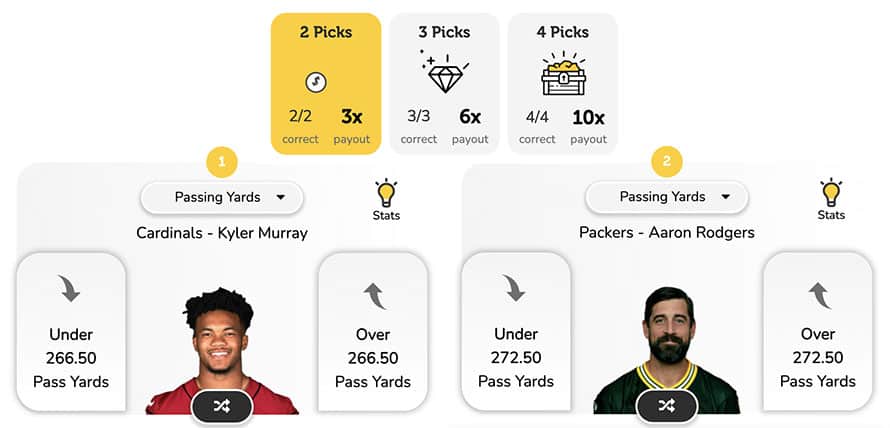 ParlayPlay Review
Want a DFS experience that is socially interactive and loads of fun? Head over to ParlayPlay to check out their website. ParlayPlay was created by sports fans for sports fans and is quickly becoming a big hit in DFS circles.
If you want more info about ParlayPlay, keep reading this ParlayPlay review to learn more about the sign-up bonus program, the DFS games they offer, and their cashier options. It is important to note that ParlayPlay does not offer an Android app (they do have an iOS app), rather they built their website to be mobile-first, offering an app-like experience directly on whatever browser you use. Of course, when we review ParlayPlay, we take this into consideration. After all, we don't want you spending hours searching for an app that doesn't exist.
It's also worth noting that this isn't a one-time review. We'll continue to keep it updated as developments occur. For example, if ParlayPlay finishes thier Android app, you'll hear about it first right here.
What DFS Games Does ParlayPlay Offer?
ParlayPlay offers two different DFS games and both are easy to play and understand. This is refreshing, especially to folks who are new to the Daily Fantasy Sports world. Some of the other sites might offer more sports betting options, but that can be cumbersome and overwhelming, which is one of the main reasons bettors play ParlayPlay - for the simplicity.
The Pick'em style contests are very similar to what you will find at both PrizePicks and Underdog Fantasy. That being said, there are a handful of twists that make this site unique. Here is a breakdown of each contest.
Higher / Lower
Higher/Lower is one of the most popular DFS games around. Here's how it works:
Pick the sport you want to play (CFB, NFL, NBA, CBB, NHL, UFC) (Note: ParlayPlay hopes to add MLB, eSports, Soccer, Tennis, and Golf very soon)

Pick anywhere from 2-4 players from a particular game or event

Each player will be assigned a particular stat or point total

Choose that player to go either higher or lower than that stat or point total (For example, Luka Doncic's point total may be set at 28 points. You would choose whether you think "Luka Magic" will go either under or over 28 points in that particular game
Here's the payout structure for Higher / Lower (if going "All In"):
If you're in a 2 player game and pick them both correctly, you win 3X your entry fee

If you're in a 3 player game and pick them all correctly, the payout is 6X your entry fee

If you're in a 4 player game and pick them all correctly, the payout is a whopping 10X your entry fee
One neat benefit of playing Higher / Lower on ParlayPlay is that you can choose to go "All In" or buy insurance on your entry. When you go the insurance route, your overall payout is diminished but it allows you to miss one of your picks.
Here's the payout structure when buying insurance:
A 4-pick Insurance contest with 4 correct picks pays out 6X your entry fee (instead of the 10X of "All In")

A 4-pick Insurance contest with 3 correct picks pays out 1.25X your entry fee.

A 3-pick Insurance contest with 3 correct picks pays out 3X your entry fee (Instead of the 5X of "All In")

A 3-pick Insurance contest with 2 correct picks pays out 1.25X your entry fee.

A 2-pick Insurance contest with 2 correct picks pays out 2X your entry fee (Instead of 3X with "All In")

A 2-pick Insurance contest with 1 correct pick pays out 0.5X your entry fee.
Hit It Contests
The other DFS game offered by ParlayPlay is called "Hit It". Hit It contests are similar to Higher / Lower but instead of the stat being provided for the player, you choose the stat and try to predict it exactly.
For example, using the Luka Doncic scenario from above, instead of choosing Doncic to go higher or lower than 28 points, you would predict how many points he will score in that game.
In Hit It contests, you can only select two players instead of 2-4 like in Higher / Lower. Payouts are decided based on how close you came to guessing the correct stat.
Here's the current payout structure for Hit It:
If you pick both players' stat lines exactly, you will win 6X your entry fee

If you pick one player's stat correctly but the other player is in the "neighboring range", your payout will be 2X your entry fee

If one or both of your players falls within the neighboring range, you win 0.5X your entry fee back.

Tips for Winning ParlayPlay Contests This Week
With the calendar turning over to January, hardcore sports betting fans can look forward to conference college football games, college basketball games, and intriguing NFL matchups. Here are some tips to help you win more money on ParlayPlay this week.
The NFL schedule is once again jam-packed with action. As we approach the end of the NFL regular season, it is important to keep in mind what teams are fighting for playoff positioning. For help with your NFL Pick 'Em games on ParlayPlay, visit our NFL Player Props section.

The college football board is also stacked with plenty of top-tier bowl game matchups. Players on ParlayPlay can put some action down on every bowl game, including the college football playoff. Our college football player props articles can help you make your picks!

Also, don't forget about golf! The PGA Tour has plenty of action to look forward to this January, and we may even see the return of Tiger Woods. Check out our golf betting picks and writeups to help you win more money on ParlayPlay!
Does ParlayPlay offer a Sign Up Bonus? What about risk free entries?
ParlayPlay offers one of the most generous signup bonuses on the DFS market. Each new user gets a free $10 just for confirming their cell phone number and email address. This means you can try out ParlayPlay without even having to make a deposit! This is a no-deposit bonus! How cool is that?
Once you are ready to make your first deposit, ParlayPlay will give you a 100% match up to $100. The bonus money is given in the form of Risk-Free Entries.
Risk free entries are bets that are exactly like they sound - risk free! You can place bets and if you win, you win money, if you lose, you don't lose anything. Just create a ParlayPlay account and start getting into all of the daily fantasy sports fun contests they have every day!
What kind of cashier options does ParlayPlay have?
For deposits, ParlayPlay accepts all major credit cards like Visa, Mastercard, and Discover. Users can also deposit money directly from their bank account with ACH. (Note: All credit card deposits are instant but ACH can take up to 3-5 business days)
For withdrawals, the only method currently available is ACH. Withdrawals can be requested at any time but the minimum is $30 and the maximum is $500. Most withdrawal requests are processed within 3-5 business days. Be sure to visit the ParlayPlay Help for answers to any cashier concerns you may have prior to opening a new account.
Does ParlayPlay have an app?
Yes and no. ParlayPlay does not currently have an app for Android, but they do have an app in the Apple Play Store. We're expecting them to launch their Android app sometime in 2023.
Their app is a great addition, but keep in mind that the ParlayPlay website is designed to function perfectly on any mobile device. Simply type parlayplay.io into your web browser on your phone or tablet and you'll be good to go.
The overall layout of the ParlayPlay website is very user-friendly and allows you to quickly navigate between different sports and contests. The ParlayPlay app functions the same way with the same functionality. You can even enter in the ParlayPlay promo code right in the app.
Although it is relatively new, they currently have a 4.5 star rating in the App Store based on 30 reviews. If you know anything about online reviews, they tend to sway heavily on the negative side, so achieving a 4.5 rating means it must not be that bad at all!
Top Benefits of Playing DFS with ParlayPlay
ParlayPlay offers several benefits to its players that you simply won't find at other DFS sites. These range from ways to help you build your bankroll to the ways that ParlayPlay makes it easier to win on their product than anywhere else.
Find out for yourself why ParlayPlay and Outlast Fantasy are our top-rated new DFS apps for 2022. Here are a handful of our favorite features:
1. Fantastic Sign-Up Bonus
Who doesn't love free money? Right now, there are a couple of ParlayPlay bonuses you can take advantage of. The free $10 just for signing up is fantastic and the 100% deposit match up to $100 is also a wonderful benefit. Just don't forget to use the ParlayPlay promo code we've included.
This allows new DFS players to decide if they like the sports betting games without having to shell out a whole lot of cash. Of course, there are other DFS sites that have similar offerings, but why not take advantage of them all?
2. Awesome Free Contests
ParlayPlay offers more than just two paid contests. They also offer some very attractive free contests for all of their users to enjoy. Cash prizes are given out to the Top 3 performers each week. That's hard to beat!
3. Parlay Club
ParlayPlay believes in rewarding its customers for their patronage! They do so by enrolling all of their users in the Parlay Club as long as they verify their email address, enter one of their free and exclusive contests, and invite a friend who signs up.
Parlay Club members can enjoy more free contests, a free t-shirt, and other various benefits! All of this is on top of the ParlayPlay promo code and the risk free entries we've already talked about.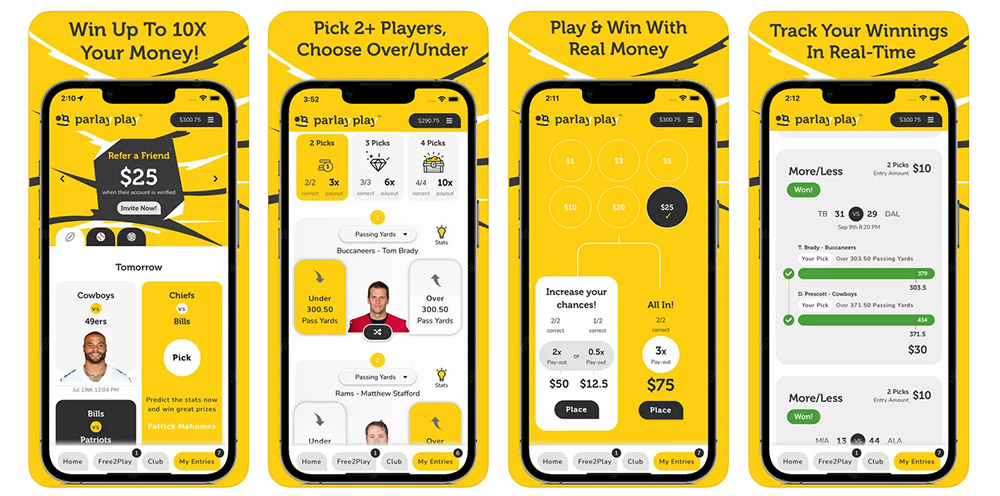 ParlayPlay Review and Rating
For our ParlayPlay review, we give ParlayPlay a 4.7 out of 5 stars, making them one of our highest-rated new DFS apps on the market! Considering we review tons of sports betting sites and just about every DFS site you can imagine, that's a very generous rating.
Once the Android app is completed and the good word spreads, this DFS company should experience rapid growth. If you've been on the fence about DFS, or are looking for a new way to play, give this app a shot! Don't forget to use the ParlayPlay promo code and take advantage of their risk free entries to help this daily fantasy sports site grow!
| Review | ParlayPlay Daily Fantasy |
| --- | --- |
| Details | ParlayPlay offers one of the easiest ways to play and win in the DFS industry. Their contests are easy to find, easy to enter, and your odds of winning are higher than you will find on any other app. Additionally, the wide variety of bonus offers, which range from no-deposit sign-up offers to our 100% deposit bonus, are amongst the best in the industry. |
| Author | Chris Lollis |
| Rating | 4.75 (out of 5) |