Details for Current DraftKings Bonus Offers
DraftKings recently announced a new sportsbook promotion that will run throughout the MLB season. Sign up with the promo code 1000BV and receive up to $1,000 in bonus funds.
Find the details for this offer, as well as the current fantasy and casino offers, in the table below. Our team updates this information daily to ensure you find the best available bonus when you sign up this July.
| | |
| --- | --- |
| SportsBook Promo Code | 1000BV |
| SportsBook Offer | $1,000 Deposit Bonus |
| DFS Promo Code | DFSBV |
| DFS Offer | $500 Deposit Bonus |
| Casino Promo Code | CASINOBV |
| Casino Offer | $2,000 Deposit Bonus |
| Details | Bonus funds are subject to rollover, must meet age requirements. |
| Last Verified | July 1, 2022 |
Top DraftKings Offers by State
DraftKings typically offers their top promotion to new players in every state, but that is not always the case. At the moment, our 1000BV promo code offer is the top promotion in all 17 states that DraftKings operates in.
A typical exception to this rule is in New York, where popular bet-get promotions are not available. As a result, DraftKings and every other NY sports betting app are forced to offer either a deposit bonus or risk free bet promotion.
Current DraftKings Sportsbook Offer in New York
New York regulators put an end to bet-get promotions in the state, which means any DraftKings bet $5 to get $150 offer will not be available in New York.
DraftKings updated their New York offer to a $1,000 deposit bonus (20% match) which is now in line with what the sportsbook is offering in every state across the U.S.
As of this July, every sportsbook outside of BetRivers and DraftKings, is offering a risk free bet in New York. This gives DraftKings and BetRivers a considerable advantage, as industry studies show players prefer deposit bonuses over risk free bets.
There are two top odds boosts over at DraftKings for today. The first one involves whether or not a No-Hitter will be pitched tonight. Yes pays +2500 so jump on that one now!
Our other favorite odds boosts from DraftKings is on whether the Yankees will be the highest scoring team of the night. Yes pays +1500 in that particular Daily Special.

Terms and Conditions for Current DraftKings Promotions
With any sportsbook or DFS promotion, it is important to understand what the offer entails, who is eligible for the offer, and how your bonus will be paid out. Find the details for both of our DraftKings promo codes in the table below.
Details for DraftKings Deposit Bonus Offers
With the deposit bonus promotion currently available at DraftKings, new sportsbook users receive up to $1,000 when they sign up and make their first deposit. While many sportsbooks offer similar promotions, this deposit bonus offer from DraftKings is currently one of the best in the business.
The terms and conditions for this offer are extremely straight-forward compared to the other promotions available on both the sportsbook and fantasy apps this July. As long as you are a first-time player and make the minimum deposit, you are eligible to receive the promotion.
While DraftKings did offer a $280 odds boost bonus for the 2022 Super Bowl, it seems unlikely that we will get another shot at this promotion prior to the start of the 2022 NFL season. That being said, be sure to check back often as every promo code offer on this page is updated on a daily basis.
Details for DraftKings Deposit Bonus Offers
The current deposit bonus, which caps at $1,000, is far from a bad new player offer, but it has strings attached to it. For those of you that have read our DraftKings review, you should already know that we are not huge fans of the terms and conditions attached to the current DraftKings sportsbook offer.
View the complete terms and conditions for this offer to find the latest requirements for receiving your bonus.
How to Bet with DraftKings Sportsbook
With an intuitive design to both the website and app, getting started with DraftKings Sportsbook is a straight-forward process. Follow these three steps to not only get signed up in a hurry, but to ensure you receive the best available bonus when you register:
1. Download the App or Visit the Website
One of the best features about DraftKings is how easy it is to not only sign up, but to find the bet you are looking for. Whether you register through the website or app, you are ensured a smooth experience with DraftKings.
2. Use the Promo Code 1000BV
Our team works directly with DraftKings to ensure that our promo codes are always attached to their best available offer. That being said, if for some reason there is a better promotion available, you can always find it at the top of this page.
3. Make a Deposit of $10 or More
The current promo code offer requires you to make a deposit of at least $10 in order to receive your free bets. Deposits can be made using a credit or debit card, checking account, or PayPal.

Current DraftKings DFS Promo Code Offer
If you live in a state that does not currently offer legal sports gambling, DraftKings still has a way to get into the action. Compete in Daily Fantasy Sports on DraftKings for a chance to win millions in prizes. Enter the Millionaire Contest for free using the promo code below.
We always recommend that new players shop around to find the top available daily fantasy sports promotions prior to deciding which app they sign up for. DraftKings currently has our top-rated salary cap offer, while the $100 bonus from PrizePicks is our top-rated offer from a prop betting website.
New DFS players that register using the offer found below will receive a 100% deposit bonus and free Millionaire entry ($15 value).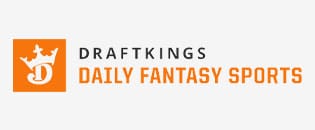 Free Millionaire Entry
Plus Up to $500 Deposit Bonus

Additional DraftKings DFS Promotions
DraftKings offers more ways for players to win with their promotional contests and offers. There are currently ten different contests where DraftKings players can enter for a shot at over $1 million in prizes. Here are a couple of our favorite promo contests available in the DraftKings DFS app this July.
Millionaire Golf Contests
DraftKings is running Millionaire contests for every golf major. After giving away over $6 million in total prizes during the 2022 Masters and PGA Championship tournaments, next up is The British Open. This year's Open begins on July 10 at Saint Andrews. Additionally, DraftKings' NFL Week 1 Millionaire is already live in the lobby!
It is worth noting that all new DraftKings fantasy players can get a free entry into a Millionaire contest when they sign up using the promo code DFSBV. What better way to get started in DFS than with a shot at a $1 million top prize?
DraftKings Refer-A-Friend Promo
Refer a friend to DraftKings and get $20 DK Dollars! The website will give you a link to share with all your friends. If a friend signs up through your referral link, DraftKings will give you and your friend $20 DK Dollars.
(Side note: This promo will only work if your friend is a first-time depositor at DraftKings)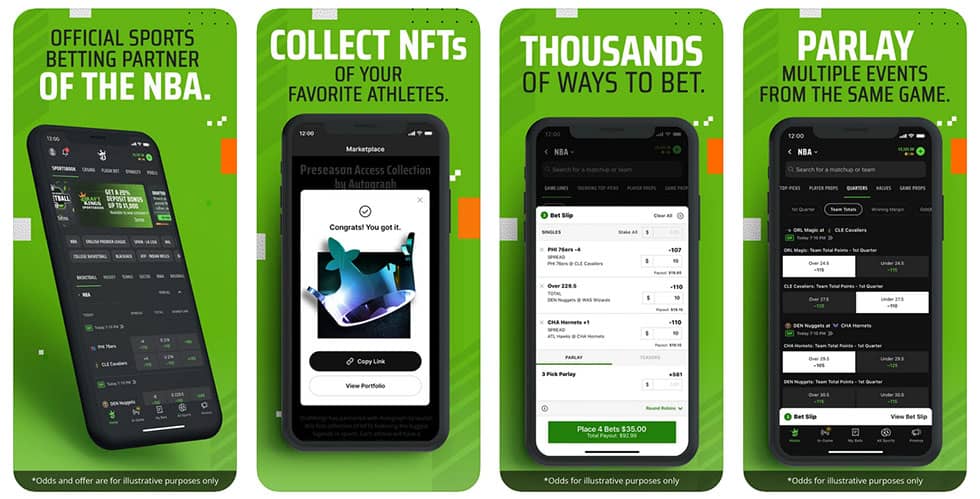 DraftKings Promo Code FAQ's
DraftKings is one of the fastest growing sportsbooks in the US sports betting market. They offer some of the top new player promotions in the industry, which change frequently based on the season and upcoming betting events.
Below are answers to frequently asked questions for our current DraftKings promo code offer. We keep these updated with the latest terms and conditions for whatever our featured DraftKings promotion is.
Is is legal to bet on DraftKings in the United States?
DraftKings currently offers legal mobile sports betting in 17 US states. Additionally, they offer in-person betting in Mississippi. You must be physically located in one of the states DraftKings currently operates in to place a wager.
What US states is DraftKings currently licensed in?
The DraftKings DFS app is available in 43 US states, while the sportsbook is licensed to operate in 18 US states, with both Maryland and Ohio expected to launch in mid-2022. This list currently includes: 

• New Jersey
• Pennsylvania
• Illinois
• Indiana
• Iowa
• Michigan
• Virginia
• West Virginia
• Tennessee
• Colorado
• Arizona
• Wyoming
• Connecticut
• New York
• Louisiana
• Oregon
• New Hampshire
• Mississippi

When will DraftKings update the current promo code offer?
The current sportsbook and fantasy offers are only guaranteed to run through the end of the 2022 MLB season. The casino promotion does not have an expiration date. Our team updates this page daily to ensure you always find the latest DraftKings offers here first. We expect the next major offer change to occur at the start of the 2022-23 NFL season.

What customer support options does DraftKings have?
DraftKings has plenty of customer support options to assist players with any issues or questions. Whether you would rather email, chat, or call for support, there are plenty of options available through the DraftKings Help Center. In our experience, the fastest way to get help with any issue is through the live chat option.

Does FanDuel or DraftKings have a better promo code offer this July?
Both FanDuel and DraftKings run great promotions that update constantly. Typically, the DraftKings offers are a bit more aggressive, with a higher odds boost and larger total bonus. That being said, the current odds boost offer from BetMGM Sportsbook is our top rated promotion for July.

Does DraftKings have an app for its sportsbook product?
Yes, DraftKings has a separate app for its sportsbook, DFS, and casino products. The current DraftKings sportsbook app is the top-rated US sports betting app in both the App Store and Play Store. Users in any state can download the app and browse lines, but you must be in a state with legal sports betting to open and fund a new account. The DFS app is available to the majority of the United States.
How does the DraftKings $500 bonus offer work?

The $500 deposit bonus at DraftKings currently only applies to new DFS players that sign up using the promo code DFSBV. Once registered, you will receive a 20% bonus of your initial deposit. That money is released into your account as cash at a rate of $1 for every $25 in entries.

How does the $1,000 deposit bonus offer work at DraftKings?

The $1,000 bonus offer from DraftKings Sportsbook is extremely straightforward. Make your first deposit and DraftKings will match 20% of it as your bonus. The max bonus is $1,000.

Does DraftKings have a no deposit bonus offer?

DraftKings currently has a no deposit bonus offer for the casino app, but does not have a no deposit promotion for sportsbook or fantasy. New casino players (MI, NJ, PA, WV only) can receive a $60 bonus on registration, no deposit necessary.

What is the minimum age to bet on DraftKings?
The minimum age to sign up at the DraftKings Sportsbook and Casino is 21, and the minimum age for DraftKings DFS is 18. There are exceptions, particularly with DFS where you must be 21 years of age or older in Arizona, Massachusetts, and Iowa, and 19+ year of age in Alabama.
Can I play for Free on DraftKings?
YES! DraftKings offers several free-to-enter DFS contests on a regular basis. All you need to do is set up an account. There is no deposit required to compete in the free contests and they are a great way to test out the app.
Is my money safe with DraftKings?
Absolutely! Your money is always safe with DraftKings. They are based in Boston and are publicly traded on the NASDAQ. DraftKings has been in business since 2012 and is one of the largest online sportsbooks and DFS operators in the world.
Pros and Cons for the Current DraftKings Bonus Offer
DraftKings Sportsbook offers one of the most popular betting apps on the market today, but is it the right app for you? As with every app, DraftKings has certain things it does well and areas it could improve. Here are some of the pros and cons worth considering before signing up and making your first deposit.
Pros for the Current DraftKings Offer
The DraftKings deposit bonus can pay up to $1,000.
New DFS players can also receive up to $500 free on the fantasy app.
DraftKings sportsbook and DFS apps are amongst the highest-rated in the App and Play Store.
Great live betting, same game parlay, and player prop options.
Cons for the Current DraftKings Offer
To receive the full $1,000 bonus, you need to deposit $5,000.
High rollover required on the DFS bonus offer.
While the sportsbook offers player-friendly juice, the rake in the DFS app is higher than competitors.

Review for Current DraftKings Promotions
DraftKings gives its players more reasons to choose its sportsbook and fantasy apps over the competition than anyone else in the industry. From the Millionaire Maker DFS contests to tons of free DFS contests, DraftKings seems to check all the boxes.
That being said, their 4.9 rating is still not the best in the industry. The reason behind the less-than-perfect score is an archaic rollover requirement. Bonus funds are required to roll over, on average, almost three times more than any other sportsbook. Nevertheless, the DFS and sportsbook products are so well executed that we still rank them as our top sportsbook in most states they operate.
This rating was updated on July 1, 2022, to reflect the current DraftKings promo code offers.
| Review | DraftKings DFS And SportsBook |
| --- | --- |
| Details | DraftKings offers plenty of reasons for new players to choose their app over competing sportsbook and DFS operators. Their deposit bonus promotion is arguably the best in the industry, their app has a near-perfect rating, and is loaded with features players love. The sportsbook app offers some of the best live betting and player prop betting options available. DFS players love the variety of contests available and weekly millionaire contests. There is a reason DraftKings has a nearly 50% share in the market, and we believe it is a must-use app for both bettors and fantasy players. |
| Author | Chris Lollis |
| Rating | 4.9 (out of 5) |