Track Fanatics Sportsbook Promo Code Offers Ahead of Ohio Launch
The long-anticipated launch of Fanatics Sportsbook is growing nearer as the company prepares for a 2023 launch in Ohio. While many details remain unknown, one thing is clear, Fanatics has applied for a sports betting license in Ohio, and is working to have it's sportsbook ready for regulatory approval in the Buckeye State.
In this article, we will take a closer look at the Fanatics Sportsbook promo code offers that new users can expect to see once the sportsbook is officially ready to launch in Ohio. This includes the types of offers bettors should expect to see, what pre-registration bonus offers will be available, and how Fanatics Sportsbook promotions will work.
Fanatics Sportsbook Ohio Details
While its intentions to enter the sports betting market as soon as possible have been obvious, Fanatics has remained relatively tight-lipped regarding the details surrounding the launch of its sportsbook.
That being said, we do know that they have applied for a sports betting license in Ohio, and are actively building out the technology that will power the sportsbook website and app. Fanatics has already launched their retail sportsbook in Maryland, so we know Ohio isn't far behind.
Find the specifics for what we know regarding Fanatics Sportsbook pending Ohio launch in the table below.
| | |
| --- | --- |
| Sportsbook: | Fanatics Sportsbook |
| State Licenses: | Pending Approval in Ohio |
| Launch Date: | 2023 |
| Promo Code Offer: | TBD - Offers Expected in March of 2023 |
An Ohio launch makes sense for Fanatics Sportsbook as Ohio sports betting appears to be the next major domino in the sports betting industry to fall in the U.S. However, Fanatics Sportsbook will have plenty of competition in the state. The list of sportsbooks that have applied for a license in the state is up to 25. This includes industry leaders like DraftKings, FanDuel, Caesars, BetMGM, Barstool, and PointsBet.
The first pre-registration bonus offers have already been announced for 2023. This puts Fanatics Sportsbook on the clock to wrap up their build and announce its first bonus offers for Ohio bettors. Be sure to follow this page for any announcements regarding the initial Fanatics Sportsbook promo code offers.
Fanatics Sportsbook Sportsbook Overview
Fanatics, a giant in the sportswear world, has been making splashes across a few different industries.They have turned the sports trading cards world upside down, acquiring exclusive NFL, NBA, and MLB licenses. To facilitate that move, they have also purchased card manufacturer Panini to accommodate their manufacturing needs.
The world of sports betting is considered a low-margin, high-risk venture, with the most prominent companies spending millions at the very least developing the necessary technology and bringing in customers. With the announcement of Fanatics Sportsbook Sportsbook, it is clear that Fanatics is set on making its move into the sports betting industry as well.
Could the sports betting world use another online sportsbook that gives free bets same game parlays and more? We'll see. But that's what we're here for, to provide you with information about the latest sportsbook on the block, and to see if Fanatics Sportsbook is a sportsbook you should consider when it launches in your state.
Fanatics Targeting 'Global Sports Dominance'
Fanatics has clarified that they wish to be a "global digital platform for sports." Doing so includes not only licensed sports merchandise and trading cards but also sports betting and gaming. They aim to be the Target or Walmart of the sports world – a one-stop shop for sports fans around the U.S.
Think about it. A legal sports betting app that is also the exclusive provider of jerseys, hats, and memorabilia for your favorite team. It's a marketing dream. But that's what Fanatics is going for. This is a company that isn't afraid to spend money to grow its reach and make a name for itself.
To this end, Fanatics has already started to build out the necessary technology for Fanatics Sportsbook Sportsbook with the acquisition of Sportradar US in 2019. Sportradar is a global leader in sports data and content, so it's a natural fit for Fanatics. With this move, Fanatics has access to Sportradar's betting products, which will help it get Fanatics Sportsbook Sportsbook up and running quickly.
Fanatics is not the only one making a fresh foray into that world. SI Sportsbook (Sports Illustrated) and Fubo Sportsbook (FuboTV) have since created their sportsbook, and Disney-owned ESPN has also made deals with several sportsbook operators.
It should be no surprise that Fanatics would enter the fray given how potentially lucrative it could be, particularly to a company attempting to have a broader reach. As CEO Michael Rubin put it, the goal is for Fanatics to become the global brand when it comes to sports in the digital world. And it appears that Fanatics Sportsbook is a major step toward making that goal a reality.
When the Fanatics Sportsbook sportsbook officially launches we'll have a chance to see what they're all about and if they're going to become a major contender in the online sports betting industry.
Fanatics Sportsbook Sportsbook Tech: Partner or Platform?
The million-dollar question becomes whether Fanatics will buy their own platform or partner up with someone. The Fanatics Sportsbook brand has made its intentions clear, but there remains a question on just how they will get into sports betting.
We have rumors as to how Fanatics will build its sportsbook, but it appears they are set on building out their own tech from the ground up. That being said, they may also purchase an existing sportsbook operator to streamline the process.
Partnering with someone like DraftKings or FanDuel seems unlikely though it is not necessarily impossible. We saw 888Sport essentially shut down its sportsbook operations when the partnership with SI Sportsbook was announced.
Here are the most realistic options for the Fanatics Sportsbook Sportsbook build-out:
Source Coding: On paper, it seems like this may be the play. After all, there was a report earlier in the year that Fanatics had already bought source code from Amelco. Fanatics Sportsbook has since denied the existence of a deal.

The problem is that many feel that Amelco has an inferior source code that would require manager changes and work for Fanatics to be competitive with some of the biggest names in the betting world. There are two schools of thought on buying source code. It can be cheaper than just buying the front end but would ultimately cost hiring engineers to perform work on the code and maintain the platform at large. That means creating an entirely new division that would be solely for running and maintaining the sportsbook.

Tech Stack:There is also the option of buying a tech stack, which makes the most sense on paper. The primary issue involved here is the significant costs of purchasing a tech stack.

The benefit is that you also get hundreds of engineers, a full capability within the sports realm, and full service from the start.

There have been talks of purchasing Kambi, a B2B sportsbook manager. Kambi would handle pricing, risk management, integrity monitoring, and even customer support. These are all things that Fanatics Sportsbook would need to build out before launching.

Essentially, buying a tech stack would mean purchasing a front-facing or "white-label" platform. It also means that other companies could use the platform, bringing shared revenue options into play. Given that they already have a relationship with Kambi, it certainly makes sense.

There is always the option to work with a reputable cloud platform such as AWS, Google Cloud, or Azure. This could be a more expensive option in the long term but would give the Fanatics Sportsbook sportsbook scalability. Which, if it takes off like they anticipate, will be a major selling point.We have seen other companies such as PointsBet go this route and it has been very successful for them.

Partnering with An Existing Sportsbook:The final option is to either acquire or partner with an existing sports betting company that would provide the market that Fanatics has been looking for. This is the quickest means to market, including a tested, functioning platform.

The problem here is that it would leave Fanatics not being a front-facing sports betting brand. It means that the company and Fanatics would have access to the same database of highly sought-after consumers.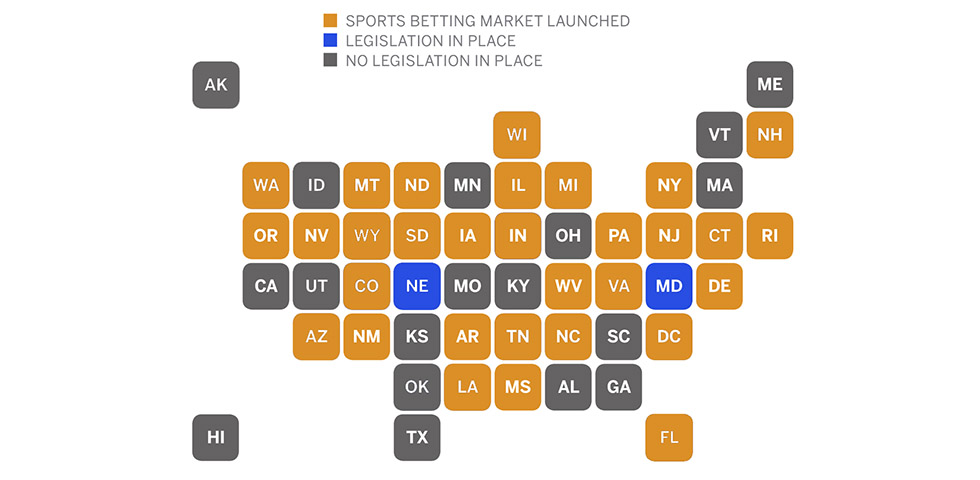 Where Will Fanatics Sportsbook Be Available?
While the debate regarding the tech behind Fanatics Sportsbook continues, other moves in play indicate it may be over and that Fanatics is set to go at sports betting on its own. They have already tried to get into the New York market and are at the forefront in trying to start the initiative for California.
A partnership with many smaller online sportsbooks and companies – Rush Street Interactive or PointsBet being the most logical – could not only get them into the New York market but could give them the start they would be looking for. It also means gaining a foothold in several states with an easy footprint to expand.
Should Fanatics Sportsbook allow the sportsbook to grow organically, we could see them expand as new states legalize sports betting. In addition to Ohio, legal sports betting is expected to begin in Maryland, Massachusetts, and Maine in 2023. Given the financial stability Fanatics enjoys thanks to the apparel business, we could see the sportsbook, while slow to launch, ramp up quickly and enter several betting markets by the end of this NBA season.
Fanatics Gains Sports Betting License in Tennessee
Fanatics took one step closer to launching its online sportsbook, BetFanatics, on Wednesday, March 1, 2023. The Volunteer State's Sports Wagering Advisory Council granted Fanatics a sportsbook license, which means that a launch date in Tennessee could very well be right around the corner.
Tennessee legalized sports betting in November of 2020, even though there are no brick-and-mortar casinos in the state. That didn't deter Fanatics from wanting to become the 13th online sportsbook to launch in Tennessee.
It's easy to see why Fanatics is adamant about setting up shop within the state. Tennessee just brought in a sports betting handle of over $410 million in January 2023 alone. Fanatics doesn't currently have an online product available, but they did launch an in-person sportsbook in Maryland at FedEx Field.
Fanatics Tests Beta App in Tennesee
Need more proof that Fanatics wants to launch in the Volunteer State soon? The company has started doing a beta test of its BetFanatics app within the state. Unfortunately, the test is only available by invite only and isn't open to the public.
Even still, this is a good sign that BetFanatics will be available to sports bettors in Tennessee in the near future. During the beta testing phase, Fanatics will be trying out its FanCash rewards system, which will let customers exchange points for any Fanatics products.
Fanatics plans on being live in 20 markets by the start of the 2023 football season. They clearly have a long way to go to make that goal a reality, but things are definitely falling into place in Tennessee.
Types of Bonus Offers Available at Fanatics Sportsbook
One of the big questions surrounding the launch of the Fanatics Sportsbook sports betting app is the type of bonus offers they will provide. While most bettors are hoping for a bet-get promotion similar to our current DraftKings promo code offer, there are several other possibilities. Here is a look at the most common bonus offers available this March:
Risk Free Bet Offers
With this type of promotion, new players get a one-time risk free wager. If your first bet fails to cash, the sportsbook gives you the bet back in site credit. While risk-free bet promotions are popular among sportsbook operators, they are the least popular among sports bettors.
Free Bet Offers
The most common way sportsbooks give away free bets is in the for of bet-get promotions. For instance, the current bet $5, get $200 free offer from DraftKings pays the bonus in free bets. Free bet offers are by far the most popular among bettors. Sportsbooks currently offer free bets including DraftKings, BetMGM, SI Sportsbook, and Unibet.
Deposit Bonus Offers
A deposit bonus is typically a 100% match of your initial deposit. While these used to be a popular offer, gone are the days when every sportsbook offered a 100% deposit bonus. At the moment, only the Tipico bonus offerincludes a deposit bonus.
We will update this page the moment we get the details for the initial Fanatics Sportsbook bonus offer. With the Ohio launch in January, that announcement could come any day. Trust us, we're as excited as you to see the Fanatics Sportsbook sportsbook become the next mobile sports betting platform.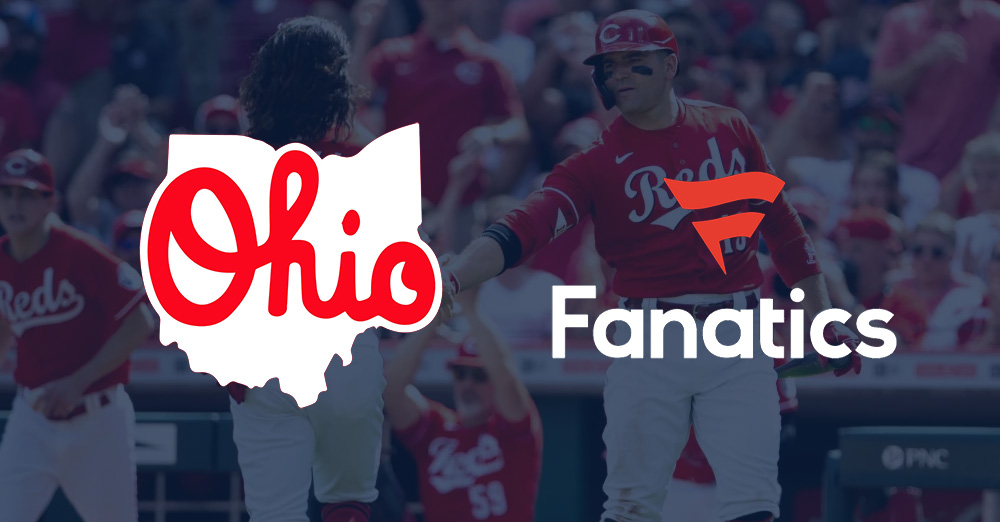 Fanatics Sportsbook FAQs
Though most sports fans have likely heard of the apparel conglomerate Fanatics, the company is brand new to the sportsbook industry. Because of that, sports bettors will have lots of questions about Fanatics Sportsbook and their promo codes. Here are some of the top questions we have received.
Final Thoughts on Fanatics Sportsbook: The Next Major Online Sportsbook
We're as excited as anyone to see what the Fanatics brand will do with an online sportsbook. They have quite a few hurdles to jump, but given their track record in other industries, we see no reason to believe their sports betting division will have any issues.
When the Fanatics Sportsbook sportsbook mobile app gets online we'll be sure to keep you updated, especially if there are any free bets, promo codes or any other promotions. Until then, as sports betting professionals, we'll keep delivering you the best reviews of various online sportsbooks.