Guide to Types of Bets in Sports Betting
One of the first steps to becoming a successful sports bettor is understanding the different types of bets you can make, how they work, and where to find them on your sportsbook. Similar to contest selection in daily fantasy sports, selecting the right bet type will make the difference in consistently winning and losing money in sports betting.

This guide to types of bets within sports betting will walk you through the seven most popular bet types, breaking down the pros and cons to each, and have you ready to get in on the action today.

Spread Bets
Spread bets are the most common bet type in US sports betting. With a spread bet, the sportsbook establishes a favorite for the game, sets a line (spread), and assigns juice to each side of the bet. Let's take a closer look at the example bet in the graphic above to break down exactly how this works.

As you can see in the graphic, DraftKings made the 76ers the favorite in this matchup and assigned a spread of 6.5 points. This means they expect the 76ers to beat the Pistons by 6.5 points. If you choose to bet the 76ers, they will need to win by 7 points or more for your ticket to cash. If you bet the Pistons, they will need to lose by 6 points or less for the ticket to cash.

The number you see to the right of the spread is the 'juice' assigned to that side. This number can often reflect the amount of money the book has taken on that side. In this case, both sides are juices at -110. In this case, a $10 bet on either side will pay out $19.10, or a profit of $9.10. Check out our guide to betting odds for a complete breakdown of how this payout is calculated.

If you look at the game below the 76ers/Pistons, the Raptors have a -109 juice while the Pacers have a -112 juice. In this case, a bet on the Raptors would pay out $9.20 while a bet on the Pacers would pay out $9.00.

Moneyline Bets
Moneyline bets offer a simpler alternative to betting spreads, but they come with drastically adjusted juice. However, some folks love moneyline bets because they simply want to bet on the winner and not have to worry about a spread to cover. These bets are popular for several reasons.

First, if you think an underdog is going to win outright, you can get a significantly higher payout by betting the moneyline. Second, these can be tied into other spread bets as legs in parlays as a way to juice up the payout. Let's take a closer look at the example above from the FanDuel Sportsbook to break down exactly how moneyline bets work.

This example is looking at the odds for Super Bowl LV. As you can see, the Chiefs were a 3-point favorite in the game. A $10 bet on the Bucs +3 points at +100 would have paid out $10 in profit. However, if you thought the Bucs would win outright, that same $10 bet pays out $14 in profit.

As the spread increases on a game, the payout for the underdog increases and the payout for the favorite decreases. Moneyline bets can be extremely safe when betting favorites, but come with great risks when betting big underdogs to pull off upsets.

Total Bets
Total bets refer to betting the total points scored in a game to go over or under a specified number. These bets are almost always available for each side of a bet as well. The example above, from Unibet's sportsbook, displays the total for Super Bowl LV. Let's discuss how this number works.

If you were to choose to bet the over for Super Bowl LV, you would be betting that the total number of points scored in the game will be greater than 56. Like the previously discussed bet types, the book assigns a juice to each side of this bet and in this case the over is juiced at -109 while the under is juiced at -112.

If you were to bet an individual side, the number would be the total divided in half, then adjusted for the spread. So with a spread of the Chiefs -3, their team total would be 29.5 while the Bucs total would be 26.5.

With all of the top sportsbooks currently operating in the US market, you can also bet totals for each quarter and half.

Because they have a number assigned to them (unlike moneyline bets) total bets can used in teasers, a bet type we will discuss later in this article.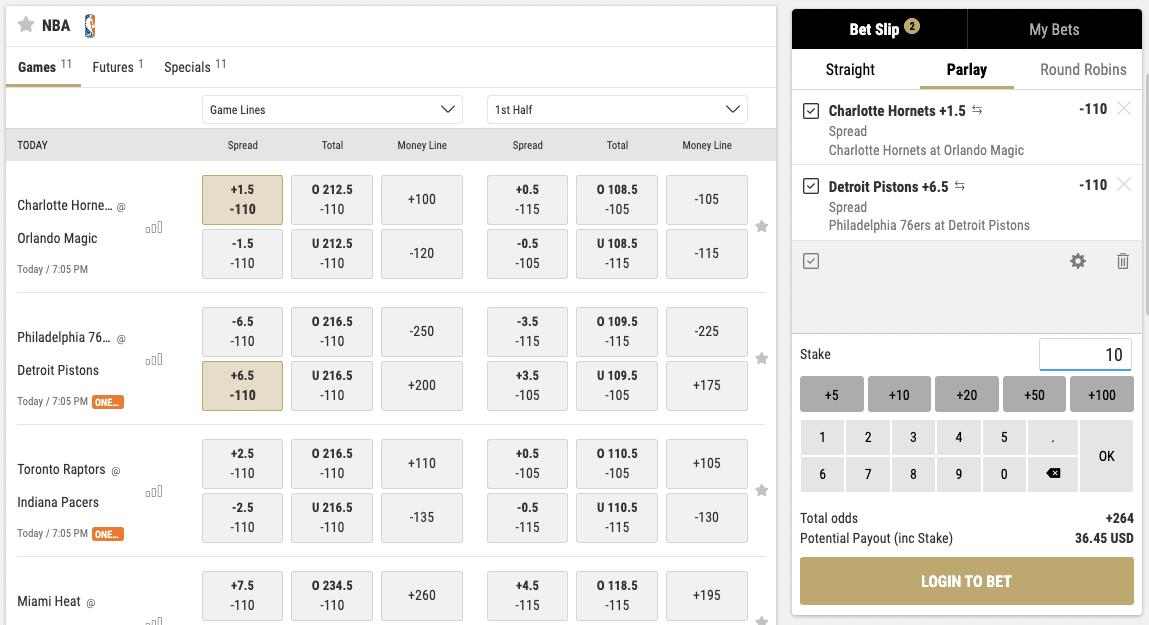 Parlay Bets
Parlay bets are one of the most popular bet types in sports betting. When placing a parlay bet you are betting that each leg of the parlay will hit. If every bet in the parlay hits, you win a significantly higher amount than each bet would pay out individually. If even one leg of the parlay misses, you lose the entire bet. Let's look at the example above, taken from the BetMGM sportsbook, to break down exactly how these bets work.

In the example given, we are betting that the Hornets cover a spread of +1.5 points and the Pistons cover a spread of +6.5 points. With juice of -110 placed on each of these games, a $5 bet on each game would pay out $4.55 each or $9.10 total. When parlayed together, BetMGM adjusts the juice to +264, and as a result the payout jumps to $36.45.

It is easy to see how these bets are extremely popular amongst sports bettors, as the juice is considerably more attractive. However, the odds of hitting a parlay go way down. In fact, parlay tickets are historically 6x less likely to cash than straight bets! This just goes to show that you should only bet parlays sparingly.

That being said, the Wong Teasers in the NFL have done pretty well historically. This strategy involves teasing favorites of -7.5, -8, and -8.5 down by six points.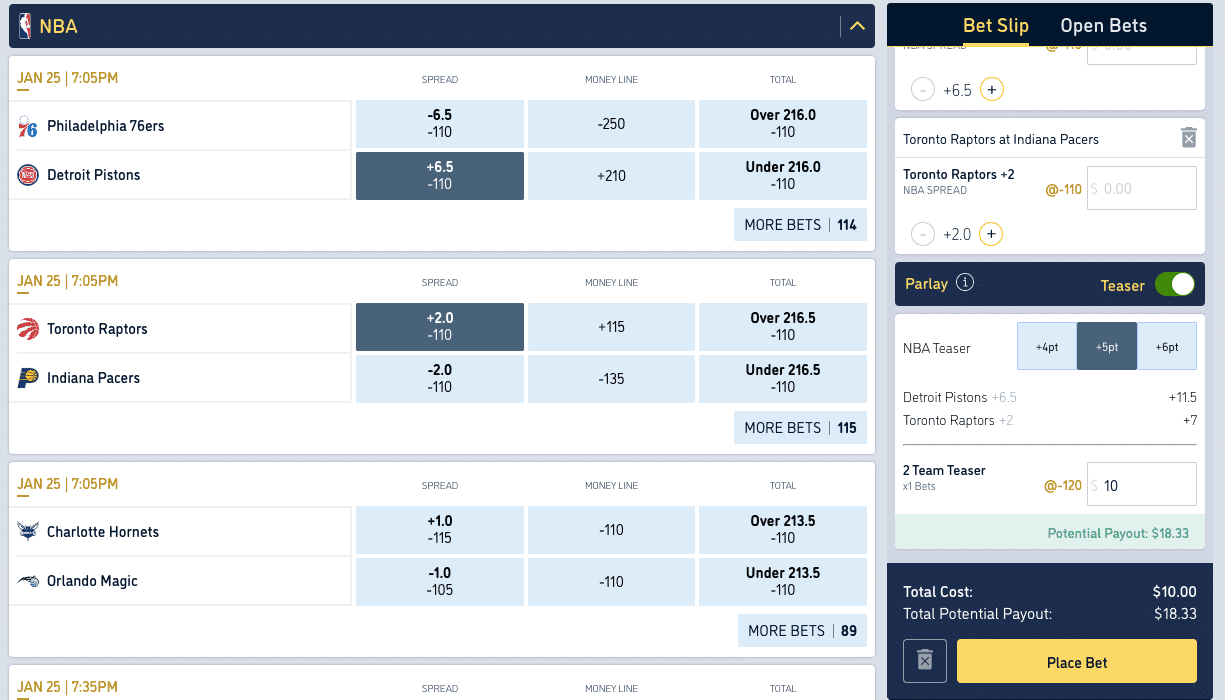 Teaser Bets
If increased juice sounds interesting to you as a bettor, but you don't like the fact that parlays are 6x less likely to cash than straight bets, a teaser bet may be just what you are looking for. A teaser bet works the same as a parlay bet, combining multiple bets for increased juice, but with this bet type the house gives you points. Let's take a closer look at the example teaser bet from above, taken from the William Hill sportsbook.

In this case, we are combining a spread bet on the Pistons (+6.5) with the Raptors (+2.0). However, because it is a teaser bet, the book is allowing us to get an additional 4-6 points on each side, in exchange for adjusted juice. With a +5 teaser we can move the Pistons +6.5 points to +11.5 points and the Raptors +2.0 points to +7.0 points.

The problem with teasers is that you actually don't get into significantly improved juice until you tie three or four legs together. As you can see in the example, a two team teaser actually pays out less than betting each side straight would.

As the juice almost forces you to have at least three legs in these bets, teasing games still gives the house a pretty significant edge and are nearly 3x less likely to cash than a straight bet. That being said, they hit over 2x more often than parlay bets, making them an intriguing alternative.

To bring back the DFS contest selection comparison from earlier, our advice here is to look at straight bets (spreads and moneylines) as cash games, parlays as GPP's, and to ignore teaser bets altogether. The majority of your bankroll should be focused on straight bets, and a tiny percentage on parlays with significant payouts.

That being said, Wong Teasers have done pretty well in the NFL historically. With this strategy, you tease favorites of -7.5, -8, and -8.5 down by six points. You also tease underdogs of +1.5, +2, and +2.5 up by six points. The idea here is to get through the key numbers of 3 and 7.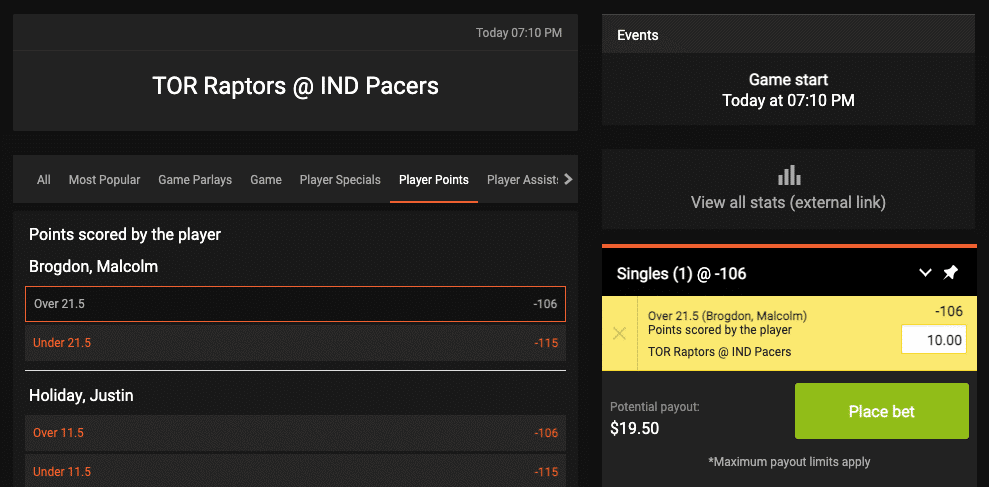 Player Prop Bets
As a country that is relatively new to legal sports betting, but extremely familiar with fantasy sports, player prop bets are quickly becoming one of the most popular bet types here in the US. In this bet type, you are betting that a player goes over a given statistic. This statistic could be any number of things from rushing yards in an NFL game to points scored in an NBA game to points + rebounds + assists. Let's break down the player prop bet from the example above, which we took from the 888 Sport sportsbook, which is now SI Sportsbook.

In this bet, we are betting that Malcolm Brogdon will score more than 21.5 points in his matchup with the Raptors. Like every bet type we have discussed so far, each leg of this bet is assigned juice. In this case, a bet that he goes over 21.5 points will pay out $19.50, while a bet that he scores under 21.5 points will pay out $18.70.

If you are an experience fantasy player, the research and strategy behind these bets will feel very familiar. Things like pace of play, defense vs. position, and player form weight heavily in finding values in player prop betting. Like spread and moneyline bets, you can parlay player prop bets together to increase the potential payout.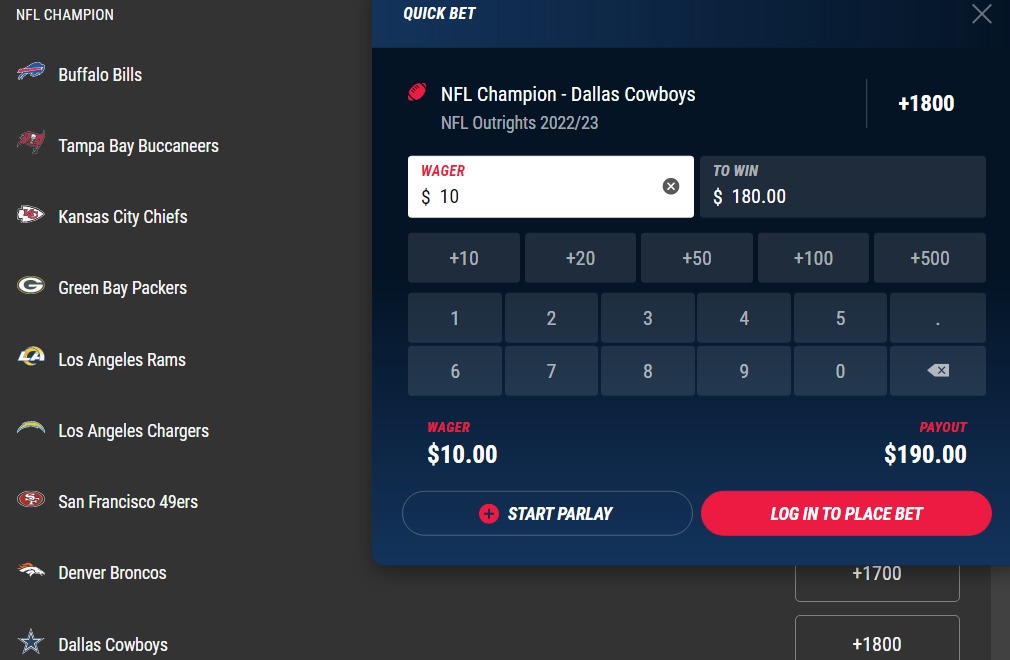 Future Bets
Future bets are exactly what the name indicates, betting the outcome of a future event. This can range from a wide variety of team and individual events including future Super Bowl winners, MVP winners, Heisman winners, and much more. The example given above was taken from the PointsBet sportsbook.

In this wager, we are betting that the Dallas Cowboys will win the 2023 Super Bowl. At the time of placing this bet, eight other teams are listed ahead of Dallas in the Super Bowl Futures Odds. In this case, a $10 bet will pay out $180.

There are pros and cons to placing futures bets. On one hand, a bet like this is extremely attractive thanks to the favorable odds. If you look at the Texas Longhorns schedule and think they are a lock to win the Big 12 next season, you can bet them at a number like +250 and win $25 on a $10 bet.

On the other hand, these bets are open to a wide number of variables such as injuries, coaching changes, and of course upsets. Additionally, unlike betting the spread on tonight's game, your money is often tied up for weeks or even months with future bets.