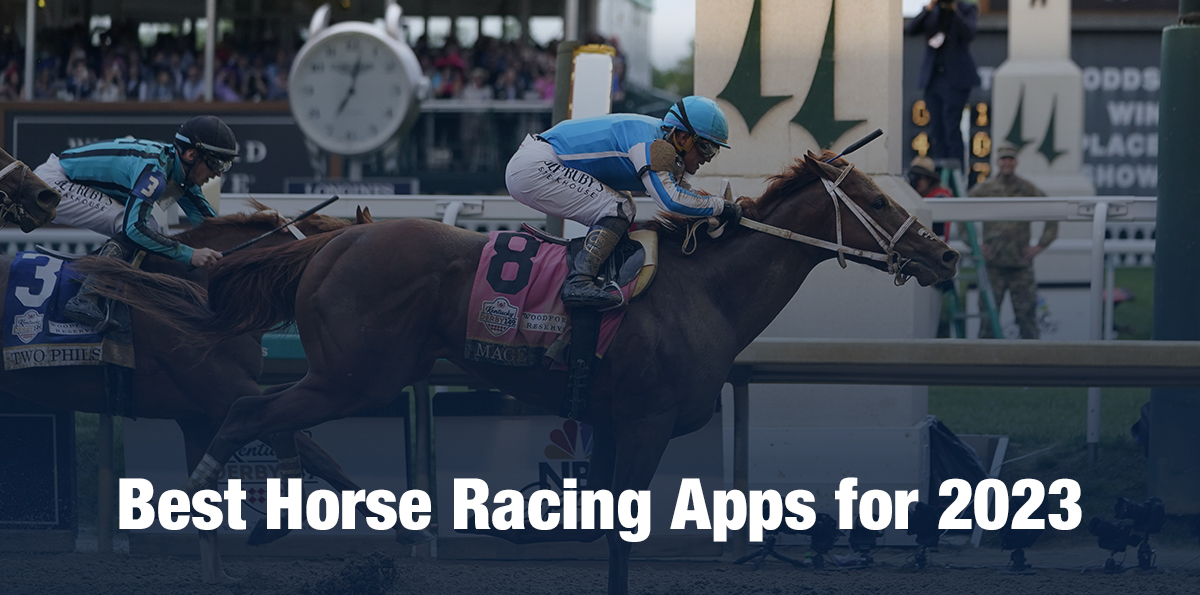 Horse racing is one of the oldest American sports, dating back to 1665. As popular as sports betting has become in the US over the past five years, horse racing still had a five-times larger handle in 2020, with nearly $11 billion in bets placed.
Today, bettors can wager on races happening around the world, 24 hours a day, 7 days a week. There is no shortage of apps for bettors looking to get in on the action to choose from. Whether you want to place bets from your phone, tablet, or laptop, these apps offer a wide variety of betting options. Here are our five favorite horse racing apps and the current bonus offer for each.
Must be 18 or older (21 in AL, AZ, IA, IN, KS, NH, ND, WA) and reside in a state where such activity is legal. Void where prohibited. Always Wager Responsibly. If you or a loved one is experiencing problems with gambling, please contact the National Gambling Helpline 1-800-522-4700.
Details for Our Current Horse Racing App Rankings
Betting on horse racing can be a lot of fun, but doing your research first is important. Several apps are available that can help you make informed decisions and increase your chances of winning.
There are all sorts of different factors to consider when choosing which horse racing betting app is the best for you. This list considers factors such as usability, customer service, and bonus offers. We also took into account the overall reputation of each app before making our rankings. This includes looking at customer reviews and ratings to ensure your chosen app is reliable and trustworthy.
So if you're looking for the best horse racing betting apps in 2023, look no further! Our rankings are sure to help you find the perfect app for your betting needs. Whether you're looking to place straight bets on the Kentucky Derby or take advantage of some free bets on the Belmont Stakes, taking advantage of all of the fun with online horse racing betting is easier than ever with these horse race betting sites.
While TVG and TwinSpires are quite easily the most popular horse racing betting apps on the market today. Backed by massive iGaming operators with huge footprints in the US sports betting markets, both apps are extremely well executed. We find that most of the larger US horse racing operators are great in terms of customer service, usability, and bonus offers.
Given how competitive the US horse racing market is, these horse betting apps continue to evolve and improve regularly to ensure they stay at the top of their game.
As large of a lead as TVG and TwinSpires have, we think XpressBet's app is on par, if not better than both. It offers a smooth interface, tons of information and research, and plenty of player-friendly cashier options.
Additionally, for bettors interested in betting at four of the country's best racetracks, NYRA offers a ridiculously well-executed app that allows you to watch and wager on every race at four great New York racetracks.
With all of that in mind, here are our top picks for the best horse racing apps going into 2023 and the details behind our ratings for each of our top 5 horse racing betting apps and horse racing betting sites—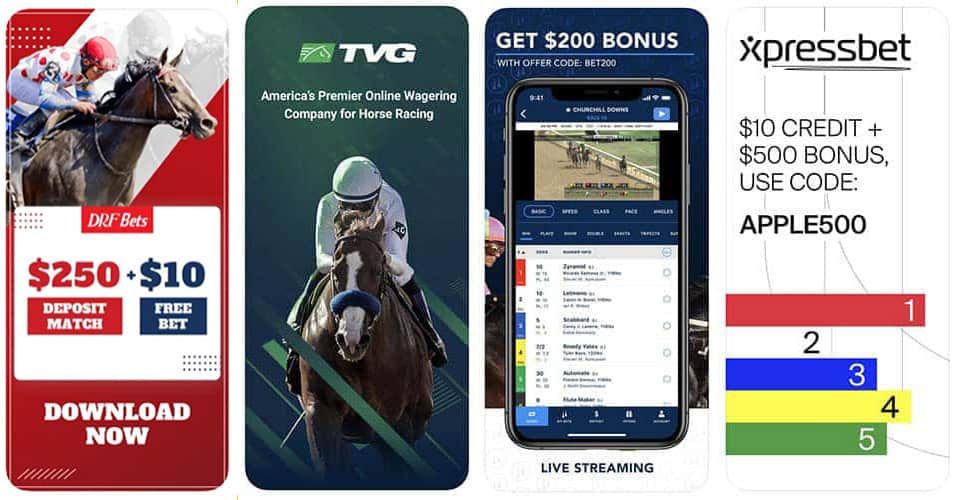 #1. DRF Bets Horse Racing Betting App
If you've been into horse racing for any length of time, you know that Daily Racing Form (DRF) has been setting the standard for horse racing handicapping information for well over 100 years! DRF has seen many competitors come and go during that time, but none have supplanted them as the premier source for daily horse racing tips.
Back in 2011, DRF formed one of the best horse betting apps on the market, DRF Bets. Thanks to a wide variety of betting options, outstanding customer service, and an app that makes its competitors jealous, DRF Bets has become the #1 choice for all horse racing bettors.
DRF Bets also provides its clients with loads of statistics, analytics, and expert picks from some of the world's most successful horse racing handicappers. You won't find a more innovative company that focuses on pleasing its players.
For a limited time, DRF Bets is offering one of the best new player bonuses in the industry. New customers can receive a 100% deposit bonus for up to $200 and a Free Formulator when they sign up for an account with DRF Bets. Be sure to jump on this offer before it changes.
What we love the most about DRF Bets is that they put their players first. They offer great customer service and are willing to help you with any issue you may have. Their live streaming of major races, such as the Kentucky Derby, Belmont Stakes, and Preakness Stakes, is also a plus for those doing some online betting.
Bottom Line: DRF Bets is the clear leader in horse racing apps, offering a number of horse race features that other apps can't match and free bets. With its reliable customer service, easy-to-use interface, and innovative bonus offers, DRF Bets is the best horse racing betting app in 2023.
Read our full DRF Bets review and current promo code offers >>
#2. TVG
TVG offers arguably one of the best horse racing apps available. TVG covers races from all over the United States and international events.
The TVG app provides real-time odds and up-to-date information on horses and riders. You can also watch replays of past races, making it easy to scout potential winners for horse races.
The TVG app is well-designed and easy to use. It is available for both Android and iOS devices. If you're looking to bet on horse racing, the TVG app is a must-have. It's the best way to ensure you don't miss any action. You can see the upcoming races and see how horses performed in previous races, which is a nice added touch.
TVG methods of deposit include PayPal, credit card, TVG gift card, and ACH. TVG withdrawal methods include Visa, Mastercard, PayPal, check or transfer to an active TVG account.
TVG customer support is available by phone and email. TVG is licensed and regulated in the United States by the TVG Network. TVG is owned by Flutter. This is the same company behind FanDuel Sportsbook, Betfair, Paddy Power, FoxBet, and several other major iGaming brands.
If you're looking for a great horse racing app, TVG is the obvious choice. With coverage of races from all over the United States, TVG is the most comprehensive app available. The TVG app is easy to use, providing real-time odds and up-to-date information on horses and riders.
What we love the most about TVG are the features the app brings to the industry. The app is slick, extremely user-friendly, and offers excellent customer service.
Bottom Line: TVG is a top horse race betting app and one of the best horse racing apps on the market today. It covers races from all over the United States and international events, providing real-time odds and up-to-date information on horses and riders. The app also includes live streaming of races and comprehensive customer service. With its superior features and ease of use, TVG is a must-have horse racing app in 2023.
Read our full TVG review and current promo code offers >>
#3. TwinSpires
The TwinSpires horse racing app is arguably the most popular app for horse racing bettors, and it's easy to see why. This app gives you instant access to all of the major tracks and events online, including:
Churchill Downs: Kentucky Derby and select other races
Belmont Park: Belmont Stakes
Saratoga: Travers Stakes
Monmouth Park: Haskell Invitational
The TwinSpires app also has a ton of features that give you an edge when betting on horse racing. These features include:
A live odds board that updates in real-time as the races progress
A bet tracker that records all of your bets and winning payouts
Customizable wagering options
The ability to deposit funds directly into your account using a credit card, Debit/Check Card, or PayPal
TwinSpires also gives you access to watch and wager on all of the action from every major racetrack in North America
Additionally, TwinSpires bettors get access to some of the industry's best bonus offers. Not only are new users eligible for a bonus on the racebook, but they can also lock in offers with TwinSpires Sportsbook for regular sports betting and TwinSpires Casino. You can't get that with many other online horse betting sites.
Read our full TwinSpires review and current promo code offers >>
#4. XpressBet
XpressBet is one of the fastest-growing racebooks in the US. The app lets you make bets on any track in the country, whether it's Thoroughbreds, Harness, or Quarter Horses. The software is fast and effective, with low minimum bets for one-cent programs to wager on. Their betting options are what makes them stand out compared to other horse betting sites.
Pros: Great for beginners who want an easy-to-use app that works almost everywhere, including OTB locations you visit. Unlike some of their competitors in this space, XpressBet's mobile app feels like a modern betting experience. Online betting has never been easier.
Cons: Might be a little too simple for experienced bettors. That may sound odd, but when professionals are placing horse racing bets on major events like the Belmont Stakes, they want plenty of data and options to go with it.
XpressBet is part of the 1/ST family of products, including 1/ST Bet, BetMix, and AmTote. Both 1/ST Bet and XressBet have been well received by the horse racing betting community, and the apps have a combined 4.8 (out of 5) rating on both the App Store and Play Store.
New players can get $10 free for registering this month and still lock in an initial deposit bonus of up to $1,000!
We really like this app and think it has plenty of potential. However, when getting into the action of horse races online, many bettors want a little more to go with their horse races, and XpressBet doesn't do it for some.
#5. AmWager
AmWager offers one of the more complete horse racing betting experiences available today. Their app allows you to research and bet on races across the US directly from your phone.
AmWager does a great job of laying out everything you need to be a successful bettor. This includes:
Racetrack Information:
Find your favorite tracks with AmWager's easy-to-use track finder. This function makes finding tracks as simple as typing in your zip code or browsing by state.
Race Results and Statistics:
Get the latest information on races as soon as the race is over. AmWager posts results and statistics for every race, so you can always be up-to-date.
Mobile Betting:
You can conveniently bet on races from your phone. AmWager allows you to wager anywhere from $1 to thousands of dollars in seconds.
AmWager also allows you to access their blog and track records for all horses, trainers, jockeys, and the like to see how they've done recently. This is a unique feature that can be really helpful in your decision-making process.
AmWager also offers one of the better new user offers available this month. Players that register this May are eligible to receive a 100% deposit bonus that caps at $250.
Overall on these Horse Racing Betting Apps
All of these horse racing betting apps offer their own unique benefits and drawbacks. XpressBet is great for beginners, while TwinSpires offers the most comprehensive experience. AmWager is especially strong when it comes to post-race results and statistics, which can be helpful in your decision-making process.
Ultimately, the best app for you will depend on your individual needs and preferences. Whichever app you choose, make sure to take advantage of any bonuses that are offered in order to give yourself the best chance of winning! You won't want to miss out on a great offer when you sign up for a welcome bonus or other types of promotion.
When Are the Biggest Horse Races of 2023?
Since 2023 is officially off and running, we thought it'd be a great time to check out when the biggest horse races of the year will be run. Keep these dates in your back pocket and keep your eyes peeled for any new bonus offers around these races.

Kentucky Derby: May 7th
The Preakness: May 19th
Belmont Stakes: June 10th
Breeders Cup: November 3-4