Gamblers in Ontario have been raving about NorthStar Bets since they came onto the Canadian sports betting scene back in May of 2022. In this review, we'll go over some of the best (and worst) features of NorthStar Bets and why we highly recommend them to all Ontario sports bettors!
Northstar Bets Pros and Cons
Pros
Lightning-fast deposits and payouts.
Insights and research tools built into the sportsbook.
Online casino is one of the best available in Ontario.
Cons
Limited customer support with extended wait times.
Sportsbook and casino are only available in Ontario.
High juice for player props and spread wagers.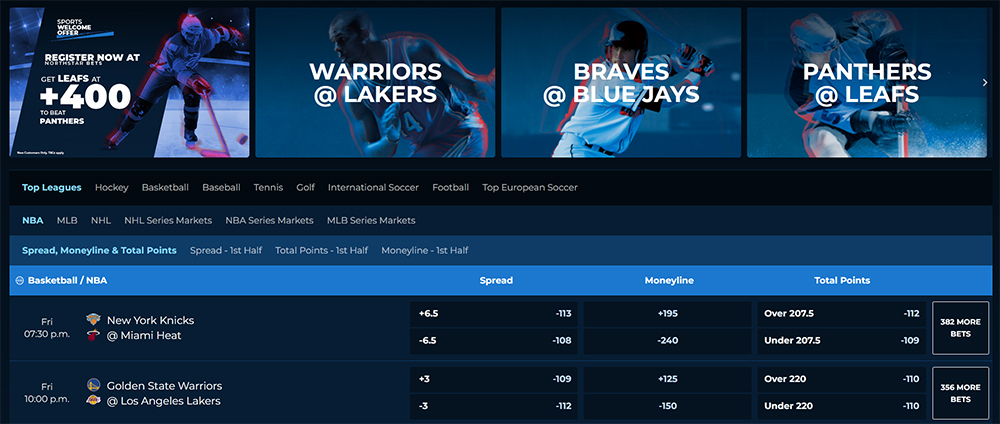 NorthStar Bets Review Overview
By now, most Ontario sports gamblers have heard about NorthStar Bets. The company launched in Ontario in May of 2022 and has made a gigantic splash in the industry. In this review, we'll let you know what all the fuss is about.
NorthStar Bets is a sportsbook and casino that's available exclusively for people in Ontario. Because of this, they put a special emphasis on local teams like the Toronto Raptors, Toronto Maple Leafs, and the Ottawa Senators.
In this NorthStar Bets sportsbook review, our team will cover everything from wagering options, live odds, customer service, depositing methods, loyalty programs, and more. We'll even hit on the online casino side of the house as well.  So if you're the type that loves online casinos, you're going to love NorthStar Bets live casino - but more on that in just a minute.
If at the end of this review, you still have questions, don't worry! We've put together a brief FAQ section to help with any further info you may need.
What NorthStar Bets Customers are Saying
An important thing to look at when comparing sportsbooks is the opinions of their current clients. After all, they're the ones using the app or site regularly, and they have the best insight into how good or bad the product really is.
We've compiled reviews and ratings for NorthStar Bets across both the App Store, Play Store, and Trustpilot. Find the current NorthStar Bets rating on each app, as well as an aggregate rating across all reviews, in the table below.
Our staff picked through a large array of NorthStar Bets comments to identify what current players think are the best and worst features of the sports betting mobile app and their sports betting site.
It is worth noting that online reviews tend to swing more negatively than positively by nature, so an aggregate rating of 4.6 is an overwhelmingly positive sentiment from existing players.
Most of the positive reviews come from the sheer number of wagering options and how easy it is to make a deposit. That's refreshing to see in this day and age!
There were a few negative comments, but that's pretty common when you're servicing millions of clients on a regular basis. Some folks have claimed that they got banned by NorthStar Bets just by winning a few hundred bucks. However, all online reviews should be taken with a grain of salt.
| | |
| --- | --- |
| Sportsbook App | NorthStar Bets |
| App Store Rating | 3.3 (58 Reviews) |
| Play Store Rating | 4.3 (80 Reviews) |
| Trustpilot Rating | 2.9 (2 Reviews) |
| Total Reviews | 342,042 |
| Aggregate Rating | 3.9 |
| Best Feature | Tons of Betting Options for Local Ontario Teams |
| Worst Feature | Not Enough Table Games |

NorthStar Lines and Juice Review

Juice should always be a concern for any sports bettor. Overpaying for a certain team or sport will only make your bankroll dwindle at a faster rate. Thankfully, we find the juice at NorthStar Bets to be slightly above average.
Decent lines and Odds
Kambi sets the lines for NorthStar Bets, and they're one of the largest oddsmaking companies in the world. They currently set lines for BetRivers, Barstool, and Unibet. However, Kambi is known to drive up the prices of favorites in certain sports, so keep that in mind.
The App is Great for Live Betting
The popularity of live betting has soared quite a bit over the last few years. Folks are realizing that betting on a game while it's happening just adds more enjoyment to the overall fan experience.
Raptors and Leafs fans will love knowing that they can bet on their favorite hometown teams while they're at the game or watching it on TV. The betting interface of the NorthStar Bets app loads quickly and never lags, which is a huge plus when doing live wagering.
Early Cash Out Option
Here's another nice feature that NorthStar Bets gives its customers. They can cash out their bets early if they want to. Let's say the Blue Jays are up late in a game and you don't feel too good about their bullpen that evening. You can cash that bet out early and go to bed a winner! How cool is that?
---
NorthStar Bets Website and App Review
The app and website that NorthStar Bets offers is top notch. You'd never know that they've only been in the sports betting industry for a short period of time. The app is extremely user-friendly and the website makes everything easy to find. The thing we love the most about the NorthStar gaming app is that it works both on mobile and desktop devices, which is great for folks who like to bet from the comfort of their own home. They've made an online casino that you can take anywhere and have a blast.
Clean and Clear Betting Dashboard
The clean look of the NorthStar Bets betting dashboard is a welcome feature for all Ontario sports bettors. How often do you see a home page that's cluttered and just too busy to look at. Instead of overwhelming you with way too much info, NorthStar features only a few games that are popular among the betting public. That's not to say that this online casino doesn't have a huge amount of sports and betting markets, because they do. It's just the NorthStar Bets Ontario Sportsbook and Casino keeps the homepage nice and clean.
No Live Streaming at the Moment
As good as the NorthStar app and website are, it's a little disappointing that they don't offer live streaming on games. However, that's not uncommon in the industry, as only a select few offer live streaming these days. On the plus side, NorthStar does offer an analytics section to help gamblers place smarter bets.
Not a Lot of Reviews Yet
While the NorthStar Bets website has been out for quite some time, the mobile app is still fairly new. That's why there isn't a plethora of reviews on the app on the Play Store or App Store. However, we're expecting that to change very soon.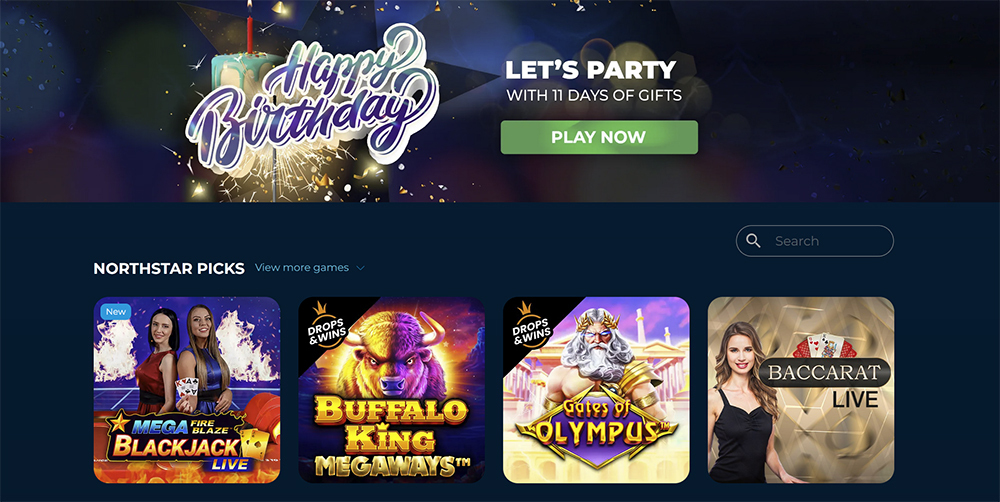 Northstar Bets Casino Review
Here's an area that NorthStar Bets really shines in! Their casino product is remarkable and offers over 240 of your favorite games! NorthStar even provides you with a Live Dealer on some of the most popular table games. That's hard to beat!
Incredible Slot Offering
Casino players love their slot games and North Star offers a whole slew of them to its clients. Folks get to choose from over 150 different slot games, which is a pretty impressive offering. No matter what your favorite game is, you'll find it at NorthStar Bets!
Want to hear even better news on NorthStar's slots? They offer a progressive jackpot on some of them, which gives players the chance to make a life-changing amount of money.
Live Dealer Games
More and more casinos are realizing that they must offer Live Dealer games to remain competitive. Folks crave an in-person type of casino experience when playing BlackJack, Baccarat, or Roulette.
Thankfully, NorthStar offers 4 different types of live dealer games to give its players a phenomenal casino experience. They even offer a few game shows with live dealers like Buffalo Blitz and Deal or No Deal!
---
NorthStar Bets FAQs
While we covered quite a bit in our above review, new NorthStar customers may still have some questions. To help with that, we've put together this brief NorthStar Bets FAQ section. We hope this helps you find the info that you're seeking.
Is NorthStar Bets legit?
Absolutely, NorthStar Bets is one of the most popular sportsbooks and casinos in Ontario. They have an official gaming license and are overseen by the Alcohol and Gaming Commission of Ontario. Your money is always safe with NorthStar! And it's not just the sportsbook side of the house that's regulated - the NorthStar Bets Casino is also regulated by the AGC. So when you log into the NorthStar Bets casino software from whereever you are, you know that you're in good hands.
How old do I need to be to play on NorthStar?
THe legal age for gambling in Ontario is 19 years old. So you need to be at least this age to create an account and play on NorthStar Bets. For those that think they can skirt around this, think again. NorthStar has a strict policy on underage gambling and will not only deny your account as they verify your age.
Is NorthStar Bets available all over Canada?
No, NorthStar is only available in Ontario. Players don't have to live in Ontario but must be physically located in Ontario when accessing the sportsbook or casino. The NorthStar Bets Ontario app has geolocation technology baked into it so you have to physically be in Ontario to place bets or games.
What cashier options are available?
NorthStar Bets makes it incredibly easy to deposit or withdraw funds. They accept bank transfers, VISA, Mastercard, iDebit, and Interac. The minimum deposit and withdrawal amount is $10.
Does NorthStar Bets have customer service?
Yes, the live chat function is available 7 days a week for 17 hours per day. The customer service team will also respond to emails at their address ([email protected]).
Does NorthStar Bets have an app?
Of course! You can find their app on both the Apple App Store and Google Play Store. The NorthStar Bets app is free to download, although you must be physically located in Ontario before placing any bets.
What overall rating does NorthStar Bets get?
Overall, we give NorthStar a solid 4.6 rating! These folks have a ton of strengths, like their customer service, casino offerings, and a great website and app. Some of the areas of improvement include a lack of live streaming and a little bit more generous juice. If you live or visit Ontario, we highly recommend trying out NorthStar Bets!

Ready to Get Started at NorthStar Bets?
Whether you're going for the online sportsbook or even the online casino, we think you'll find that NorthStar Bets has something for everyone. This Canadian sportsbook and casino operator is one of the best in Ontario, so we're confident that you'll have an enjoyable experience when playing here.
Ontario is one of the hottest betting markets and sports betting and casino gaming continues to grow in Canada. NorthStar Bets is at the forefront of this and offers an amazing online experience for sports betting enthusiasts and casino players alike.
Ontario bettors must be 19+ and present to place wagers (21+ to wager with Caesars). If you or a loved one is experiencing problems with gambling, call 1-866-531-2600 or visit the ConnexOntario www.connexontario.ca.