New York is the largest market expected to legalize online sports betting in the next twelve months. From a population perspective, New York is the fourth largest market in the US, behind California, Texas, and Florida. However, with 10 professional sports teams, it is easy to make the argument that New York is the biggest betting market in the US.
New York Online Sports Betting Legislation

| | |
| --- | --- |
| Legal Status | In-person betting is legal. Online betting not yet legal. |
| Bill | S1183 |
| Bill Author | Sen. Joseph Addabbo Jr |
| Bill Details | Bill calls for an open, competitive online sportsbook market. Would provide each New York casino with two online skins. Proposed tax rate is 20% of all online revenue. |
Legal Online Sports Betting a Must in New York
Any argument for legal online sports betting in New York has to begin with the state's financial woes. NY faces a potential $15 billion budget deficit over the next four years. While sports betting alone can not save the state from what has been described as a doomsday financial disaster, it certainly will help.
Expert's projections for online sports betting tax revenue estimate the state could see anywhere from $300 million to $700 million. So why hasn't a bill allowing online sportsbooks to operate in the state already been passed? Most point to Governor Cuomo's desire to turn the industry over to a state-run online betting platform.
Both New York bettors and state legislators have come out in opposition of this idea, citing the need for an open, competitive sports betting market. From Cuomo's perspective, allowing the state's lottery to operate one online sportsbook takes companies like FanDuel and BetMGM out of the equation and maximizes the potential tax revenue for the state.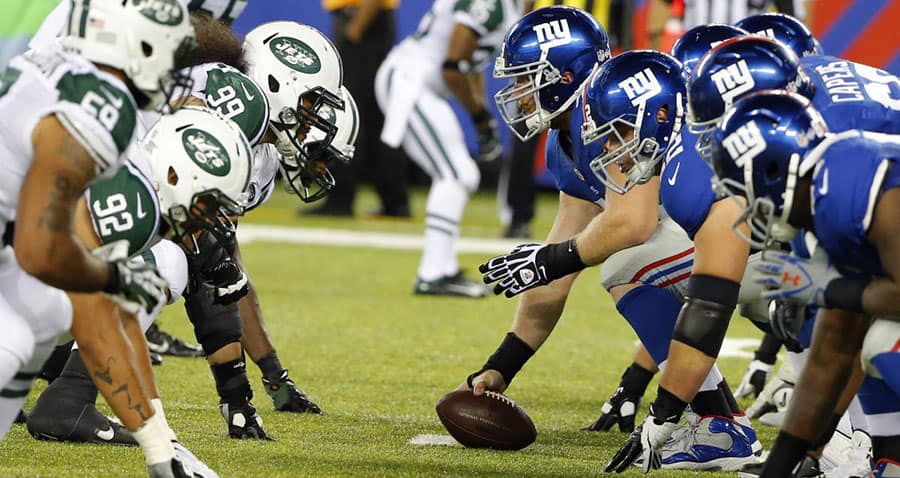 When Will Online Sports Betting Come to New York
Clearly, US sportsbooks believe online sports betting is going to happen in New York. BetMGM, BetRivers, DraftKings, FanDuel, and William Hill already have brick-and-mortar locations using the state's casino skins.
Current New York Online Sportsbook Partnerships

| Online Book | Casino | Launch Date | Location |
| --- | --- | --- | --- |
| Bet365 | Resorts World Catskills | September 2019 | 888 Resorts World Dr, Monticello, NY 12701 |
| BetMGM | Yonkers Raceway | September 2020 | 810 Yonkers Ave, Yonkers, NY 10704 |
| BetRivers | Rivers Casino | July 2019 | 1 Rush St, Schenectady, NY 12305 |
| DraftKings | Del Lago | August 2019 | 1133 NY-414, Waterloo, NY 13165 |
| FanDuel | Tioga Downs | July 2019 | 2384 W River Rd, Nichols, NY 13812 |
| William Hill | Turning Stone | August 2019 | 5218 Patrick Rd, Verona, NY 13478 |
The question is what will it take to get this get done? A Cuomo impeachment would clearly remove the largest remaining roadblock. However, this is not the only path forward.
Senator Joseph Addabbo continues to press for an open, competitive market. His argument against Cuomo's is that the open market will increase the size of the market, negating the majority of lost tax revenue. Furthermore, Addabbo believes the jobs created in an open, competitive market would more than replace any remaining revenue loss.
In the end, Cuomo is unlikely to receive a state-run-lottery bill anytime soon. So if this gets done prior to the start of the 2021 NFL season, and we believe it will, expect to see an open New York online sports betting market. Sports bettors would be the big winners as a result. An open market not only means more action, but more winning as bettors are able to shop lines and juice to maximize payouts.