New York officially launched legal mobile sports betting on Saturday, January 8, 2022. In total, four sportsbooks received approval from the New York Gaming Commission to begin offering online wagering. That initial batch of sportsbooks include Caesars, FanDuel, DraftKings, and BetRivers.
We will continue to update our NY sportsbook rankings as new mobile operators make it through the commission's approval process and launch in The Empire State. Here is our current pick for best New York sportsbook, as well as the updated rankings including every approved betting app in the state:

#1. FanDuel Sportsbook: Best NY Sports Betting Experience
Given the success they have found in New Jersey, FanDuel should be one of the more popular sportsbook operators in New York. While the DraftKings Sportsbook app may have a slightly higher user rating, FanDuel is a close second. Whether betting on the desktop website, mobile website, or mobile app, FanDuel offers a consistently smooth experience and expansive betting menu.
In addition to the great technology behind their product, FanDuel is also a New York based company, headquartered in New York City. The FanDuel family of products includes sports betting, daily fantasy sports, horse racing, and casino. The sportsbook is live in 13 US states, while they offer DFS in 42 US states including New York.
Even though New York has a lot of solid sports betting apps to choose from, none can touch FanDuel. Whether you have an Android or an iPhone, the FanDuel app is lightning fast and bets are processed in only a few seconds.
The app is well laid out, which makes it easy to navigate, even for newer sports bettors with little to no sportsbook experience. All sports are clearly listed on the left side of the screen, which is also helpful.
FanDuel also offers some nice odds boosts each day. Most of them are centered around the most popular players, which makes them more fun to bet on. Boosted odds are a great way to add more to your betting bankroll in New York.
Like rival DraftKings, FanDuel launched a nice bonus offer in New York. Find the details for this bonus offer at the link below. Right now, those new to New York online sports betting can get a Bet $5, Get $200 deal just by signing up with FanDuel Sportsbook. They'll also get you $100 off NFL Sunday Ticket!
Track FanDuel NY Offers

#2. DraftKings Sportsbook: Best Sports Betting Bonuses
Of all the sportsbooks currently operating in New York, DraftKings offers the best mobile sports betting experience. The daily fantasy sports app is easy to use and offers a seemingly endless number of betting options. Whether you are looking for the best prop betting options, same-game parlays, or live betting, DraftKings offers a polished interface and great user experience.
DraftKings Sportsbook was one of four operators to launch in NY on January 8th and they're currently offering new players one signup bonus option. Find the details for this promotion at the link below. Since NY online sports betting is now legal, new sports bettors can Bet $5 to Win $150 at DraftKings Sportsbook!
This is by far the best bonus offer going on in New York right now. All you have to do is download the DraftKings app and enter all of the personal info that they request.
After making your first deposit, put in a $5 wager. You'll then get $150 in bonus bets. How cool is that?
Current DraftKings Offers

#3. Caesars Sportsbook: Best Rewards Program
Caesars Sportsbook has been the most aggressive NY operator in terms of both marketing and new player bonus offers. This includes a recently announced deal with MSG that allows Caesars exclusive access to signage at MSG, and exposure on the MSG network.
The Caesars sports betting app offers a full betting menu, live betting, every major sport, and an above-average selection of game and player prop bets. There's a lot to like about Caesars!
What really allows Caesars to stand out is its rewards program. Caesars Rewards has long been the gold standard in the US casino industry and online sportsbook users are now eligible to take advantage of this program.
With Caesars Rewards, New York sports bettors will earn Tier Credits and Rewards Credits with every bet they place. After enough credits are built up, they can be cashed in for Bonus Bets, Free Hotel Stays, or Free Meals at any Caesars' resort. That's tough to beat!
Caesars also has the top-rated new player offer for New York as of this May. The bonus code BV15 includes a Bonus Bet that caps at $1,250. A minimum deposit of $50 is required. Find the details for this Caesars NY promotion at the link below.
Current Caesars Promotions

#4. BetMGM Sportsbook: The Lowest Juice
BetMGM launched in New York on Monday and offers NY sports bettors one of the best sportsbook experiences available in the US market. The app is user-friendly and loaded with plenty of betting options including a ton of same-game parlay and live betting options.
Speaking of live betting, BetMGM gets our vote for the best live betting experience in New York. There are always a ton of in-game options and your bets will always be completed quickly, which is something that not a lot of sportsbooks can claim.
One of the biggest benefits to betting with BetMGM is the industry-low juice that is applied to the majority of wagers. For instance, BetMGM had the best odds for over half of the player props on the market for this past weekend's NFL regular season games.
Another area in which BetMGM excels is their new player offers. Unfortunately, BetMGM Sportsbook is no longer offering a bonus offer in New York. However, folks are encouraged to signup for BetMGM Rewards to get a few free perks thrown their way. Even without a bonus, BetMGM is still one of the best online sportsbooks in New York!
BetMGM is also the official sports betting partner of the New York Knicks. So when you're taking in a game in Madison Square Garden, you'll usually see their name around the building.
Current BetMGM Offers

#5. PointsBet Sportsbook: Best Bonus Bets
PointsBet Sportsbook offers a great alternative to what is commonly referred to as the 'Big 4' in sports betting. Their mobile app is at the level of both FanDuel and DraftKings, and their live betting features are even better than what you will find at any other sportsbook.
One of the main issues we have with PointsBet at the moment is that they typically juice bets higher than competing New York sportsbooks. You can track this using our free odds tool, but the key takeaway here is that PointsBet is rarely the market leader with spread and moneyline bets.
While PointsBet was aggressive with its promotions, it entered the New York market relatively quietly with a $2,000 bonus bet offer. The New York offer has now been changed to up to $250 in Second Chance Bets. These are split up with (5) $50 wagers.
Current PointsBet Bonus Offers

#6. BetRivers Sportsbook: Lowest Rollover Requirements
BetRivers was the smallest operator of the four sportsbooks to gain approval to launch on opening day in New York. New York became the 11th state in which BetRivers currently offers mobile sports betting, while sister company SugarHouse operates in New Jersey and Connecticut, giving Rush Street Interactive a 13-state reach.
While BetRivers may not be the household name FanDuel, DraftKings, and Caesars is, they do offer a full betting menu, live betting options, a rewards program, and an app available for both Apple and Android users. They are also licensed as an online casino operator in Pennsylvania, Michigan, and West Virginia and have free-to-play casino games across the US and Canada.
The New York bonus offer from BetRivers includes a $100 Second Chance Bet. This is on par with the current offer available in every state BetRivers and SugarHouse currently operates.
For more details on every promotion available, check out our complete directory of New York sports betting bonus offers.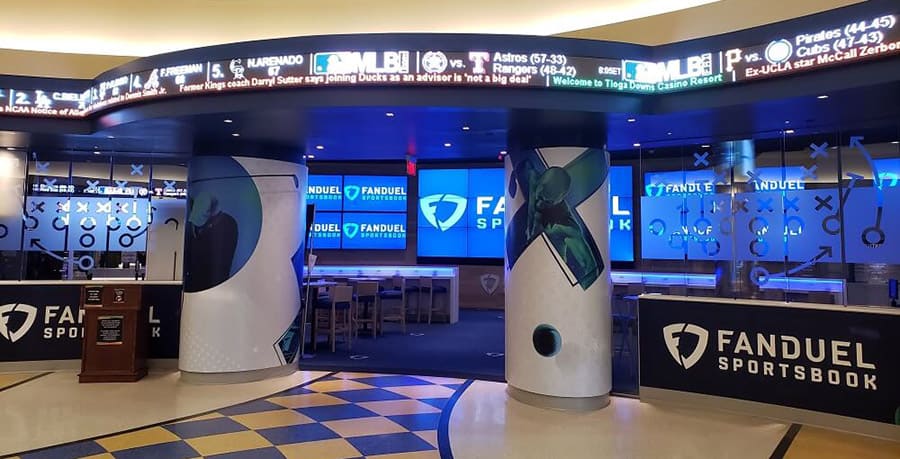 Retail Sports Betting Options in New York
While mobile sports betting has officially started in New York, bettors still have plenty of brick-and-mortar sportsbooks to choose from as well. While online may be more convenient, there is something to be said about spending an NFL Sunday or taking in March Madness from a retail sportsbook.
Find the complete list of retail sports betting options available in New York below:
Akwesasne Mohawk Casino:
Contact: 518-358-2222
Location: 873 NY-37, Hogansburg, NY 13655
Hours of Service: 6-10 p.m. Wed-Thurs; 2-10 p.m. Fridays; 11 a.m.-10 p.m. Saturdays and Sundays
The Sticks Sports Book & Grill officially opened for business in January 2020. They have self-service kiosks, in-person tellers, and giant video wall, and a full restaurant. This is one of the New York sportsbooks you have to check out.
Seneca Allegany Resort & Casino
Contact: 877-873-6322
Location: 777 Seneca Allegany Blvd., Salamanca, NY 14779
Hours of Service: Noon-8 p.m. Mondays-Thursdays; 8 a.m.-11 p.m. Fridays-Saturdays; 8 a.m.-9 p.m. Sundays
Seneca Nation has three different tribal casinos in New York. All three opened sportsbooks in December of 2019. They have self-serve kiosks, big screen TV's and a bar. They've got a really good NY sports betting experience.
Seneca Buffalo Creek Casino
Contact: 877-873-6322
Location: 1 Fulton St., Buffalo, NY 14204
Hours of Service: 10 a.m.-12 a.m. Mondays-Fridays; 8 a.m.-12 a.m. Saturdays and Sundays
Seneca Nation has three different tribal casinos in New York. All three opened sportsbooks in December of 2019. They have self-serve kiosks, big screen TV's and a bar.
Seneca Niagara Casino
Contact: 877-873-6322
Location: 310 4th St., Niagara Falls, NY 14303
Hours of Service: 10 a.m.-12 a.m. Mondays-Fridays; 8 a.m.-12 a.m. Saturdays and Sundays
Seneca Nation has three different tribal casinos in New York. All three opened sportsbooks in December of 2019. They have self-serve kiosks, big screen TV's and a bar.
The Lounge with Caesars Sports at Point Place Casino
Contact: 315-366-9610
Location: 450 452 NY-31, Bridgeport, NY 13030
Hours of Service: Noon-10 p.m. Mondays-Fridays; 10 a.m.-10 p.m. Saturdays and Sundays
Partnered with Caesars
Having opened in 2019 the Lounge offers a great in-person experience, with over 30 TVs and a huge 24-foot video wall, and VIP with full dining options.
The Lounge with Caesars Sports at Turning Stone Resort & Casino
Contact: 800-771-7711
Location: 5218 Patrick Rd., Verona, NY 13478
Hours of Service: Noon-10 p.m. Mondays-Fridays; 10 a.m.-10 p.m. Saturdays and Sundays
Partnered with Caesars
One of the very first brick-and-mortar sportsbooks in New York, the Lounge has a VIP seating option, self-serve kiosks, and in-person teller service.
The Lounge with Caesars Sports at Yellow Brick Road Casino
Contact: 315-366-9400
Location: 800 W Genesee St., Chittenango, NY 13037
Hours of Service: Noon-10 p.m. Mondays-Fridays; 10 a.m.-10 p.m. Saturdays and Sundays
Partnered with Caesars
Turning stone features VIP fan caves, they have a massive 32-foot video wall and operate a full sports bar, and is the largest brick and mortar sportsbook in all of New York.
DraftKings Sportsbook at Del Lago Resort Casino
Contact: 315-946-1777
Location: 1133 NY-414, Waterloo, NY 13165
Hours of Service: In-person 10 a.m.-11 p.m. Mondays-Fridays; 9 a.m.-11 p.m. Saturdays and Sundays. Self-Serve kiosks 8 a.m.-2 a.m. Sundays-Thursdays; 8 a.m.-4 a.m. Fridays and Saturdays
Partnered with DraftKings
Located directly on the Casino floor, it features on-screen odds, lots of video screens, full dining available, and self-serve kiosks.
FanDuel Sportsbook at Tioga Downs
Contact: 888-946-8464
Location: 2384 W River Rd., Nichols, NY 13812
Hours of Service: 11 a.m.-11 p.m. Mondays-Fridays; 10 a.m.-11 p.m. Saturdays and Sundays
Parnered with FanDuel
FanDuel sportsbook at Tioga Downs is one of the more impressive betting venues in New York and is definitely worth a trip.
Resorts World Catskills
Contact: 833-586-9358
Location: 888 Resorts World Dr., Monticello, NY 12701
Hours of service: 10 a.m.-1 a.m. Wednesdays-Sundays; 5:30 p.m.-1 a.m. Monday and Tuesday (kiosks are available 24/7)
Partnered with Bet365
Closest in state book to New York City, and has a huge 360-degree arc fill with jumbo screens.
Rivers Sportsbook at Rivers Casino
Contact: 518-579-8800
Location: 1 Rush St., Schenectady, NY 12305
Hours of service: 7 a.m.-10:30 p.m. daily
Partnered with BetRivers/Kambi
Has self-serve kiosks, VIP seating, and more.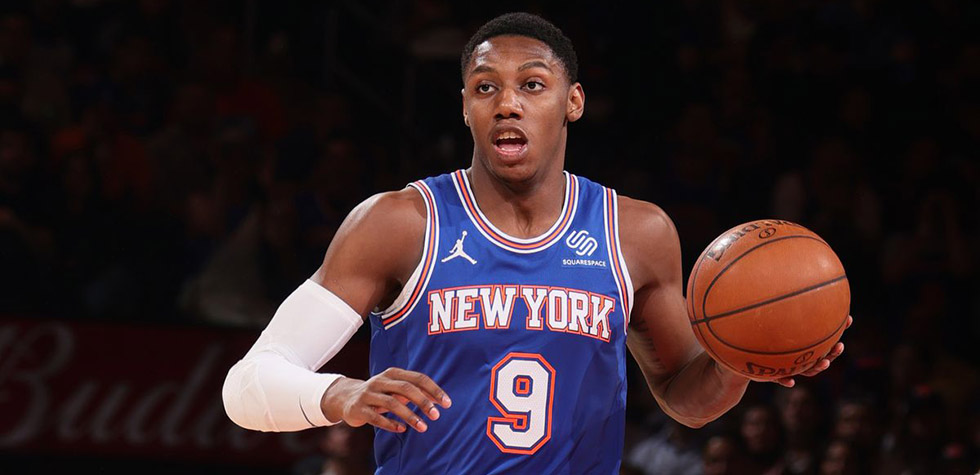 Popular New York Sports Teams to Bet On
New York is known as the mecca of sports because they have so many professional sports franchises. All of the loyal fan bases is a big reason why online sports betting has been so successful in New York. Let's take a look at the most popular New York sports teams below.
New York Giants
New Yorkers love their G-Men and deservedly so! The New York Giants have been around since 1925 and they've won four Super Bowl rings! The New York Giants have been in rebuilding mode since winning their last Super Bowl in 2011, but a healthy Saquon Barkley is giving fans and sports bettors in New York more to cheer about in 2022.
New York Jets
Though they are known by some as the "other" NFL team in New York, the New York Jets have a diehard fan base. They haven't won a Super Bowl since Joe Willie Namath's famous guarantee back in Super Bowl III.
The New York Jets head coach Robert Saleh is hoping that Zach Wilson and Breece Hall can stir up some offense in 2022. Online sports betting sites can count on plenty of New York Jets tickets, even though it's been quite a while since they've been relevant.
Buffalo Bills
Buffalo Bills fans have been riding the wave of Bills-Mania ever since the team's last Super Bowl appearance in 1994! With Josh Allen and Stefon Diggs leading the way, there's more hope for a chance at Big Game glory in 2022 and 2023.
The Bills have put together a strong roster under head coach Sean McDermott and this season could mark their return to championship contention. Head on over to one of the many mobile sportsbooks and place a wager on the Buffalo Bills!
New York Yankees
The Yankees are arguably the most successful sports franchise of all time. The Bronx Bombers have captured 27 World Series titles and are by far the most valuable team in Major League Baseball.
NY sports betting has seen a ton of money flowing in on Aaron Judge props, especially since he just hit 62 home runs last season. Get in on the New York Yankees action in one of these legal sports betting sites.
New York Mets
The New York Mets have had a rough time competing with the New York Yankees, but they're still followed dutifully by most folks in Queens.
The Mets have won two World Series titles and new owner Steve Cohen has spent a ton of money on high-priced free agents. Now that sports wagering is legal in New York, look for the sports betting apps to be flooded with Mets money once the MLB kicks off the 2023 season.
Fun fact: Did you know that the official sports betting partner of the New York Mets is Caesars sportsbook? They are! That doesn't mean you're limited to Caesars sportsbook when you want to bet on the Mets, it just means they have rights to use their logo, name, players, etc. To you as the bettor it only means they might offer in-game perks to New York sports bettors that are at a game.
New York Rangers
The New York Rangers have been around since 1926 and have brought home 4 Stanley Cup titles. They had a solid 2021-22 season by finishing 2nd in the Metro division and making it all the way to the Conference Finals in the NHL Playoffs.
Look for New York Rangers fans to flood online sportsbooks with lots of tickets on the Rangers in the 2022-23 season.
New York Islanders
The New York Islanders didn't come onto the scene until 1972, but they were the most dominant NHL team of the early 1980s. The Islanders won four straight Stanley Cups between 1980 and 1983. NY online sportsbooks should take in a fair amount of action on Islander games in 2022-23 now that mobile betting is legal.
New York Knicks
Spike Lee's beloved New York Knicks have been rebuilding for a long time, but they're still immensely popular. They made a brief playoff appearance in 2020-21 but finished 8 games below .500 last season. Even still, now that online betting is legal, New York sports betting sites will see lots of New York Knicks action. There are plenty of NY sports betting apps in the online sports betting market that will let you place a bet on the Knickerbockers.
New York Sports Betting News and Numbers
Nevada may get a ton of hype, but New York is the king of sports betting, at least in terms of overall handle. The Empire State did $16.2 billion worth of handle in 2022. This resulted in New York getting tons of tax revenue.
The crazy thing is that New York is just getting started and 2023 is on pace to shatter last year's numbers. The state did over $5 billion worth of handle during the 2nd quarter of 2023, which is typically the slowest time of the year for sports betting.
DraftKings led the way in June 2023 as far as total bets handled. The industry giant beat out rival FanDuel by accepting $488.5 million worth of bets. That's the first time DraftKings has beaten out FanDuel for a single month in New York.
New York Sports Betting FAQs
New York legalized mobile sports betting for the first time in 2022, this not only means that the legislation is new, but that the majority of New Yorkers are first-time bettors. We answer the majority of questions and concerns these New York sports bettors have in the FAQs below.
Whether you're a veteran of the online sports betting market or a novice in the sports betting industry, we've got the answers to all of your questions.
Is sports betting legal throughout the state of New York?
It sure is! While retail sportsbooks have been there for years now, in January 2022 the state legalized online sports betting and the New York State Gaming Commission issued licenses to nine different NY sportsbooks. Ever since then, the New York sports betting scene has exploded in popularity. That's what happens when you legalize online sports betting in a big state like New York.
What is the legal betting age in New York?
Whether you want to bet in one of the many retail sportsbooks or just toss a bet on one of the mobile sportsbooks, you must be at least 21 years of age to bet in New York. The New York State Gaming Commission strictly enforces this.
Of course, other sports betting markets in other states allow bettors to be as young as 19, but not in New York. The New York State Gaming Commission enforces this rule for all New York online sports betting and retail sportsbooks.
So if you think you'll run to any of the NY sports betting sites and place a parlay or in-game bet, but you're under 21 - think again. All New York online sportsbooks have strict age verification processes that must be completed before you can bet online.
Are online casinos legal in New York?
Not yet. However, steps have been taken to legalize online casinos in the Empire State in the near future. Right now, New York is dominating the sports betting markets, but when they legalize online casinos, you can bet they'll also dominate there.
If I live in New York, can I bet outside of state lines?
No, you must be physically located within New York state lines. Your location will be verified each time you attempt to place a wager. All of the New York sports betting apps have geolocation tech built into them so they can verify your location each time you're in the app.
Can you bet on college sports in New York?
Yes, New York bettors can bet on any college sporting event other than games involving in-state teams. This does not exclude college sports tournaments in-state teams are involved in. So, for example, if Syracuse makes the NCAA Tournament you would be allowed to bet on the Tournament but not on Syracuse's games during the tournament. This may hinder the sports betting revenue a little, even though the overall handle in the state remains extremely high.
What can you bet on in New York?
When New York took on legal online sports betting head-on, they opened up the gates to bet on anything. In New York, you can bet on various sports, including football, basketball, baseball, hockey, and more. You can also bet on races at local tracks such as the Saratoga Race Course. Additionally, you can place parlay bets and wagers on in-game events. DFS sites are also legal in New York.
Who oversees sportsbooks in New York?
The New York State Gaming Commission reviews, approves, and monitors every online sportsbook operator. This helps make sure that online betting continues to run smoothly in New York. NY online sportsbooks and every retail sportsbook are held to all rules and regulations set by the New York Gaming Commission.
Are Bovada and MyBookie legal in New York?
Bovada and MyBookie are not licensed to operate in New York. This means they aren't held to the same rules and regulations that sportsbooks in the US are. With so many other options now available in New York, it's safer to stick with online sportsbooks that are licensed in New York like BetMGM, FanDuel, or DraftKings. Stick to legal online sports betting just to be on the safe side.
What is the best bonus for New York sports betting?
Each of the nine online sportsbooks in New York comes with different bonus offers. Some offer a deposit match bonus, while others may give you free bets or more. It really just depends on what type of bettor you are and what kind of bonus you're looking for. Our top-rated sportsbook bonus in NY is currently DraftKings bet $5 and get $150. It's basically a massive odds boost. If your bet wins, you take home $150.
How do I withdraw funds from a New York sportsbook?
Once you've made some winnings, the next step is to get your money out. All NY online sportsbooks use a variety of withdrawal methods. You can typically request a direct bank transfer or cash at one of the retail locations if that's more convenient for you. Some sites may also offer withdrawals via PayPal and other e-wallet services. You'll likely have to use the same withdrawal method you used for your deposit.
Can I use more than one bonus code?
You cannot use more than one bonus code at a time. Most sportsbooks will even prevent you from using multiple accounts to avoid bonus abuse.
Can I share bonus codes and promo codes?
Of course! If you have a great bonus code or promo code, feel free to share it with your friends. It's always nice to get some extra money when you're betting on sports. Most online sportsbooks even have refer-a-friend bonuses so you can make some cash just for referring your friends.
Subscribe to EatWatchBet
Subscribe to EatWatchBet to receive exclusive offers, weekly picks and game breakdowns, the latest sports betting news and more.
Not only do we cover NY online sports betting market extensively, we provide insights into all legal sports betting. Whether you're looking for the best NY sports betting sites, maybe a new online sportsbook to get into some in-game live action, or you're just looking to jump into the New York sports betting scene for the first time, we've got everything you need.
New York bettors must be 21+ and present to place wagers in the state. If you or a loved one is experiencing problems with gambling, call Call 877-8-HOPENY or text HOPENY (467369) or visit https://oasas.ny.gov/hopeline.