If you're looking for a reliable and reputable sportsbook so you can begin sports betting, Bet365 is certainly one you should check out. For over 20 years, Bet365 has been a top online sportsbook for new and avid sports bettors. Whether becoming one of the many winning bettors or your bet loses, you'll be sure to have a great time with this online sportsbook and casino.
Bet365 boasts a variety of casino games, in-play betting, live streaming, and live-betting games. So, if you aren't into sports like soccer games or horse racing, you can still enjoy the variety of other games that Bet365 has to offer. Bet365's global standing also allows you to access different sports internationally, so enjoy NHL games, the FIBA world cup, the English Premier League, or other major markets wherever you are.
This Bet365 review will provide you with some of the pros and cons of Bet365, but to really see how it works, you should check it out for yourself. Play the same games over again or try out something new. Either way, enjoy the large variety of games and bonuses Bet365 has and begin betting on major sports and playing casino games today.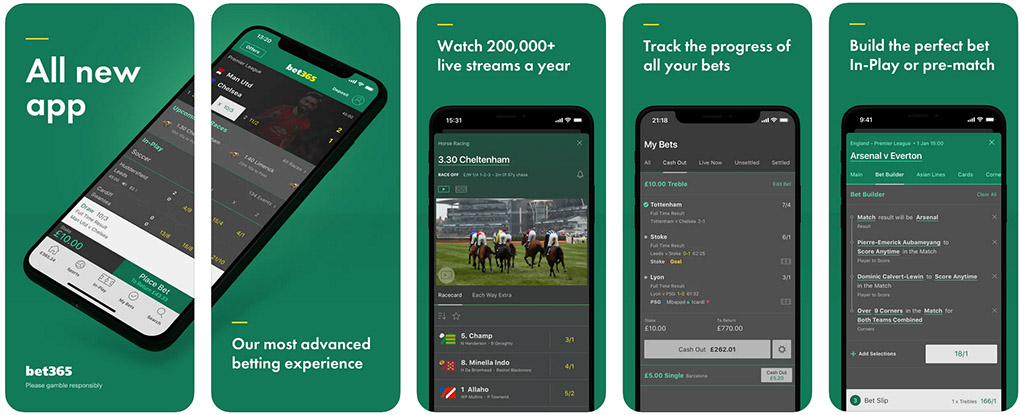 Features of Bet365
For this Bet 365 review we broke down all of the best features of the sportsbook app and what you can expect when you download it.
Sports Betting
Most obviously, Bet365 is known for its online sports betting capabilities. You can bet in a variety of different sports markets and leagues, including the NFL, the NBA, the MLB, the NHL, college football, and college basketball. You can even bet on sports like water polo and alpine skiing. On top of this, they offer tools like same game parlays that allow you to maximize your potential winnings. So start filling out your bet slip and get gaming!
Live Betting
Another feature that makes sports betting so attractive is live betting. This allows you to participate in online sports betting as matches are going on and odds fluctuate. There's also live streaming, allowing you to watch thousands of sporting events for no extra charge, so you can stream your favorite teams and partake in sports betting all on the same account.
Online Casino Games
Bet365 doesn't just limit their gaming to sports betting. You can play casino games, live casino games, slot games, and table games which makes this a great site even for those not interested in sports betting. For this reason, this site is as much an online casino as it is an online sportsbook.
Deals and Promotions
As with most of our reviews, sports bettors want to see what promotions and bonuses they'll receive. This Bet365 review is no different. Here's what you can expect when you play in the Bet365 Sportsbook.
Sign-up Bonuses
If you're looking for an incentive to sign-up on Bet365 other than the plethora of online casino games and sports betting, the welcome bonus you'll receive is that incentive. New members, for signing up, are eligible to receive a welcome bonus once they've deposited $10 or more. Place a qualifying bet of $1, and you will get $200 in free bet credits; no bonus code is needed. It's basically like receiving free bets.
Ongoing Deals
Even if you aren't new to Bet365, you can still access plenty of promotions just by being a member. These may vary by the type of sports being bet on. Tennis fans may be able to receive up to 70% more winnings on game parlays. An early payout may also be offered on select sports depending on the season.
Payment Methods
The payment methods available to bettors will vary between different sportsbooks. Here are the methods available for deposits and withdrawals at Bet365:
Deposits
Bet365 offers a variety of payment methods, so you'll always have a funded account. Not only that, but all deposits are processed instantly, so you won't have to wait long to be able to make your next bet. Though the site doesn't accept cryptocurrency, you still have a wide variety of payment methods you can use, from PayPal to your Visa card.
Withdrawals
Withdrawing funds may depend on the method you use, but one good thing about Bet365 is that it's always free. The highest withdrawal amount is $10, while the lowest is $1, depending on the credit cards or debit cards you're using to withdraw your earnings.
Many of the withdrawal methods may take 1-5 business days for your money to be processed. However, some methods, such as PayPal, are able to do it instantly, which is perfect if you're looking for some early cash. Maximum withdrawal limits go up to $30,000, so you won't have to worry about not getting your winnings.
Mobile Use
Some online gambling sites don't have a mobile option for those looking to sports bet on the go. Luckily, Bet365 is great for mobile betting. Using any ios and android devices, you'll be able to access online betting on your mobile device.
Having one of the best mobile apps in the online betting markets, you'll be able to access all of the same features you would on a desktop. You'll be able to get the same live streamings and early payouts that you would on your computer. Not only that, but the mobile app will allow you to sign in with your fingerprint if your phone supports it.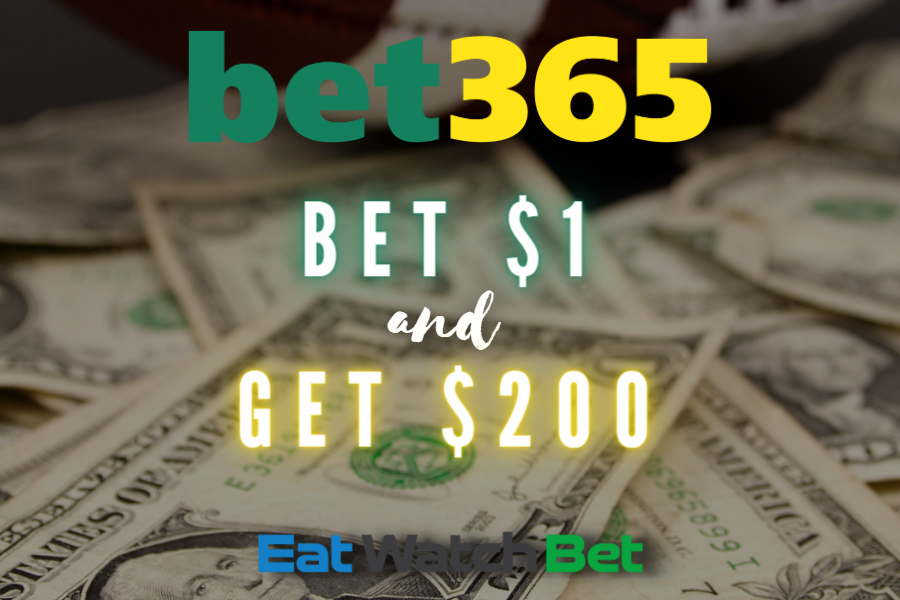 Customer Service
Whether casual bettors or seasoned gamblers, it's important to have good customer service in the betting business. Bet365 has just that, with a knowledgable customer service team ready to help you with what you need.
Not only is the help section extensive, allowing you to search for answers to your questions on your own, but you can always have a customer service representative help you. To ensure responsible gambling, having a robust help section on gambling sites is a must, and Bet365 has just that. Check out their website for contact details if you want to contact customer service.
Downsides
Despite Bet365 having a wide variety of capabilities, from extensive sports betting to live dealer games to same-game parlays to having one of the best mobile betting apps available, it still has a few downsides. One problem is that phone support is no longer available. This may not be a problem for you, but many people prefer talking to someone over the phone, especially when online banking is involved.
Another downside that was mentioned earlier is that they don't allow cryptocurrency to be used. There are many sites in the online gambling industry that support the use of cryptocurrency, with some sites allowing 17 different ones to be used. Bet365 isn't one of them, which may not make it a site for you.
Lastly, the ID verification process can be taxing. Some people already have a problem with sharing personal details with an online sportsbook or online casino, so having the process be long and taxing may turn you away from signing up before ever receiving your welcome bonus.
Why Check Out Bet365?
Bet365 is perfect for those looking to try online sports betting. With a generous welcome bonus, a variety of betting options, and an online casino that gives you access to various casino games, Bet365 will have something for everyone, which may not be the case for other gambling sites. Ready to get started and join your fellow sports bettors? Play today and come up with a sportsbook and casino review yourself.
Check out their online sports betting, live dealer tables, esports betting, poker room, live casino, or simply bet on major league soccer or horse racing if that's what you're into. While some sites only let you bet on a few sports, Bet365 lets you bet in various betting markets and for many different leagues.
Rules may vary by country, with Australian rules possibly being different from US rules and those rules being different in the UK because of the UK gambling commission. However, one thing remains the same: the Bet365 casino and its sportsbook will provide you with the rush you want when online gambling. So check out Bet365 to begin betting on sports leagues or play casino games today!
21+ to wager. Please Gamble Responsibly. Call 1-800-NEXT-STEP (AZ), 1-800-522-4700 (KS, NV), 1-800-BETS-OFF (IA), 1-800-270-7117 for confidential help (MI). Gambling problem? Call 1-800-GAMBLER (CO, DC, IL, IN, LA, MD, MS, NJ, OH, PA, TN, VA, WV, WY). Call 877-8-HOPENY or text HOPENY (467369) (NY) Call 1-800-327-5050 (MA).