With our top-rated best bonus offer, a smooth desktop and mobile app experience, tremendous live betting options and rapid payouts, it's easy to see why bet365 is the fastest-growing sportsbook in the industry. In this review, we will cover the best and worst features bettors can expect to find in the bet365 app.
21+. Please Gamble Responsibly. Gambling Problem? Call 1-800-GAMBLER.
bet365 Sportsbook Pros and Cons
Pros
The Bet365 app offers one of the industry's best mobile betting experiences.
Current bonus offer is our top-rated sportsbook promotion for November.
4.8 (out of 5) rating in the App Store.
Cons
The way Promotions are presented could be cleaner.
Identity verification and geolocation services have occasional issues.
bet365 Sportsbook Review Overview
For over 20 years, bet365 has been a top online sportsbook for new and avid sports bettors around the world.
bet365 offers fixed odds, player props, and live betting for every major professional and collegiate sport. Additionally, bet365's global standing also allows you to bet on a wide variety of international sports, including nearly every major soccer league, European basketball leagues, and the top pro golf tours in Europe and Asia.
This bet365 review will provide you with some of the pros and cons of bet365, but to really see how it works, you should check it out for yourself. Play the same games over again or try out something new. Either way, enjoy the large variety of games and bonuses bet365 has and begin betting on major sports and playing casino games today.
Betting Options, Odds, and Juice at bet365 Sportsbook
Every major sportsbook on the legal online betting scene will have major sports leagues like the NFL, NBA, MLB, NHL, college football, college basketball and so on. Where bet365 distinguishes itself is its diversity of other sports and leagues that you'll have a hard time finding anywhere else.
For real, if there's another sportsbook out there that has a more extensive arsenal of virtual sports, eSports, and even handball, yours truly hasn't seen it. Combine that with the fact that you can livestream many of these sports you'd be more liable to find in the fictitious Obscure Sports Quarterly from the movie Dodgeball, and the limits of betting options at bet365 exist only in your mind.
Now with that said, based on our extensive testing and experience with bet365, generally the more obscure the sport or league is, the more likely you are to encounter higher juice/vig rates. That's sort of a luxury bet365 can afford since they're one of the few who'll offer bets for those sports and leagues that get less exposure. The benefit to that, though, is that major leagues like the NFL, NBA, and others seem to have less juice on the spread, total, and other primary betting lines than the other top sportsbooks.
Live Betting at bet365
What's great about bet365's live betting features is that not only do you have a ton of in-game wagers to choose from that whittle down as small as the outcome of an individual play, but you can often live stream the game you've bet on.
When you click on the "Live In Game" tab on the homepage, you can scroll horizontally across the top banner to browse all major sports — and you'll see a tab titled "Streaming."
Bear in mind that you need to have an active account with a deposit made in order to view any stream, but that's sort of self-evident. There's a dizzying number of even the most obscure sports to choose from when you're streaming.
This is such an invaluable feature for a couple of main reasons. First, your standard TV package in the U.S. isn't likely to carry, say, Bulgaria First League soccer. But if you want to broaden your horizons on international football to that degree, you can view that match in real-time, and better understand the flow of it to make more informed live bets than you ever could have otherwise.
Secondly, on that point, the more visual engagement customers have with sports they wouldn't normally pay attention to, the more it should drive curiosity and help expand a bettor's imagination to what possibilities lay ahead.
Bet Boosts as Same Game Parlays
Unlike other sportsbooks where it can be difficult to locate daily bet boosts, bet365 has those front and center. They present a myriad of options for Same Game Parlays that feature boosted odds. That not only incentivizes customer engagement, but it makes boosts more digestible.
Other books can, at times, try to lure newer bettors in with parlays that span multiple games, or multiple sports, and are at least five or more legs to hit — without an odds boost. These more snackable, two- or three-leg parlays on bet365's main page flat-out rock.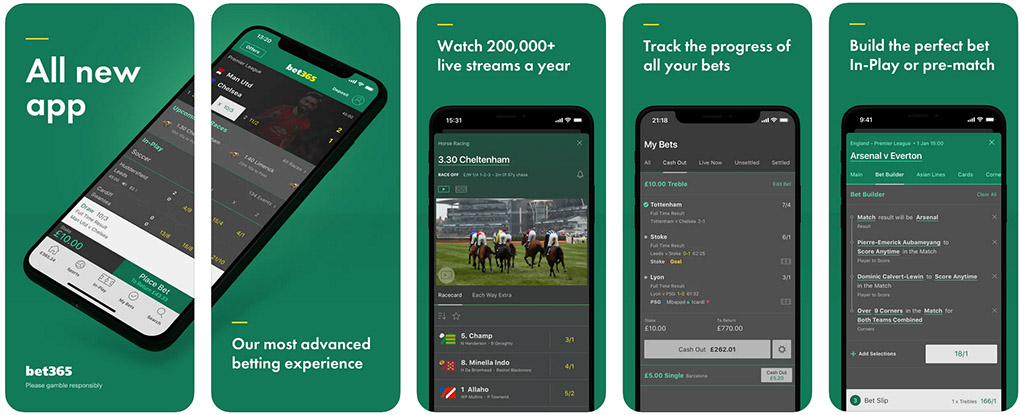 bet365 Website and Mobile App Review
When perhaps our biggest individual problem to nitpick from bet365 would be, say, the color scheme of their layout, you know you probably have an outstanding sportsbook on your hands.
The Bet 365 sportsbook's desktop and mobile experiences don't differ too much from each other. It's so easy to access bets for any sport or league, no matter how major or niche. There's an endless array of live bets for any sport you could fathom. In our testing, we didn't have any issues with bandwidth or delayed buffering times in pregame or live bets. That's particularly impressive given the scope of bet365's live stream coverage.
Other than maybe having a smoother Promotions landing page and a link to that across the top green banner next to "Sports", "Live In Game" and "My Bets" sections, it's a real challenge to launch any biting criticism at bet365's functionality.
It's so straightforward and easy to operate. Combine that with up-front daily parlay boosts, a cogent listing of what lies ahead, and even a schedule of the entire sports calendar, you have everything you need to bet on sports at your fingertips with bet365.
Deposit and Payout Methods Available at bet365
bet365 doesn't offer quite as many U.S.-friendly traditional payment methods as other sportsbooks, yet that shouldn't be an inconvenience. There are still plenty of options. The best part is, that the maximum wait time for any of bet365's account withdrawal methods is five banking days.
Online banking is fair game, as is Visa or Mastercard, but the former option is faster. The quickest withdrawal options other than cash are PayPal and Skrill, which process within 24 hours. To deposit, you can use all these same sources, in addition to PayNearMe.
Our team requested a total of 5 payouts over the course of our testing. The average payout took just under 24 hours, with the fastest being less than one hour and the longest taking just over 48 hours.
The size and method of the payout seem to dramatically affect how quickly bet365 processes it.

bet365 Promotions and Bonus Offers
Based on all the sportsbooks our team has tested out, bet365 has a strong argument to be the best in the business when it comes to new player bonus offers.
Sign-up Bonuses
If you're looking for an incentive to sign up for bet365 beyond the plethora of online casino games and sports betting, the welcome bonus you'll receive when you sign up using our bet365 promo code is that incentive.
New members must submit a minimum $10 deposit to claim one of two sign-up offers. The first (and frankly, best) option is to place a qualifying bet of $5 or more and earn $150 in bonus bet credits whether your bet wins or loses. Pretty sweet deal.
Another option is to place your first bet up and get it fully refunded in bonus bets up to $1,000. It's a matter of personal preference, but especially for neophytes to the sports betting scene, the $5 bet to get $150 out of the gates is a good place to start as a means of managing one's bankroll.
Daily Promotions Available to Current bet365 Players
Even if you aren't new to bet365, there are still plenty of promotions to enjoy. In this regard, bet365 tends to stand above the rest of the top books. To reiterate one point from the desktop/mobile app review section, bet365 could stand to feature the Promos tab more prominently on the main page, across the top of the main toolbar.
Early Payouts
Since we've already touched on how bet365 deftly deals with daily bet boosts, this next chunk should focus on arguably the best part of their promotions. Sportsbooks should want to get in customers' good graces. Kindness is always appreciated. For most major sports leagues, bet365 has an early payout option.
For instance, if at any point in the game, the NBA team you bet on goes up by 20 points, or the NFL team you bet on goes up by 17, or the NHL team you bet on is up by three goals, you're instantly paid out as if you've won the bet for the whole game. Doesn't matter what happens the rest of the way. No questions asked. You're a winner.
Can't say we've seen much of these types of initiatives, if any, across the other major books in our testing.
Daily Profit Boosts
The daily profit boosts available at bet365 can be located on the promos page. They're often featured atop the website or mobile app with large graphics that show you, for instance, a 30% profit boost for a single-game NBA bet that night.
However, when you click on that link, it's a little clunky to navigate, and it takes a good bit of scrolling to view the rest of the promos due to the lengthy list of terms and conditions.
How do bet365 Promotions Compare to Other Sportsbooks?
To be real, the early payouts feature alone is a perk that you'll seldom find at any other sportsbook. Any kind of protection you can get from bad beats, or furious comebacks that don't go your way, is obviously ideal.
Just think, if you were an Atlanta Falcons bettor in Super Bowl LI, you'd have been paid out with winnings when they went into halftime with a 21-3 lead on Tom Brady and the Patriots. Well before New England's legendary comeback from an eventual 28-3 deficit.
Because of this nice little backstop bet365 offers, if you like to hedge your bets, this is probably the optimal book to it with.
bet365 Customer Support
bet365 boasts a knowledgeable customer service team ready to help you with what you need. Not only is the help section extensive, allowing you to search for answers to your questions on your own, but you can always have a customer service representative help you.
From their contact page, you'll find two different phone numbers available 24 hours a day, seven days a week, as well as a live chat option that's 24/7. Given the international scope of bet365's betting coverage, it makes sense that they have someone on at all hours of the day to assist customers.
Additionally, you can email bet365 customer support. Doing so will create a ticket that allows you to track the status of your request.
Our Experience with bet365 Support
Since bet365 has such a strong overall operation, our testing didn't yield too many issues, but when going through the process of the live chat, email, and call services at any given hours of the day, it's evident that bet365 is there for customers whenever a problem arises.
Again, there is such a comprehensive help section that you may not even need to resort to contacting customer support. However, we did reach out to customer support on multiple occasions and were able to quickly speak with a representative each time.
A nice feature for new bettors, too, is that there are a lot of betting tutorials like the ones we have at EatWatchBet.com about how to navigate what can be an overwhelming introduction to sports betting.

Reviews from Current bet365 Players
It can take a while to dive into thousands of reviews from both the App Store and the Google Play Store. That said, across all that feedback, it's clear the vast majority of bet365 users agree with our overall sentiment of how excellent the sportsbook is as a whole.
At the App Store, bet365 earns an average mark of 4.8/5 stars based on 53,000 ratings; the Play Store has a 4.6/5 average from over 64,300 reviews. We're talking six digits' worth of users who bring the aggregate, typical review to around 4.7 stars. Pretty impressive.
Notes From Our Analysis of bet365 User Reviews
If you've read any of our sportsbook reviews or are familiar with our testing, you'll know that it's always a pleasant surprise when app reviews skew more positive.
Often folks are compelled to write reviews only when something's wrong. So to achieve such high marks across the board with such a large sample size is a testament to bet365's genuine excellence.
Players seem to rave about the quality of the app and welcome offers. The most common complaint was by far issues surrounding the geolocation service on the website and app.
bet365 Casino and Loyalty Club
bet365 doesn't just limit their gaming to sports betting. You can play casino games, live casino games, slot games, and table games which makes this a great site even for those not interested in sports betting.
The site is as much an online casino as it is an online sportsbook, which makes it all the more impressive that the sportsbook is such a high-quality experience.
Although there isn't a rewards program for sports bettors, bet365 does have a Loyalty Club for poker enthusiasts. To access the Loyalty Club and the Loyalty Store, you must create an account.
---
bet365 Sportsbook Review Summary
With excellent welcome bonus options, a potentially unmatched diversity of sports betting options, and a smooth desktop and mobile app experience, bet365 is an ideal destination for beginners and seasoned bettors alike.
The desktop and mobile app experiences aren't easy to poke holes in. Other than perhaps slightly easier access to promotions and clarity of presentation on those, there's little to heavily criticize. If you do want to dip your toe into the more obscure sports bet365 offers betting on, be sure to either do a lot of research beforehand or live stream the games when you can. The juice tends to be higher on those lines, so you'll really want to know what you're getting into in advance of throwing down wagers.
Other than the minor inconveniences of logging out too quickly for the sake of security, bet365 is a sportsbook that really delivers on all fronts.
Some of the highlights from our hands-on bet365 testing include:
Industry-leading bonuses, boosts, and sign-up offers.
Incredible diversity of sports and leagues to bet on.
Live streaming and live betting experiences are phenomenal.
Some of the areas that stood out as needing improvement include:
Frequent logouts can lead to a bit of a herky-jerky user experience.
Geolocation and identity confirmation have room for improvement.
Access and visibility of promotions could be better.
---
Frequently Asked Questions
If you still have questions surrounding the availability of bet365 in your area, the FAQs found below should help to address them.
Is bet365 legit?
Yes, bet365 has proven to be a legitimate operation on the international sports betting scene for many years. Don't mistake their limited reach in the United States to date for lack of legitimacy. As more states legalize sports betting and bet365 keeps expanding, the sportsbook should be up and running in a myriad of other states in short order.
Where is bet365 legal?
Despite a more limited availability in the U.S. compared to other top sportsbooks, bet365 is legal in six states: Colorado, Iowa, Kentucky, Louisiana, New Jersey, Ohio, and Virginia. This is in part due to their vast international reach, which serves tens of millions of customers internationally. Their reach goes from Asia to Europe and even Brazil. Other countries where bet365 is legal include the UK, Germany, Thailand and Japan.
Does bet365 have an app?
Yes, bet365 has an app available on the App Store or Google Play store. It's one of the industry leaders in sports betting, with tremendous reviews, easy-to-understand layout and design, and a live streaming and live betting experience that rivals any of the competition.
What betting options does bet365 offer?
As a global leader in sports betting, bet365 offers a complete menu of betting options. This includes pregame odds for domestic, international, and collegiate sports, player props, live betting, same game parlays, futures, and more.
21+ to wager. Please Gamble Responsibly. Gambling problem? Call 1-800-GAMBLER. Call 1-800-BETS-OFF (IA), 1-888-532-3500 (VA), 1-800-270-7117 for confidential help (MI).