Sports betting has recently been legalized in Puerto Rico, giving residents and visitors the opportunity to wager on their favorite teams from MLB, NBA, NFL, and more. BetMGM is the first online sportsbook to open up shop in Puerto Rico, offering generous bonuses for players looking to join in on the action.
And with a plethora of talented athletes hailing from this Caribbean island nation, there's plenty to cheer about when it comes to sports betting here.
With all these exciting developments taking place in Puerto Rico, those interested can find all they need right here regarding sportsbooks and updates so they don't miss out on any of the action!
Online Sports Betting is Heating Up in Puerto Rico
Sports betting has been a part of the culture in Puerto Rico for many years. However, it wasn't until July 2021 that sports betting was officially legalized in the beautiful island. This law change meant that all regulated and licensed gambling operators in the state could now offer sports betting services to their customers.
The legalization of sports betting has had a positive impact on the economy of Puerto Rico. It has created new jobs, increased tax revenue, and provided an additional source of entertainment for residents and tourists alike. The government has also put in place safety regulations to protect players from fraud and other illegal activities.
Despite legalizing both retail sports betting and online betting, no sportsbooks officially opened their doors until February 2022. That's when BetMGM took a gamble themselves and opened their own brick-and-mortar establishment at The Casino del Mar at La Concha Resort.
We'll dive more into BetMGM momentarily, but the BetMGM sportsbook is not only one of the most popular sportsbooks in Puerto Rico, but it's also the only sportsbook. It offers a wide variety of sports, including baseball, basketball, football, golf, hockey, motor racing, soccer, tennis, and more. Players can place bets on their favorite teams or athletes with ease and convenience using this platform.
What Took Puerto Rico so Long to Legalize Sports Betting?
Before we answer that, we have to understand a bit of background on the small island territory.
Puerto Rico is a US territory and is, therefore, subject to federal law. We all learned in 4th grade that it's not a state - despite many attempts and calls for it to be a state. However, because they're a territory, they're subject to the same laws that states are.
That is why it took so long for them to legalize sports betting - due to the fact that federal law, until recently, forbade any form of sports gambling transaction.
Of course, that all changed with the Professional and Amateur Sports Protection Act of 1992, which was struck down by the Supreme Court in 2018. That opened the door for each state to decide its own fate, whether or not it wanted to allow sports betting within its borders.
Now that Puerto Rico has jumped on board with this trend and not wanting to miss out on precious revenue that could potentially be generated from sports betting, they have finally legalized it for their citizens and visitors.
With online sports betting legal on the Isla del Encanto, what's next for the industry?
The Future of Sports Betting in Puerto Rico
As we mentioned earlier, there's only one brick-and-mortar sportsbook currently open in Puerto Rico - the BetMGM at La Concha Resort. But that doesn't mean there won't be more to come.
As of now, there are plans for several additional sportsbooks to open in the near future. The government has also implemented regulations that will facilitate the integration of online betting sites into their infrastructure as well.
This means that in the very near future, our sports betting experts believe you'll have a plethora of options when it comes to sports betting as a resident or visitor in Puerto Rico.
We'll keep our eyes open for more information regarding the future of sports betting in Puerto Rico and update this page as soon as we know more.
Puerto Rico Sportsbooks Actively Operating
It might sound simple, but opening a sportsbook in Puerto Rico isn't as easy as it seems. There are licenses to acquire, laws and regulations to understand and follow, and certain taxes to pay. Think of it this way - there will always be lots of coordination between the Puerto Rico Gaming Commission and any Puerto Rico online sportsbooks or brick-and-mortar sportsbooks you see.
That's why it took so long for the very first sportsbook in Puerto Rico to open its doors - nearly a full year after the initial legalization of sports betting.
However, BetMGM did it, and they're up and running.

BetMGM is Puerto Rico's Only Online Sportsbook
With legal sports betting now a reality in Puerto Rico, BetMGM has established itself as the pioneer of sports betting on the island. They're not just your standard sportsbook either - they offer one of the most comprehensive online experiences out there.
Of the online sports betting sites you might be familiar with, BetMGM sets itself apart from the pack by offering a full range of sports betting options, including live betting and in-game wagering.
BetMGM Mobile Sports Betting App
One of the best things about BetMGM is their mobile sports betting app. The app, which is available in both the Apple App Store and Google Play Store, makes it easy to place bets on your favorite teams and sports from anywhere in Puerto Rico.
The app also has several other features, including a rewards program, up-to-date information on games and players, live streaming of games, and more.
Just because there's only one online sports betting site on the island doesn't mean Puerto Ricans are going without. The app is truly the ultimate sports betting experience and provides a convenient and secure way to place bets on any sporting event.
Every Sport Imaginable
One of the best things sports bettors in PR have is access to every sport imaginable. From the NBA, NFL, and MLB to NCAA sports, soccer leagues around the world, tennis tournaments, golf majors, and more - BetMGM has them all covered with a wide selection of betting lines available at any given time.
No matter who or what you want to bet on, you can do it quickly through the BetMGM app.
The Lines and Odds Aren't Too Bad
Something other states benefit from when they have multiple sportsbooks is competition. The more books there are, the better the lines and odds could be.
That's not really an issue in Puerto Rico just yet, as BetMGM has set some pretty solid odds across all their sports betting options.
What we see now could change when more sportsbooks open up in the future, but until then, BetMGM has done a great job of providing quality lines and odds to PR bettors.
Fantastic Bonuses!
This is probably the best part about sports betting in Puerto Rico - the bonuses. BetMGM offers some of the most generous and attractive bonuses out of any stateside sportsbook.
New players can take advantage of a first bet offer worth up to $100. With this exclusive Puerto Rico promotion, every new player will get their first bet back (up to $100) if it fails to win.
On top of their ridiculous welcome bonus, this online sportsbook offers regular weekly, monthly, and seasonal bonuses to keep their players coming back for more. Whether it's time to get ready for the NFL season to kick off or March Madness is underway, BetMGM has legal online sports betting options for Puerto Ricans. In fact, when other Puerto Rico betting sites get online, they're going to have some steep competition.
Bottom Line on BetMGM
It may have taken a while for sports betting to come to Puerto Rico, but it's here now and there are plenty of reasons to be excited about it. BetMGM is the sole online sportsbook in PR right now, but they're doing a fantastic job of providing quality lines, odds and bonuses that can rival any of the best sportsbooks in the US. If you're looking to get into legal sports betting in Puerto Rico, BetMGM is definitely worth checking out. You'll find that they offer the ultimate online sports betting experience and everything you'd expect from a top-notch bookmaker.
When Can We Expect Other Sportsbooks to Open in Puerto Rico?
That is a great question!
Several sportsbooks have demonstrated interest in launching in Puerto Rico, but no one has officially announced plans to launch yet. We expect the market to become more competitive as other sportsbooks begin to open up in the future, so keep an eye out for any updates.
For example, in 2022, DraftKings announced they were working on building partnerships in Puerto Rico, so we could soon see them as a major player in the Puerto Rican market. We also expect to see more sports betting apps like 888Sport, Bet365, and Unibet come online in the near future.
Until then, however, BetMGM is the only legal online sportsbook on the island.
Lots of Excitement for Puerto Ricans
One thing about the residents of Puerto Rico is that they love their sports. Although they don't currently have any professional teams in the major American leagues, they still cheer for their favorite players and teams from the mainland.
Now that sports betting is legal in Puerto Rico, there's a lot of excitement on the island.
People can now bet on all their favorite professional and collegiate teams while also taking advantage of some generous bonuses at BetMGM.
Not only that but countless professional athletes and coaches have hailed from Puerto Rico, which only adds to the excitement of legal sports betting on the island.
Ron Rivera
One of the most famous Puerto Ricans in sports is NFL head coach Ron Rivera. He was born and raised on the island, and his success on the gridiron has inspired a generation of football players from Puerto Rico. That excitement and inspiration are sure to generate even more interest in sports betting on the island.
Jose Alvarado
Also generating some excitement for the NBA is Jose Alvarado, who was born and raised in San Juan. Alvarado has been a rising star in the NBA and is currently playing for the New Orleans Pelicans.
Francisco Lindor
And then we have baseball. There's no shortage of baseball fans in Puerto Rico, and they can now cheer on their favorite player Francisco Lindor, who plays for the New York Mets. Lindor is a four-time all-star, two-time gold glove, and one of the most exciting players to watch in Major League Baseball. There are countless other MLB players, which include Carlos Correa, Javier Baez, and Martin Maldonado.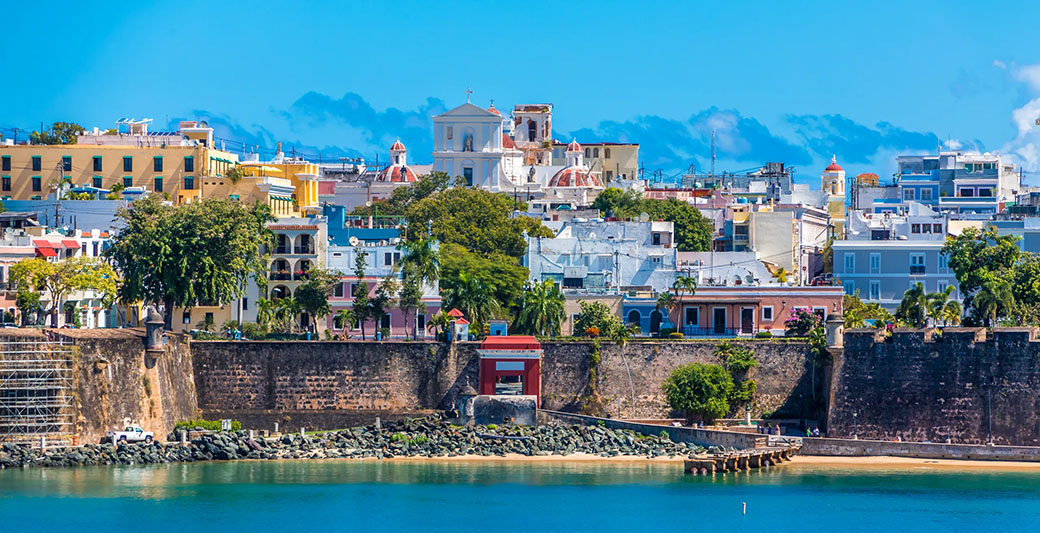 FAQs for Puerto Rico Sports Betting
Whenever a new state - or in this case, a territory - legalizes online sports betting, sports bettors undoubtedly have plenty of questions. Here are some of the most commonly asked questions about Puerto Rico sports betting.
Is sports betting legal in Puerto Rico?

Absolutely! Since 2021 when sports betting legislation passed, residents of Puerto Rico have been able to bet on sports online through BetMGM legally. Fortunately, BetMGM is one of the best sportsbooks out there, with competitive lines and a wide variety of betting markets. With BetMGM, you can bet on all the major professional sports including MLB, NFL, NBA, NHL as well as college sports like NCAA basketball and football. Plus, BetMGM also offers plenty of esports betting options too.

Are there any other legal online sportsbooks in Puerto Rico?

At the moment, BetMGM is the only legal online sportsbook in Puerto Rico. We expect more operators to enter the market in the near future, so keep an eye out for any updates. As additional online sportsbooks launch, Puerto Ricans will have even more options to place bets on their favorite sports teams.

What kind of bonuses are available at BetMGM?

BetMGM offers some generous bonuses and promotions to its players in Puerto Rico. These include a welcome bonus, free bets, reload bonuses, and other special promotions. Right now, they're offering $1,000 in bonus bets for first-time sports bettors.
What brick-and-mortar sportsbooks are available in Puerto Rico?

Only two brick-and-mortar sportsbooks in Puerto Rico are run by BetMGM and Caesars. The BetMGM is located at the Casino Del Mar. We'll update you as other retail sportsbooks become available since any sportsbook can now apply for a license.

Is daily fantasy sports legal in Puerto Rico?

While daily fantasy sports are not currently outlawed on the island, no major DFS sites are currently operating there. We suspect that if DraftKings or FanDuel become online sportsbooks in Puerto Rico, they'll also offer DFS on their online sports betting sites.

Can I bet on college sports in Puerto Rico?

You sure can! In addition to professional sports such as MLB, NBA, NFL, and other popular sports, legal online betting sites in Puerto Rico also offer lines on college sports. You can find spreads, moneylines, props, and more for college football and basketball at BetMGM.
Can I bet on horse racing in Puerto Rico?

Yes! There are countless horse racing betting locations throughout the island. You can also bet on horse racing online at BetMGM, which offers some of the most competitive odds in Puerto Rico.

Do I have to be a Puerto Rico resident to bet online?

No, you do not. As long as you are of legal age, you can bet online at BetMGM in Puerto Rico, regardless of where you're from. However, it should be noted that only residents and tourists in the country can place bets at brick-and-mortar sportsbooks in Puerto Rico.

How old do I need to be to bet on sports in Puerto Rico?

The minimum age for legal online sports betting in Puerto Rico is 21. Any person younger than this cannot register with or place bets at any of the legal operators.

What sports can I bet on at BetMGM?

At BetMGM, you'll find lines for all the major professional sports leagues, including MLB, NBA, NFL, NHL, and more. Plus, they have plenty of college sports like NCAA football and basketball and esports betting options. They also offer horse racing.

Will I have to pay taxes on my winnings?

Yes! There are countless horse racing betting locations throughout the island. You can also bet on horse racing online at BetMGM, which offers some of the most competitive odds in Puerto Rico.

Can I use more than one promo code at BetMGM?

No, you can only use one promo code per account. Read all the terms and conditions associated with any bonus before redeeming it.

Is sports betting safe in Puerto Rico?

Yes! All legal online sportsbooks in Puerto Rico adhere to strict regulations and have implemented advanced security measures to ensure your money and personal information are safe and secure. You can rest assured that your bets will be processed quickly, safely, and securely.

Ready to Get Into the Action and Start Betting Online?
Puerto Rico is quickly blossoming into a hub for sports betting with the recent legalization of online wagering on professional and collegiate teams.
With BetMGM's generous bonuses, residents and visitors can take advantage of some amazing offers to get started in the world of sports betting.
And why wouldn't Puerto Ricans get excited about all of this? They have plenty to cheer about as countless Puerto Rican athletes like Ron Rivera, Jose Alvarado, and Francisco Lindor are making waves across major American leagues.
Folks that want to learn more about Puerto Rico sportsbooks and online sports betting updates can find all of the information they need right here. As additional Puerto Rico sports betting sites jump into this market, you can be sure to find the best deals and offers right here.
Puerto Rico bettors must be 21+ and present to place wagers in the state. If you or a loved one is experiencing problems with gambling, call 1-800-GAMBLER.