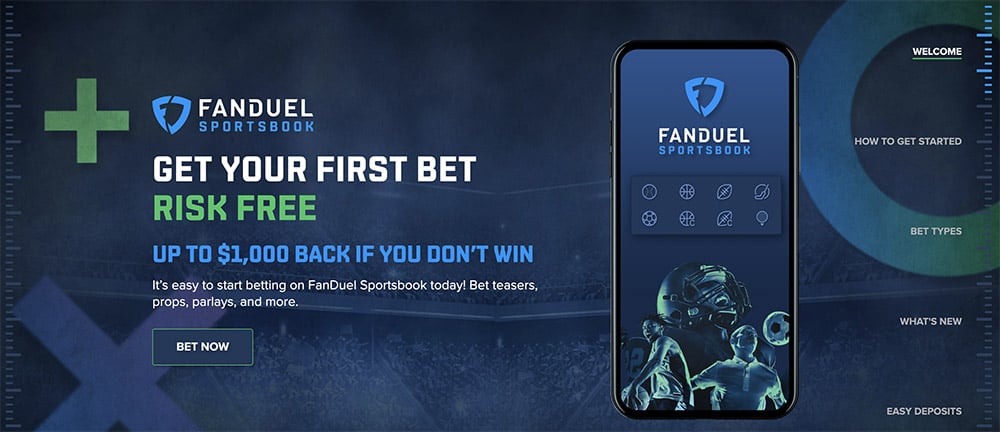 Details for Current FanDuel Bonus Offers
The new FanDuel Sportsbook promo code offer includes a 100% risk-free bet on your first deposit. With this promotion, if your first wager does not win, get a full refund, up to $1,000. This is a great way to double your bankroll on day one, without having to risk your initial deposit.
Additionally, new casino players can get 24 hours of risk free betting, up to $1,000. FanDuel Casino is currently available in Michigan, New Jersey, Pennsylvania, and West Virginia.
New DFS players that sign up using our promo code will receive 2 free entries and a 20% deposit bonus (up to $500 free). Find the details for each of these bonus offers in the table below:
| | |
| --- | --- |
| Sportsbook Offer | $1,000 Risk-Free Bet |
| Casino Offer | 24 Hours of Risk-Free Betting ($1,000 Max) |
| DFS Offer | 2 Free Entries |
| Promo Dates | Offers valid May 1st - May 31st |
| Details | New Players Only. $5 Minimum Deposit. |
| Offer Terms | Must be 18+ to join FanDuel fantasy, 21+ to join sportsbook or casino. |
Top FanDuel Sportsbook Bonus Offer by State
FanDuel Sportsbook is currently live in 15 U.S. states and Ontario, with retail locations in a total of 17 states. Online sports betting available in Arizona, Colorado, Connecticut, Iowa, Illinois, Indiana, Louisiana, Michigan, New Jersey, New York, Pennsylvania, Tennessee, Virginia, West Virginia, and Wyoming. Retail betting is also available in Washington and Maryland.
In addition to the 17 markets listed above, FanDuel is expected to be live in Nebraska, Ohio, and Wisconsin at some point in 2022. At the moment, the FanDuel risk-free promo code offer is the top bonus available in every U.S. state in which they operate.
Note that FanDuel Sportsbook promo is for online users only. Bettors that sign up at a retail sportsbook will not be eligible to receive the $1,000 risk free bet.
FanDuel Sportsbook Bonus Offer for 2022 NBA Playoffs
While competitors DraftKings and BetMGM have offers available exclusive to the NBA Playoffs, the promo code FanDuel Sportsbook is sticking with for the playoffs is their $1,000 risk-free bet offer. That being said, they did run a special offer for the Masters and UFC 273, so while there isn't an additional bonus available at the moment, there could be in the near future.
In addition to the risk-free bet offer, once signed up you will get access to the daily odds boost offers. These can always be found on the odds boost page of the website and include increased payouts on popular bets.
For instance, you could find Ja Morant and Anthony Edwards to each score 25 points boosted from +140 to +210 when they meet up in the playoffs. New odds boosts are added daily so check back regularly to find a boost that you want to bet.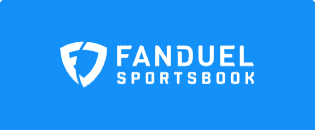 Top Offer for All US States
$1,000 Risk-Free Bet
Terms for the Current FanDuel Sportsbook Promo Code Offer
Every sportsbook promo offer comes with its own set of terms and conditions and these can vary widely from one site to the next. FanDuel's current promo code offer of a risk-free $1,000 bet is a very straight forward, player-friendly offer.
Simply make an initial wager of up to $1,000, if that bet does not win it will be refunded to your account within 24 hours. The refund comes in the form of site credit, and the bonus funds (refunded bet) can not be withdrawn, it must be used to wager on the site. Anything you win with the bonus funds are yours to keep.
This is currently one of our favorite promotions in the US sports betting market. It serves as a great way for new bettors to build a bankroll without having to risk their initial deposit. We cover this offer and compare it to competitor offers in our FanDuel sportsbook review. Be sure to read the full terms of use before signing up at FanDuel with this promo code offer.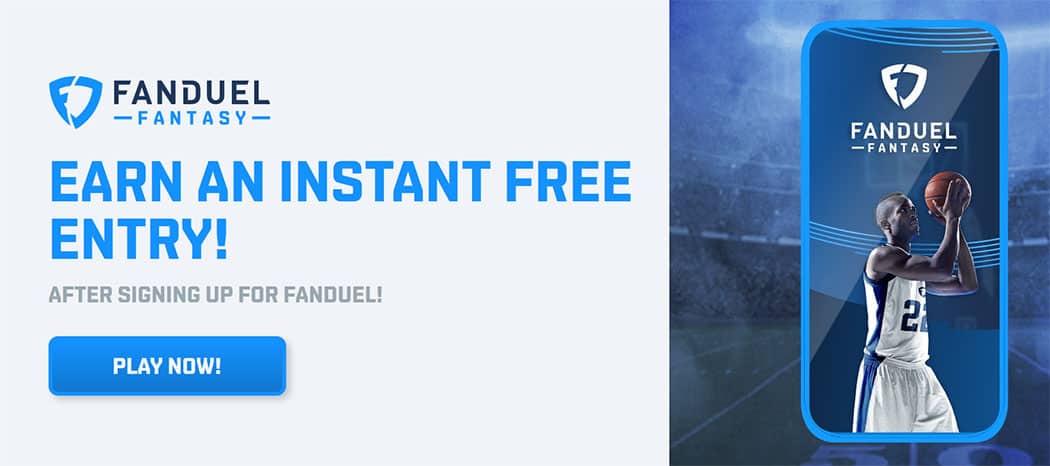 Current FanDuel DFS Promo Code Offer
FanDuel offers their daily fantasy sports product in most of the United States, including states that have not yet legalized sports betting. This allows you to compete in fantasy contests that pay out top prizes of up to $1 million.
Register this May to receive a two (2) free contest entries when you make a $10+ deposit! This is a great way to try FanDuel for free during the 2022 NBA Playoffs.
This promotion is only available to new FanDuel fantasy players that meet the minimum deposit requirement. Must be located in a state where FanDuel is licensed to operate and be 18+ years of age. Free entries can be used on an NBA contest with a top prize of $25,000 or more.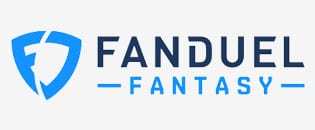 FanDuel DFS Offer

Two Free Entries

Ways to Play for Free on FanDuel this May
If your bankroll is running a little low and you're not quite ready to reload, FanDuel offers games that are free to play. Satisfy your taste for sports betting action without having to risk a single dime! Here are some of our favorite free games that are currently available at FanDuel:
NBA Over / Under Games
This free game is one of our favorite promotions FanDuel Fantasy has ever run. The concept is simple. Players have to answer 10 questions that have to do with a certain NBA game that FanDuel chooses. The entry with the most correct answers wins that night's total jackpot.
The typical set of stats included for this contest include points, rebounds, assists, and steals. Prior to making your selections, you will want to analyze the matchups for each game to try to determine which team will lead the slate in each stat category.
This is a tough contest with plenty of skill involved but why not take a shot when it's free and the total prize is $5,000!

Captain Morgan's Soccer Pick 'Em
If you're a soccer fan, you'll love this free game from FanDuel that allows you the chance to win up to $3,000 each Saturday. This game is similar to the NBA one in that you'll answer 10 questions. Answer them all correctly and you'll get a shot to win free prize money.
All participants must be 21 or older for this free game. All questions will be about soccer matches that take place each Saturday. For example, one question is "How many goals will be scored in the Chicago Fire vs. Philadelphia Union match?" You then will pick either over or under 2.5 goals.
(Side note: These free games are updated frequently, so be sure to check this page periodically)
Terms for the Current FanDuel DFS Promo Code Offer
The DFS industry went through a period of extremely high highs and extremely low lows over the past five years. At its peak, there were several companies fighting for a share of the market, but today the industry lives and dies with FanDuel and DraftKings.
This can make it tough for a DFS player to find a great promotional offer as the sites lose the incentive to fight over potential players. That being said, FanDuel continues to offer attractive promo code offers like their current 20% deposit bonus.
As with the sportsbook offer, bonus funds must be played through and can never be withdrawn. Anything you win using your bonus funds is yours to withdraw or continue playing with.
The full terms and conditions for every FanDuel promotion can always be found on their offer terms page.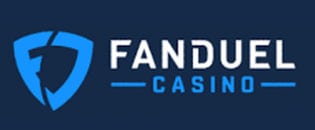 FanDuel Casino

24 Hours Risk Free

Details for the FanDuel Casino Risk Free Offer

FanDuel Casino is one of the fastest growing casino products available to U.S. bettors. Bettors will find every popular game type with FanDuel Casino including slots, table games, keno, live dealer games, and more.
The current FanDuel Casino promo code offer allows new players to bet for 24 hour risk free. This means you can play as much (or as little) as you like for 24 hours, and if you are down at the end of that period, they will refund your loss as site credit.
One of the nice things about this promotion is that it is not restricted to a certain game. Many casino operators limit their bonus offers to only slots or table games. Use your $1,000 risk free offer on the games of your choice.
Where is FanDuel Casino Available?
FanDuel casino is available in all four states that have legalized mobile casino gaming which includes Michigan, New Jersey, Pennsylvania, and West Virginia. While FanDuel's casino product got a slow start in each market, they have steadily made up ground and are currently a top 3 operator in each state.
Is the FanDuel Casino Bonus Offer the Same in Every State?
While we occasionally see both sportsbook and casino sites offer different promotions in each state they operate, FanDuel rarely makes a bonus available in select markets. The only exception to this rule is their pre-launch bonus offers in new betting states.
With that in mind, the current 24-hour risk free bonus offer is available in all four states in which the casino is available.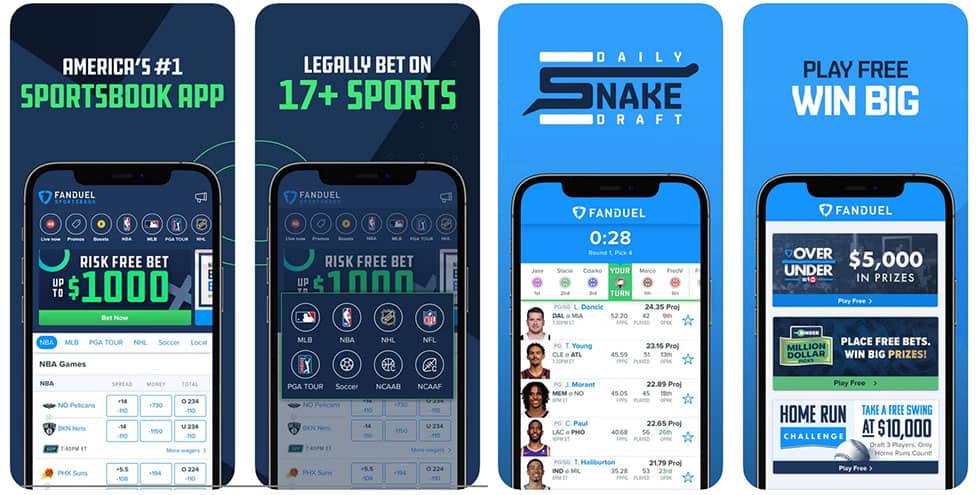 FanDuel Promo Code FAQs
We receive plenty of questions regarding the current FanDuel promo code offers. This is primarily due to FanDuel's 40% market share in the U.S. They are, by far, the largest sports betting operator in the industry as of May 2022.
With new players registering daily, bettors are scrambling to catch up with the current terms and conditions for both the new player promotion and the sportsbook in general. Below are answers to the majority of the FanDuel related questions we receive.
Is it legal to bet on FanDuel in the US?
FanDuel currently offers legal online sports betting in 15 U.S. states. Only DraftKings, who has exclusive deals in place in Oregon and New Hampshire, has a larger reach than FanDuel. Expect FanDuel to remain aggressive with Maryland, Ohio, and Canada all expected to launch legal betting in time for the the 2022-2023 NFL season.

What states is the FanDuel sportsbook currently licensed in?
The FanDuel DFS app is currently legal in 44 US states, which is the most amongst daily fantasy operators. SportsBook is licensed to offer mobile sports betting in the following 15 states: 
• Colorado
• New Jersey
• Pennsylvania
• Tennessee
• Virginia
• West Virginia
• Indiana
• Illinois
• Michigan
• Arizona
• Wyoming
• Louisiana
• New York
• Connecticut
• Iowa

What are the terms and conditions for the current FanDuel promo code offer?

New players that register using our current FanDuel promo code offer will receive a $1,000 Risk-Free Bet.  If your first bet does not cash, FanDuel will refund the entire wager. Bonus funds must be rolled over a minimum of 5 times before they can be withdrawn.

When can we expect a new FanDuel promo code offer?

Unlike many of the smaller books operating in the US, FanDuel does not frequently change its promo code offers. We are unlikely to see a new bonus offer until the start of the 2022-2023 NFL season. That being said, limited-run promotions are common around major betting events, these will likely include major golf tournaments this summer.

How do I deposit and withdraw funds with FanDuel?

New FanDuel users will be able to fund their account using Venmo, Visa, Mastercard, Bank Transfer, PayPal, Western Union, or in-person at one of their brick-and-mortar sportsbook locations. FanDuel is the only sportsbook to accept Venmo, which is arguably the easiest way to link your bank account to your sportsbook. This policy is the same for both DFS and sportsbook products.

Does FanDuel or DraftKings offer a larger deposit bonus this May?

FanDuel's current bonus offer smokes DraftKings's offer by quite a bit. FanDuel's $1,000 risk-free bet is a great way for new bettors to get a chance to double their bankroll with no risk. DraftKings is currently only offering new players $150 on their first $5 NBA bet IF it wins!
Does FanDuel have an app for its sportsbook?

Yes, FanDuel has an app available for their sportsbook, DFS, and casino products on the Apple Store and Google Play Store. In fact, FanDuel's app is currently #1 in total downloads amongst all US sports betting apps. Both the DFS and sportsbook apps have user ratings of 4.7 stars or better. Check out our complete FanDuel sportsbook review for more details.

What sports are available on FanDuel?

FanDuel offers every betting and fantasy for every sport and every major sporting event. This includes the NFL, NBA, MLB, NHL, PGA, UFC, MLS, and most major international leagues. In addition to professional leagues, popular collegiate sports like football and basketball are available on both the sportsbook and DFS app.

Is my money safe with FanDuel?

YES! Your money is completely safe with FanDuel. They are licensed and regulated to operate in the US and they follow strict guidelines when it comes to deposits, withdrawals, or your personal information. You can rest easy when betting with Fanduel.

Do I have to pay taxes on my winnings at FanDuel?

Unfortunately, yes you have to pay taxes on any gambling winnings. Anyone who shows a profit of $600 or more will be sent a 1099 form by FanDuel to file with the IRS.

How long does it take to receive payouts from FanDuel?

FanDuel does a great job of processing payouts quickly. Payments via PayPal or Venmo are processed within 48 hours. Online banking withdrawals are completed in 2-4 days.

FanDuel Promotions: Pros and Cons for Current Offer
FanDuel has a wide variety of promo code offers available this May, including up to $2,000 in risk free bets across the sportsbook and casino, and an additional $500 free on the fantasy app. Before signing up, it's important to understand the pros and cons for each of the current promotions.
Pros for the Current FanDuel Promotion
This odds boost offer pays whether your first bet wins or not.
The casino offer is a great way to test the software and available games without risking your initial deposit.
FanDuel has one of the largest total welcome packages available, worth up to $2,500.
With the largest handle in the industry, FanDuel has America's #1 sportsbook.
Cons for the Current FanDuel Promotion
The risk-free offers at the sportsbook and casino are less popular amongst players than other types of promotions.
High rake and no props in the DFS app put it slightly behind Underdog in that space.
FanDuel New Player Bonus Offer Review
As the sportsbook with the largest reach and largest handle in the US market, FanDuel does not need to be nearly as aggressive with their promo code offers as some of the smaller books out there. Despite this, they consistently offer great promotions such as the current risk-free bet of up to $1,000.
Additionally, FanDuel rewards their existing player pool. For example, they have offered odds boosts throughout the NBA regular season and will have several available for the NBA Playoffs. These odds boosts apply to both straight wagers and prop bets and will often apply to a wager you were already considering.
Review and ratings last updated on May 23, 2022.
| Review | FanDuel Fantasy and SportsBook |
| --- | --- |
| Details | Our highest-rated promotion from FanDuel Sportsbook this May provides new players with a $1,000 risk free bet. With this offer, your first bet either wins or you get a refund. FanDuel also has our top-rated DFS promo code offer, which includes up to a $500 deposit bonus. Beyond just the great promotions, FanDuel offers arguably the best mobile betting experience in the industry. With near-perfect mobile apps, a ton of betting options, and great live-betting options, FanDuel is an easy choice for bettors. |
| Author | Chris Lollis |
| Rating | 4.9 (out of 5) |