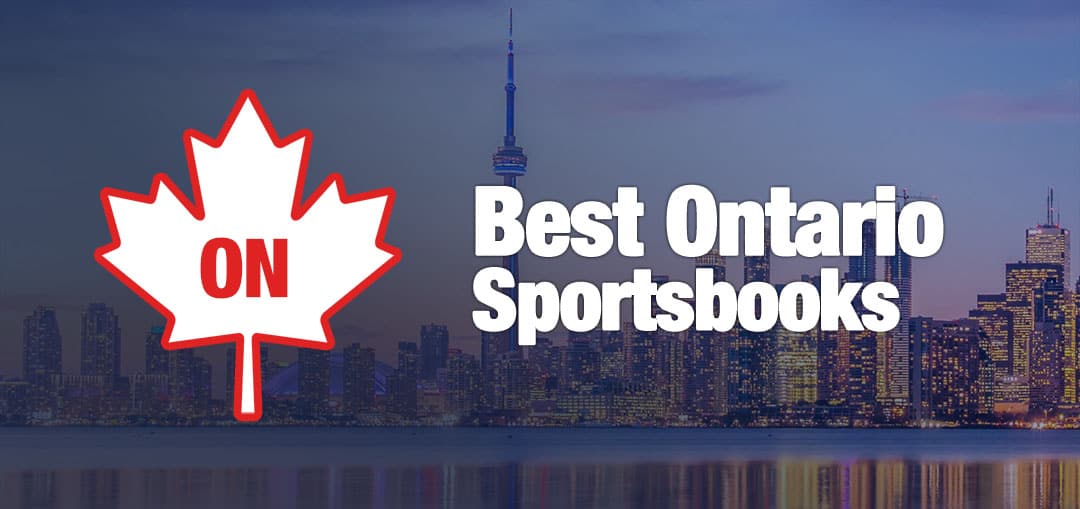 If you live in Ontario and aren't sure which sportsbook to choose, we've created the following list of the best sportsbook apps available within the province. Be sure to compare the pros and cons of every ON sportsbook app before signing up this June!
Ontario bettors must be 19+ and present to place wagers (21+ to wager with Caesars). If you or a loved one is experiencing problems with gambling, call 1-866-531-2600 or visit the ConnexOntario at www.connexontario.ca.
Best Ontario Sportsbooks by Feature
Best Overall
⭐️ FanDuel Sportsbook
FanDuel is the largest sportsbook operator in the U.S., and we believe that success will carry over in Canada. FanDuel offers arguably the best app on the market and a massive selection of sports and betting options.
Best for Prop Betting
⭐️ DraftKings Sportsbook
Prop betting is all about variety. The more options that are available to you, the more likely you are to find a bet that you like. DraftKings offers more odds for both player and team props than any other ON sportsbook.
Best Customer Support
⭐️ BetRivers
BetRivers offers a ton of support options, including around-the-clock support through email, chat, and phone. They have also structured their house rules in a very player-friendly manner.
Best Casino App
⭐️ BetMGM
BetMGM's casino app is our top-rated option in Ontario, thanks to the variety of games available, as well as the number of new games added every month. Additionally, they offer our top-rated live dealer product and a great rewards program.
Best New Sportsbook
⭐️ Betano
Betano is far from a household name in Ontario, but this app thoroughly impressed our team during testing. It's easy to use, offers a ton of betting options, and has great reviews from current players.
Online Sports Betting is Live in Ontario!
Well, it's finally official: online sports betting is live and legal in Ontario! And with that, you can now find the best Ontario sportsbook apps and start legal online sports betting. This is fantastic news for sports-loving folks in Canada because, before today, sports betting in Ontario was limited to only parlay wagering. Thankfully, single-game online sports betting became legal when bill C-218 was passed in August of 2021.
On the morning of April 4, 2022, online sportsbooks officially opened for single-game sports betting. This was obviously huge for Ontario sports betting and online sportsbooks in the Canadian sports betting market. Compare the top features for each of the Ontario sportsbooks below.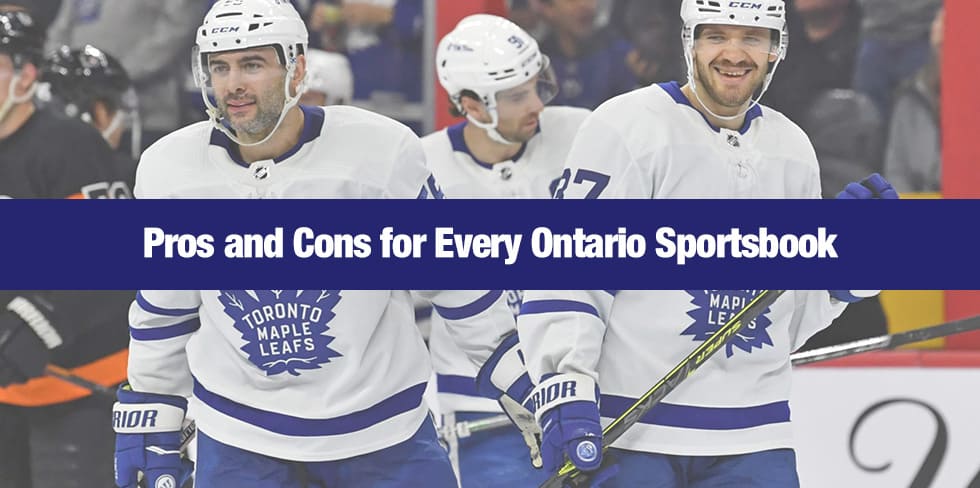 1. BetMGM Ontario
Folks in Ontario are going to absolutely love the "King of Sportsbooks" when it comes to sports betting. BetMGM not only has a famous comedian pitchman (Jamie Foxx), they offer a slew of amazing benefits to Canadian sports bettors. BetMGM Sportsbook becoming available was huge for Ontario online sports betting.
BetMGM is our top choice for folks in Ontario that need a solid casino app. They offer tons of slots, table games, and live dealer options. There's truly something for every type of gambler at BetMGM.
BetMGM was created in 2018, and they've been a leader in the sportsbook industry ever since. Here is a brief pros and cons list that will give you more information about BetMGM and why we think they are a must-have for folks involved in Ontario sports betting.
Pros of BetMGM Sportsbook in Ontario
More live wagering options than any other Ontario betting sites.
Can often find value in some underdogs with BetMGM because of their gigantic player base.
Rewards Points can be used at any MGM casino in the world.
Build parlays faster than other sports betting apps in Ontario.
Cons of BetMGM Sportsbook in Ontario
Some have complained of long wait times when using the Live Chat Help function.
The mobile sports betting app has so much info that it's kind of clunky and overwhelming.
---
2. DraftKings Ontario
DraftKings made a name for itself by becoming one of the most iconic names in the Fantasy Sports industry. They've parlayed that success into a highly successful sportsbook and are now publicly traded on the NASDAQ. DraftKings is already one of the top dogs in Ontario sports betting because of its fabulous mobile sports betting app and aggressive Ontario betting marketing campaigns.
People in Ontario who play a lot of player prop bets will especially be fond of DraftKings, thanks to their vast array of player props. Whether it's NBA, NFL, or MLB, DraftKings offers the player props that people are looking for. This is a must-have sportsbook for folks in Ontario!
Here are some of the positives and negatives of DraftKings. As you can clearly see, DraftKings has way more strengths than weaknesses.
Pros of DraftKings
More betting options than any of the other Ontario sportsbooks.
One of the few sportsbooks to offer betting pools.
Above average Ontario sports betting app and website.
One of the most impressive player prop offerings of all online sports betting sites.
Cons of DraftKings
Can be quick to limit sharp action, which is a bit disappointing for the Ontario sports betting market.
Not great for betting futures because of the high hold percentage.
Juice can be quite higher than other Ontario sports betting sites, which is a turn off to a lot of online bettors.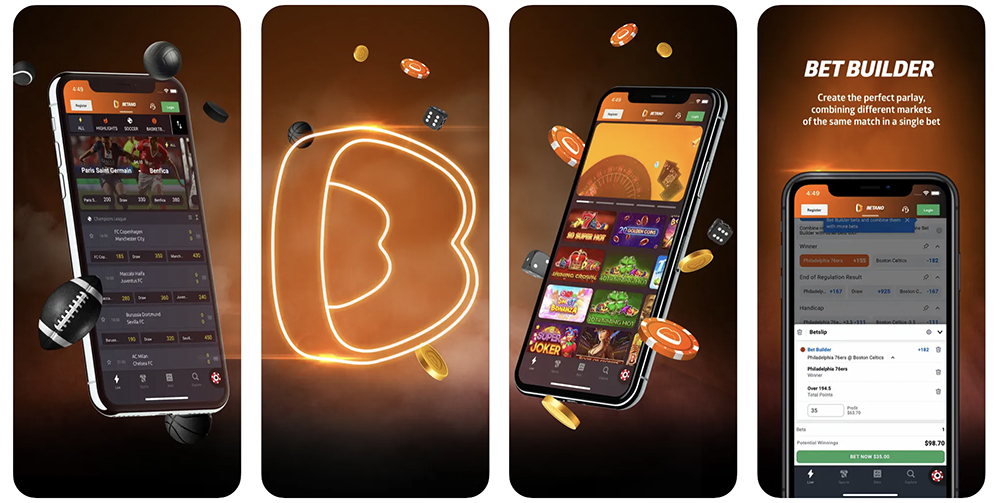 3. Betano Ontario
After reviewing every sports betting app on the market, it is no easy feat to impress our staff, but Betano was beyond impressive during our testing. From player-friendly odds to a beautiful app that offers a nearly flawless betting experience, Betano checked nearly every box during our testing.
Building a great app is impressive, but it is the attention to detail that we really appreciate. Live betting is really well laid out, odds update quickly, and placing a bet in real time was a smooth experience. But don't take our word for it, current Betano players give the app 4.8 (out 5) stars on the App Store.
Pros of Betano
Wide variety of sports and leagues to choose from.
Massive library of in-season and pre-season futures.
Great live betting experience in the app and on the website.
24/7 live virtual betting with multiple games running at all times.
Cons of Betano
In terms of overall betting experience, the Betano app is way ahead of the website.
Juice was slightly higher than competing apps during live testing.
---
4. Caesars Ontario
Caesars Sportsbook is one of the most popular brands in the gaming industry, and residents of Ontario will enjoy a pleasurable sports betting experience by signing up with them. Just how aggressive is Caesars Sportsbook Ontario in getting market exposure? They won the naming rights to the New Orleans Saints home stadium in 2021, now called the Caesars Superdome.
Caesars does a lot of things right. They have the premier rewards program in the world, where each wager earns a certain amount of Tier Credits and Rewards Credits. These can be cashed in for site credit, free meals, or even free hotel nights.
Caesars Sportsbook Ontario also recently struck a deal with the Manning family to further enhance their advertising efforts. So, does Caesars Sportsbook live up to the massive amount of hype? We'll let you decide with our pros and cons table below.
Whether you're looking for single-game sports betting or live betting, Caesars Sportsbook Ontario has all of the action and definitely one of the better sports betting apps we've seen.
Caesars Sportsbook Ontario Pros
Outstanding website and online gambling app.
Plenty of cashier options with no fees and a quick turnaround time.
One of the few sportsbooks to offer a Cash Out feature, which is a great thing for Ontario sports betting as a whole.
More daily odds boosts than any other name in legal sports betting
Caesars Sportsbook Cons
Limited options for Player Prop betting, when compared to other online sportsbooks.
Live betting choices often have too much juice when compared to other Ontario online sportsbooks.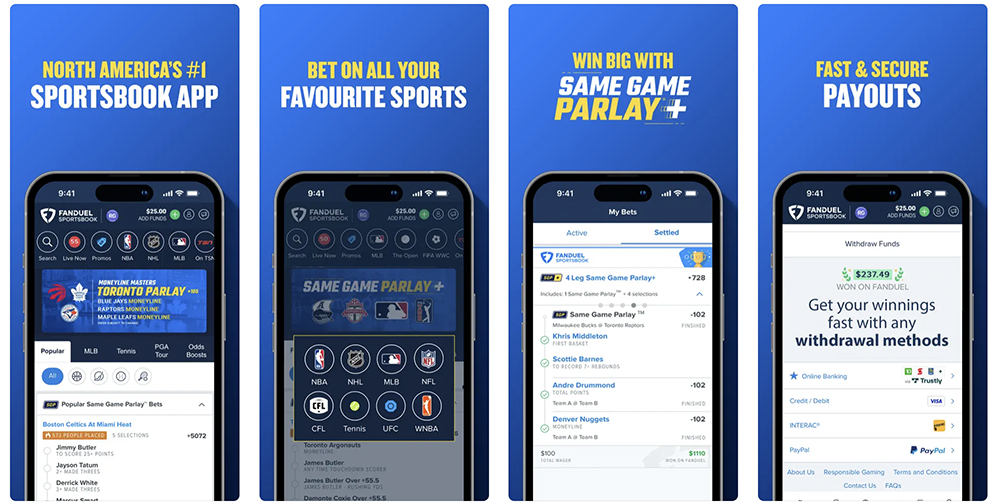 5. FanDuel Ontario
FanDuel is a giant in the US sportsbook industry, and now they are available in Ontario with their amazing sports betting app. FanDuel is a fantastic book for sports bettors who like to bet on the moneyline instead of the point spread. FanDuel Sportsbook is set to make a big impact on Ontario sports betting.
FanDuel gets our vote for the best overall sportsbook in Ontario. They're one of the best in the industry for live betting because they make it super easy to find the sport and event that you're looking for! Out of all of the mobile sportsbook apps, they're hands down the best in the game.
Folks in Ontario will also appreciate all of the betting options that FanDuel brings to the table. They offer a ton of alternate spreads and totals, which is not something that a lot of sportsbooks do.
Canadian sports gamblers will be impressed with the wide variety of props that FanDuel offers. They'll also love how fast and easy to navigate the sportsbook app is. Here are some more pros and cons of FanDuel.
FanDuel Ontario: Pros
Lots of good moneyline opportunities because of the low 4% hold rate.
Innovative ways to bet like Same Game Parlay.
More Odds Boosts than other sports betting sites.
The mobile betting app always loads quickly and is one of the best in online sports betting.
One of the best Ontario sports betting sites.
FanDuel Ontario: Cons
Some betting markets are hard to find and require too much clicking.
---
6. NorthStar Bets Ontario
Thanks to NorthStar Bets, folks in Ontario now have a local option when it comes to their sportsbook needs. NorthStar launched in May of 2022, and sports bettors have been raving about some of their cool features. These folks give sports bettors more options when it comes to their favorite local teams like the Ottawa Senators and Toronto Maple Leafs.
NorthStar Bets also gives Ontario bettors a phenomenal live betting experience. The website and app are always fast to accept wagers. Folks will also love that they can do plenty of Round Robin betting with NorthStar Bets.
NorthStar Bets is also regulated by the AGCO, so folks can rest easy knowing that their funds are always safe and secure. We highly recommend signing up for an account with NorthStar bets if you live in Ontario!
NorthStar Bets: Pros
More options on hometown favorite teams for Ontario bettors.
Lots of Round Robin and Parlay options.
Easy to set up an account.
Remarkable customer service team.
Plenty of sports to bet on!
NorthStar Bets: Cons
Only available in Ontario.
Not a lot of cashier options.
---
7. BetRivers Ontario
BetRivers is available in 6 US states and will be making its debut in Canada very soon. Operated by Rush Street Gaming, one of the premier names in gaming, BetRivers does a great job of catering to their clients' needs.
Patrons of BetRivers are automatically entered into iRush Rewards, which is one of the best loyalty programs in the world. The program has 10 levels, as well as an elite tier that's invite-only. Prizes range from special swag to VIP Dinners!
Ontario sports bettors will appreciate the expansive player prop offering as well as the friendly house rules that BetRivers offers. Is BetRivers a good fit for you and your sports betting needs? Check out the pros and cons list to find out.
Pros of BetRivers
Best Terms in the sportsbook industry.
Plenty of player prop betting options.
Lower juice on their moneylines.
Boosted odds to increase your payouts.
Cons of BetRivers
Uses Kambi software, which means they have the same lines as DraftKings and Unibet.
Website and app are cluttered with ads on the side.
---
8. Unibet Ontario
Not many folks in the US or Canada are familiar with Unibet, but that shouldn't stop Ontario bettors from giving them a chance. Unibet has been taking good care of sports bettors all over Europe for more than 20 years, and they've recently launched in Ontario.
The Unibet app may not be the most pleasing to look at, but it's very functional and gets the job done. Of all of the mobile sports betting apps, this one is down on the list. Most serious sports bettors are more than willing to sacrifice appearances on mobile apps for more value in their bets. Unibet charges some of the lowest juice in the industry, which saves folks a ton on their losses.
Sports bettors will love Unibet's favorable odds, especially on sports like golf, tennis, and soccer. They also offer decent odds on parlays and teasers. Here are some pros and cons of Unibet.
Unibet Sportsbook Pros
Easy to bet parlays and teasers.
Parlay Boosters to give players a higher payout.
More wagering options on soccer, golf, and tennis than other sports betting apps in Ontario.
Favorable odds on some sports.
Unibet Sportsbook Cons
The website and app have an outdated look when compared to other betting sites in Ontario.
Some players have reported issues with their geolocator upon signup.
---
How to Register With an Online Sportsbook in Ontario
All of the Ontario sportsbooks make it an absolute breeze to set up a sports betting account. This is great news for anyone in Ontario who wants to place sports bets! Here's how the process works:
Download the Ontario sports betting app or head to the Ontario sports betting site of your choice
Enter any relevant info like your name, email, password, address, and date of birth
Make your first deposit using one of the many cashier options that online sports betting apps have available
Enjoy single-event sports betting and other fun types of bets like same game parlays
Ontario Sports Betting FAQ
If you are one of many Ontario sports fans, you are bound to have questions about online sports betting since the new law has passed. To help with that, we have included the following Ontario sports betting FAQs section to hopefully save you some time. If you are new to Ontario sports betting, we recommend reading these before signing up at the best Ontario betting sites.
Is online sports betting legal in Ontario?
Yes, sports betting has been legal in Ontario for quite some time. However, the province only recently legalized single-game sports betting. Before April 4, 2022, the only legal sports betting was limited to parlays only and not single-game sports wagering.
What is the legal gambling age in Ontario?
For the most part, Canadian bettors in Ontario only have to be 19 years old. This is in stark contrast to the US, where the legal gambling age is 21, virtually in every state. That can have a major impact on the sports betting market. However, sports bettors at Caesars have to be at least 21 years old, even in Ontario!
Who oversees the Ontario sports betting industry?
The Ontario sports betting market is regulated by the Alcohol and Gaming Commission of Ontario. The Alcohol and Gaming Commission of Ontario oversees all mobile sports betting, including Ontario sportsbooks and online sportsbook apps that operate in Ontario. They oversee all licensed sports betting operators. So for a new sportsbook app looking to get their Ontario sports betting license, they'll have to go through the Alcohol and Gaming Commission.
Do I have to pay taxes on my sports betting winnings in Ontario?
Thankfully, most folks in Ontario do NOT have to pay taxes on any gambling income. The only expectation is for folks that are deemed professional gamblers. So if you're in the Ontario sports betting market and you're simply a casual player, you're good to go. Download your favorite Ontario sports betting apps and start wagering!
Is my money safe with sportsbooks in Ontario?
Yes, since sports betting is now legal in the Ontario sports betting market, the industry is regulated by the Alcohol and Gaming Commission of Ontario. This means that all sportsbooks that operate in Ontario are held to strict rules and regulations. This protects Ontario bettors' money and identity.
How do I win at sports betting?
Great question! Unfortunately, there's no easy answer to that; however, if you want to increase your chances, download as many sports betting apps as you can and try them all. Since sports betting in Ontario is legal, there's no harm in trying a few mobile apps. We jokingly say have a better chance at winning a wager on the Toronto Maple Leafs than you do the Ontario lottery.
However, always gamble responsibly!
Do you expect sports betting in Ontario to take off?
Absolutely! While Ontario bettors recently had a taste of the sports betting world, we expect to see more Ontario sports betting apps and Ontario online casinos in the future.
Where can I get updates on Ontario sports betting news?
As there are developments in the Canadian sports betting market, we'll continue to publish updates right here. Also, if you're interested in another sports betting market, take a look around as we cover a wide variety of betting markets throughout the US and Canada.