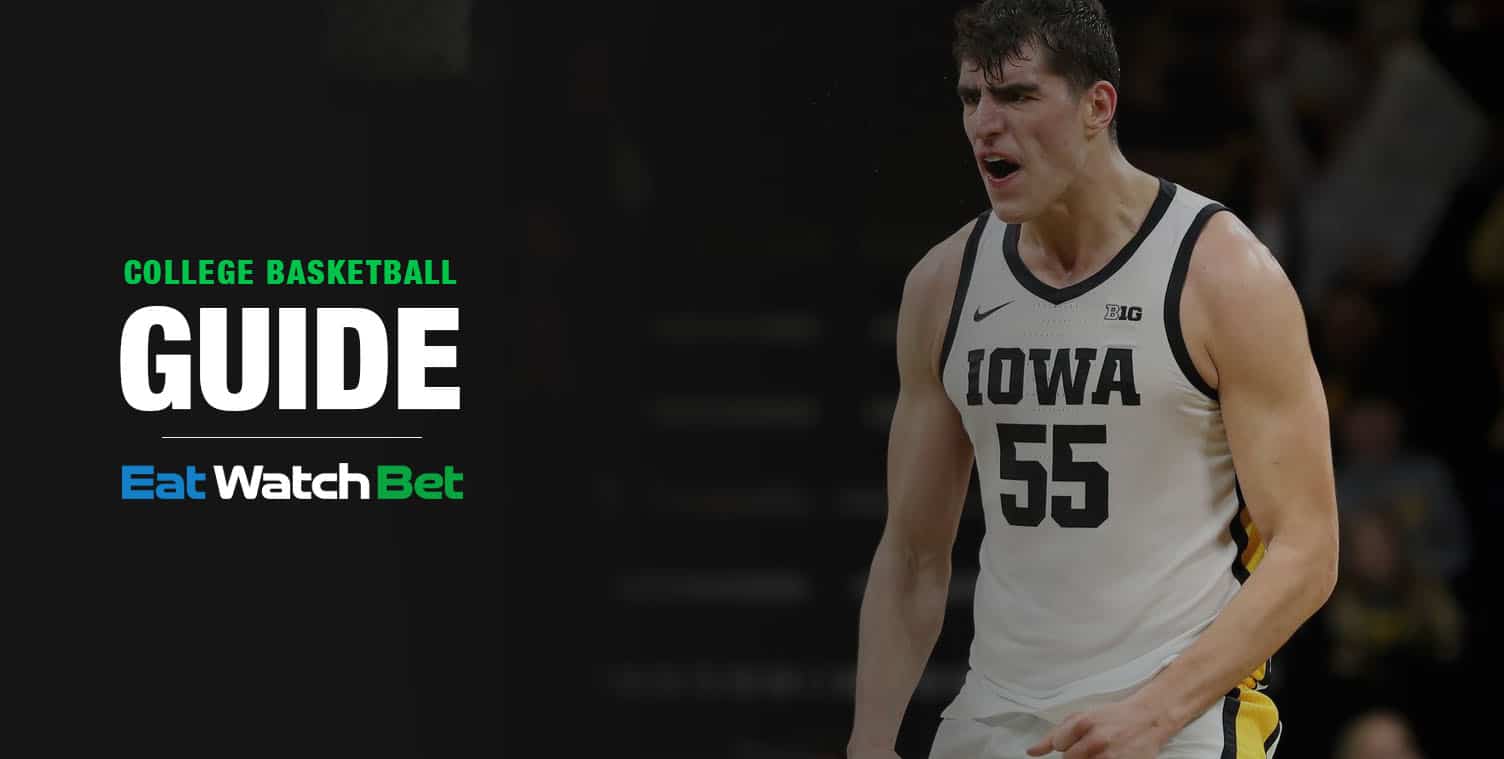 We know that a lot of casual bettors don't think about college hoops during the NFL season. After all, they're busy thinking about who's going to win the Super Bowl. Nevertheless, the start of the 2023-24 college basketball season will be here before you know it.
You could make the argument that March Madness, in particular, is the single largest betting event of the year. The NCAA tournament is 67 games long (including the first four), each game on the bracket averaged 11.3 million viewers, and the total sports betting handle for the tournament was over $300 million in Vegas alone! Vegas sportsbooks claimed a profit of $48 million in March of last year from basketball wagers!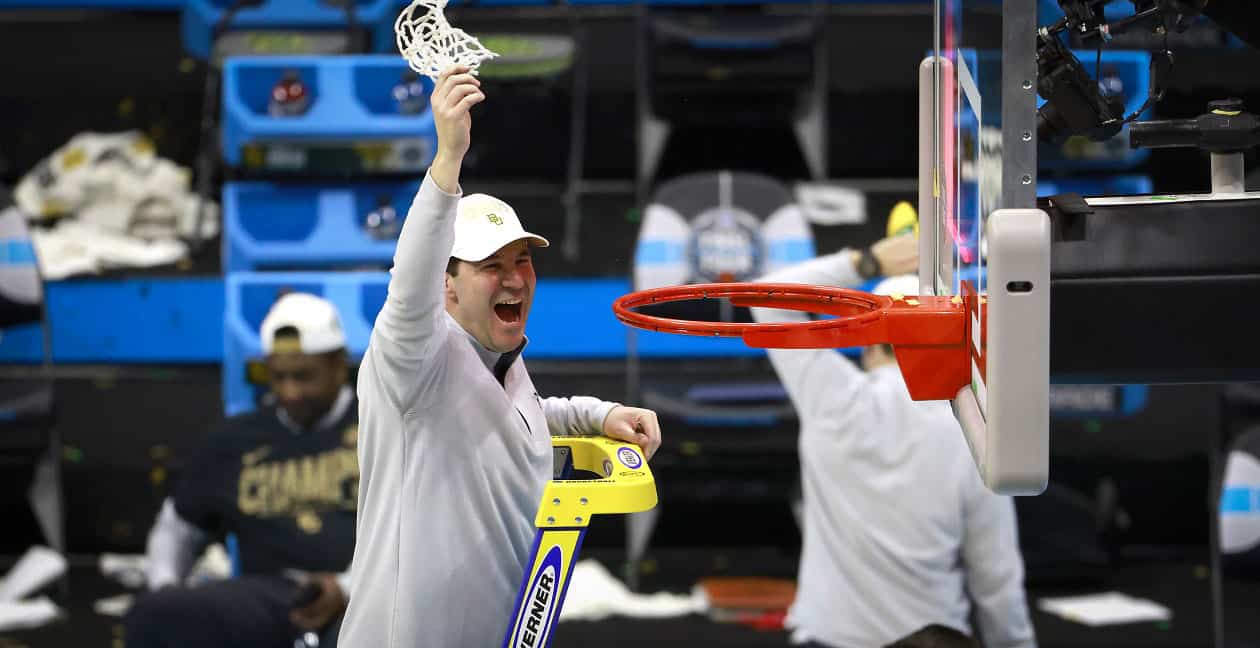 Guide to Betting on College Basketball and the 2023 NCAA Tournament
This college basketball betting guide will cover everything from popular bet types to basic betting strategies and our favorite college basketball betting tools and resources.
Be certain to check on the current regulations for your state. Many US states with legal sports betting have placed restrictions on betting on college sports. In Illinois, for example, bettors are not allowed to wager on any Illinois college teams. This means those lines will not be available in your sportsbook, but you will still be able to bet on games that don't involve an in-state University.
Popular College Basketball Bet Types
The first step to successfully betting on college basketball is understanding the various bet types available and the pros and cons for each. A successful bettor understands how to manage their bankroll and how to avoid bets with more risk than reward.
Let's consider the odds for the following game while discussing each bet type:
Spread Bets
Spread bets refer to betting against a projected winning margin that is established by the sportsbook. Looking at the example above, if were to bet $100 on Butler against the spread (-2.5), they would need to win by at least 3 points in order for your ticket to cash. Alternatively, had you bet on Marquette, they would need to lose by 2 points or less for the bet to cash.
The number you see under the spread, -110 in this case, is the juice applied to each side of the bet. A $100 bet on either side will pay out a total of $190.91 or $90.91 in winnings. Juice can vary widely from game-to-game and sportsbook-to-sportsbook.
Moneyline Bets
Moneyline bets are the most basic type of bet you can place. You are simply betting on one side to win the game. The juice applied to the bet is adjusted according to the spread, betting an underdog to win outright will pay considerably more than betting the spread whereas betting a favorite to win outright will pay considerably less than betting the spread.
In the example above, a $100 moneyline bet on Butler (-145) would pay out only $168, whereas a $100 moneyline bet on Marquette (+120) would pay out $220.
Moneyline bets are particularly popular amongst the betting public during the NCAA tournament, as most bettors prefer not to bet spreads once they get to 25+ points. Oftentimes 1 seed vs 16 seed, 2 seed vs 15 seed, and 3 seed vs 14 seed games can have wildly high spreads that leave too much to chance. In these cases, it may make more sense to add these higher seeds as moneyline legs of a parlay.
Total Bets
Total bets refer to betting the total number of points scored in a contest to go over or under a number set by the book. In the example above, the game has a total of 129.5 points with the over having slightly higher juice applied to it (-115 vs -105).
Again, these are extremely popular throughout the tournament as you can have two uptempo teams facing off, a ton of 3-point attempts, and teams fighting for their seasons which typically means end-of-game fouls, tight refereeing, and coaches using all of their timeouts to make the most of end-of-game possessions.
Take the Under When it Makes Sense
With the over typically seeing the majority of the action in college basketball betting, under bettors have a slight advantage here. If you think you can break down college basketball games and find opportunities to bet the under, you can typically find reduced juice on these bets.
The first half under are also a great option to exploit. During the NCAA Tournament, most teams start out slow. This is especially true of younger teams that may not be used to the bright lights of the big stage.
Most young players have a tendency to play tight if it's their first time playing in the Big Dance. This can lead to lots of bricks and air balls during the early portion of the game. Look to play the first half under when you can. Your bankroll will thank you!

Parlay Bets
Parlay bets allow bettors to combine college basketball bets for a higher payout. The caveat is that each leg of the parlay must hit for the bet to payout. Parlay bets offer substantially higher payouts but also come with substantially more risk.
Looking at the example bet above, a $100 bet on either Marquette or the Syracuse/Louisville under would pay out $90. However, a $100 bet on both lines pays out $264.
However, bettors must be wary of parlay bets as the old adage, 'the house always wins, is especially true when it comes to parlays. In fact, college basketball parlays are 6x less likely to cash than straight bets. Even a two-leg parlay like the one in our example cashes less than 30% of the time.
Teaser Bets
A teaser bet is simply a parlay bet that allows you to buy points in exchange for a reduced payout. College basketball teasers are typically available in 4, 4.5, or 5 points. So, in our example bet, the Marquette spread would move from +2.5 to +6.5 in a 4-point teaser, and the Syracuse/Louisville total would move to 144.5.
While not as drastically as a parlay, teasers also greatly reduce your odds of winning. What's more, they dramatically decrease the potential winnings you would get with a parlay. While the $100 parlay would have paid out $264, the same bet as a 4-point teaser would pay out just $170.
Live Betting
Live betting allows you to bet on a wide variety of lines on games already in progress. As is the case when betting on the NBA, you can place spread, total, and moneyline bets on games already in progress.
For many bettors, this offers the opportunity to place bets they liked prior to tip-off at a better value. For instance, if you like Marquette (+2.5) and they are trailing 6 at the half, you could likely find that line at Marquette +8.5 or more in live betting.
Not all sportsbooks offer live betting on college basketball. We recommend checking out our current sportsbook reviews to ensure your sportsbook does prior to opening an account.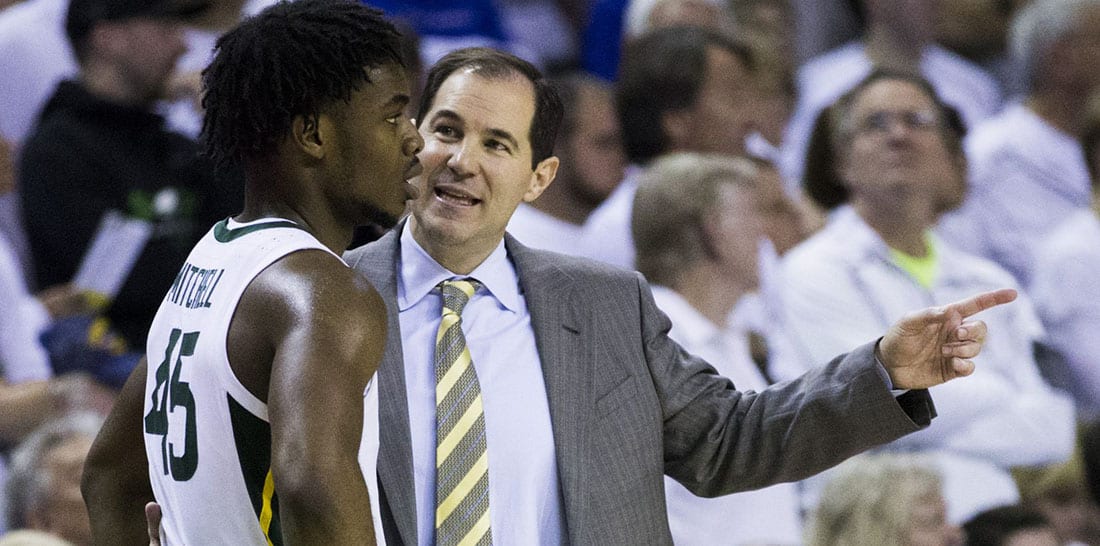 College Basketball Betting Resources
For many college basketball bettors, the CBB season really doesn't start until football ends. This means you miss most of the regular season action and are playing catch-up by the time the NCAA Tournament comes.
Below are two resources that will help you familiarize yourself with the field and identify some betting opportunities that you wouldn't find by simply comparing teams' schedules, records, and statistics.
Pomeroy College Basketball Ratings
We have to start this section out by mentioning the Pomeroy College Basketball ratings. If you were to simply fill out your bracket using these ratings, odds are you are going to fair quite well.
The Pomeroy ratings break down every NCAA team's offensive and defensive efficiency and rank the teams off of that data. This is not only a great resource for filling out your bracket but can be used as a betting resource throughout the tournament.
Stats like adjusted tempo, adjusted offense, and adjusted defense will help you identify totals sportsbooks may have set too high or too low. Furthermore, the average AdjDE and AdjOE can help you identify individual team totals that are worth targeting.
Spread to Moneyline Conversion
One area college basketball bettors can find value throughout the NCAA tournament is moneylines. Moneyline parlays are a popular way for sports bettors to bet favorites without having to lay spreads that can be as high as 40 points.
If you are going to bet moneylines, a spread to moneyline calculator can help you identify areas where the juice applied to the moneyline does not match up with the juice applied to each side of the spread. Essentially use the spread and the juice applied to the spread to determine what the juice should be on the moneyline. If the book sets the juice on the moneyline too low, it offers an opportunity to find value in moneyline bets that typically do not exist.
It's worth pointing out that this can work both ways. You could be paying too much juice on a moneyline bet, and in these cases, you are better off avoiding these bets as the risk is not worth the reward.