While most states have been puritanical when it comes to games of chance, New Jersey has always been one of the most accepting states when it comes to gambling. The NJ online gambling market is no different. Whether you want to partake in one of the many NJ casinos or gamble online at one of the many mobile casinos, you have the options.
The Garden State's rich gambling history can be traced back to several lotteries that helped build the modern-day universities of Princeton and Rutgers. Betting on horse racing has a long history in New Jersey because the Freehold Raceway has been around longer than any track in the United States.
2013 was a banner year for poker players in the state of New Jersey, as online poker websites started being offered for NJ residents. However, the state's biggest win was the legalization of sports wagering.
New Jersey, led by Governor Chris Christie, was instrumental in challenging the PASPA Act in the Supreme Court and getting it deemed unconstitutional in June of 2017. This paved the way for more states to follow New Jersey's lead and make sports betting legal.
Ever since then, the best NJ online casinos have been proliferating throughout the state.
Today, New Jersey is the second-largest betting market in the US and is quickly closing the gap on Nevada. NJ gamblers have more mobile casinos and sportsbook options, which results in better new-player promotions, and a better overall gambling industry in the state. This makes the competition steep among New Jersey casino apps.
Are you a New Jersey resident who loves to play poker, bet on sports, or enjoy any type of casino gaming? Did you know there are several NJ online casino apps that you can access from the comforts of your own home? You don't even have to fight the Atlantic City traffic anymore just to play your favorite slot games! Whether you want live dealer games, online poker, or even slot games, New Jersey's online casinos have something for you.
If you're ready to dive in, check out our top-rated NJ online casino apps below.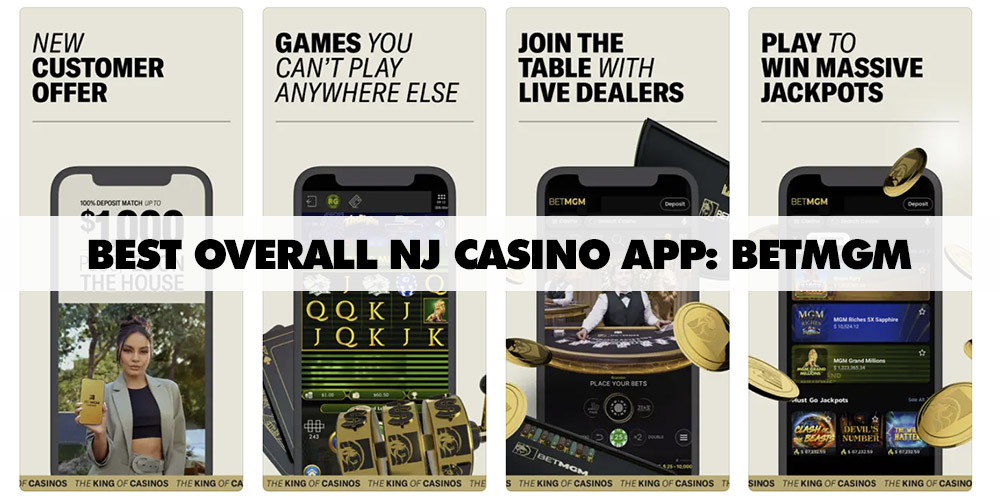 Best Overall NJ Casino App: BetMGM Casino
BetMGM has a storied history as their first casino was opened way back in 1973 in Las Vegas. BetMGM has most recently parlayed its casino success into the online gaming world by offering a casino gambling app for NJ residents that is second to none. Of all the best New Jersey casino apps, BetMGM takes the cake.
But BetMGM has one of the online casinos that doesn't stop with a clean and intuitive New Jersey online casino app. Their expertise extends into their live dealer games, deposit bonuses, and over all gameplay.
A nice thing about BetMGM's online app is that it offers a whole host of table games with a LIVE dealer! That makes for a much more enjoyable experience for their online New Jersey casino patrons. Enjoy live dealer games Blackjack, Roulette, and Baccarat a full 24 hours per day from anywhere in the world.
Their bonus program is one of the most generous in the industry since they will match your initial deposit at 100% up to $1,000. Additionally, the BetMGM sportsbook is one of the highest-rated sportsbook apps in the US! Whether you are a card shark or a sports wagering enthusiast, that is hard to beat. One of the best things about this welcome bonus is that you don't even need a bonus code.
We told you, they're one of the best online casinos for a reason. When it comes to casino games and NJ online casinos you want to know that you're getting the biggest bonus, and with a quick $1,000 - that sounds like one of the best bonuses to us.
Compare the current bonus offers available in NJ to find the casino app with the best promotion before registering.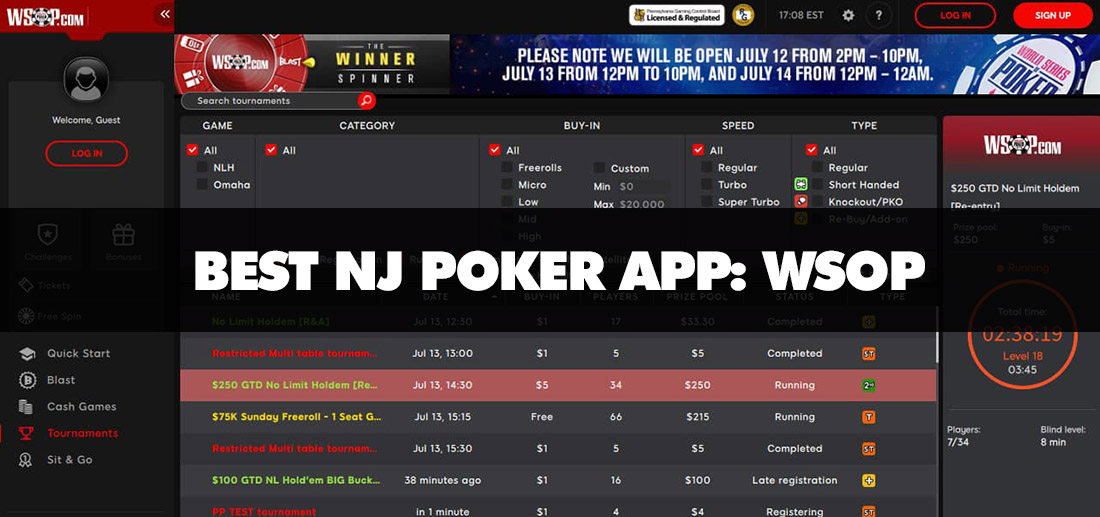 Best NJ Casino App for Online Poker: WSOP Online Casino
Are you a poker guru but not always up to driving to an in-person casino? WSOP offers the thrill of large in-person poker tournaments on your desktop, laptop, tablet, or phone. Of all of the online casinos, you're going to love to gamble online with WSOP.
The World Series of Poker name is synonymous with the US poker industry, but did you know it is backed by the iconic online casino operator Caesars? This means WSOP players can earn Caesars Rewards by playing poker, using the NJ sportsbook app, or the NJ casino app. However, all of the NJ online casino apps are backed by a big name.
WSOP offers a massive selection of poker games including hold 'em tables, sit-and-go tournaments, Casino Hold'em, Three-Card Poker, and Caribbean Stud. They have a massive pool of players, which not only means you can always find a table with the format you want but that the prize pools for tournaments are larger at WSOP than with any other casino app.
Despite the name, WSOP is much more than just a poker app. You can play all sorts of casino games in their online casino. Everything from blackjack to slot games to roulette. They have everything mobile gamers would possibly want. That's what makes them one of the best New Jersey online casinos we've seen.
Current Caesars New Jersey casino and sportsbook players can also take advantage of the current WSOP promo code offer, which includes a 100% deposit bonus, up to $1,000. Combine that welcome bonus with the current casino and sports wagering offers, and you are getting up to $6,300 free this September! And, just like BetMGM, you don't even need a bonus code to take advantage of this welcome bonus.

Best Overall in User Experience: Unibet Casino
Unibet may not have some of the flashy bells and whistles that some of the other online casinos have, but their straightforward look makes it super user-friendly. They will give you a $10 sign up bonus just for registering and you don't even have to make an actual deposit! Also, their bonus structure is incredibly generous because they offer a 100% match up to $750.
$10 might not seem like much, but when you think about how rare it is for legal online casinos to offer a no-deposit bonus, then you realize that they're handing you money. You can then use it for a wide variety of online casino games that they offer on their mobile gaming platform. Seriously, you won't find many other NJ online casino sites offering free, no-strings attached cash just for signing up.
If sports betting is your forte, Unibet offers plenty of options. They offer plenty of live betting options, as well as daily "boosted odds" on select sporting events (for example, today they are offering +725 odds if Tatis hits a homer and the Padres win). Also, they are an official partner with the NHL's New Jersey Devils. Side note: Who would have ever dreamed we would see the day when pro sports teams would partner with sports gambling apps?
Unibet offers live dealer games like Blackjack, Roulette, and Baccarat. They offer a great three-card poker game as well. A nice feature is that you can play any of their slots or table games in demo mode for free. It is nice for gamblers to be able to make sure they are comfortable with the app's layout before gambling 'actual' dollars.
Best NJ Casino App for Slots: 888 Casino
If slots are your main source of gambling entertainment, you need the 888 Casino app. They offer a $20 bonus simply for registering on the app this October.
If you don't have much of a casino bankroll, 888 Casino is here to help. They give all players free sweeps coins each day just for logging in! That is unheard of in the industry and a huge perk for players.
888 Casino has both an Apple and Android slot available. Additionally, players can also play any of the casino games on the website.
The only downside to the 888 Casino app is that it requires a fast internet connection. Your best bet is to make sure you are on a high-speed WiFi connection to avoid the app going out right in the middle of your lucky spin!
A few folks have complained that the 888 Casino app is too old school, looking like a casino app from 5-10 years ago. Remember though that beauty is in the eye of the beholder. A lot of gamblers like using an old-school app that doesn't lean too heavily on flashy graphics.
Best New Jersey Casino App Bonus Offer: FanDuel Casino
As you might have guessed from our rankings table, our favorite casino app promo code offer for September comes from FanDuel. Though more well-known for its iconic sportsbook and daily fantasy sports site, FanDuel is making a big splash in the online casino industry as well. Let's discuss why we are so crazy about FanDuel's $1,000 Play It Again promo.
$100 in Free Site Credit
Let's start with the obvious benefit of FanDuel Casino: free site credit! While some other New Jersey casino apps on our list are giving away some free money, none of them hold a candle to FanDuel's generous amount of $100. After all, who doesn't love free money? Here's how it works:
New players should register for an account with the personal info that FanDuel requests
After registration is complete, make your first deposit of at least $10 into your new account
Play all of your favorite slots and table games on the FanDuel Casino app or website
Any losses you incur from your first day of wagering will be credited back to you ($1,000 limit)
FanDuel will give you $25 in site credit every week for four weeks
Different Kind of Bonus from a New Jersey Casino App
FanDuel Online Casino sets itself apart from the rest of the pack of NJ online casinos by offering a different kind of welcome bonus. The other ten apps on our New Jersey list are all offering a deposit match of some sort (except for the Unibet online casino no-deposit bonus). Deposit bonuses are all well and good, but it's refreshing to see a new casino app take a different approach.
With the FanDuel Online Casino bonus, your first day of wagering on their app is 100% stress-free for up to $1,000. This is the perfect opportunity for New Jersey casino players to try out the FanDuel Casino app for a full 24 hours with virtually no financial risk. If you win, that's great. However, if you lose, you'll receive the amount back in your account as site credit.
The FanDuel online casino app is only available for patrons who are 21 years of age or older and physically located in New Jersey, West Virginia, Michigan, or Pennsylvania. This is one of the top casino sites in the country so come see what all of the buzz is about. Folks are already fond of FanDuel's live dealer games.
Download their app from the Google Play Store from any of your mobile devices and start playing casino games with the house's money! We can't guarantee you'll win with FanDuel, but of all of the New Jersey casino apps, we're sure you'll have a blast!
New Jersey Casino Apps FAQ
Have more questions about online casinos in New Jersey? Not only do we want to recommend the best NJ casino apps, our goal is to help you with understanding the dynamics of the casinos. The following questions and answers will help new casino players quickly navigate the online gambling landscape in New Jersey. From gaming enforcement to slot games, we want to ensure you have the answers to all of your questions.
Keep in mind, we'll continue to develop this FAQ over time and add more questions about New Jersey online casino apps as more are introduced into the market.
Are online casinos legal in New Jersey?

Absolutely! As long as the online casino players meet the age requirement and are within the state lines of New Jersey, they can use legal online casino apps and play casino games. The New Jersey Division of Gaming Enforcement makes sure that all online casinos within the state abide by the rules and regulations. So if you're looking to take advantage of what these NJ casino apps have to offer, you'll need to ensure you're of legal gambling age.

Are mobile casino apps legal in New Jersey?

Yes, all of the New Jersey casino apps featured on this page offers a polished mobile app for both iOS and Android users. Each app includes slots, table games, and most offer live dealer games. New players can register for a New Jersey online casino account through the website or app for each operator.

Are the newer online casino apps like FanDuel, DraftKings Online Casino, and WynnBet worth trying in New Jersey?

Yes, we highly recommend all three of those online casinos if you're a serious casino player in New Jersey. Though they are newer to the online casino market in New Jersey, all three of those NJ casino apps have been in the online gambling industry for quite some time and have stellar reputations.

Their NJ casino apps are second to none and they offer plenty of options when it comes to mobile gaming in the Garden State.

Do I have to be a New Jersey resident to play NJ online casino apps?

No, you only have to be 21 or older and physically in the state. Most of the NJ casino apps have geolocation detection built in. So if you're from out of state and looking to win big in New Jersey online casinos, you'll have to rethink your strategy and play legal online casinos.

This is great for folks that want to take advantage of some of the best casino games and are just visiting relatives in New Jersey or vacationing in the Garden State.

No, NJ online casino games come down to pure chance, just like at an in-person casino. The house has a built-in mathematical edge, but the outcome is not fixed. This rule holds true whether you're playing in any of the NJ casino apps or live dealer games in a casino. No matter which NJ online casino app you play on, the odds are generally the same.

What casino games give me the best chance of winning?

While all casino games are fun, stick to table games for your best chance of winning! The games with the lowest holds are Blackjack, Craps, and Roulette. Slots are incredibly fun but have the highest hold percentage for the house. Don't worry, though, almost all of the NJ casino apps have some form of table games built-in. You'll just have to try all of the casino apps to see which is best for you.

Why do NJ online casino apps require my Social Security Number?

NJ casino apps have to follow strict rules and regulations when it comes to player information, which includes verifying your identity. They must make sure you are of legal gambling age, 21 or older. This is why they ask for this sensitive information in the form of a Social Security Number. Every New Jersey casino app we mentioned takes great strides to ensure your information is safe and secure.

How do I know which NJ casino apps are the best?

Try out each of the NJ casino apps for yourself! While you can trust our reviews, nothing beats playing at an online casino and seeing what's available. All three of the newest NJ casinos – FanDuel, DraftKings Online Casino, and WynnBet – have fantastic offerings that you won't want to miss out on. But if you're looking for something more traditional, NJ's original online casinos such as BetMGM and Caesars are also worth checking out.

What is the best way to stay informed about NJ online casino apps?

Here at EatWatchBet, we strive to keep up with all of the newest and most popular NJ casino apps. Make sure to check our website often for updates on the latest releases and promotions.

New Jersey bettors must be 21+ and present to place wagers in the state. If you or a loved one is experiencing problems with gambling, call 1-800-GAMBLER or visit the National Council on Problem Gambling www.ncpgambling.org.