Louisiana has a rich history of sports and is chocked full of ravaging sports fans. The online sports betting market has exploded in the Pelican State since going live in January of 2022.
Do you live or vacation in Louisiana? Here are the top sports bars in Louisiana to eat, watch, and bet on sports! Any of these are great options!
Best Sports Bars Near You:
Best Metairie Sports Bars
If you're anywhere near New Orleans, you have to head over to Metairie. This town is home of 3 of the best sports bars in the state and you're sure to be satisfied at any of them.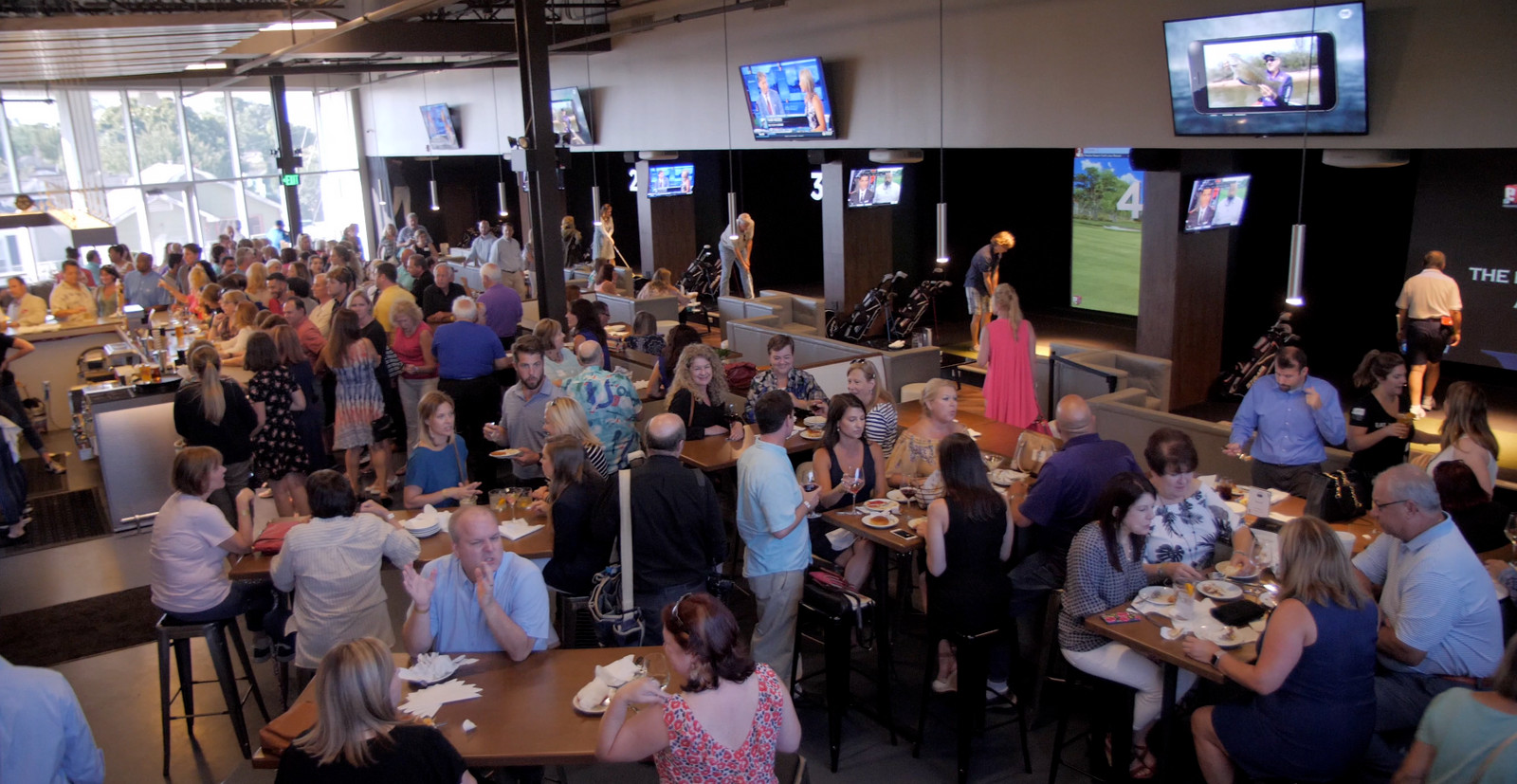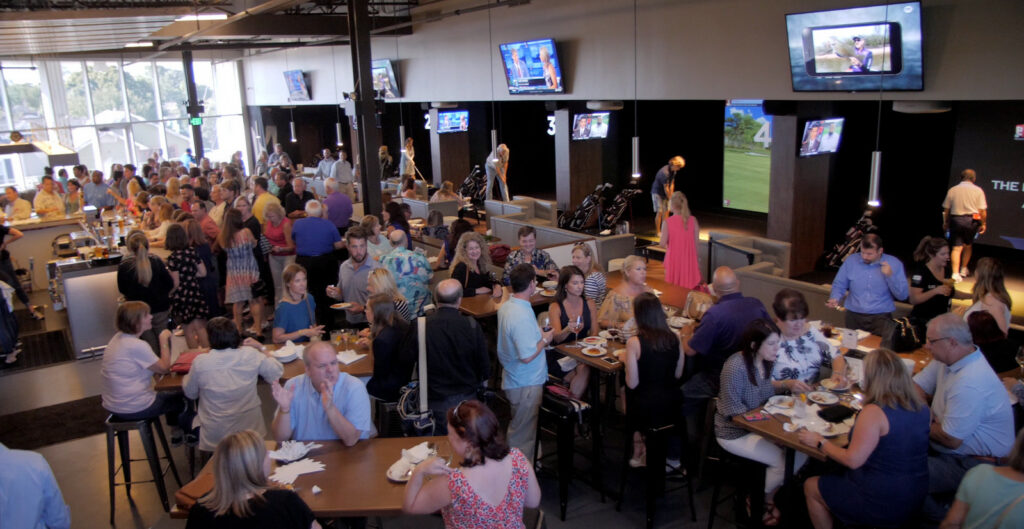 LOFT18 Metairie
If you're on the lookout for a seriously rad spot in Metairie, Louisiana, then Loft18 is where the party's at! Here are a few noteworthy takeaways from my recent visit.
Out-of-this-World Facilities
Get ready to have your mind blown by the state-of-the-art simulators at Loft18 Metairie. They're like virtual reality on steroids, recreating top-notch golf courses with surprisingly good accuracy.
Definitely a golfer's paradise. The loft feels like a modern-day palace. The sleek décor and the perfectly lit ambiance create an awesome vibe and hey, they've got attention to detail on point! From the clubs to the golf balls, every little thing is top-notch here.
Excellent Service
The staff at Loft18 Metairie are MVP caliber. They know their stuff, they're super cool, and they've got your back. Need some tips on improving your swing? They've got you covered.
Craving a killer bite to eat? They've got the inside scoop on the best dishes and drinks. They're the true champs when it comes to keeping customers happy. Also, they've got personalized coaching and training sessions there which I think is pretty cool.
Flat Out Good Times
Loft18 is more than just a golfing spot. The electric atmosphere and friendly competition here is hard to find elsewhere, this place is just unique. You'll feel the excitement and camaraderie in the air when you walk in.
They have other fun activities like shuffleboard and pool tables for those who want to take a break from golf, have a laugh, and show off their skills – there's something for everyone here.
---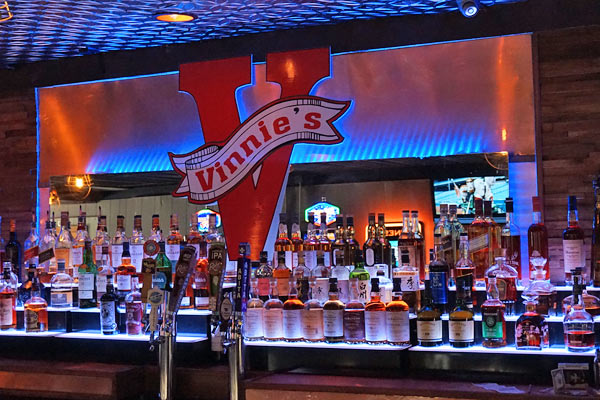 Vinnie's Caddyshack Bar and Grill
Address: 3217 Ridgelake Dr, Metairie, LA 70002
Best Dish: Fried Mozzarella Sticks
Vinnie's Bar and Grill has long been a pillar of Westbank life, famous for its vibrant atmosphere, delicious cuisine, and lively sports viewing experience.
A favorite since the early '90s, Vinnie's brings elements of Caddyshack with Vinnie's Sports Bar & Grill to offer something new and engaging for its patrons.
More Praise for Vinnie's Caddyshack Bar and Grill
Here are a few of the reasons sports bettors choose Vinnie's Caddyshack Bar and Grill:
Special Events and Live Music: At Vinnie's, sports enthusiasts can experience special events and live music to amp up the excitement of the game day. From major sporting events to local competitions, something exciting is always happening at Vinnie's that keeps bettors engaged while they cheer for their teams.
Interesting Menu: Vinnie's offers an expansive menu with dishes ranging from classic bar fare to experimental culinary creations, with something sure to please every palate. You can also order online so your food prepared and waiting when you arrive!
Large TVs: At Vinnie's, they understand the significance of an exceptional betting experience for sports bettors. By strategically positioning big-screen TVs throughout their bar area, Vinnie's ensures you never miss a moment of action.
Special Pricing: Vinnie's Bar and Grill knows what sports bettors need to keep themselves content when it comes to betting: their tantalizing Happy Hour and Game Day Specials. From 3-7 PM every day, you can take advantage of Vinnie's fantastic happy hour deals on drinks and appetizers. On game days, there are beer buckets or game day wings so you can savor delicious bites while cheering for your team.
---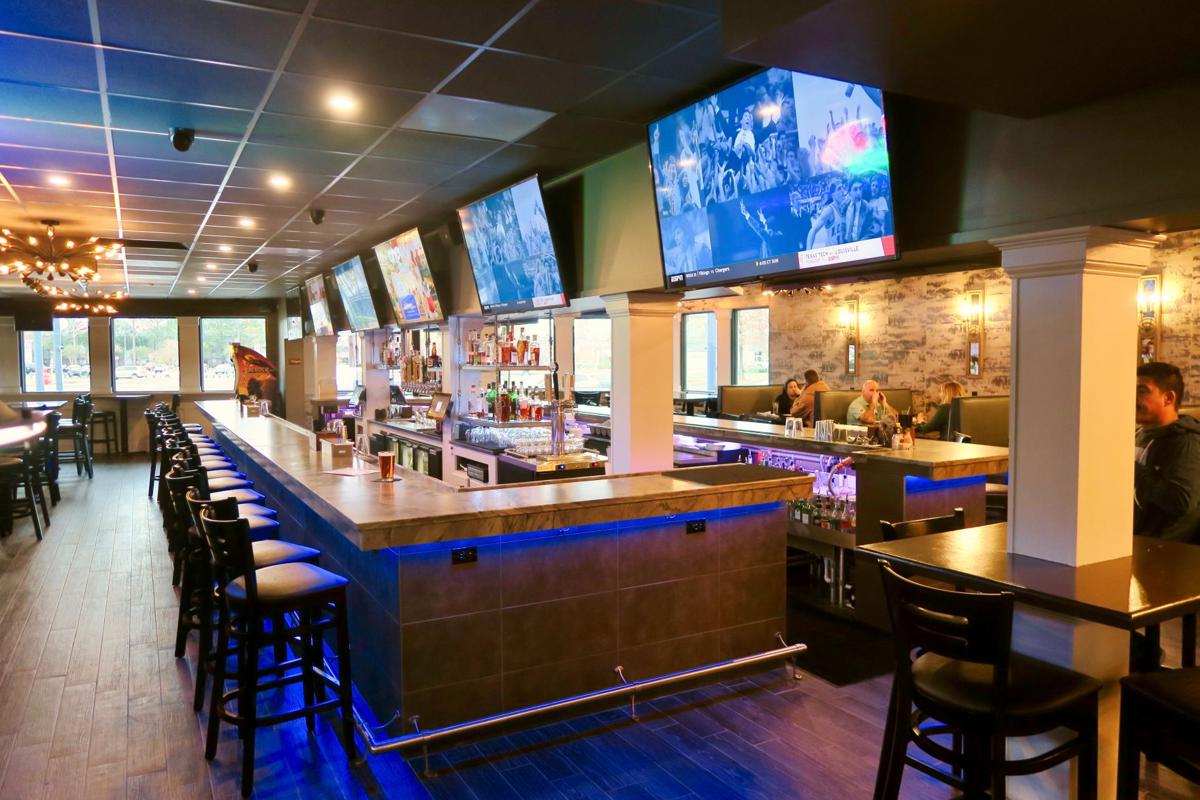 5216 Table & Tap
5216 Table & Tap is my favorite hangout spot in Metarie. The restaurant, bar, and nightclub deliver a unique approach to food, beverage, service, and entertaining, promising an unforgettable experience whether I'm hanging with the homies or out with your Mrs.
A menu filled with above-average culinary delicacies, cocktails, and craft beers pair well with the energetic vibe. I love catching the games on the big screens, placing my bets, and more often than not, banking big money.
Catch me playing a game of pool or vibing to the music on the dance floor when I'm not watching a game on one of the big screens.
What I Love About 5216 Table & Tap
Beer Selection: An impressive menu of wines, crisp IPAs, refreshing lagers, smooth stouts, and cocktails caters to every taste palette. Unsure which drink best suits you? The attentive, knowledgeable staff at this sports bar can recommend drinks to complement your meal or quench your thirst.
Attentive & Knowledgeable Staff: Nothing is worse than asking waitstaff for recommendations, only to be disappointed by their lack of knowledge or interest. That doesn't happen at this bar, as all staff are highly trained and knowledgeable in their beer, wine, and cocktail selections and their food menu items. Want to know which beverage pairs best with a particular dish? Just ask, and your server will graciously tell you all you should know.
Special Events & VIP: When you need to feel like royalty, book a night at the sports bar in the VIP room. The special accommodations, full-service attention, and private space ensure your night out delivers excitement above expectations.
Live Music: No matter the genre, we all enjoy music. Nothing beats hearing live music, which explains why live music fills the air at 5216 Table & Tap. When the mood hits, shake what your mama gave you on the dance floor, and get loose! 5216 Table & Top offers an oddly calm environment for all the energy and intrigue it packs.
Happy Hour: I love a good deal, and Happy Hour gives me plenty. Stop by 5216 Table & Tap between 4-7 p.m. any night of the week to take advantage of offers like $1 oysters and $4 house wine. Wednesday is All-Day Happy Hour, so treat yourself to the culinary delights crafted in the kitchen and the cold craft brews at a discounted price whenever you're ready.
Delicious Food: The menu at 5216 Table & Top offers selections every palette will love. Dine in or take out for lunch, dinner, or late night. The mouthwatering seafood, tacos, nachos, and juicy burgers delivered by some of Metarie's most talented chefs show culinary expertise you might not expect from 'bar food. ' prepare for the unexpected -and to mark this spot as your favorite bar and restaurant. I'm a huge fan of Kung Fung Nachos when I throw back a few cold ones, and the Table & Tap Burger, a masterpiece of meat adorned with cheese, bacon, tomatoes, and lettuce, all stuffed between a toasted brioche bun and served with a generous portion of seasoned fries. Yes, please!
Win Big at 5216 Table & Tap
Sports betting provides an adrenaline rush we all enjoy, especially when it results in pocketing a little extra cash.
Catch the games on the big screens at Table & Tap and place your bets as you enjoy a fun time in an exciting environment, complete with friends, good music, and good food. 5216 Table & Tap is the place to be whether you're into sports betting or seeking an adventure outside your home.
---
Best Gretna Sports Bars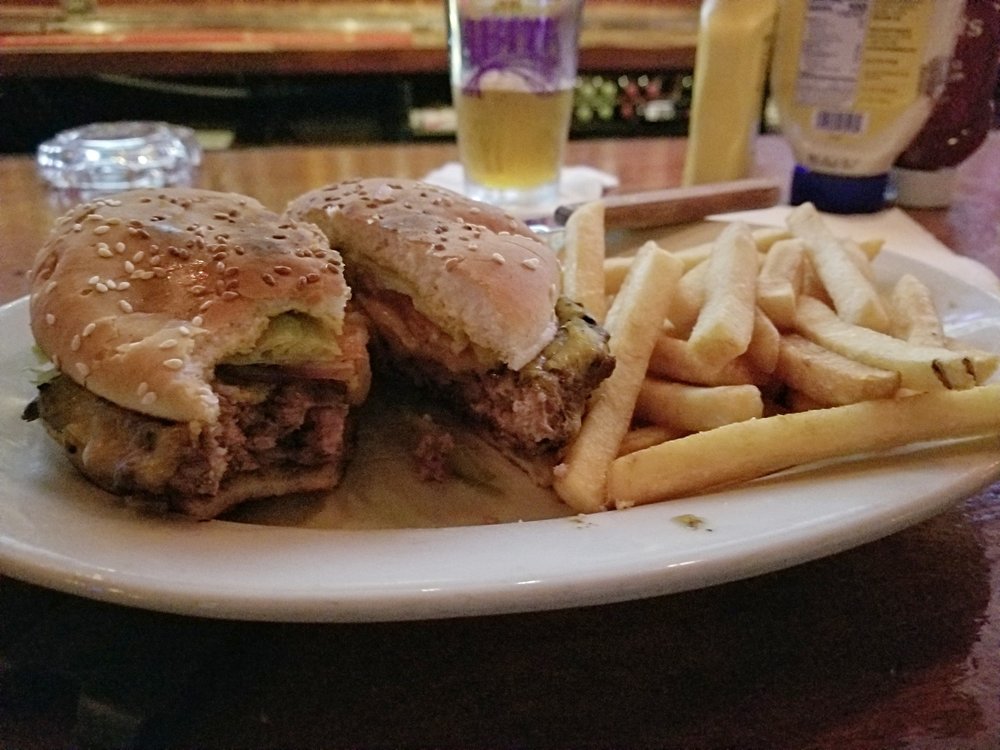 Vinnie's Sports Bar and Grill
Vinnie's Sports Bar and Grill, located in Gretna, Louisiana, is Westbank hot spot. Open every day from 11am - 5am, it caters to the late-night crowd. Not only do they have plenty of TVs to watch your favorite team, but Vinnie's also has 3 pool tables, dart boards, video poker machines, Thursday night trivia and live music on Saturday nights.
It is easy to see why people make their way to Vinnie's for a good time. The menu is extensive. Burgers, sliders, po-boys, wraps, and sandwiches are all offered. I will need to go back to give one of the po-boys or wraps a try. This visit I was interested in appetizers and beer; I picked the right place.
The appetizer menu is impressive, but even more impressive is the beer menu! Over thirty draft beers and more than sixty bottles of beer. That is nearly 100 beers and seltzers to choose from. I can easily say they have something for everyone. Plus, they have a pretty good drink menu.
I decided to give some of their unique appetizers a try. The Italian wings, the flaming shrimp, and the double bogey fries were amazing. The double bogey fries are waffle fries topped with melted mozzarella and cheddar cheeses, bacon, sour cream, and scallions. It comes with jalapeno ranch dressing and boom-boom sauce.
I enjoyed everything I tried. I was, however, caught off guard by some of their policies. They do not split checks, and they add 20% gratuity to parties of 2 or more. Basically, gratuity is added to every check.
---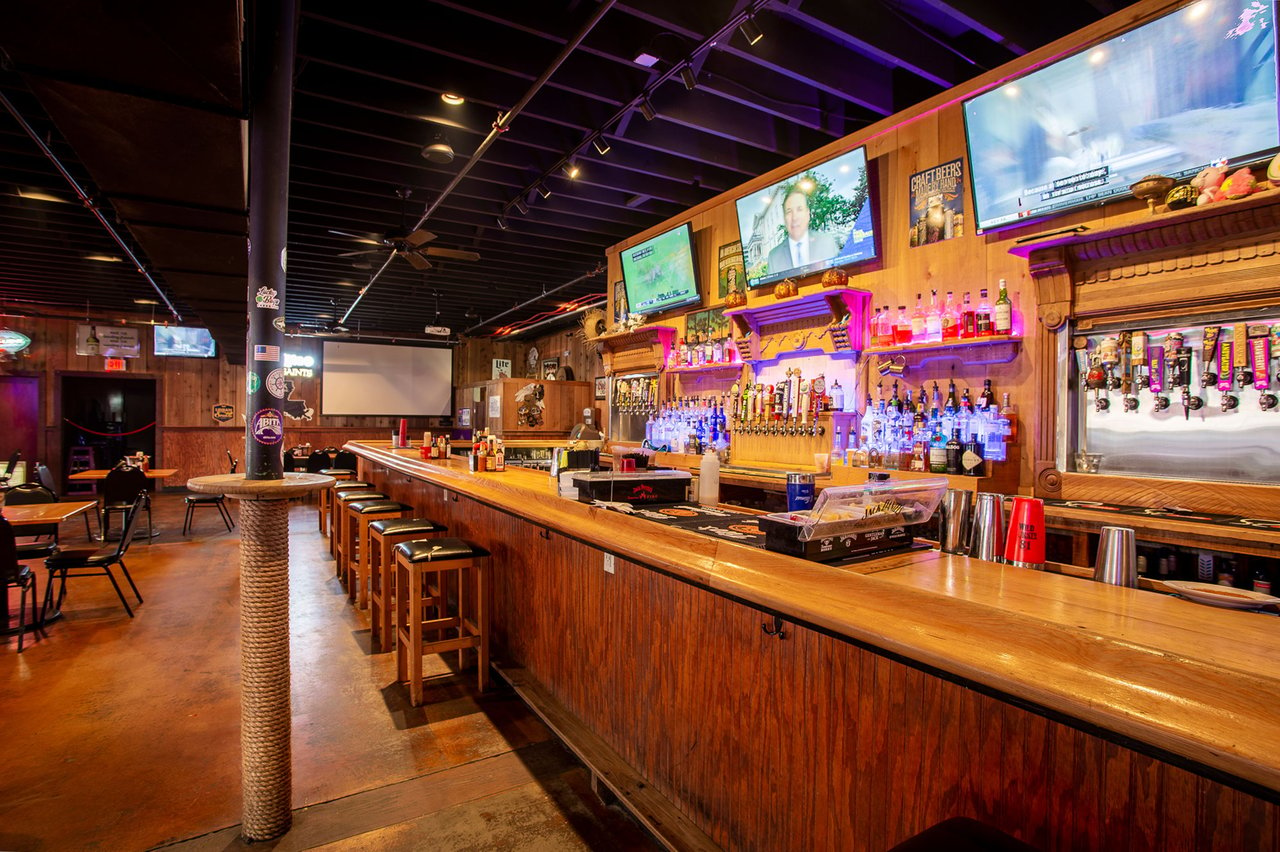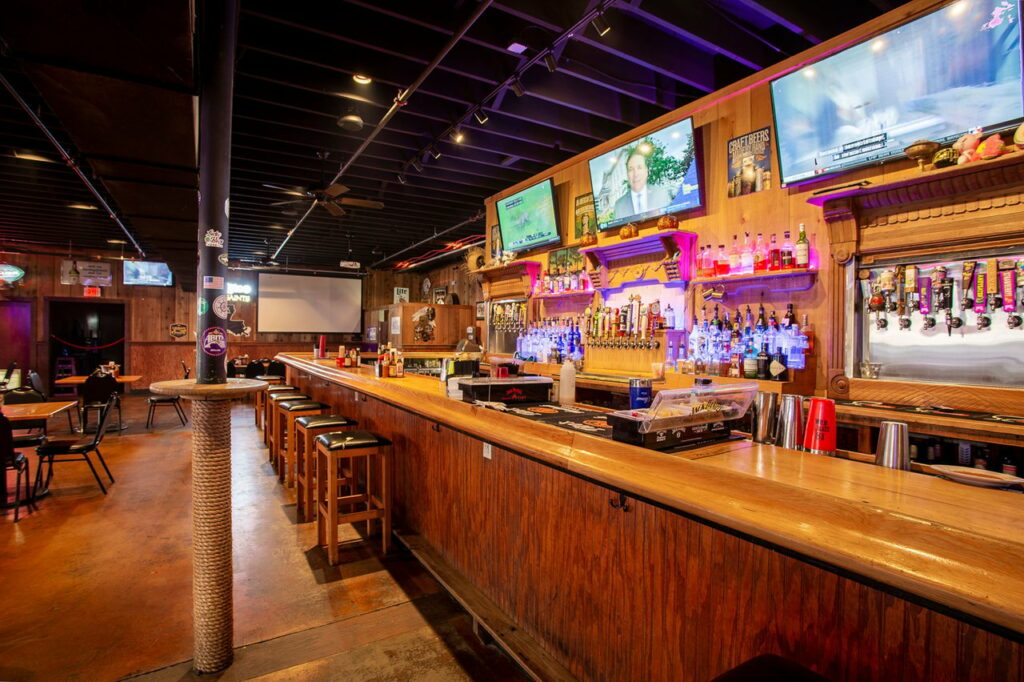 River Shack Gretna
Address: 714 1st St Gretna, LA 70053
Best Dish: Classic Burger
River Shack Gretna offers an unparalleled sports watching and betting experience in Gretna, Louisiana. With its unique and lively atmosphere, it has quickly become one of the premier spots bars in the area.
More Praise for River Shack Gretna
Here are some reasons why sports bettors love River Shack Gretna:
HDTVs: At River Shack Gretna, you'll find an impressive collection of HDTVs surrounding both its bar and dining area. No matter where you sit, you will enjoy unobstructed views of any game being broadcast from every angle, whether you prefer football, basketball, baseball, or other sports! At River Shack Gretna, you won't miss a play.
Happy Hour Specials: Enjoying the game couldn't be easier with River Shack Gretna's tempting happy hour specials. Enjoy delicious food and refreshing beverages at discounted prices while socializing and broadening your sports betting experience simultaneously!
Special Events: River Shack Gretna offers the ideal venue for hosting private parties and events of any size or scope, be it large celebrations or intimate meetings between sports bettors. Offering customizable liquor packages and catering services, guests will leave with unforgettable experiences from their time here.
---
Best Baton Rouge Sports Bars
Big Mike's Sports Bar and Grille
Alright, folks, let me spill the beans about my recent trip to Big Mike's Sports Bar and Grille in Denham Springs. Trust me when I say this place knows how to hit it out of the park with their mouthwatering food, lively atmosphere, and ultimate game-day setup.
The Food
Let's dive right into the grub, shall we? The menu at Big Mike's is a slam dunk, offering everything from classic bar bites to seriously good seafood dishes.
I kid you not, each bite was bursting with flavor, and the portions were generous enough to tackle even the heartiest appetites. The buffalo wings – they were pure heaven! Crispy on the outside, tender on the inside, and the sauces were a wicked blend of spicy and tangy.
Oh, and I can't forget to give a shoutout to the awesome staff. These guys and gals were on their A-games, friendly as ever, and they knew their stuff. No matter how busy it got, they madesure we were taken care of.
The Vibes
Excellent atmosphere. I'm talking about large screens plastered all over the walls, blasting out live sports action from every angle. The place is well laid out, with comfy seating and a great bar area.
As far as decor, sports memorabilia, team gear, you name it – it all adds an authentic touch that makes the place feel unique. And let's not forget the dim lighting that sets the mood just right. Big Mike's nails the cozy and relaxed vibe.
Game-Day Experience
The sheer number of massive TVs strategically positioned all around guarantees you won't miss a single second of the action. Football, basketball, you name it – they've got it, and the energy is awesome.
Fans cheering, high-fives flying – it's sports heaven. And let me tell you, the staff goes the extra mile to ensure you have the best viewing experience possible.
They're super accommodating, making sure you've got a prime spot to catch the game, all while making sure your glass is never empty.