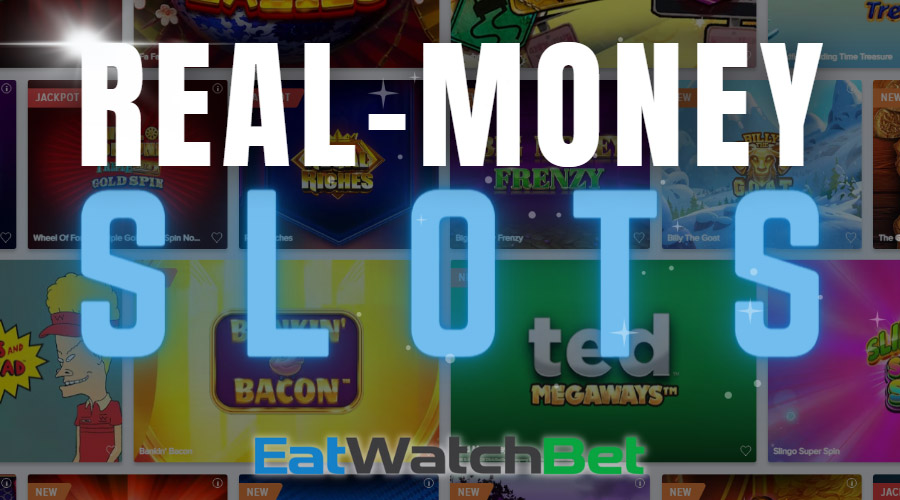 It is no secret that there are a plethora of online casinos available through a litany of sites. But learning more about why players play real money slots online can be helpful if you are thinking of making the move.
Regular players can also stand to learn from what choices make for a great online slot and all the advantages that can come with it. Plus, learning about the different variety of slot types can be helpful in finding a favorite. Also, learn about why different casinos offer Free Spins.
21+ to wager. Please Gamble Responsibly. Gambling problem? Call 1-800-GAMBLER. Call 1-800-NEXT-STEP (AZ), 1-800-522-4700 (KS, NV), 1-800-BETS-OFF (IA), 1-800-9-WITH-IT (IN), 1-877-770-STOP (7867) (LA), Call 1-800-327-5050 (MA), Call 1-800-GAMBLER or visit mdgamblinghelp.org (MD), 1-800-270-7117 for confidential help (MI). Call 877-8-HOPENY or text HOPENY (467369) (NY), 1-888-532-3500 (VA).
Different Slot Types
There are a ton of slot options out there to choose from. That said, there are more than a few that have real money options that pay out in real cash. All you need to do is make a deposit and make your game selection.
Here are some of the most popular online slot options that have real money-earning potential.
Classic
Also known as 3-reel, this is the kind of game that permeated Vegas casinos for decades. Most of the major developers in the United States offer these. The only caveat here is that there are relatively few pay lines and basically no bonus features or bonus rounds. These can also be in the form of a video slot, so don't get confused if you see a video slot with only 3 reels.
5/6-reel
Most of the legal real money online slots in the United States are of the 5-reel variety. They have a plethora of pay lines and usually have a variety of bonus rounds, typically in the form of free spins. There are also a ton of 6-reel games coming to online casinos everywhere. There are hundreds and even thousands of pay lines, free spins, and stacked wilds as bonuses.
Bonuses
The vast majority of online slots offer a minimum of one bonus round. These are particularly enticing to players as they can trigger a prize wheel, free spins, bonus symbols, or even instant cash, depending on the rules. Depending on the game and casino, there can be hundreds or even thousands of potential ways to win. On top of these in-game bonuses, most online casinos have huge welcome bonuses as well.
Branded
These are popular options in that they have art from a particular celebrity, movie, or television show. Some games might actually feature audio or video footage from the source material itself. The bonuses also tend to be huge and the jackpots generous. When you're playing slots for real money, these can be the kind of games that offer up life-changing prizes.
3D
You might already have an idea in your mind of how an online slot machine will look and feel, but these online slot machines are an absolute game-changer. More and more 3D slots are being implemented in online casinos everywhere. From Vegas slots to progressive slots games, real-money gambling is keeping up with technology. They can really take the experience to the next level with great sound, amazing graphics, and more innovative bonus games.
Why Play Real Money Online Slots?
There are those on the fence about whether to partake in online slots. But the good news is that these online casinos are now legal in a ton of US states. There are a few reasons in particular why enjoying online real money slots makes all the sense in the world.
Anywhere, Any Time
The best thing about playing online real money slots is that you can play popular games like Buffalo Gold from the comfort of your home. Not everyone is conveniently located near a brick-and-mortar casino. Instead, you can play online through a laptop, PC, or smart device, playing for real money at any time.
Higher RTPs
There is a number known as return to player which is important when dictating which casino you want to play at. Some of the better land-based slots will have a 95 or 96% RTP. But there are some states where the majority are in the mid-80s. Most legal online real money slots have RTPs up to 99%. If you are a high-volume player, the return is much better over the long haul online.
Bonuses and Deposit Matches
Another great reason to play online is the plethora of bonus spins and deposit matches available from the casino. They entice new players to sign up by giving out a ton of bonuses, making it great for new players to start out with more bankroll.
Choosing the Best Online Real Money Slots
There are a few things to take into consideration when choosing a real money online slot. Return to the player has already been discussed but is definitely one of the most crucial things to consider. Any player will want to ensure that they get as much money back as possible and a higher RTP makes for better odds of that happening.
There is also playability and design to consider. No one is going to want to play boring, dull slots. There are a ton of options online that are flashy and feature exciting graphics. This means that it is a lot easier to get invested in those types of games.
Finally, availability is crucial. Online casino games, including slots, are currently only legal in four U.S. states. This includes Michigan, New Jersey, Pennsylvania, and West Virginia.
Some of the best real money slots are going to be available through legal online casinos within a given state. Whether you have one or several online casino accounts, there is a good chance that there is the right game for you. This is just the tip of the iceberg as to what the best online casinos have to offer.
Play Online Slots at Your Favorite Online Casino
We've put together a list of our favorite online casinos for playing slots. Each of these sites has been heavily vetted to ensure that they provide a safe and secure gaming environment. They also have some great bonuses available that make it easier to jump into real money slot games.
Ready to try your luck at some real money online slots? Check out our list now and get ready for an exciting experience.
DraftKings
More than just a DFS site, DraftKings also offers a top-notch online casino experience. With over 600 different slot games and tons of bonuses, you can jump right into some great slots action.
With the ability to play casino games from your phone, it's never been easier to spin the reels and hit the jackpot. Plus, with new games launching all the time, you'll always have fresh options to choose from.
But what really sets DraftKings apart is its commitment to safety and security. You can trust that your account is in good hands with their trusted platform. And with just one login, you'll have access not only to their online slots but also their Daily Fantasy Sports and Sportsbook products.
While you can play slots online at DraftKings, you can also get into the casino action in person with their brick-and-mortar locations. With DraftKings, you can have your cake and eat it too.
FanDuel
Another powerhouse in the DFS industry that has jumped over to the online casino world is FanDuel. FanDuel offers over 400 different slots, including some of the biggest and most popular titles in the industry.
As with DraftKings, FanDuel puts an emphasis on security and safety by making sure that all of its games are fair and regulated. You can rest assured knowing that your money is safe and your gaming experience is fair.
FanDuel also offers tons of bonuses for both new and existing players. With a great welcome bonus for new players and plenty of promotions for existing ones, you can get the most bang for your buck regarding online slots.
BetMGM
One of the best online casinos for playing online slots is BetMGM. This casino offers a huge selection of slots, from classic 3-reel slots to the latest 5-reel video slots and progressive jackpot slots. Plus, with their rewards program, you can earn points for each wager that can be redeemed for free slot spins and other bonuses. The best part of these rewards is that they can be redeemed at the countless MGM resorts across the U.S., so you can get real-world rewards in addition to the awesome online slots experience.
With BetMGM, you can also enjoy their numerous live dealer casino games. This gives you the ultimate casino experience without ever having to leave your home.
Caesars
One of the biggest names in the casino industry, Caesars is a great place to play online slots. They have a massive selection of games, from classic 3-reel slots to the latest video slots and progressive jackpot games.
In our opinion they have the best online slots out of the group.
Caesars also offers daily bonuses that can give you extra rewards for playing your favorite online slots. These bonuses change regularly, so make sure you check them out often and take advantage of these great promotions.
At Caesars, you can also get in on their sportsbook action. With a wide selection of betting options, you can get the most out of your online gaming experience. Plus, with their loyalty program, you can get even more rewards for playing your favorite slots.
Ready to Play Slots Online?
So if you're looking for a great online casino experience, then be sure to check out DraftKings, FanDuel, BetMGM, and Caesars. All four of these casinos offer top-notch slot games that will give you hours of entertainment and plenty of chances at winning big.
Tips for Playing Online Slots
Many online gamblers think you can jump in and start spinning the reels. That may be true, but you're risking your money if you do that without being properly prepared. Here are some tips to help make sure you get the most out of your online slots experience—
Stick to your Budget
When playing online slots, it's important to set a budget for yourself and stick to it. This will ensure that you don't overspend or get in over your head. The problem with online slot games and online slot machines is that you can start playing and completely get lost in time. Before you know it, you've blown through your bonuses and your deposit.
Understand the Game
Make sure you understand the rules of the slot game before you start playing. This will give you a better chance at winning and help maximize your bankroll. There are so many online casino slots out there that all have different rules.
Take advantage of Bonuses
Many online casinos offer bonuses that can be used to increase your winnings. Look for casinos like the ones we mentioned above that offer rewards and bonuses for playing their slots games. It never hurts to sign up for casino bonuses just to take advantage of welcome bonuses. Sure, there are some terms for these bonus offers, but if they're going to give you a bonus game or two just for a deposit, why not?
Practice with Free Online Slot Games
Before you start risking your own money, try out the game first with a free version. This will help you get familiar with the game rules and how it plays. You'll also be able to see if you like it before you burn through your deposit. And, almost all of the real money slot casinos have free online slots you can play.
Casino Slot Games FAQ
Since we get questions all the time about various real money online casinos and real money slot machines, we put together some of the common questions that people have when it comes to playing online slots.
What is the best casino for playing online slots?
There are many great casinos out there, but our top picks are DraftKings, FanDuel, BetMGM, and Caesars. All four of these slots' bonus online casinos offer a massive selection of slot games, tons of bonus features, excellent gameplay, smooth-running apps, and unparalleled customer service. Other online casinos offer great slot games, but these four have earned their reputation as the best online casinos for playing online slots.
Where can I find free slot machines?
All of the real money online casinos we recommended have both free and real money versions of their online slots. The free version of these games is almost identical, so you can get a good feel for the game without risking your own money.
What is a progressive slot machine?
A progressive slot machine is one that has a jackpot that increases with each spin of the reels. Each time someone plays, a portion of their bet adds to the pot until it's won. Then, it resets to its original amount and the cycle starts over. Progressive slots can pay out huge sums of money, making them a popular choice for those looking to hit it big.
Are online gambling and online slot machines legal?
Yes, most online slot machines are completely legal. However, you may want to check with your local jurisdiction to ensure you're following all the laws. Currently, only four states allow online gambling sites, which include Pennsylvania, New Jersey, West Virginia, and Michigan.
Are online slots safe?
Yes, online slots are safe if you play with reputable casinos. The real money casinos we recommend have been tested for fairness and security to ensure that your personal information remains secure. Plus, all of the sites use encryption technology to protect your data from third parties. So, you can be sure that your money and information are safe when playing online slots.
How do online slots payout?
Most online slots payouts are handled through e-wallets or bank transfers. Some of the bigger real money slots casinos offer other options such as Visa, MasterCard, checking accounts, and PayPal. As soon as your withdrawal is approved, you'll receive the money within a few days. There's also the option of playing with cryptocurrencies, which allows for faster payouts. So, if you want to get your winnings fast, you should look into using Bitcoin or other digital currencies.
Get in the Action with Real Money Casino Games!
Online slots offer a great way to have fun and potentially win big. With so many different online casinos offering real money slot games, it can be hard to know which one is right for you.
Give all four of the online casinos we mentioned a shot. They all have generous bonuses and tons of options for playing real money slots with progressive jackpots. You're going to be hooked the first time you win real money, so take it easy have a blast at these online slot casinos!
21+ to wager. Please Gamble Responsibly. Gambling problem? Call 1-800-GAMBLER. Call 1-800-NEXT-STEP (AZ), 1-800-522-4700 (KS, NV), 1-800-BETS-OFF (IA), 1-800-9-WITH-IT (IN), 1-877-770-STOP (7867) (LA), Call 1-800-327-5050 (MA), Call 1-800-GAMBLER or visit mdgamblinghelp.org (MD), 1-800-270-7117 for confidential help (MI). Call 877-8-HOPENY or text HOPENY (467369) (NY), 1-888-532-3500 (VA).