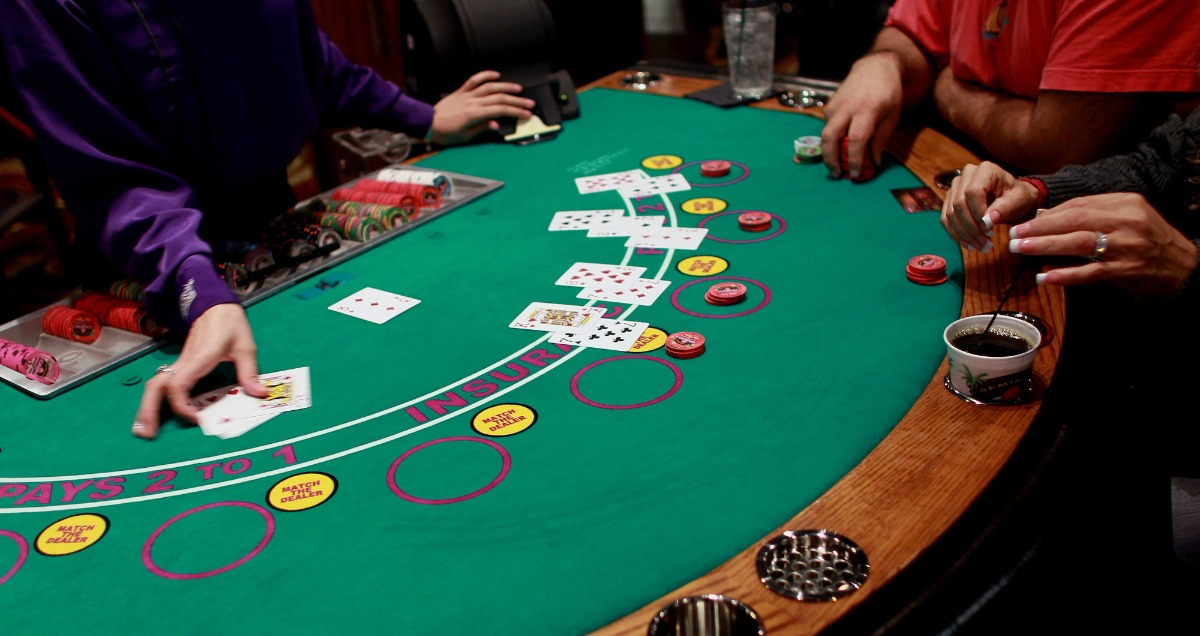 Blackjack is one of the most popular casino table games out there. Players from all over the country play both in-person and online versions of this classic game in casinos, large and small. If you want to know where you can play Blackjack for free, check out our list of casinos with the best no deposit bonus offers!
The blackjack odds and the house edge can be confusing if you are a new player. Even if you are experienced, there may be aspects of the odds and house edge that you may not have been aware of. Here is a guide for those odds from both the dealer's and player's perspectives.
Player's Odds
One of the most basic strategies in blackjack is reducing the house edge. The house edge is the percentage in which the house – or casino – is favored. The house edge can vary from casino to casino, especially with certain dealer rules in place.
There are some more intricate and advanced techniques out there, like card counting (which is frowned upon in real-life casinos), that can potentially improve the overall return to player (RTP) percentage. There are likewise things that the casino can do to reduce the player's odds.
Live and brick-and-mortar casinos do this with extra decks in the shoe, restrictive blackjack rules, and lower payouts. The bust probability drastically increases as the hand value increases, with there being an 85% chance of busting just one deck without at 19 or higher.
Dealer's Odds
The dealer is going to have better odds and be the more likely winner in a game of blackjack. That is due to the advantage of going second as well as making decisions based on the player's position. That said, dealer odds can change depending on what the house rules for the game are.
For example, dealers that must stand on a soft 17 are more likely to lose money than a dealer who has to hit when given a soft 17. The percentage for dealers is not about the chances of busting but of the probability that they will stand on 17. Their odds can vary greatly, decreasing between 7 and 10 but being their highest between 4 and 6.
What are the Odds of Winning at Blackjack?
So, it all comes down to what the odds of winning a hand are. There is no simple number. The odds of winning can be as high as 42.22%. This does not, however, necessarily mean that the house wins 57.78% of the time. This is largely due to the possibility of a push.
As far as the odds of pushing, the average odds are roughly 8.48%, which means that losing is at 49.10% at the least. Odds fluctuate, sometimes considerably. It all depends on the variant of blackjack, the dealer, the rules, and the odds blackjack player's playing style.
Those who don't employ a strategy will generally see their odds fall at a drastic rate. It's why the most successful players have a pre-determined strategy that they take with them to the table.
Having even a basic blackjack strategy can improve the odds of winning. It can also provide a greater sense of clarity as to when hitting and standing are best. There are a plethora of blackjack tips out there that can help beginners or those with no strategy improve their odds of winning.
Winning Tricky Hands with Blackjack Odds
There are some hands in blackjack that are substantially more difficult to win than others. This is partially due to the odds between two cards and the player and dealer being so close. The dealer having an upcard can be quite helpful, but it can create some tough situations.
Let's take a look at some of the tougher situations at the blackjack table and the strategy you should employ:
Hard 16: The hard 16 is a hand that is divisive among blackjack players. Many say you should stand, but the basic strategy states that you should hit if the dealer shows a 7 or 8. That said, consider surrendering if they are showing a 9 or 10. The chance of busting would be quite high, but it is lower than the probability of winning dealer finishing with 17 or higher.
12 vs. Dealer 4: In terms of sheer odds, this is one of the closest hands in blackjack. It is also not a good position for the player to find themselves in. When the upcard for the dealer is a 4, there's almost a 40% chance that they are going to split aces to bust. This means that you are going to lose around 60% of the time if you stand.
Choosing to hit, the odds are a little better, with a 58% chance of losing and a 2% chance of it resulting in a push. The advice of basic strategy would be to stand and hope the dealer hits or busts.
15 vs Dealer 10: Perhaps the least favorable of all blackjack hands. No matter what you do, the dealer's hand has a much higher percentage of winning. Hitting means a 22% chance to win while standing is a 23% chance. It basically does not matter what the decision is, the odds are not in the favor of the player.
Where to Find the Best Online Blackjack Games
You might not be a pro at casino games, let alone playing blackjack, but that doesn't mean you can't put your new-found understanding of blackjack odds to good use.
We've found some of the best online casinos that offer everything from classic blackjack to Atlantic City blackjack and all of the blackjack variants in between. While you might not be winning blackjack hands at first, with a little practice and some bonuses from these online casinos you'll be a pro at this age-old casino game in no time.
DraftKings
Our favorite online casino to play on the blackjack tables, DraftKings, offers a variety of blackjack variants such as American Blackjack, Classic Blackjack, and Zappit Blackjack.
Sure, they're known for their DFS and even their sportsbook, but that doesn't mean you can't try to beat out the blackjack house odds using the basic strategy. Sign up with this online casino powerhouse, play a blackjack game or two, and start winning money today.
BetMGM
BetMGM offers an easy-to-navigate layout that makes playing their numerous versions of blackjack not only easy but enjoyable. They have both classic and modern versions to choose from, such as Multi-Hand Blackjack, Vegas Strip Blackjack, and even Double Deck Blackjack.
One of the best things when you play blackjack online at BetMGM, is that you can earn reward points that can be used at any of the MGM properties. We can't do much about the blackjack house edge, but you'll have an edge when it comes to getting freebies like hotel stays.
Caesars
Another big name when it comes to online casinos and, in particular, when it comes to blackjack, Caesars is a must-play. They offer all the classic games like European Blackjack, American Blackjack, and High Limit Blackjack as well as some of the more unique variants such as 21+3 and Suit 'Em Up.
The best part, apart from Caesars having a great online offering, is that Caesars always has the best promotions. And these promos and bonuses aren't just limited to blackjack. You can use your bonus bucks on slots, roulette, or even their online sportsbook.
Fanatics
Fanatics is an honorable mention here because they haven't exactly opened their doors to online gambling, let alone online blackjack. However, they are really close to opening their online sportsbook, and the rumors are that they're going to follow suit with an online casino - just like the other major players have done.
If this happens, we expect that Fanatics is going to be giving out massive bonuses to kick off their grand opening. So keep checking back to see if there are any updates.

Blackjack Game FAQ
You've got the tools to go out and get some decent blackjack payouts. From having a firm understanding of the odds to some of the best places to play online blackjack, you're set.
However, you probably have a few more questions. We're constantly fielding questions from our readers about blackjack. Everything from blackjack probability to how the house advantage works - we've heard it all. So to help you out, we put together this comprehensive list of questions to get you on your way.
What is the house edge in blackjack?
The house edge in blackjack is right around 1-2%, meaning that if you make correct decisions and play perfectly, you'll lose 1-2% of every bet you make on average. The best way to get low house edge and reduce your losses is to familiarize yourself with basic strategy and use it when playing.
If you're really good, and with some practice, you can learn to count cards to give you an edge in single deck; of course, that's exceedingly difficult when you play multi-deck blackjack.
What are the odds of getting 21 in blackjack?
The best odds ever of getting a natural blackjack (21) are 4.83%, meaning that there is a 4.83% chance you will get a total of 21 on any given deal. However, the exact odds depend on the variant you're playing and the rules associated with it.
What is the best blackjack strategy?
The best blackjack strategy is always to use the basic strategy. The basic strategy takes into account all of the possible combinations of cards and tells you which action is statistically the most beneficial. You can find many basic strategy charts online.
There are also betting strategies and various strategies based on the blackjack variation you're playing half your bet on. However, for most blackjack probabilities, the basic strategy is typically the best option.
How much does blackjack payout?
Blackjack typically pays out 3:2, meaning that if you bet $10 and get a natural 21 (blackjack), you'll win $15. If the dealer also has blackjack, the hand is a push, and your original wager will be returned to you. Some online casinos offer 6:5 payouts for side bets on blackjack, and while this increases your theoretical win rate in the short term, it's not recommended as it increases the house edge significantly.
What is the best blackjack game to play?
The best blackjack game to play depends on what you're looking for. If you want more of a challenge, then look for games with higher limits and more complex rules.
If you're new to the game, then look for games with lower limits and simpler rules. Many online casinos also offer live dealer blackjack, which provides a great balance of strategy and social interaction. Ultimately, the best game for you is whichever one fits your needs and budget the best.
How do I count cards in blackjack?
Card counting is one of the most famous strategies for playing blackjack, and it can be incredibly effective when done right. The basic idea behind card counting is to track which cards have been dealt so that you know what's left in the deck.
This helps you make better decisions on your next move, as you know what kind of cards are still left in the deck. It's important to remember that card counting is not allowed in most casinos and can get you kicked out if caught. Multi-deck games are a bit harder to count with eight decks, so they keep the house advantage intact. However, games with fewer decks are a bit easier to count - that is why casinos increase the number of decks used in a game.
Ready to Start Playing Casino Games?
Hopefully, we helped you get on your way with understanding blackjack. Now that you know the basics of playing, why not try your luck at one of our recommended casinos? With a wide variety of games and generous bonus offers, they make it easy to start playing casino games.
Everything from slots to blackjack and roulette can be found at our top-rated casinos, so there's something for everyone. We can't guarantee that you'll beat the odds, but we think you'll have a great time playing and learning the game.
One final tip, be sure to find the best Blackjack welcome offer available when you sign up. This is your one opportunity to get free cash without having to play a hand!