Find the details for our current Borgata Sports bonus offer in the table below. We update this table daily with the terms for our featured promotion. This table has been updated with the current promotions for sportsbook and casino this March.
| | |
| --- | --- |
| Promo Code | BV100 |
| SportsBook Offer | Bet $20, Get $100 in Free Bets |
| Casino Offer | $20 Free and 100% Deposit Match |
| Terms | New PA and NJ Players Only. Must be 21+ years of age. |
| Last Verified | March 1, 2023 |
Details for Current Borgata Sportsbook Promo Code
Borgata has two offers available to new players this March. The sportsbook offer will provide all new players with $100 in free bets with any $20 wager. Your bet does not have to win in order to receive the $200 bonus. The casino offer includes $20 free on signup and a 100% deposit bonus, up to $1,000 free.
Borgata Sportsbook was launched in May 2019 in New Jersey and has since become one of the more popular betting options in the state. Borgata made a name for itself as a casino in Atlantic City. As the top-grossing casino in Atlantic City, it is no surprise that they took advantage of the legalization of online sports betting in the trailblazing state of New Jersey.
We would love for them to make waves in new online sports betting states such as Ohio and Massachusetts, but they haven't shown any signs of expanding yet.
The sportsbook bears a striking resemblance to BetMGM, which could raise some alarms for players, but is only because Borgata is owned by MGM. The MGM sportsbook brand is licensed to Borgata because of their very close ties. All this means is that the Borgata sportsbook has a fantastic layout and software setup, and any fan of BetMGM will probably be a fan of the sportsbook. They are different, however, and we will go into those details below.
Terms for Current Borgata Bonus Code Offer
Just like any sportsbook in the country, Borgata offers a special welcome package for new users. No code is required although there are a plethora of codes online if you are having difficulties. Code or no code, the offer is the same.
Users that register using our promo code will receive $100 in free bets after betting $20 or more with their new account. So, the steps are simple. Register your new account. Deposit at least $20. Bet at least $20. Done. Borgata will place (2) free bets of $50 each into your account totaling your $100 bonus. There are three terms attached to this offer that new players need to be aware of.
One, the free wagers will expire within seven days of your receipt of them, so be prepared to bet $100 within a week of your $20 wager.
Two, the bonus money is paid in free bets, not cash. You cannot withdraw the $100 until you have wagered them. These are essentially vouchers for a free bet, not cold, hard cash.
Three, the $20 bet must be on a match with -200 odds or greater. Wagers that are at -250, -300, etc. will not count while -200, -100, or +100, will work. This is fairly typical of these first bet bonuses. Sportsbooks don't want to just give away money.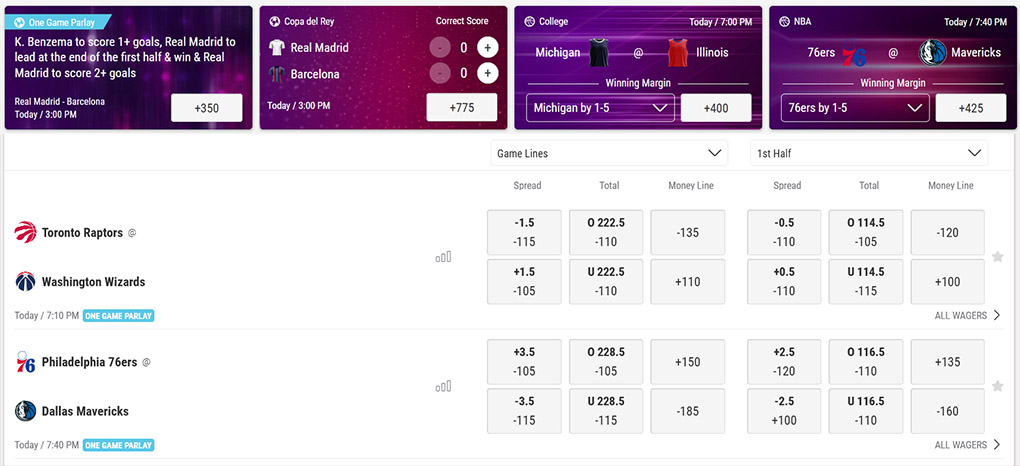 Borgata Sportsbook Promotions for Existing Players
BetMGM is known for its existing player promotions, so naturally, Borgata offers a wide variety of these as well.
These promotions are constantly changing to keep the site interesting, fresh, and attractive for new customers. Promotions make people bet more, so promotions are always flowing through the sportsbook. Despite the rotation, there are a few that always seem to be available.
Multi Sport Parlay Boost
One very popular offer is Borgata's Parlay Boost. Users that take advantage of Borgata Parlay Boost will receive up to 40% more profit on parlays of 4 to 7 legs.
Early Cash Out
Borgata offers early cash out which can take a lot of the stress out of betting, making the whole experience all the more interesting and enjoyable. Early cash out is exactly what it sounds like. Bettors can pull out of bets before their bet concludes. This can be used on the offensive to lock in winnings before the game ends and ensure profit, or on the defensive to minimize losses if the bet looks like it won't end well.
This can be very advantageous. Let's say you bet on a severe underdog to win a football game and they go up a field goal. They probably will not win the game, but if you cash out while they have the lead, you will gain a portion of the full profit and stay in the green. If you bet on an underdog and the bet starts to look dire, you can cash out and get something back from the bet rather than losing it entirely.
Edit My Bet
Edit my bet is another feature that goes hand in hand with the early cash-out. This feature allows users to adjust certain pregame, live, and parlay wagers while the event is still ongoing. They can remove wagers on their parlay, add wagers, or make swaps to adjust their bet. When this happens, Borgata uses the early cash-out feature to virtually null the original wager and create a new, edited bet.
Borgata SportsBook Features
Given how well-built the BetMGM sportsbook app is, it should come as no surprise that Borgata SportsBook is loaded with player-friendly features. Borgata does allow single-game parlays, a commonly prohibited bet by sportsbooks. Make a parlay with the moneyline, over/under, and spread if you so choose. Borgata will let you.
When it comes to market depth and type, Borgata is very competitive. Just about anything users could want to bet on, Borgata offers. Borgata is well above average when it comes to marketing depth and they offer just about all types of betting, including prop bets like alternate run lines, if the game goes into overtime, or which team will score first.
Borgata SportsBook Deposit and Withdraw Policies
Borgata sportsbook is also very competitive when it comes to cashiering methods. They offer a wide variety of options to deposit or withdraw funds. Users can deposit with AMEX, Borgata PlayPlus, online banking, PayNearMe, credit/debit cards, PayPal, and Skrill.
Withdrawal options are slightly fewer. Borgata PlayPlus, Skrill, and PayPal are the only options for withdrawal. The cage can be used for either deposits or withdrawals if you are on location at a Borgata sportsbook.
Overall, Borgata does a great job processing deposits and withdrawals, and this is thanks to parent company BetMGM. While sportsbooks and casino apps available in only 1-2 states (like Desert Diamond Sports) struggle with payment processing, Borgata has access to a variety of payment processors thanks to the fact that BetMGM is available in every betting state.
One of the most important things new players need to do prior to placing a bet with a sportsbook is to become familiar with the terms and conditions that apply to the product and bonus offers. We address the majority of the concerns new Borgata players typically have in the FAQ section below.