How to Get Started with Outlast DFS
Outlast DFS has made a huge splash in the fantasy sports industry! Thanks to an easy signup process, you can start to enter DFS contests in only a matter of minutes. Here's a step-by-step guide on how to sign up for an Outlast DFS account.
1. Download the Outlast DFS Mobile App for iOS or Android
Although Outlast DFS has a website, you must download the Outlast app to complete the registration process. Not to worry, though, because the Outlast app is easy to use and is well laid out. The entire process of setting up your Outlast account shouldn't take longer than a couple of minutes!
2. Use the Promo Code BV200
Outlast DFS recently increased their deposit match from $100 to $200! That puts them quite a bit ahead of other daily fantasy sports competitors like Monkey Knife Fight, SuperDraft, Underdog, and PrizePicks. This is one of the best bonus codes in the business and it just goes to show how serious Outlast DFS is about acquiring new players.
3. Make a Deposit of $20 or More
The current bonus code requires you to make a minimum deposit of at least $20. Outlast DFS accepts credit cards, ACH, or Skrill. This low minimum deposit requirement means that you can try out the Outlast DFS app without a huge financial commitment, which is nice.
4. Outlast Matches Your Deposit for up to $200
Shortly after making your first deposit, Outlast DFS will match it dollar for dollar up to $200 in extra points. This is one of the most lucrative promos in the DFS industry and a fantastic way to double your DFS bankroll with your initial deposit. It's kind of like winning a huge bet right out of the gate and seeing your current balance increase, which is a phenomenal feeling.
Where is Outlast DFS Available?
Outlast is currently available in 22 states: AR, CA, FL, GA, IL, KS, KY, MN, NE, NM, NC, ND, OK, OR, RI, SD, TX, UT, VT, WV, WI, and WY.
In most of the above states, anyone wanting to participate in DFS must be at least 18 years of age. In some states the age requirement is either 19 or 21 years old. Review the full terms and conditions on the Outlast website.
Outlast DFS Product Overview
Outlast DFS is one of the newest apps to enter the ever-growing daily fantasy sports industry. They may be new, but they have certainly hit the ground running with a well-executed app that is available for both iOS and Android users. New players can't get over how fast the app is on a daily basis.
There are three types of contests available on Outlast, including one that should be familiar to daily fantasy sports players and sports bettors and two that are totally unique to their app. No matter what type of DFS game you choose to play, you'll be delighted with the low entry fees.
Over/Under Player Prop Contests
Outlast DFS offers a unique approach to the over/under format that has caught fire with brands like Underdog and PrizePicks over the past two years. The contests work the same in that you choose over or under for two or more players, but the stakes are quite a bit higher.
Where traditional DFS apps cap winnings anywhere from 9x-20x, Outlast pays out 80x if you hit on seven players. This is outstanding! After all, there's nothing that gamblers like more than free money and higher payouts!
Outlast does a great job of ensuring the best players from every team are available for each slate, which is an area their competition struggles. With a wide variety of players to choose from across every major sport, a ton of stats to pick over/under for, and a format that allows you to choose how many players you pick, the possibilities are endless with every entry you build.
Survivor Pools
Outlast is the only DFS app on the market that offers survivor pools. These contests are a combination of the over/under contests mentioned above and a traditional office-style survivor pool.
Select over/under for two players each day. If you answer correctly, you advance to the next day. Answer incorrectly and you will be eliminated. These contests are available in a winner-takes-all payout structure, 50/50 payout structure, or a tiered payout structure similar to what you would find in a GPP contest at FanDuel or DraftKings.
Outlast Purse
The latest addition to the Outlast DFS app is purse contests. These are golf contests that will be available for PGA Tour events. Now is a great time to compete in one of these contests, especially since the FedEx Cup Playoffs just started.
Select any ten golfers from a tournament's field and earn points equal to the size of the purse that each golfer earns in the tournament. That makes watching the final round of a golf tournament on Sunday even more exciting! How cool is that?
At the end of the tournament, the owner with the highest total purse takes the top prize. Golf is one of the fastest-growing fantasy sports and offers a great way to fill those summer months during the NFL and CFB offseason. Some folks have found out that it's easier to win money on golf than on any other sport!
Current Outlast DFS Promo Code Offer
Outlast DFS is currently offering every new player a 100% deposit bonus that caps at $200. This offer is 2x what is available at Underdog and PrizePicks and is 4x larger than the current Vivid Picks bonus.
This offer is available to every new player and there is nothing you have to do to lock in your 100% bonus other than register and make a deposit. Your bonus funds will be automatically added to your account once you finish registering. Find the complete details for this offer below.
| | |
| --- | --- |
| Promo Code: | BV200 |
| Bonus Offer: | 100% Deposit Bonus, Up to $200 |
| Offer Terms: | Bonus funds are added to your account as Outlast Extra PTS as you play. |
| Last Verified: | February 2, 2023 |
In addition to the deposit bonus offer, Outlast offers every player the opportunity to earn $25 in site credit for every friend they refer. These funds are paid out as an Outlast voucher that must be used in the app. This is another great way to build your bankroll without having to open your wallet.
Tips for Winning at Outlast Over/Under or Survivor Pool This Week
Now that we've made it to February, each weekend is packed to the max with NFL and college football. This means plenty of opportunities to win big on Outlast.
There are 16 games on the NFL Schedule for week 4. To help you make your Over/Under picks for this week, check out our NFL Player Prop Bets articles, which will give you a leg up on the competition. These picks could help you win big at either Over/Under or the Survivor Pool.
Also, don't forget about the PGA Tour, which is back in action this week at The Sanderson Farms Championship. Take a look at our golf betting articles before making your picks for Outlast Purse, the most exciting golf tournament pool out there!
Outlast DFS FAQs
If you've never played with Outlast DFS before, you may have questions about how they operate, especially since it's a fairly new DFS app. We created this FAQ section to give you the answers you are looking for in an efficient manner. We'll also add more FAQs as we get them in the future.
How old do I have to be to play on Outlast?
Outlast has the same age restrictions that other DFS apps have. The nice thing about DFS is that, in most states, players only have to be 18 years of age. The only exception is Nebraska, where players must be 19 years old. This is in stark contrast to sports betting, where players have to be at least 21 years old.
Is Outlast DFS legal?
Yes, Outlast DFS is legal and licensed to operate in 23 states. Folks in FL, GA, IL, WV, NC, UT, TX, ND, SD, MN, RI, WY, NE, OR, OK, KY, NM, and WI can enjoy all Outlast DFS has to offer. As more and more states get more comfortable with sports betting and daily fantasy sports in general, look for Outlast DFS to go live in more states in the near future.
How does the Outlast DFS promo code bonus stack up against its competitors?
The current Outlast DFS promo code, which gives new players a deposit match of up to $200, is one of the best in the industry. Most DFS apps are only offering a $100 match! Savvy DFS players would be wise to jump on this incredible offer while it is still live.
This just shows that Outlast DFS is serious about giving their new players the best possible welcome bonus promo. Sign up today to jump on this lucrative promo before the 2023 NFL Playoffs end!
How good is the Outlast DFS app?
Outlast has an incredible app for both iOS and Android devices. On the App Store, Outlast has a 4.7 rating. While this is an outstanding score, we feel it should be and will be higher in the future.
As you might expect, Outlast DFS also offers an app on the Google Play Store as well. Android users are already raving about how much they love the Outlast app, and it hasn't even been out that long! If you're sick of standard DFS salary caps, give Outlast DFS a shot today!
What type of banking methods does Outlast DFS accept?
Outlast DFS accepts deposits in the form of ACH, credit card, or Skrill. Withdrawal requests can be processed with either ACH or Skrill. For tax purposes, Outlast DFS requires you to send in a W9 form before they can process your withdrawal request. Also, if your withdrawal request is over $10,000, you'll need to call Customer Support directly for assistance.
Is the Outlast DFS match bonus the best out there?
Yes, as of February 2023, the 100% match bonus that Outlast DFS gives their new users is the highest in the daily fantasy sports industry. Most competitors like Monkey Knife Fight and PrizePicks only offer a match bonus that caps at $100. Outlast DFS caps their bonus at $200, which is a huge boost to a new player's bankroll right off the bat.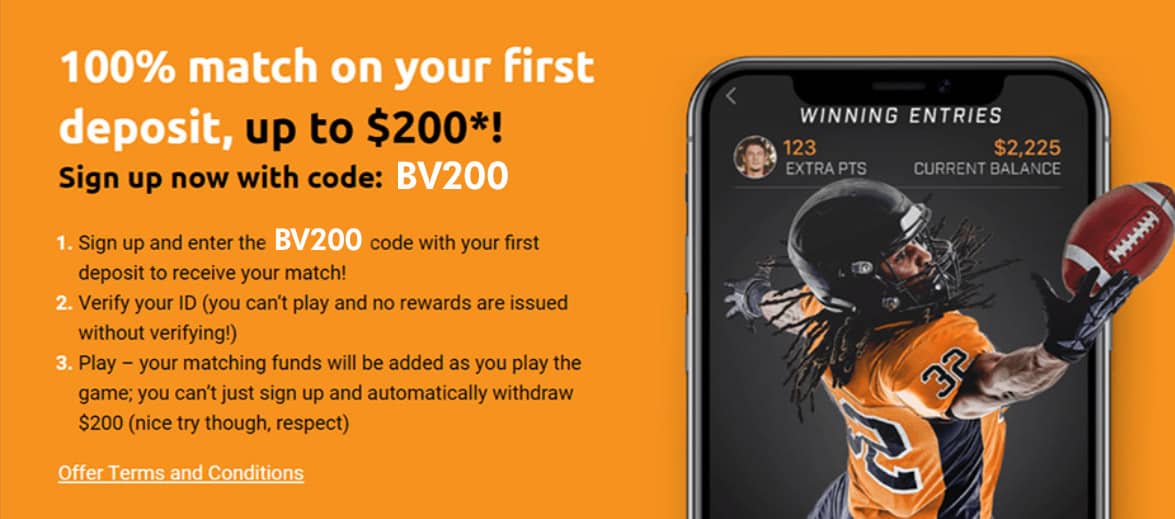 What are the Pros and Cons of the Outlast Fantasy Bonus Offer?
Outlast made a huge splash in the DFS industry a few years ago by offering insanely high payouts for their pick'em contests. Though that's an impressive feature, how do we rate their bonus offer? Here is a list of the pros and cons of the Outlast Fantasy bonus offer.
Pros for the Current Outlast Fantasy Bonus
Outstanding deposit bonus of $200
Fantastic Refer-A-Friend Program
Provides different DFS games that no other app offers
Highest pick'em payouts in the industry
Cons for the Current Outlast Fantasy Bonus
App only has a 4.1 rating on Apple Store
Traditional DFS players may not like the simplicity of the 3 games.
Only available in 22 states
Outlast DFS Review
It is rare to find a new DFS app that brings something innovative to this market, and that is exactly what Outlast has done. With the largest pick'em contests in the industry and two additional formats that you can't find anywhere else, Outlast looks like a company ready to push boundaries in the DFS industry.
The current Outlast DFS promo is also solid. It's currently one of the most lucrative welcome bonus offers in the entire DFS industry. As of February 2023, it's the only offer that gives new customers a match up to $200.
The total signup process is an absolute breeze, and it only takes up a few minutes of your time. Simply fill out the info, make your deposit, and get your welcome bonus. Then scroll through the app or website to find the game that you want to have action on. It really is that easy!
While we were impressed by our initial test run on the app, we wanted to read reviews from other current users which only verified our thoughts. The app currently has a 4.7 rating on the App Store. Players site the variety available as compared to other operators as to why they chose Outlast over other pick'em options.
Our overall grade for Outlast comes in at a respectable 4.7 (out of 5). There is a little room for improvement with the UX in the app, but the pros far outweigh the cons here. The app is lightning fast, and it never seems to get those annoying lags that some in the industry suffer from.
Take advantage of the current $200 bonus promo and give this app a test run; we think you'll come away impressed.
| Review | Outlast DFS |
| --- | --- |
| Details | The founders of Outlast set out to build something different from any other DFS product, and we think they succeeded. Not only did they push the boundaries of pick'em contests by adding payouts of up to 80x, but they added two innovative games that you won't find anywhere else. The app is easy to use, registration is a breeze, and the 100% deposit bonus is just the cherry on the top. |
| Author | Chris Lollis |
| Rating | 4.6 (out of 5) |