SuperDraft recently released a new promo code offer available exclusively to our readers this January. Register using the offer found in the table below to receive their best available bonus as we head into the 2022 NFL Postseason. The details for this offer are updated daily in the table.
| | |
| --- | --- |
| Promo Code | EWB |
| Offer Details | 100% Deposit Bonus |
| Offer Dates | Offer valid January 1st through January 31st |
| Terms | New players only, $10 minimum deposit. |
How to Use our SuperDraft Promo Code
Daily fantasy sports is all the rage today and it's only growing more popular every single year as more states legalize and regulate it. Of all the daily fantasy sports operators in existence today, none are doing what SuperDraft is doing and it allows for a unique fantasy sports experience.
SuperDraft is a rather new operator in the daily fantasy sports industry, officially launching in the spring of 2019. More than two years later, they've positioned themselves as one of the up-and-coming operators in the space and it's clear that users enjoy their time on the app.
Better yet, they treat newcomers extremely well by offering a $50 bonus prior to signing up for a new account. There's no catch and no fine-print to the welcome bonus, outside of the fact that you must make a $10 deposit before receiving it. Once you do that, the bonus is 100% yours!
Signing up for an account and taking advantage of the promo code is extremely quick and easy. In fact, it only requires three steps, whether you're signing up on a desktop computer, laptop, Android device, or iOS device. Here is a quick breakdown of how to complete the process:
Visit SuperDraft.io and click the 'Register' or 'Start Winning' button.
Fill out the registration form, which requires a username, password, email, and phone number.
Click the 'Have a Promo Code?' link and paste the 'EWB' promo code into the indicated box.
Once you complete those three steps, you'll officially have a SuperDraft account. In order to see the $50 deposit bonus in your account, all you'll need to do is make your first deposit of at least $10. At that point, you can enter your first contest and put your DFS skills to the test!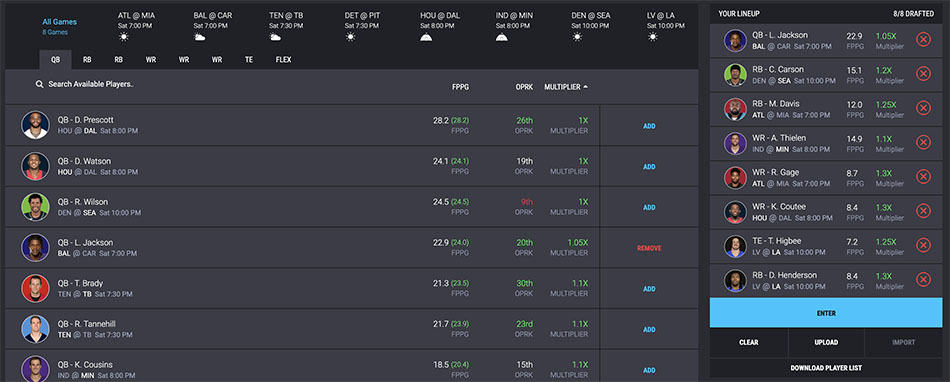 How Does SuperDraft Work?
As we mentioned above, SuperDraft is unique when compared to its competitors. They do things a little bit differently, which requires users to put a little more thought into their daily picks. The good news is there are several ways to play and you can choose the one that you like best.
To get started, all you need to do is enter the contest that piques your interest -- whether it's NBA, MLB, NHL, NFL, or Golf. Once entered, you'll be asked to draft your lineup of players. Once drafted, you just sit back and watch your players perform well in hopes of winning cash.
There are three distinct game modes you get to choose from, which is where things get interesting:
Multiplier - each player is assigned a multiplier that's pre-determine by SuperDraft. For example, a player might have a 2.0 multiplier, meaning they earn double fantasy points.
Champion Mode - you add five players to your draft group, each of which have a multiplier. One of those five players is designated as your Champion and earns an additional 50% of their multiplied value.
Salary Cap - you're given a salary cap of $80,000 and must remain under the salary cap when selecting your draft group. Players are given a designated salary predetermined by SuperDraft.
The multiplier is something that makes SuperDraft unique to its competitors. It essentially means a player can score more points than another player, despite having worse stats.
Let's say you're deciding between two players -- Josh Allen with a 1.5 multiplier and Tom Brady with a 1.0 multiplier. If Allen finishes with 20 fantasy points and Brady finishes with 25 fantasy points, the multiplier would change Allen's score to 30 fantasy points and keep Brady at 25.
In addition to the different game modes, SuperDraft offers a variety of different contest types:
Tournaments - these contests have more than 100 entries and often have high payout structures. If you're feeling confident, this is the contest type for you.
Head-to-Head - this is where you square up head-to-head with one other user in a winner- take-all contest. You have a 50/50 shot at winning.
Boosters - whether you're playing a double-up, triple-up, or any other booster, you can easily multiply your entry fee if you win.
Satellites - instead of winning straight cash, this contest pays out in contest tickets. You'll earn a chance to compete in an exclusive, large tournament for large winnings.
Beginners Only - these contests are designed for beginners and newcomers, helping you avoid being matched up against advanced users.
Freerolls - if you're looking to practice your drafting skills on the SuperDraft platform, freerolls won't cost you anything to enter, but you won't win anything either.
Be sure to check out SuperDraft's Guide to Playing for some tips on how each of their contests works. With a constantly evolving suite of formats, new players will want to take a little extra time understanding how this app differs from traditional salary cap-based DFS products.

SuperDraft Social Features and Caesars Rewards
If that's not enough to entice you to the SuperDraft platform, they also offer a unique rewards system and experience badges. More about that below:
Sport Rank Rewards - broken down into each sport category, you can earn rewards points and eventually rank up as you compete in football, baseball, hockey, basketball, and golf contests. If you're confident in yourself, earn more points for playing against higher-ranked users.
Experience Badges - you can earn an 'Experienced' badge by playing in 500 contests or winning $2,500 across six or more contests. You can earn a 'Highly Experienced' badge by competing in 1,000 contests or winning $10,000 across four or more contests.
Caesars Rewards - When Caesars Sports acquired SuperDraft, they announced SuperDraft players would have access to Caesars Rewards. For the past few decades, Caesars Rewards has been the gold standard in gaming rewards programs.
SuperDraft is dedicated to providing a fair, well-rounded atmosphere that is completely different than what daily fantasy sports in the US are accustomed to. With so much variety and unique features, SuperDraft is easily one of the most innovative and exciting daily fantasy sports operators in existence today.
If you're interested in creating an account with SuperDraft, it's available in Canada and 37 states in the US, excluding AL, AZ, CT, DE, HI, ID, IN, IA, LA, MI, MT, NV, NJ, PA, TN, and WA. They're always looking to expand to new locations, so keep your eyes peeled if your state is on the excluded list. The current list of available states slightly trails Underdog Fantasy but gives them a larger market than top competitor PrizePicks.
In the event you're eligible to sign up, don't forget to take advantage of our EWB promo code to earn a free $50 deposit bonus --and as always, good luck drafting!
Rating for Current SuperDraft Promo Code Offer
SuperDraft maintains extremely high ratings on both the App Store and Play Store and it's easy to see why. There is very little to complain about when it comes to SuperDraft's DFS product. The app and website function perfectly, customer support is fantastic, they are constantly releasing new games, and their new player bonus offers are on par with the best in the DFS industry.
For us, the icing on the cake and what makes SuperDraft an elite choice for fantasy players is access to Caesars Rewards. No other DFS platform gives its players access to a rewards program like Caesars, and for players that live in states with legal sports betting, this means you earn rewards while playing fantasy and betting on games.
| Review | Current SuperDraft Promo Code Offer |
| --- | --- |
| Details | Our current rating for SuperDraft comes in at 4.8 (out of 5), which makes them one of the best DFS options on the market. In fact, SuperDraft is our top-rated salary cap fantasy app this January. The current bonus offer, which includes a $100 deposit bonus and free entry, is also currently the highest-rated DFS promotion. SuperDraft is a must-try for any fantasy player and especially for those that have grown tired of traditional salary cap contests. |
| Author | Chris Lollis |
| Rating | 4.8 (out of 5) |