Details for Current SugarHouse Deposit Bonus Offer
The key to finding a great bonus offer with any sportsbook is paying attention to the details, which is exactly where SugarHouse excels. Along with sister company BetRivers, SugarHouse offers the only 1x rollover deposit bonus in the U.S. casino industry! This offer, and the 1x rollover, extends to the sportsbook product as well with the current $250 deposit bonus.
| | |
| --- | --- |
| SportsBook Offer | 100% Deposit Bonus, Up to $250 |
| Casino Offer | 100% Deposit Bonus, Up to $250 |
| Details | 1x Rollover Required |
| Offer Dates | Both offers valid July 1st through July 31st |
| Terms | New players only, minimum $25 deposit. |
| SportsBook States | NJ, PA, and CT |
How to Bet with SugarHouse Sportsbook
Sugarhouse, like their sister brand BetRivers, spared no expense when it came to designing a state-of-the-art website and app. Thanks to their due diligence, the registration process at SugarHouse is simple and easy. Follow these 4 steps and you'll be betting in no time.
1. Visit the SugarHouse Website or Download the App
The SugarHouse website and app both have very similar layouts, which makes it easy on their customers to navigate them. Any iOS or Android user can download the SugarHouse app.
2. Sign Up and Use the Promo Code 250MATCH
SugarHouse offers a 100% deposit bonus of up to $250 for all new players. After entering all of the required personal information, be sure to enter the promo code 250MATCH to lock in this offer.
3. Make an Initial Deposit of at Least $10
The terms of the bonus code offer requires you to make a deposit of at least $10 in order to receive your 100% deposit bonus. Deposits can be made using a credit or debit card, checking account, or PayPal.
4. Deposit $250 to Receive the Full Bonus Amount
It is important to remember that your SugarHouse deposit bonus will match your first deposit, but can not exceed $250. To receive the full $250 bonus, you will need to make an initial deposit of at least $250.

Where Can You Use SugarHouse?
SugarHouse Sportsbook is currently available in Connecticut, New Jersey, and Pennsylvania. If you aren't located in any of those states, don't worry. SugarHouse's sister brand, BetRivers, is offered in 10 states as well as Ontario. Since they are both run by Rush Street Interactive, the promo code and overall betting experience are exactly the same.
BetRivers is now live in New York, West Virginia, Virginia, Michigan, Indiana, Illinois, Iowa, Colorado, Pennsylvania, Louisiana, and Arizona. SugarHouse Casino is only available in New Jersey and Pennsylvania.
Best SugarHouse Sportsbook Bonus Offer for Connecticut
Connecticut went live with online sports betting on October 19, 2021. SugarHouse Sportsbook was one of the first in the state and is partnered with the Connecticut Lottery.
With the current promo code offer in Connecticut, sports bettors can receive a 100% Deposit Bonus that caps at $250! The nice thing is that SugarHouse only requires a play-through of 1x, which is the best in the industry.
Best SugarHouse Sportsbook Bonus Offer for New Jersey
New Jersey was the main reason why PASPA was struck down in 2018, which paved the way for states other than Nevada to legalize sports betting. The Garden State was the first state to go live.
The current promo code offer from SugarHouse gives new players up to $250 in bonus funds after they make their first deposit. Simply use the code PLAY250.
Best SugarHouse Sportsbook Bonus Offer for Pennsylvania
Pennsylvania is the only state that has access to both Rush Street Interactive Brands: SugarHouse and BetRivers! By entering the promo code PLAY250, sports bettors in the Keystone State can enjoy a 100% Deposit Bonus of up to $250. This is a great way for folks in PA to add to their bankrolls.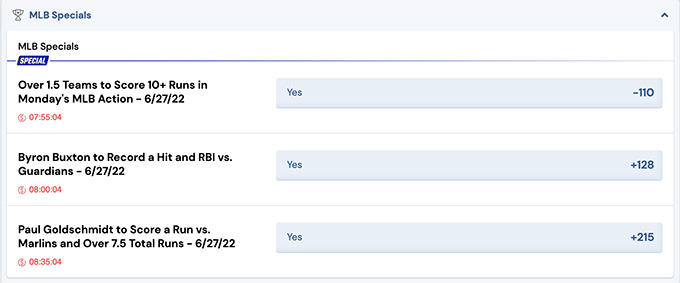 Much like its sister site BetRivers, SugarHouse provides an ample amount of odds boosts for their customers on a daily basis! Here are our favorite SugarHouse odds boost offers for today:
MLB: Rays to Win vs. Red Sox and Over 9.5 Total Runs : +280
No Runs Scored in First Inning of Twins vs. White Sox : +108
How to Use Our SugarHouse Promo Code Offer
New players that take advantage of our current SugarHouse sportsbook offer will receive up to $250 when they register anytime this July. The exact amount you receive is equal to your initial deposit, capping at $250.
As we mentioned in the intro, the most impressive feature of this new SugarHouse promo code offer is the rollover rate. With the majority of US sportsbooks, a bonus is not truly a cash payout. Typically, bonus funds need to be rolled over anywhere from 5 to 25 times before they can be withdrawn.
With this SugarHouse bonus offer, your funds only need to roll over once before you can keep anything you win using them. Here are a few tips to maximize this new player offer:
First, be sure you receive the offer. Following the link at the top of this page will take you directly to the offer's landing page on the SugarHouse sportsbook website.
Try to get to that $250 deposit cap. Only new players are eligible for a SugarHouse deposit bonus offer. This is your only chance to get free cash on the house, so take advantage of it.
Be cautious with your initial wagers. We all love five-team parlays, but don't waste your bonus funds on one. We recommend making at least 5 different moneyline bets to start off with. This will allow you to reach your rollover requirements and instantly double your bankroll (or more assuming a few of your bets win).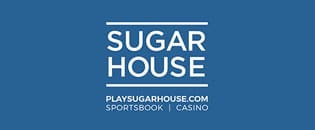 $250 in Casino Funds
With Only a 1x Rollover!
Details for Our SugarHouse Casino Bonus Code Offer
While the $250 cap on our SugarHouse Casino promo code offer is currently one of the lowest in the industry, they are the only online casino offering 1x rollover promotion at the moment. While this was impressive for the sportsbook, it is astonishing to find a 1x rollover offer at an online casino. We have seen some US casinos require as high as 300x rollover on their new player bonus offers!
Using this promo code is fairly straightforward. Simply follow the casino link found at the top of the page. Register on the site or app, make an initial deposit of at least $10, and your bonus funds are ready to be used.
The SugarHouse casino offers a wide variety of games ranging from the typical slot and table games, to live dealer games and even live roulette. While the app doesn't have the best UI/UX, it is well laid out, easy to use, and loads quickly.

SugarHouse Promo Code FAQ's
Clearly, SugarHouse broke the mold with this 1x rollover deposit bonus offer. That being said, potential new players still have plenty of questions regarding the terms of this offer and the overall quality of the SugarHouse sportsbook. We have addressed all of these questions in our FAQ section below.
Is my money safe with Sugarhouse?
Yes, the SugarHouse team goes to great lengths to make sure that your money and personal info are safe at all times. SugarHouse is the sister company of BetRivers, and both are licensed and regulated to operate in the US.
Why should I choose SugarHouse as my sportsbook?
There are 2 main reasons why sports bettors choose to open an account with SugarHouse. The first reason is SugarHouse's incredible bonus terms, which are the most player-friendly in the sportsbook industry. Secondly, SugarHouse offers wagering options at lower juice than other sportsbooks. Just paying a few percentage points less in juice can be the difference between a losing season and a winning one.
Does SugarHouse have a rewards program?
Yes, SugarHouse has an excellent rewards program called iRush Rewards. Each time you place a bet, you earn two types of rewards points: Loyalty Level Points and Bonus Store Points. Each tier offers access to different types of rewards. These rewards range from Bonus Bingo Invitations to VIP Thank You Dinners.
Does SugarHouse offer promotions for existing players?
Yes, SugarHouse runs reduced juice and odds boost promotions for existing players almost every day. In fact, they are currently running a 20% payout-boost throughout the NBA Playoffs. If you are looking for a sportsbook that constantly gives back to its players, SugarHouse, BetRivers, and PointsBet are really in a class all to themselves.
Does SugarHouse have a mobile app?
Yes you can find the SugarHouse app on both the Play Store and App Store right now. The app went through a recent update and allows sportsbook users to not only browse lines with ease, but the new live-betting engine now runs as well as any in the industry!
SugarHouse is owned by Rush Street Gaming, which has been a publicly-traded company since December of 2020. SugarHouse follows all US rules and regulations for sports betting so you can rest assured that your money is safe.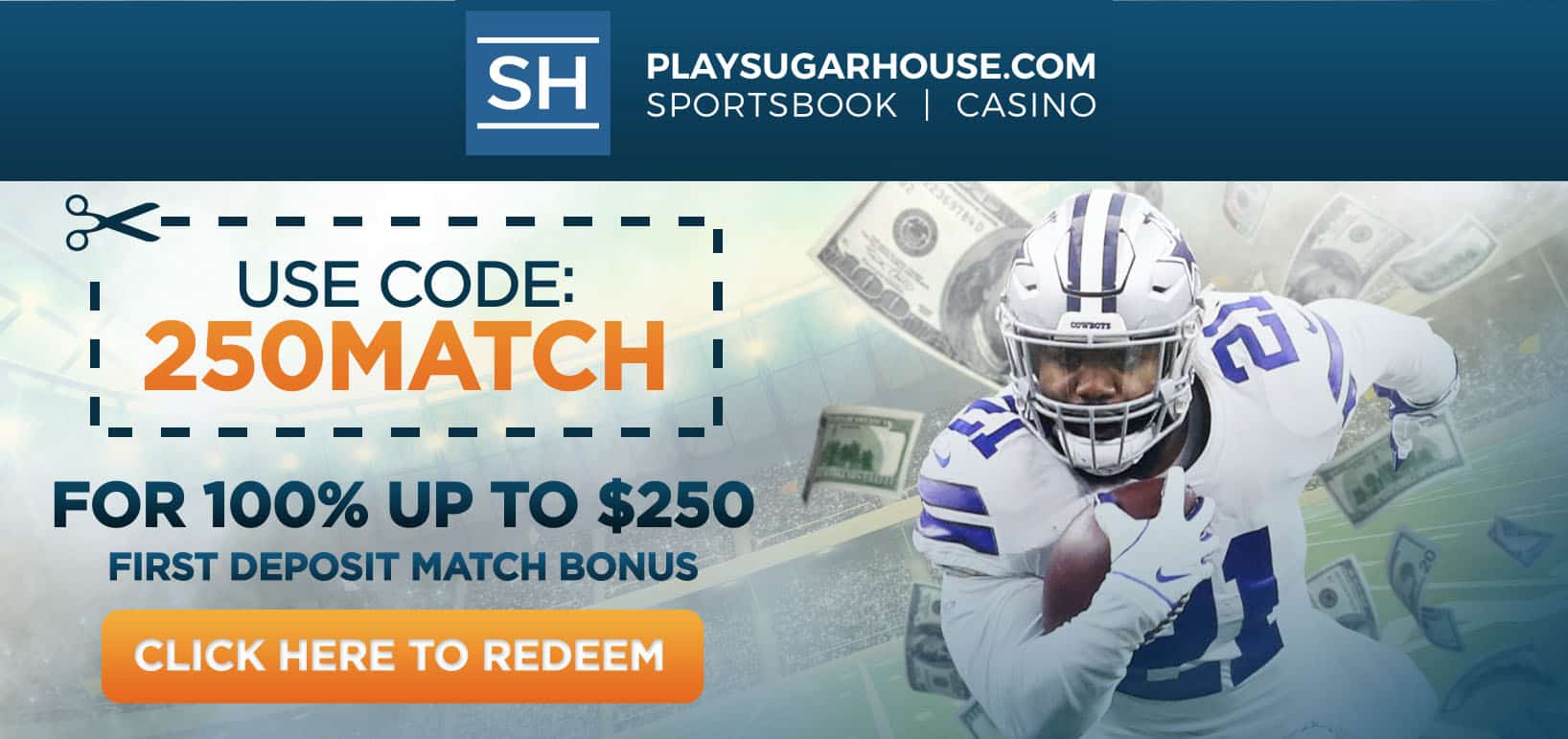 Pros and Cons for Current SugarHouse Promotions
Sugarhouse is operated by Rush Street Gaming, one of the most reputable names in the sports gaming industry. Is the Sugarhouse app right for you? Let's take a look at the pros and cons of the current Sugarhouse promo.
Pros of the Current SugarHouse Bonus
The $250 deposit bonus is a great way for new SugarHouse clients to expand their betting bankroll.
New players in the SugarHouse Casino can also receive a 100% Deposit Bonus, up to $250.
Lowest rollover in the industry, as players only have to play through their bonus 1x to receive it.
Access to iRush Rewards, which could include free merchandise and a VIP Dinner.
Cons of the SugarHouse Bonus
$250 is a decent bonus, but there are higher ones available.
Though the app is a solid offering, it trails brands like DraftKings and FanDuel.
Currently only available in 3 states.
Review of Current SugarHouse Promo Code Offer
Despite stiff competition from forward-thinking brands with huge deposit bonus offers and flashy apps, the SugarHouse sportsbook remains one of our highest-rated books in New Jersey, Pennsylvania, and Connecticut. This is because they consistently offer industry-low juice and the top customer support in the industry.
A great example of how they treat their customers exists with this current $250 deposit bonus offer. While some other sportsbooks are offering more bonus dollars in July, most of them have a 20x rollover rate, making it extremely difficult to ever receive the full bonus. SugarHouse, on the other hand, offers an industry-best 1x rollover requirement on their deposit bonus.
The combination of industry-low juice, player-friendly promotions, and top-notch customer service makes SugarHouse one of our favorite US sportsbook options.
| Review | SugarHouse SportsBook and Casino |
| --- | --- |
| Details | The SugarHouse sportsbook and casino apps were not built to blow you away and this is also true with the current promotions available for each product. That being said, SugarHouse offers the best terms for its bonus offers, top-notch customer support, and some of the lowest juice in the U.S. sports betting market. With this in mind, the sportsbook app is a must for bettors looking to shop odds in NJ, PA, or CT. |
| Author | Chris Lollis |
| Rating | 4.5 (out of 5) |