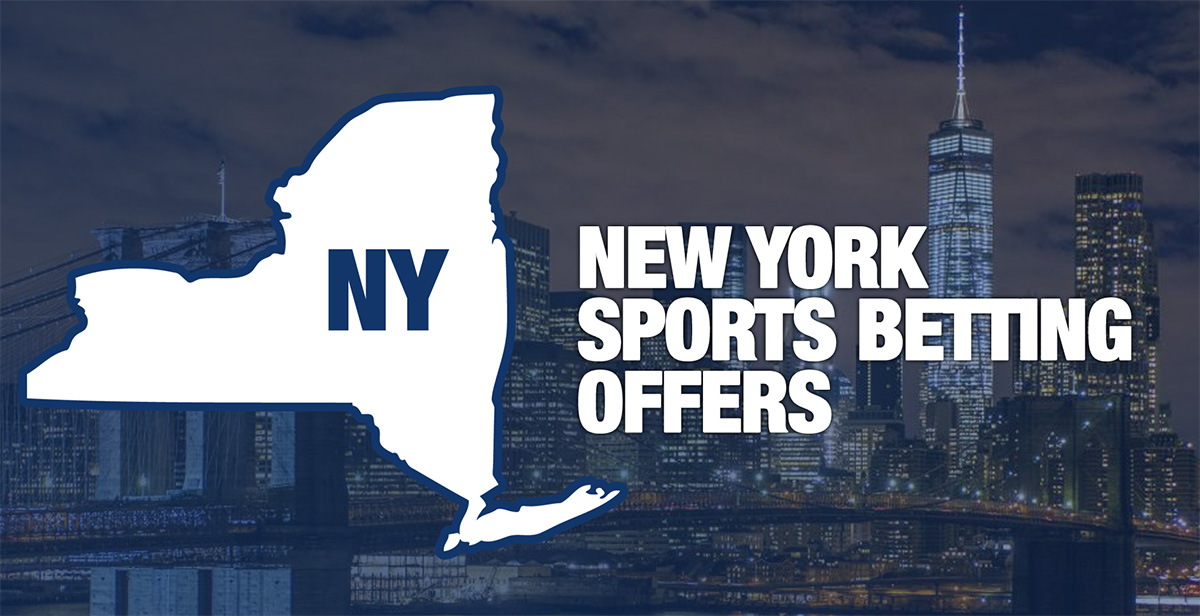 New York's online sportsbooks took just under $2 billion in total wagers in the first month of legal betting. The state, long known as the sports capital of the world, set the record for the largest month of betting in its first month of operation.
The early success of NY sports betting is in large part due to the generous bonus offers available at each of the state's major betting apps. Track the best NY sports betting bonus offers from the top apps in the industry using the table found below.
New York bettors must be 21+ and present to place wagers in the state. If you or a loved one is experiencing problems with gambling, call Call 877-8-HOPENY or text HOPENY (467369) or visit https://oasas.ny.gov/hopeline.
Types of Promotions and Bonuses in New York
While there are tons of different types of promotions and bonuses available in New York, we can all agree that it can be hard to keep track of them all. To make things easier for you, we've put together a list of the best promotions and bonuses in New York so you can get the most out of your sports betting experience.
Welcome Bonuses. The most common bonus offered by NY sportsbooks is a welcome bonus. Welcome bonuses are designed to incentivize new players to sign up for an account and make their first deposit. They usually come in the form of bonus bets, cash back, or matched deposits.
Deposit Match Bonus. This is a type of welcome bonus that's exclusively offered by NY sportsbooks. It matches a player's first deposit up to a certain amount of money. How it works is that when you make your first deposit, the sportsbook will match it up to a certain amount of money. So if you deposit $100, the sportsbook may match it with another $100 in bonus credits.
No-Deposit Bonuses. These are fairly rare, but some sportsbooks in NY offer them for new players. A no-deposit bonus is essentially bonus money that the sportsbook gives you when you sign up for an account. You don't have to make a deposit to receive this type of bonus, and it can be used to place real-money wagers on the site.
Bonus Bets. We love bonus bets because they are essentially free money. Bonus bets are wagers that come in the form of bonus credits and can be used to place real-money wagers on a sportsbook's site. They can be used for promotional purposes such as betting contests or special events. In some cases, they'll give you a bonus bet if your first bet loses.
Referral Bonuses. Referral bonuses are offered by some NY sportsbooks when players refer their friends or family members to the bookmaker. When someone you referred signs up and makes a deposit, you usually get a bonus bet or cashback in return.
Odds Boosts. What makes these bonuses so great is that they increase your winnings if you win the wager. For example, if the Packers are -110 against the Lions, the sportsbook may offer an odds boost that changes the bet to -100, meaning you'll win more money on that bet.
It seems that online sportsbooks are getting more creative with their promotional offers in New York as the market matures. Be sure to take advantage of these bonuses and promotions to get more out of your sports betting experience.
Important Details for Every NY Sports Betting Bonus Offer
Among the requirements set by the New York Gaming Commission for sportsbook operators were clear terms and conditions for every promotional offer. As a result, each of the four promotions that are available in New York is extremely straightforward, free of rollover requirements, and are easy to use.
Included in the details are the steps required to receive your bonus, how the bonus is paid, and a breakdown of who is eligible. We also list the pros and cons for each promotion below the details for the offer.
DraftKings New York Bonus Offer: Bet $5, Get $150 in Bonus Bets

One of our top-rated New York sportsbook bonus offers for May belongs to DraftKings. New users that register using our current bonus code of 150BV1 will get $150 in Bonus bets after making a $5 bet if their team wins.
This promotion has a $5 minimum deposit and only applies to your first wager, so be sure to follow each of these steps to lock in your Bonus bets:
Visit the offer landing page and be sure to review the terms and conditions for the bonus prior to registering.
Register your new account, verify that you are located in New York, and make a minimum $5 deposit and $5 bet.
DraftKings will give you $150 in Bonus bets if your team wins.
Enjoy your expanded bankroll!
Why is the current DraftKings offer our pick for the best NY sportsbook promotion? There are several reasons this offer stands out above the current welcome bonus offers available in New York. Review the pros and cons of this offer when compared directly to the active promotions at competing sports betting apps:
Pros for the DraftKings Offer
The $5 minimum deposit required to receive the bonus is much more accessible to players that don't want to make a large deposit.
The $150 in Bonus bets is slightly better than FanDuel's No Sweat Bet.
This is the highest Bet-Get offer in the state.
Cons for the DraftKings Offer
Both PointsBet and Caesars offer larger overall bonuses.
Caesars NY Offer: First Bet on Caesars Up to $1,250
The Caesars Sportsbook bonus offer available in New York is one of the more unique first bet offers available in the US sports betting market. New players that register using the promo code BVFULL will receive a first bet on Caesars up to $1,250. If your first bet fails, Caesars will refund the entire bet by giving you a Bonus bet back of an equal amount. The refund will need to be bet once in the app before you can withdraw the funds.
As if that wasn't enough, Caesars is offering odds boost opportunities across every sport on their app this May. These wagers cap at $25 as the odds for these wagers have been drastically improved.
Follow these four steps to lock in this Caesars' welcome package in New York today:
Visit Caesars Sportsbook and register using the promo code BVFULL.
Make an initial deposit of the amount of your choosing. Keep in mind your maximum insured bet is equal to this amount, and your initial deposit must be at least $50.
Place any wager in the app, and if it loses, get the bet back.
---
*Note that your total bonus needs to be wagered at least once before you can withdraw anything you win.
Pros for the Caesars Offer
With a $1,250 cap, this is one of the largest promotions available in New York.
The total bonus is 6x+ higher than what BetRivers is offering.
Get Bonus Bets if your first bet loses.
Cons for the Caesars Offer
With a $50 minimum deposit, this offer has the highest cost initial cost.
In terms of technology, Caesars trails PointsBet, FanDuel, and DraftKings.
Caesars New York Offer Details
FanDuel NY Offer: $1,000 No Sweat Bet
FanDuel's initial bonus offer in New York is similar to what rival DraftKings is currently offering for the 2023 NBA Playoffs. Bettors that sign up for this FanDuel offer will receive up to a $1,000 bonus bet if their first bet loses.
There is no promo code required to lock in this promotion; follow any of the FanDuel links on this page to find the details, terms, and register to receive your Bonus bets.
Pros for the FanDuel Offer
A Bet Get can instantly fatten your bankroll.
Great way to get involved in the NBA Playoffs!
There is no rollover requirement applied to any funds you win using your refund.
Cons for the FanDuel Offer
This bonus pays out in bonus bets, not actual cash you can withdraw without wagering.
The size of the bonus is much smaller than competitors like PointsBet or Caesars.
View Complete Review of FanDuel New York Offer
PointsBet NY Offer: Get Up to $250 in 2nd Chance Bets

The PointsBet bonus offer for New York includes 2nd chance wagers. When you bet up to $250 and lose on your first bet, PointsBet will give you up to $250 in bonus bets.  These are spread out over five $50 bonus bets.
While this promotion is far from the best offer available in New York, it is incentive enough to try what we think is one of the best sportsbooks available in the Empire State. One of our favorite features of this offer is that it allows you to choose how much you deposit, how much you risk, and how much of a bonus you receive.
Pros for the PointsBet Offer
PointsBet is offering a 2nd chance bet with a $250 cap. You can't lose on your first bet!
This promotion lets you try the points betting format.
There is no minimum play-through for your bonus cash. If your bets win, the money is yours to keep. If they lose, you get your money back.
Cons for the PointsBet Offer
The New York offer is not as generous as the current PointsBet promo code offer available in other states.
The $500 fixed-odds bet is great, but not many new players are willing to risk $1,500 on a points betting wager, making that leg of the bonus a bit of a gimmick.
BetRivers NY Offer: Get a $500 Second Chance Bet
BetRivers may not be as popular as DraftKings or FanDuel, but they're still a fantastic option for NY sports bettors. Their app lags significantly behind those available with the other three sportsbooks, and their $500 second chance bet leaves much to be desired.
Nevertheless, as far as bonus offers are concerned, the BetRivers promotion is quite player-friendly. This is in large part due to industry-leading 1x play-through requirements. For new bettors, this means that if you lose your first bet, you will receive a Bonus bet to cover the loss.
Pros for the BetRivers Offer
This offer does not require you to place a specific wager to receive your bonus.
The deposit bonus offer is a tried-and-true way to build a bankroll without risking your deposit.
Cons for the BetRivers Offer
To receive your full $500 second chance bet, your first bet will need to lose.
For bettors looking to make a small initial deposit, the bonus is hardly worth the effort of creating an account.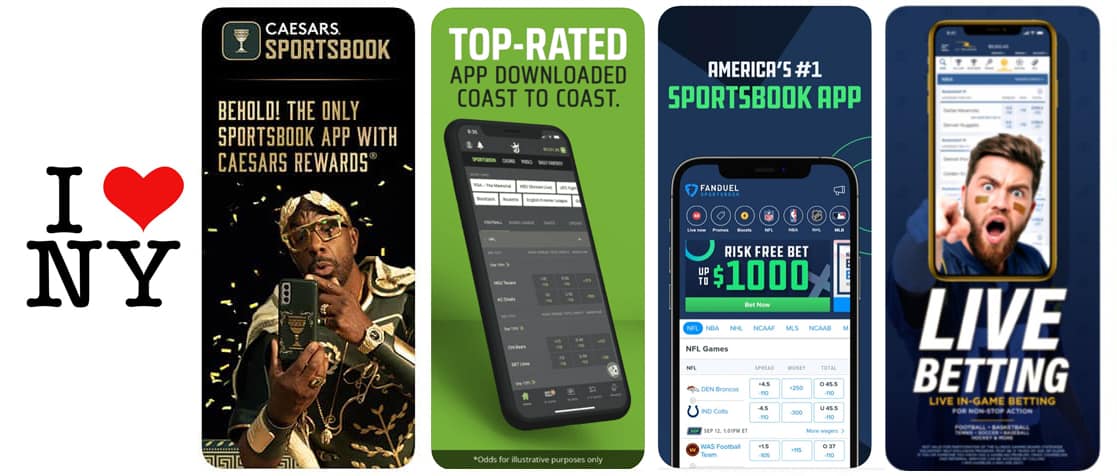 Tips for Finding the Best New York Sportsbook Bonus
The launch of legal mobile sports betting in New York is arguably the most anticipated event in US sports betting history. In total, eight sportsbooks will compete for the business of New York's estimated 5 million sports bettors.
With such a competitive market and a large number of operators, New Yorkers have plenty of different bonus offers to choose from this January. Picking the right offer and the right sportsbook can be a challenge. Here are some quick tips to help you along the way:
Take advantage of pre-registration offers available from each sportsbook. These offers are always in addition to the bonus available once betting is officially live and can include up to $200 in Bonus bets.
Consider signing up with multiple sportsbooks if your bankroll will allow it. Having accounts with more than one sportsbook allows you to shop your bets for the best odds possible.
Test the apps for each sportsbook before registering. Some things to consider include how easy the app is to use, what betting options are available, and how the juice compares to other NY sportsbooks.
Looking at the current offers available from each of the sportsbooks set to launch in New York, the current bonus code offers at PointsBet and DraftKings stand out to us. Find a rundown of why we like each offer and the steps you must follow to receive each promotion when you register.
Tips for Using Promo Codes and Making the Most Out of Them
With so many different sportsbook promo codes out there, it can be difficult to know which one is right for you. Here are some tips on how to make the most out of your sports betting bonus.
Don't Forget the Promo Code
Not every online sportsbook requires a promo code, but if they do, make sure to enter it at the time of registration. If you forget to enter it, you may miss out on the bonus entirely. There's no going back from this. You can't create a second account, and customer support most likely won't be able to help. We've had a lot of readers reach out to us who have run into this issue. We've got all of the best promotions and bonus codes right here, so be sure to check out our site before signing up.
Read Bonus Terms and Conditions Carefully
Before claiming a bonus offer, be sure to read through the terms and conditions associated with it. This will ensure that you understand any wagering requirements or other stip associated with the offer. For example, BetMGM has a great offer, but you only have seven days to use it - or you lose it. It would be a shame to miss out on such a great offer for lack of knowledge.
Read Reviews
Reading reviews from other users can be helpful when deciding which sportsbook bonus code is right for you. Remember that every bettor's experience is unique and may not reflect what yours will be like. But, it can still provide valuable insight into the quality of customer service and the overall user experience at a certain sportsbook. That can be helpful when trying to decide which online sportsbook is right for you.
Keep an Eye Out for New Promotions
Online sportsbooks are always adding new promotions and bonus offers to attract new customers and retain current customers. Almost every sportsbook has a mailing list, and we highly suggest signing up for it. This way, you'll be notified when new promotions become available, and you won't miss out on any great offers that may be available.
Max Out Deposit Matches
We can't stress this enough. If a sportsbook offers you a deposit match, make sure to maximize it. This should be obvious - why wouldn't you want to get the most value possible out of the offer? If they're offering a $1,000 deposit match (this usually happens around the NFL season), max it out. Be sure you deposit $1,000 to get every bet credit they're offering. That's a lot of extra value that you don't want to miss out on.
Compare Odds and Lines
It's always important to compare the odds and lines at different sportsbooks. This can help you make sure you're getting the best return on your wagers. Don't just settle for the first offer you come across - shop around and compare odds and lines to ensure you're getting the best deal. That's not to say you shouldn't sign up for a sportsbook and miss out on the promotion, but your everyday sportsbook betting should be done where you can get the best return.
New York Identifies Winning Mobile Sports Betting Bids
Nine New York State sports betting operators received their licenses Monday at the New York State Gambling Commission's meeting. The bids were scored based on a number of factors to determine which operators would receive the licenses, with a required technical score of at least 60 out of 75.
The two winning bids that reached the required technical score were FanDuel Sportsbook and Kambi Group. It is important to note that each winning bid is allowed to bring up to four brands to market.
FanDuel Sportsbook's skins that will be available in New York include not only FanDuel, but also Bally Bet, BetMGM, and DraftKings Sportsbook.
Kambi will bring Caesars Sportsbook, PointsBet, Resorts World, and Rush Street Interactive to the state. While Resorts World does not have the online presence that the other 7 skins in New York offer, they do have New York City's only casino.
All of these sportsbooks will be taxed at 51% of their gross sports betting revenue. This is easily the highest amongst all US states to legalize sports betting but is still a win considering that this time last year, Governor Cuomo was adamant the state lottery would be the only operator in New York.
Who Were the Biggest Losers With NY Mobile Betting Licensing?
Out of the six bids submitted to the commission, four failed. The following four bids failed to reach the required 60 technical scores out of the maximum 75:
bet365
FOX Bet
theScore Bet
Barstool Sportsbook and Fanatics Sportsbook
Out of all these applicants, only bet365 had a high enough score to be considered, but the company failed to showcase that they would indeed increase revenue to the state. While most of the bet365 bid was redacted, we do know they proposed a 50% tax rate, which is clearly 1% lower than the winning bids.
New York Bonus Offers FAQ
Since legal sports betting is still a relatively new concept in New York, people have lots of questions. The following FAQ section was designed to provide some basic info regarding bonus offers in the state.
How do I find the best bonus offers in New York?
Sports betting has grown like wildfire in New York in a very short period of time. To find the best bonus offers in the state, simply visit our Best New York Sportsbooks page and visit it often. Our staff constantly talks with managers at all of the New York sportsbooks to make sure that our readers are getting the best bonus offers available.
What are the best available bonus offers in New York right now?
For New Yorkers in May, we recommend signing up for accounts with FanDuel and DraftKings. They are both offering solid promos to all new customers! When combining these offers, folks can get a ton of bonus funds to kickstart their sports betting careers.
What deposit/withdrawal options are available in New York?
The answer to this question depends on the sportsbook. All of them accept major credit cards and debit cards. Some accept Venmo and even Crypto. Check out each sportsbook's cashier options before signing up.
How often do you update your offer rankings?
Our staff keeps a close watch on each bonus offer in the sports betting industry. We update this table whenever a new bonus offer comes in. This could range as often as weekly to monthly.
Can I withdraw a sportsbook bonus?
No, at least not right away. Each sportsbook requires you to play through your bonus dollars a certain number of times before they will process any withdrawal requests.
What is a rollover?
A rollover is the amount of money that must be wagered before a bonus can be withdrawn. Most sportsbooks require players to roll over their bonus funds a certain number of times before they can process any withdrawal requests. For example, if you receive a $200 bonus and your book requires a 10x rollover, you will need to wager $2,000 before you can withdraw your bonus funds.
What other restrictions should I be aware of?
Sportsbooks often require users to opt in or accept the terms and conditions of a bonus offer before they are eligible to receive it. Additionally, some offers are only valid for a specific period of time and require you to use a specific bonus code. Make sure to read through all the details before claiming your bonus funds. Additionally, some offers may have restrictions on what types of bets can be placed with bonus money. Be sure to check these restrictions as they vary from book to book.
How do I know if a sportsbook is legit?
Sportsbooks must be licensed in each state they operate in. All of the major operators are licensed and heavily regulated by gaming commissions in their respective states. Every single sportsbook we mention on our site is licensed, regulated and trustworthy. However, if you're ever in doubt about a particular book, feel free to do your own research as well. Many offshore sportsbooks look and feel legit, maybe they are, but we've heard horror stories about sports bettors not being able to get their funds back. That's why we only recommend sportsbooks that are licensed and regulated in the US.
Are New York's taxes on sports betting higher than other states?
Yes, New York has one of the highest tax rates on sports betting in the US, at 51%. This is significantly higher than most other states, which averages out to be around 13%.
Browse Offers in Other States
How do the sportsbook promotions available in New York stack up to those across the country? Browse the best bonus offers for every state with legal sports betting below. We keep each of these pages updated daily to ensure bettors can always find the latest and greatest promotions available in their state.