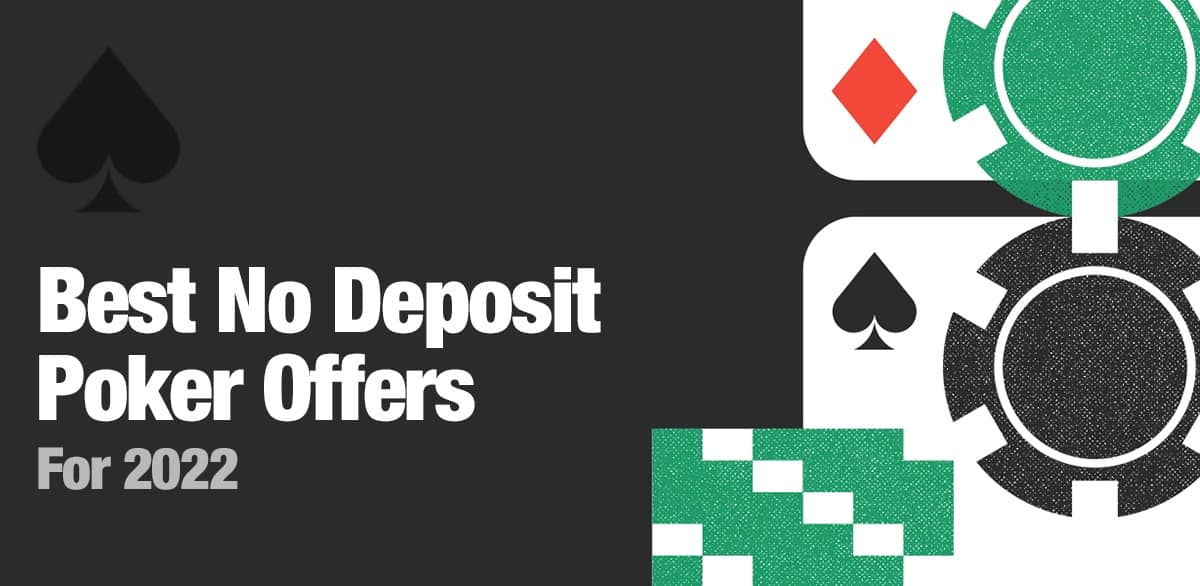 Online poker is officially legal in Nevada, New Jersey, Pennsylvania, Michigan, and Ontario (CA). Players in these markets have a large number of apps and bonus offers to choose from. We expect at some point other states will legalize online poker such as New York, and Massachusetts.
One of the most popular types of promotions amongst players are no deposit bonus offers. These allow you to test the poker software before deciding whether or not you would like to make a deposit. Here are our picks for the best no deposit bonus offers available from poker sites this June.
What is a No Deposit Poker Bonus Offer?
There can be a little bit of confusion between the no deposit bonus and the deposit match bonus. The latter means that a promotion will match up to a certain percentage of a player's initial deposit. For the most part, these are 100% matches meaning that if you deposited $500, you would get credited $500 in bonus money.
The difference between the two is that the no deposit bonus – you guessed it – doesn't require a bonus. Depending on where you sign up, it can mean getting $50 or more to play with before you even make your first deposit. That's a great start for new players, no matter where they sign up.
How Does a No Deposit Bonus Offer Work?
The offer is pretty straightforward: you get a set bonus (typically $10-$50) for just signing up, with no deposit necessary. That money can be used for any of the poker games, though there may be individual restrictions that apply depending on which promotion you choose.
There is fine print to be aware of, like not being able to simply withdraw the free deposit bonus. Still, for new players, it can make for a great way to get started. Plus, you get to try out these poker apps without having to make any type of financial commitment.
What States are Currently Running the No Deposit Promotion?
Currently, there are three US states running these promotions: Michigan, New Jersey, and Pennsylvania. Each has its own variety of poker companies with their own respective offerings. Find the available bonus offers in your state below.
Michigan No Deposit Poker Offers
Michigan arrived to the online poker party in 2019, the 6th state to do so. As of right now, they have just three sites that are licensed for online poker: WSOP, BetMGM, and PokerStars.
WSOP - The name WSOP (World Series of Poker) is synonymous with poker. For new players in Michigan, there is a $25 free bonus at signup as well as $25 free for the first deposit. On top of that, there is a 100% deposit match bonus up to $1,000 on that first deposit.
BetMGM - There are few states that have legalized online gambling where BetMGM doesn't have a presence. Right now, they are offering new Michigan players a $25 free sign-up bonus as well as up to $600 in other deposit bonuses.
PokerStars - One of the giants in the online poker game, PokerStars has one of the more unique offerings out there. Players can either play one hand, receive $50 for free, or have a 100% deposit match bonus of up to $600 for their first deposit.
New Jersey No Deposit Poker Offers
New Jersey has been in the online poker game a long time, the third state to do so starting back in 2013. They are also one of the few states to have a multi-state internet gaming agreement linking players between New Jersey, Nevada, and Delaware.
BetMGM - BetMGM is everywhere. Though their offers differ by state, they have promotions in each state in which they are licensed. NJ players can get $25 free at signup with a deposit bonus up to $1,000 for new players.
Borgata Poker - Though they don't have the name recognition of some of the others, Borgata Poker is a player in NJ. They offer $25 free to new players and offer a 100% deposit match of up to $1,000.
Party Poker - Party Poker has been around for a long time and is a trusted name in online poker. They also offer a free signup bonus ($25) and even have a 100% deposit match bonus of up to $1,000 for a limited time only.
Pennsylvania No Deposit Poker Offers
The state of Pennsylvania started the online poker business with PokerStars in November 2019. Since then, there have been three others to join the fray: BetMGM, WSOP, and Borgata. Here are a few of their offerings.
WSOP - Anyone even remotely familiar with poker has heard of the World Series of Poker. Well, the WSOP site is offering $10 free for just signing up, $50 free for the first deposit, and a 100% first deposit match up to $1,000. That is a tough offer to match.
Borgata - Borgata has been gaining prominence in recent years as a go-to in the online poker world. For Pennsylvania players, Borgata is offering $25 free with no deposit and a first deposit match of 100% up to $600.
BetMGM - One of the most trusted names in the online casino game, BetMGM originally started as a Las Vegas Casino. So, who better to run a great online poker game than one of the OGs in the casino business? They currently offer $25 free to new players while also offering a 100% deposit match up to $600 on that first deposit.