Although New York is a state full of possibilities, ambition, and progress, New York has not yet legalized online poker. With the massive population present in New York as the fourth most populated state in the US, there is a massive opportunity for successful online casino industry.
Given that the impact of the COVID-19 pandemic is still being felt, the online gambling market has the incredible potential to prosper and grow exponentially with its defining trait of zero contact – but it is still yet to be.
New York Poker History
A study by the Spectrum Gaming Group in January 2021, prepared for the New York State Gaming Commission, found massive potential if online gaming was legalized.
They found that New York's economy could grow as much as $4.6 billion with the legalization of online gaming. They also estimated that a legalized mixed online and brick-and-mortar sports gambling market in the state would generate up to $1.14 billion in annual gross gaming revenue (GGR).
When it came to online poker, the potential annual GGR was expected to be between $50-$70 million. These statistics and figures were based on the similarities between the New York gambling market and the nearby New Jersey gambling market.
Is Online Poker Legal in New York? Unfortunately, no. At least at the moment. Article 225 of the New York Penal Code lists a whole range of "gambling offenses", including:
Promoting gambling in the first and second degree
Possession of gambling records in the first and second degree
Possession of a gambling device
Possession of unlawful gaming property in the first, second, and third degrees
Lottery offenses
Gaming fraud
Despite the prevalence of New York's decades-old lottery, with a participation rate of 92%, the state stands firm on its opinion of online gambling – including real money online poker - being illegal (with the exception now of online sports betting). As the usage of any device for the purposes of gambling activity is considered an illegal gambling device, real money online poker is especially illegal.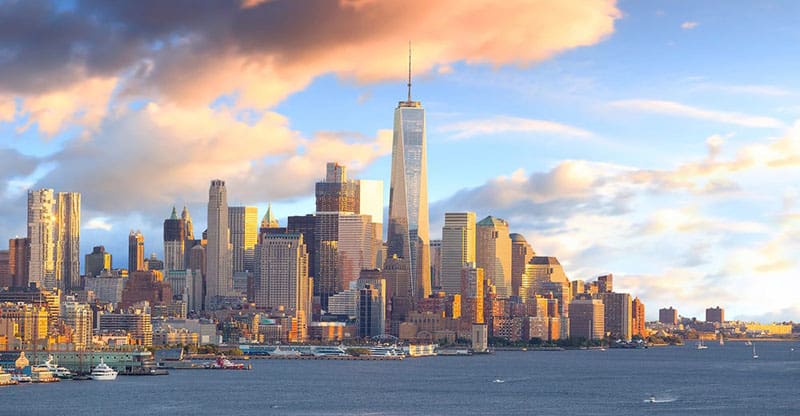 Current Online Gambling Options in New York
Currently, there are no options for legal, real money online poker in New York. It means that there are no online poker sites you can play in New York, as it is very much illegal. However, there are efforts by the New York state to legalize online wagering, as outlined in their 2023 budget.
That being said, no legal online poker does not mean residents can't have fun. New Yorkers can make a quick trip to New Jersey, which has a whole range of options to play online. All you have to do is create an account and get cash, which you can even do in New York. New Yorkers can also dash over to Pennsylvania, which only recently legalized online poker.
Projections for Legal Online Poker in New York
The biggest takeaway from the complete and utter lack of online gambling in New York is that there is an immense amount of growth that can be experienced by the state if it is introduced.
With the introduction of authorized mobile sports wagering, New York Governor Andrew Cuomo believes that "legalization will provide more than $500m in much-needed revenue for the State to help rebuild from COVID-19 and grow what could be the largest sports wagering market in the US into a profitable industry long-term."
As opposed to being privately run, the online sports betting market would instead be state-run, allowing for the revenue of the gambling institutions to be injected back into the New York economy. The 2023 budget outlines that from this projected revenue, money will be allocated to sports, combating gambling addiction, and even more money to the education sector.
This decision to legalize comes as a result of COVID-19's impact on the New York state economy, with hopes that the introduction of regulated online sports betting revitalizes the community.
With online sports betting on the path to legalization, online poker could be next sometime soon. Keep an eye out for critical developments as the legal landscape unfolds.
With the new estimates released by the Spectrum Gaming Group and Andrew Cuomo's authorization of mobile sports betting, online poker may come around the corner sooner than we think.
Making the Case for Online Poker in New York
In light of the COVID-19 pandemic, the case for online poker in New York is stronger than ever before. The COVID-19 pandemic decimated New York's economy. With the new statistics released by Spectrum Gaming Group, the case is stronger than ever to provide New York with a new, buzzing source of revenue – being real money online poker.
Speaking of COVID-19, online poker offers a way for bettors to have fun from a distance. The accessibility of online poker allows for anyone looking to make money in a friendly competition to do so from the comfort of their own living room, bedroom, or even bathroom.
This provides for a much safer environment than a traditional brick-and-mortar casino, where contact between players is rife on poker machines and at the blackjack table. The COVID-19 pandemic has made us work from home. It's now the time to 'play from home'.
Reasons Players Will Love Online Poker
Let's start with your poker face. More generally, you may have a terrible poker face. With online poker, nobody can see that. Some players may prefer being able to misdirect their opponents with facial cues, so it can be a matter of personal preference, but you're better off hiding the face altogether.
There is the opportunity for players to compete in more than one table at one time, dividing up the money invested and increasing the relative chances of landing a winning hand. This makes online gambling a numbers game (much like dating, really) as the more games/people you approach, the more your chances of getting lucky.