Best Sports Bars for Betting in Colorado
Sports betting arrived in casinos across the state of Colorado in May of 2020 but CO residents don't need to visit a sportsbook to get in on the action. There are sports bars across the state that offer bettors a place to watch the game and get in on the action.
Below are our staff picks for the best sports bars for betting in Colorado. These are a great place to meet friends, watch a Broncos, Nuggets, Avalanche, or Rockies game, and track your bets as the action unfolds.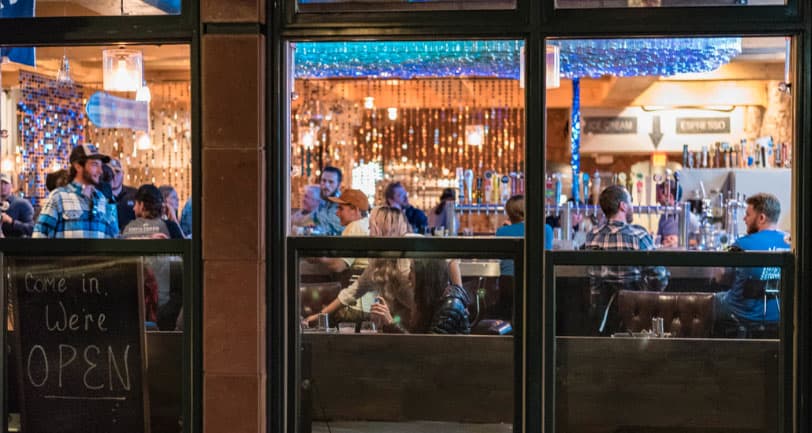 High Pie Pizzeria and Tap Room - Telluride, CO
Address: 100 W Colorado Ave, Telluride, CO 81435
High Pie offers 24 craft, domestic, and international draft beers, featuring local breweries and many other highly rated craft brews from the great beer state of Colorado. They use the highest quality ingredients to craft their food offering, which includes a variety of outlandishly named and wildly topped pizzas, served on high quality, made-in-house crust.
High pie has 8 TV in total, with the bar area hosting a majority of the screens; including the two biggest which are located in prime viewing location right behind the bar. From every seat throughout the restaurant it is possible to have a clear view of a TV screen, so you can be sure that you'll never be left without a view of the game no matter where you manage to get a seat in this often busy bar and restaurant.
On top of the great game-day viewing, excellent pizzas, and bartenders, they also have a great cocktail list for both winter and summer seasons, along with awesome apps; we highly recommend the Tuna Poke Nachos to get your game experience off to the best of starts!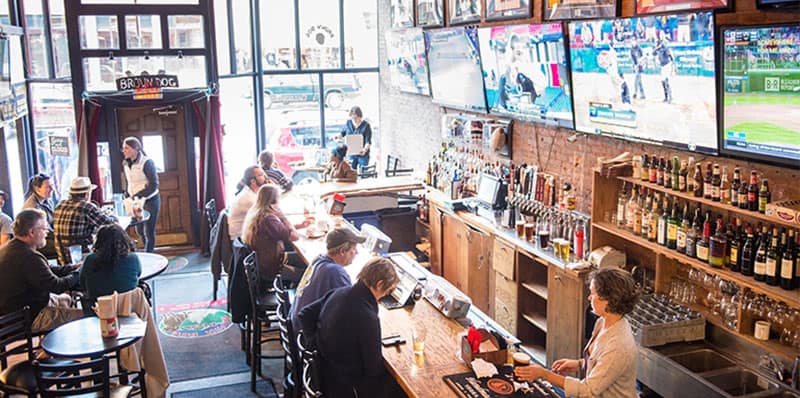 Brown Dog Pizzeria - Telluride, CO
Address: 110 E Colorado Ave, Telluride, CO 81435
Brown Dog is a popular pizzeria owned and run by an avid Bostonian sports fan, evidenced by the Boston-centric sports memorabilia adorning the walls. The owner and chef have been around the world to train in pizza making and has also entered and won, multiple pizza competitions with pies -such as the Brooklyn Bridge- that are available on their menu. At Brown Dog, they're renowned for their phenomenal Detroit-style pizzas, and their selection of apps and wraps means that there's something for everyone on game day.
There are 10 HDTVs throughout the restaurant allowing for prime viewing wherever you may be able to grab a seat in this highly popular venue. With 5 of these screens lined up above the bar, allowing unobstructed viewing from both the downstairs area of the restaurant and the balcony above, you can watch multiple games across multiple sports all at the same time! With up to 15 beers on tap, featuring many great craft beers from this renowned beer state, along with PBRs for $2.50 you're sure to find a beer that suits your tastebuds and your choice of food!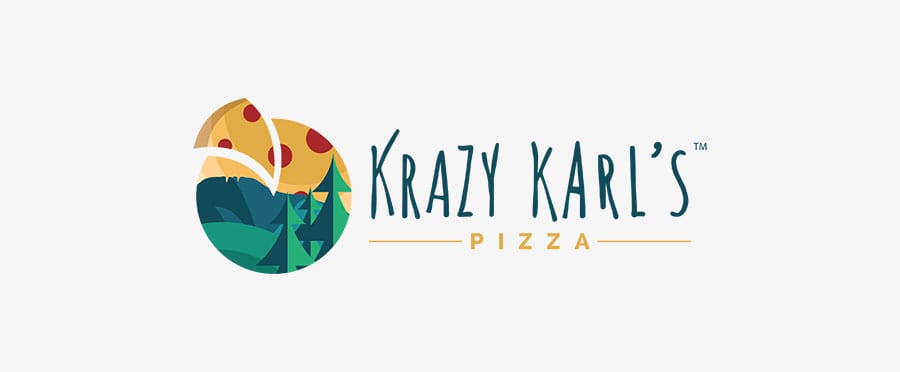 Krazy Karl's Pizza and Sportsbar
2620 S. Timberline Rd. Fort Collins, CO. 80525
Owner's Favorite SportsBook:
"TWe are big proponents of sports and sports betting! Come enjoy great pizza, huge chicken wings, cold beer and catch any out of market game you'd ever wanna watch!"
We carry every sports package on Directv! Every out of market game is carried at our two locations in FoCO.
Our Campus West location is location just one block from Colorado State University, Moby Arena and Canvas Stadium!
"Beat The Clock"! The time you call on Mondays and Thursdays between 5pm - 8pm is the price of your large one topping pizza!
CSU and Colorado Professional Sports
Wear a mask and stay 6ft away from everyone and have a great time!
Browse Latest Articles