Maryland recently launched legal sports betting, much to the delight of sports fans throughout the state. The Old Line State is home to dedicated fans of the Ravens, Orioles, Wizards, Commanders, and Nationals. It's easy to see why online sports betting is such a big hit with Maryland residents.
If you're in Maryland and looking for a place to eat good food and watch your favorite team, you're in luck. In this post we dive into the best bars in the state for betting on sports.
Best Sports Bars Near You:
Best Baltimore Sports Bars
Gus's Sports Bar
Gus's Sports Bar is located at 501 South Lehigh Street, Baltimore, Maryland. It is less than 15 minutes east of M&T Bank Stadium and is a popular place to watch the Baltimore Ravens play football.
You can also catch the Orioles and MLS soccer games on one of the many TVs. Gus's is proudly a multi-cultural location. The bartenders and servers are fluent in both English and Spanish.
They have great nightly specials. Karaoke Party on Sunday nights, all night happy hour on Mondays which includes $15 buckets of Corona and $8 shots, Friday night dance party. They also have pool tables.
I will say this, I consider Gus's more of a night spot than a sports bar. I would not bring kids or family to Gus's to watch a game. It's more of a place for people to grab a drink or two and enjoy a Ravens game. The days and hours it's open are limited.
It is closed on Monday and Tuesday. They are open 5pm - 2am on Wednesday and Thursday, 4pm - 2am on Friday and Saturday, 12am - 2am on Sundays. Gus's has great drink specials during football and soccer games. I highly recommend Gus's for an enjoyable time, good drinks, and a fun party.
---

Max's Taphouse
Let me tell you about Max's Taphouse. This place has been serving beer fanatics in the city for ages, and it's definitely a spot you don't want to miss. Here are a few highlights from my last visit:
Beer Selection
I was pleasantly surprised at the variety of beers at Max's. They've got over 100 different drafts on tap and a whopping 1,600 bottled and canned beers to choose from.
No matter what kind of beer you're into, they've almost certainly got it. From hoppy IPAs to rich stouts and refreshing lagers, it's a paradise for beer enthusiasts.
Tap Takeovers
Tap Takeovers are just one of the event's Max's puts on. They regularly host these shindigs where breweries show off their latest creations.
It's a fantastic opportunity to try out new beers and mingle with fellow beer lovers and the brewing community. Trust me, you won't want to miss out on these if you're in the area.
The Food
Now, let's talk about the grub. Max's Taphouse doesn't just focus on beer, they've got some tasty pub fare too. Burgers, sandwiches, appetizers—you name it.
The food is delicious, and its nice to know you'll be able to find a perfect beer pairing along with it. They've got options for meat lovers and vegetarians alike, so everyone can find something.
Lastly, the portion sizes won't leave you hungry. It's the ideal spot for a meal with your pals.
---
Turp's Sports Bar & Restaurant
Address: 1317 N. Charles St, Baltimore, MD 21202
Best Dish: Original Buffalo Wings
Turp's Sports Bar & Restaurant has delighted patrons for ten years in Baltimore. Offering an incredible selection of beers, handcrafted cocktails, mouthwatering food items, and an inviting atmosphere, Turp's provides an unforgettable experience for sports fans and bettors alike.
More Praise for Turp's Sports Bar & Restaurant
Here's what awaits sports bettors at Turp's:
Five-Star Menu: Turp's is well-known for its impressive menu, renowned for its wings which come in various flavors such as lemon pepper, honey BBQ, and spicy buffalo. You'll also be treated to delicious appetizers, burgers, sandwiches, pizza, and desserts.
Happy Hour Specials: Turp's offers tempting happy hour specials to help sports bettors unwind after a long day, including Monday through Friday from 3 pm to 6 pm and weekends between 12 pm and 3 pm. You can enjoy special quesadillas with discounted drinks.
Entertainment and Events: Turp goes above and beyond to entertain its patrons. Tuesday nights feature trivia nights where you can showcase your knowledge while competing against friends for exciting prizes! For even more sports fan entertainment and promotions, stay informed with Turp's website or social media channels.
Wall of TVs: Turp's has you covered when it comes to viewing sports events - make sure to catch every second of your game with its impressive wall of TVs, offering superb visibility from both the bar and table seating areas. Regardless of the sporting event or betting venture, Turp's provides an immersive viewing experience that elevates your experience!
---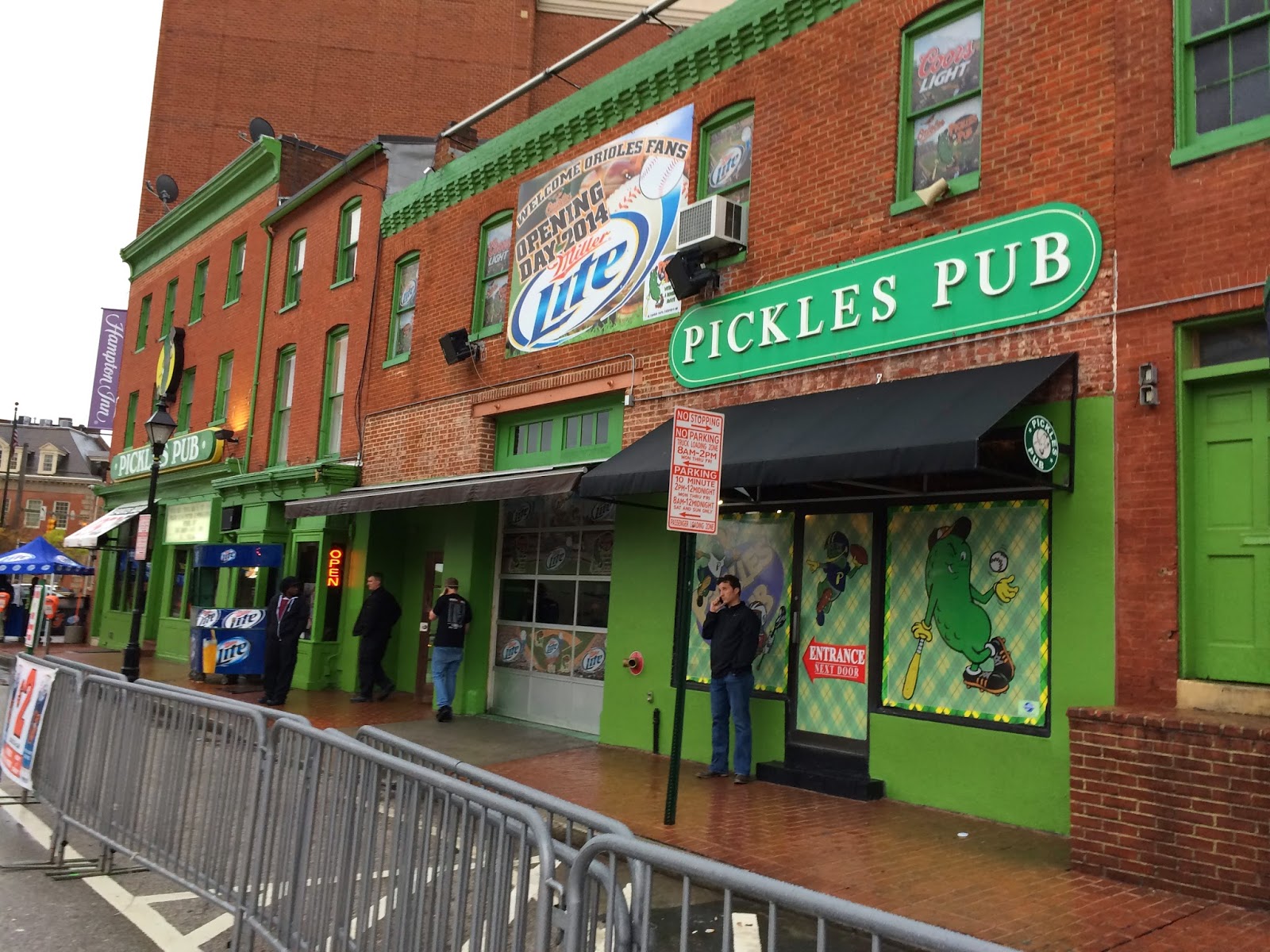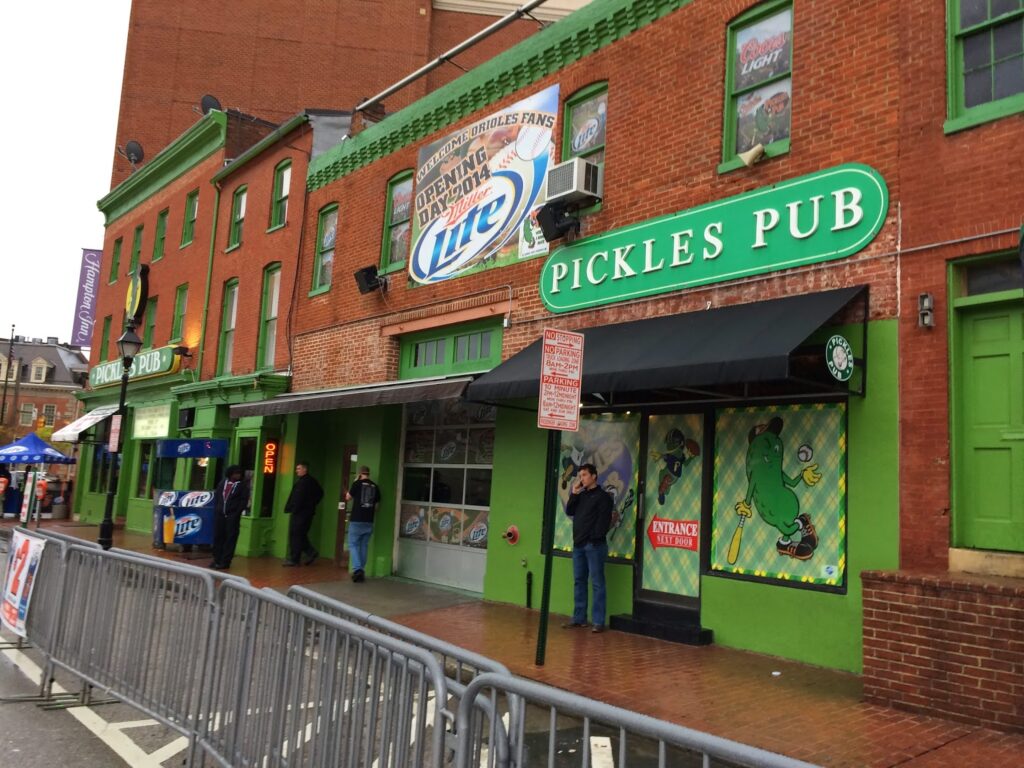 Pickles Pub
Address: 520 Washington Blvd, Baltimore, MD 21230
Best Dish: Crab Pretzel
Pickles Pub in Baltimore has long been considered the go-to spot for sports betting enthusiasts since its establishment in 1988. Over three decades since, Pickles Pub has become a favorite for fans looking to catch their teams play, whether that means Orioles or Ravens games.
More Praise for Pickles Pub
Here are some of the reasons sports bettors choose Pickles Pub:
Great Food: Food at Pickles Pub caters to every palate, offering everything from game day wings and flavorful quesadillas to juicy burgers and refreshing salads. They also serve their famed Crab Pretzel that appeared on The Travel Channel! The freshly rolled dough is covered with crab dip and cheddar cheese before it is baked to perfection for a delectable treat that will have you wanting more and more.
Extended Opening Hours: No matter when your favorite sporting event occurs, Pickles Pub has you covered. Open seven days a week from 11 am to 2 am, its flexible operating hours ensure that you won't miss a single moment.
Atmosphere: Pickles Pub offers an atmosphere designed for sports fans, providing an atmosphere that immerses you in the action of any sporting event. Their bar features big-screen TVs so fans can view their teams with clarity.
---
Best Annapolis Sports Bars
Maryland legalized sports betting in November 2022, opening an exciting world for sports fans, giving them a chance to enjoy the game and potentially win big by placing odds on their favorite teams.
However, finding the perfect spot in Annapolis to chill, bet on games, and enjoy fantastic food can be a daunting task for many. It's been a mere few months since sports betting was legalized, after all.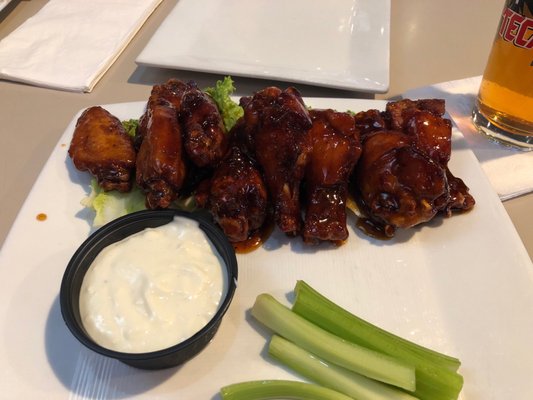 West End Grill
One bar we find that has emerged as a top sports betting destination is Westend Bar & Grill. This bar blends vibrant ambiance, delightful dishes, and an unbeatable sports experience, all under one roof.
When it comes to watching the game, Westend has you covered. Strategically placed big-screen televisions scattered throughout the bar ensure you never miss a single minute of the action, no matter where you're seated. As a sports bettor, having the games live and in full view is crucial, and Westend delivers precisely that.
Westend Bar & Grill provides a winning combination of great food, sports, sports betting, and exciting times. The lively ambiance and thrill of watching sports on the big screens make this bar one you'll want to frequent, especially now that sports betting is legal throughout the state.
So, gather your friends, throw on your jersey and team colors, grab your sports book, and head down to Westend Bar & Grill for a memorable experience that may lead you to a thicker wallet.
Here's what makes Westend Sports Bar & Grill stand out from the rest:
Watch the Game
Westend shows all NFL and MLB games. You can catch other games as available. When sports betting is part of your agenda, nothing is better than knowing the game always plays on the TV while you enjoy the ambiance of your fellow sports fans in the crowd.
An Impressive Beer Selection
As your eyes gaze across the room, you'll quickly notice the massive big screens, immediately followed by the equally impressive beer selection on the menu.
From local craft brews to classic favorites, Westend caters to every beer connoisseur's palate. For IPA lovers like me, a few pints of their finest brews add an extra layer of enjoyment to the experience.
Delectable Food
Forget about ordinary bar food; at Westend Bar & Grill, the kitchen serves up dishes that rival those of luxurious restaurants. Try the "End Zone Nachos" - a mountain of tortilla chips smothered with melted cheese, guacamole, jalapenos, sour cream, and a choice of chicken or beef.
Alongside this, you'll find juicy burgers, tempting tacos, and flavorful chicken options that are sure to satisfy your cravings.
Exciting Special Events
Westend regularly hosts engaging special events, from Trivia Nights that spark friendly rivalries to live music that elevates the atmosphere. The bar stays open until 2 a.m. every night, making it the perfect spot for late-night adventures.
Daily Specials
Each day of the week comes with delightful surprises for guests, which are exclusively announced on Westend's active Facebook page. Make sure to follow them on social media to stay updated on the latest offerings!
Lively Ambiance
When you're looking for an energy-filled night with the crowd, Westend Bar & Grill has you covered. Sports betting is big at the facility, but even if that isn't your thing, the lively atmosphere ensures you have a good time.
The crowds cheer on the games, the conversations are lively, and the energy is felt in the room any night of the week.
Attentive Staff
If your expectations of a sports bar are low, visiting Westend Bar & Grill will increase your opinion to a higher standard. The attentive staff at the bar makes it feel like you've gathered with old friends.
They know the menu, and their drink selection, and want to ensure your time at the bar is top-notch. You'll leave pleasantly pleased with the entire experience, including the attentive staff.
---
Best Stevensville Sports Bars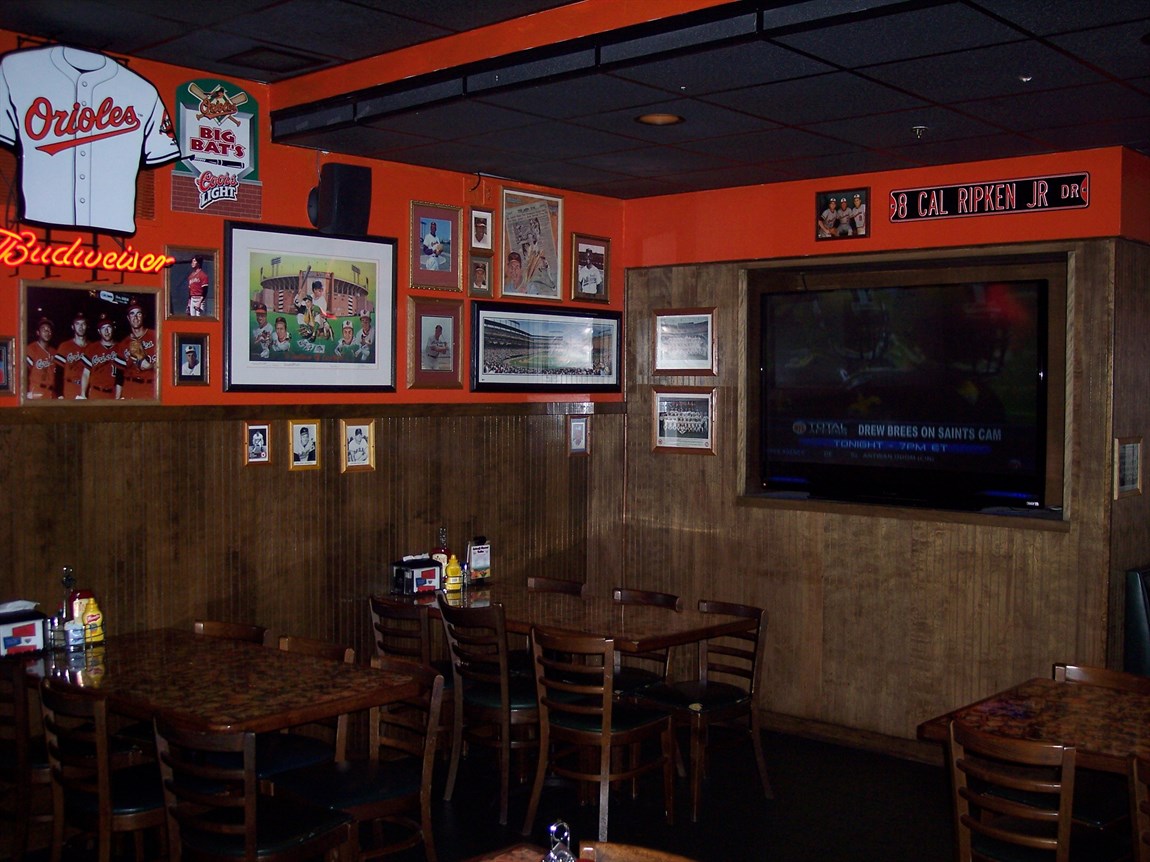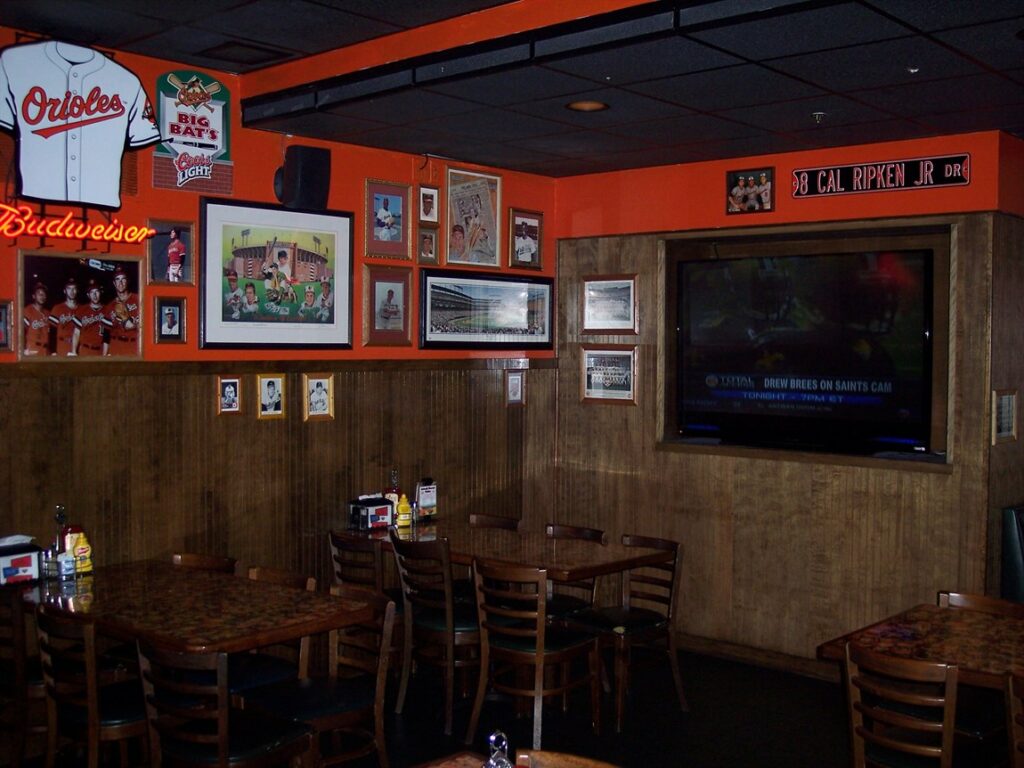 Big Bat's Cafe
Big Bat's Cafe is a hidden gem that combines a cozy atmosphere with excellent food. Trust me,
this place is a local favorite. My recent visit left me with a few noteworthy highlights.
Warm and Welcoming
As soon as you step foot inside Big Bat's Cafe, you'll notice the place is decked out in rustic decor, with vintage baseball memorabilia all around.
It's definitely a sports lover's paradise, but even if you're not a die-hard fan, it'd be hard not to appreciate the unique and charming atmosphere.
The seating is comfy, the staff is super friendly and attentive, and the outdoor seating area offers a fantastic view of the town.
The Grub
My favorite part! Big Bat's Cafe has a menu worth coming back for. Nothing crazy, just flat out
good food.
Sandwiches, burgers, salads, and pasta dishes, what you'd expect. I loved my
burger, their signature "Big Bat Burger."
It's juicy, packed with flavor, and just downright
amazing. If you're a dessert fan, they even have homemade pies!
Value
Big Bat's Cafe knows how to make good food and a welcoming space, but best of all, the prices won't break the bank. You get generous portions for extremely reasonable prices.
Whether you're popping in for a quick lunch or planning a leisurely dinner, Big Bat's Cafe is the place to be. It's got everything you need for a great time—amazing food, a welcoming atmosphere, and top-notch service.
Seriously, if you find yourself in Stevensville, don't miss out on this gem of a restaurant!