Details for Current WSOP Promo Code Offers
WSOP, unlike other online poker sites, offers four promotions for new users that reward both signing up and depositing your first cash into the site. After creating an account, new WSOP poker app users will receive a lucrative bonus.
Ready to make your first deposit and lock in a large bonus? Any deposit qualifies for a bonus when using the featured promo code offered at the top of this page. Get a 100% deposit match, up to $1,000, with the first promotion listed at the top of this page.
This is, by far, the best combination of promo code offers available in the US poker industry this September. Whether you want bonus chips or are looking for rake-free games, the WSOP app delivers the best. Since everyone loves a solid deposit match bonus, you won't be disappointed.
Find the details for the current WSOP freeroll and deposit bonus promotions in the table below.
| | |
| --- | --- |
| Promo Code | EWB |
| FreeRolls Offer | Deposit at least $10, Get (7) $100 Freerolls |
| Deposit Bonus Offer | 100% Deposit Bonus up to $1,000 |
| Dates | Valid: 9/1/2023 | Expires: 10/17/2023 |
| Terms | New users only, must be in NJ, PA, or NV. |
Important Terms for the Current WSOP Bonus Code
Like just about any deposit match offer in the poker industry, the bonus funds are earned as you play. Every WSOP user earns action player points (APP) when they play cash games. If there is a fee to enter or a rake in the hand, the game will reward APPs. For every 50 apps a user gets, they will gain access to $5 of their deposit match. Users will have 90 days to earn enough apps to collect their entire deposit bonus.
The final promotion to be aware of is the Welcome Week Freerolls. After their initial deposit welcome bonus, users will get tickets to seven $100 freerolls with other new players. These freeroll tournaments–with $100 prize pools–happen every night.
With a great welcome bonus, an industry-leading rewards program, and daily freeroll opportunities, WSOP players have plenty of options to build a bankroll without having to risk their deposit.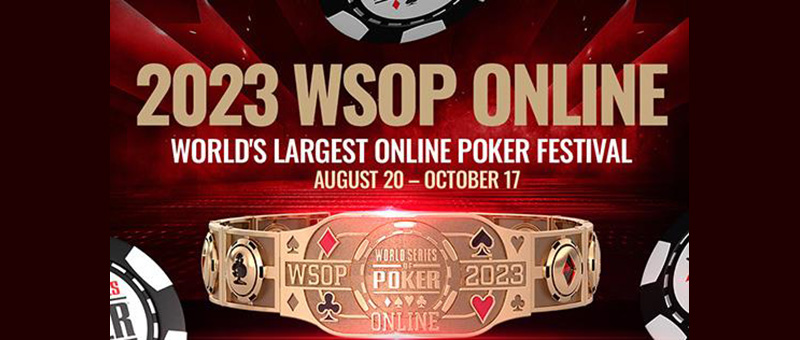 Additional WSOP Poker App Promotions
In addition to the WSOP promo code offers that can always be found on this page, we track offers available exclusively to existing WSOP players. These can range from increased payouts to rake-free games and are typically available several times throughout the year.
Of course, some of these promos require an exclusive bonus code while some don't require WSOP promo codes at all. You just have to stay on top of the WSOP promo code list to see what's happening and when.
For example, WSOP offered a raffle during the Super Bowl. Any player who actively played on Super Bowl Sunday was entered into a raffle that paid out $1000 cash + $500 in tournament tickets, and the more you played, the more entries you received.
This is what we love the most about WSOP. You can play without WSOP promo codes and still have a chance at winning cash. That's why they're the number one online poker site and will continue to stay that way.
2023 WSOP Online Bracelet Event
The latest WSOP online poker event is one that is sure to catch the eye of every poker player. The 2023 WSOP Online Poker Festival features a number of prizes that poker players will only find in the WSOP app. These prizes include:
WSOP Gold Bracelet
WSOP Paradise Package - Trip that includes a 5-night hotel stay, travel stipend, and entry into a $5,000 main event.
In addition to the prizes listed above, any player that makes an Online Bracelet Event final table will receive a tournament ticket to an exclusive freeroll on October 19. This freeroll pays out 5 WSOP Paradise Trip Packages.
The WSOP Online Bracelet Event runs from September 10, 2023, through October 17, 2023, so be sure to register in time to be part of this exclusive event!

WSOP Online Poker Background
WSOP, more commonly known as the World Series of Poker, is the biggest name in the US poker industry. Their annual series of poker tournaments make headlines and primetime ESPN every year, but their poker game presence online is similarly large despite their lack of media prominence.
They first became a member of the online poker industry in 2013 when they went to live in their home of Las Vegas, Nevada. Then, they made their way into New Jersey shortly thereafter. Pennsylvania joined the WSOP family in July 2021. Michigan recently started offering WSOP, which was obviously a huge win for poker players in the Great Lakes State.
Their signature event is a series of poker tournaments they call ring and bracelet events that feature huge prize pools and equally large turnouts. Their game offerings also include the usual variety of cash games, sit & go games, and smaller multi-table tournaments.
World Series of Poker has been a Caesars Entertainment brand for quite some time, but it wasn't until 2021 that WSOP players got access to Caesars Rewards. This gives WSOP a massive advantage over competitors like PokerStars and BetMGM Poker, who simply can not compete with the industry-best Caesars Rewards program.
WSOP Available Games
WSOP has all the cash poker games a poker lover might want. They don't have every variation under the sun, but enough to mix it up if things get a little stale. For cash games, WSOP has Texas Holdem Poker (no limit and fixed limit), Omaha (pot limit, pot limit hi-lo, and fixed limit hi-lo), and seven-card stud (high only and high-lo).
Essentially, if there's a poker game you can imagine, they've got the online poker rooms for it.
WSOP also offers one of the more popular online poker games, Sit and Go contests. For those unaware, sit-and-go games provide all the thrills of poker without the time commitment and scheduling worries. They run 24 hours a day, start whenever the table fills, and usually finish in an hour.
Users can also try out BLAST poker–a Sit and Go experience where a drawing at the beginning of the tournament determines the prize pool multiplier. Ranging from two-10,000 times the buy-in, the multiplier determines how long the game runs for. Once the timer ends, all players go all-in until one player remains.
Plenty of Poker Game Tournaments
Tournaments. Tournaments. Tournaments. WSOP is a tournament at heart, so it only makes sense that their online poker games include plenty of tournaments. As one might expect, their tournaments attract lots of players, so large prize pools are to be expected.
The $7,000 Daily Rebuy has a $7K prize pool. Tuesday tournaments offer $35,000-$50,000 prize pools. Saturday tournaments $10,000 and $25,000 prize pools. Suffice to say, tournaments are always an option with WSOP and a place to make some serious cash.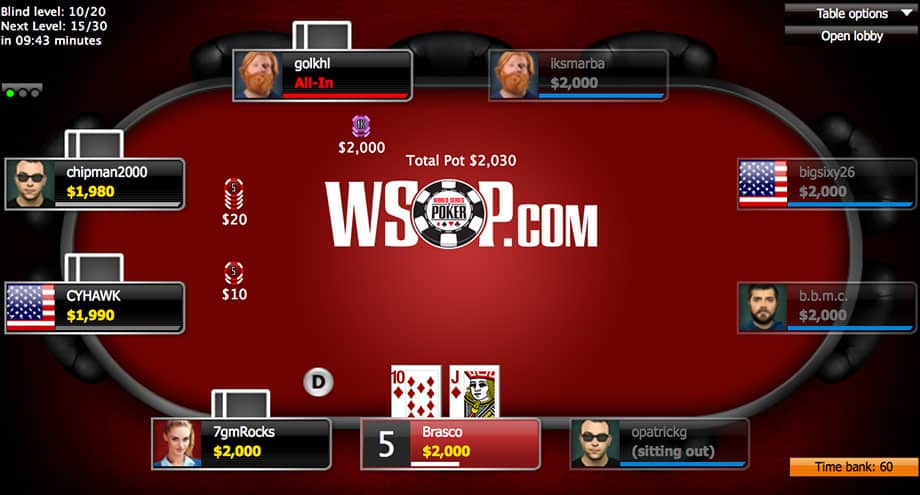 WSOP Account Features
WSOP is available through your browser as well as downloadable applications for your iOS or Android device. The website can be slightly intimidating with all the information offered at first but is easy to understand once you get comfortable. And, if you don't like the display, there are plenty of customization options.
Some players do think the website can feel and look a bit dated, which makes sense given the infrequent updates. Still, the site is more than functional and enjoyable.
Deposits and withdrawals are pretty standard with WSOP and cover most of the usual options. The minimum deposit is $10 and the maximum will depend on the deposit method. Options for depositing are:
WSOP offers slightly fewer withdrawal options:
There is a short verification process upon your first withdrawal that will make your first withdrawal take a little bit longer than usual, but normal withdrawals take a few days maximum. There are also minimum withdrawal amounts, but this will depend on the method.
Support and customer service is mainly a comprehensive FAQ section, but they do offer email and phone support for each state they are in. So if you're in an online poker room and having an issue, there is a support phone number you can call to get immediate assistance.

WSOP App and Promotions FAQs
As Caesars Entertainment looks to expand the overall reach of the World Series of Poker brand, new players are jumping on board faster than ever. This results in a lot of questions about how the app works, what the house rules are, and more.
Whether you want to know how to get a deposit bonus on WSOP or just the legalities of WSOP poker, we'll try to answer all of your questions. Keep checking back from time to time as we'll add in additional questions and more information about WSOP as we get them.
Below are the answers to most of these questions.
Is real money poker legal on WSOP?
Yes, WSOP is a legal online poker site and WSOP operates legally as a licensed online poker operator in Michigan, Nevada, New Jersey, and Pennsylvania.
This means the company is held to the rules and regulations that apply to operators in each of these markets.
For example, in Pennsylvania, the Pennsylvania Gaming Control Board regulates all online gambling activity that WSOP takes part of. The other states like Ohio and Massachusetts have a similar governing body as well. Whether you're playing WSOP NV, WSOP NJ, or any other state they operate in, all activity is legal and regulated.
How old do you have to be to use WSOP to play poker online?
Players must be 21+ years old to be eligible to use the WSOP website and WSOP mobile app. When signing up, you will be asked to provide your full name, date of birth, phone number, home address, and SSN to verify your identity and location.
So if you think you're going to get a free welcome bonus and take a seat at the poker tables, you'll have to think again if you're under the age of 21.
Who can play real money games on the World Series of Poker website and app?
Anybody who meets the age requirement and is located in New Jersey, Pennsylvania, Michigan, and Nevada can play.
You don't have to be a resident of the state, only physically located within the state to play in their cash games.
WSOP and other online poker websites use geolocating services that are incredibly precise and will locate the exact location of your device to determine whether or not you are within the permitted boundaries.
When will WSOP be available in other US states?
There are only six states in the US with online poker legalized: New Jersey, Pennsylvania, Michigan, Delaware, Nevada, and West Virginia. Delaware does not allow WSOP but does share a player pool. As for the other named and unnamed states, it is hard to tell when exactly WSOP will be available in those.
The first step is legalization, so keep tabs on states that are legalizing online poker to get a sense of where WSOP might be next.
How do I deposit or withdraw money on WSOP?
Thankfully, WSOP makes the entire process as smooth as possible. After logging into your account, simply click on the Cashier button. Choose whether you want to use ACH, Credit Card, PayPal, or Play+. Enter the amount you wish to deposit or withdraw and click Submit. You're good to go!
What customer service options does WSOP have?
Customer service is a dying art these days but WSOP does a fantastic job of handling any issues that may crop up. Folks in New Jersey can email [email protected] or contact their Help Desk directly. Gamblers in Michigan can email [email protected] or call 833-747-1800. Pennsylvania people can send an email to [email protected] or call 844-579-1643.

Current Rating for WSOP
BetMGM Poker has been our highest-rated poker app for the better part of the past three years. However, improvements to the WSOP software, a massively improved bonus offer, a welcome bonus, and the addition of Caesars Rewards have moved WSOP to our highest-rated US poker app.
This goes to show that WSOP is currently well ahead of other poker apps. In fact, with the $1,000 Deposit bonus offer, WSOP recently became our first-ever poker platform to receive a perfect 5-star score. Of course, all of the other WSOP promo codes played a role, but that promo code pushed them over the edge.
Our WSOP poker review was updated on September 8, 2023, and includes feedback from over 100 current players. Find the details for our rating and review below.
| Review | WSOP App and Bonus Offer |
| --- | --- |
| Details | WSOP is the biggest name in poker and the WSOP online poker product is sure to impress. With the largest tournaments in the industry, daily freeroll opportunities, and generous bonus offers, WSOP has earned our pick as the best poker app for 2023. New players can get a 100% deposit match, worth up to $1,000, and $100 in site credit. |
| Author | Chris Lollis |
| Rating | 5 (out of 5) |
Terms and Conditions Apply. Must be 21+ and in NJ, PA, MI, or NV to play. Gambling Problem? Call 1-800-Gambler in NJ, PA, MI, and 1-800-855-4700 in NV.