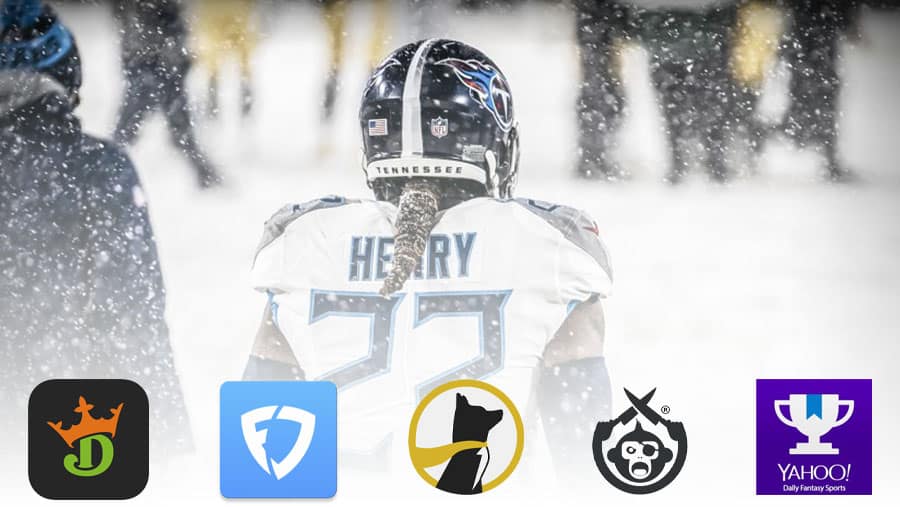 The Daily Fantasy Sports industry has been on a meteoric rise for several years now. Dedicated sports junkies can now play fantasy sports on a daily basis instead of committing to a full season. The main allure of playing DFS is the instant gratification of a possible cash payout every day.
The rise of popularity in DFS apps can make it a bit tricky to find a reputable one. It seems that new DFS apps are coming out of the woodwork every week. Not sure which DFS app is the best for you? Not to worry, here are the five best DFS apps for you to check out in 2022.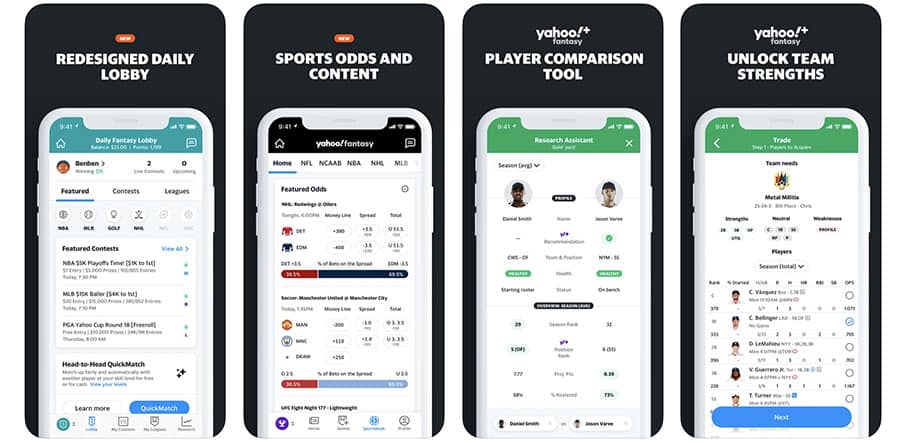 Yahoo was one of the first major players in the season-long fantasy sports market back in the day. However, Yahoo Daily Fantasy is a bit new to the daily fantasy industry as their official DFS launch date was only about six years ago. Yahoo's DFS growth was at a minute pace for a few years, but that has changed recently.
Yahoo makes our Top 5 list because their website and app are both super user-friendly and designed with new players in mind. The layout of their app has a clean look to it and we highly recommend trying Yahoo if you are a DFS rookie. Yahoo's DFS clients claim that all withdrawals are super fast and painless. Another nice feature is that Yahoo Sports will automatically link with your Yahoo account if you have one.
The only knock on Yahoo is that there aren't many DFS games to choose from like other DFS leaders like Fanduel and DraftKings. A few folks have commented that the Yahoo app is littered with too many ads, but it doesn't seem to affect the speed or functionality of the app. Yahoo is a great DFS app for anyone to consider downloading.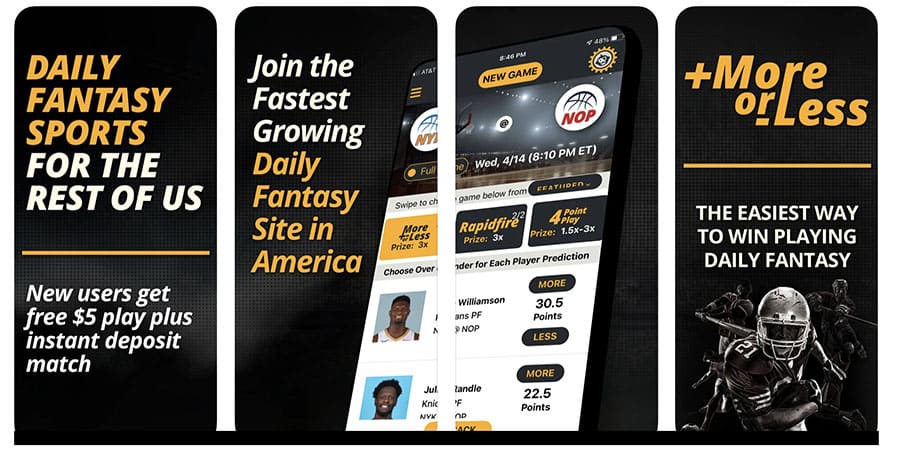 If you are a sports bettor that loves prop bets and a wide variety of DFS contests to choose from, Money Knife Fight (known as MKF in the fantasy sports world) could be the perfect app for you this year! Even better, if you love the idea of prop betting, but live in a state where sports betting is not yet legal, you are going to love Monkey Knife Fight.
The dashboard on MKF is one of the best we have experienced because you can see how all of your current contests are going immediately after signing in. Beyond just the in-game experience, Monkey Knife Fight makes it easy to sort through and find new games to enter
Another feature that is giving MKF some serious traction is its generous bonus structure. Currently, " target="_blank">MKF is offering a 100% match bonus of up to $100 for first-time customers. This is one of the best bonus deals in the world of DFS and only DraftKings can stand toe to toe with MKF as far as bonuses are concerned.
The only concern with MKF is that their app isn't all that user-friendly. It can be tough to navigate, especially if you are newer to DFS. Also, while MKF's variety of games and contests are impressive, some of those can be tough to understand for newbies. We still consider MKF one of the best apps for seasoned DFS players.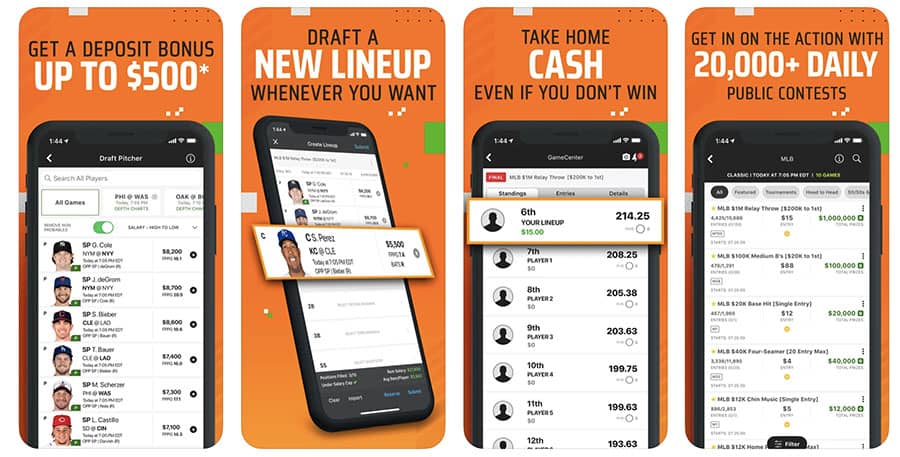 DraftKings was founded in 2012 and is one of the best companies in the DFS industry. Major League Baseball helped put DraftKings on the map by investing in them in 2013 for an undisclosed amount. This was a historical moment because it was the first time a U.S. pro sports league had invested in daily fantasy sports.
DraftKings offers more variety of contests and games than any other DFS app. Their bonus structure is also one of the best in the DFS market today. First-time users can receive up to $500 in free credits on the DraftKings app.
Customers have only brought up a couple of concerns with the DraftKings app. One is that the app looks like it hasn't been updated in quite some time, and overall it looks kind of bland. The other concern that has been mentioned is slow response times whenever an issue arises. This is probably due to DK's high user base, which is amongst the highest in the industry.
That massive player base allows DraftKings to offer the biggest fantasy contests in the industry. DraftKings runs a Millionaire Maker contest every week of the NFL season, for every golf major, and around several other major sporting events.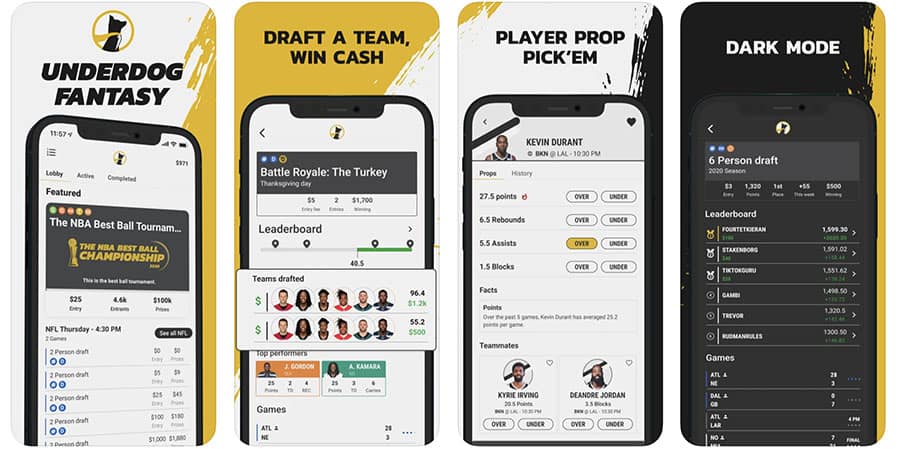 Underdog comes in as the runner-up on our Top 5 list for DFS apps. Underdog has only been on the DFS scene for about a year, but they have made a major splash in the industry. Underdog is financially backed by some pretty heavy hitters like Mark Cuban, Adam Schefter, and Kevin Durant.
If you love playing Best Ball tournaments, the Underdog app would be a great fit for you and your DFS needs. Underdog is currently running a Best Ball tournament with a total prize pool of 3.5 million with 1 million bucks going to the first-place winner. The layout of their app is basic but easy to understand. Underdog also offers 24/7 customer support, which is impressive for such a new company.
The only knock on Underdog so far has been their lack of depositing options. For the longest time Underdog only accepted PayPal deposits, but they now take all major credit cards.
Underdog offers the benefits of prop-based fantasy games like Monkey Knife Fight, with the added benefit of having an industry-leading best ball product. Combine that with a sleek, modern design and you have arguably the best new DFS product to release in the last five years.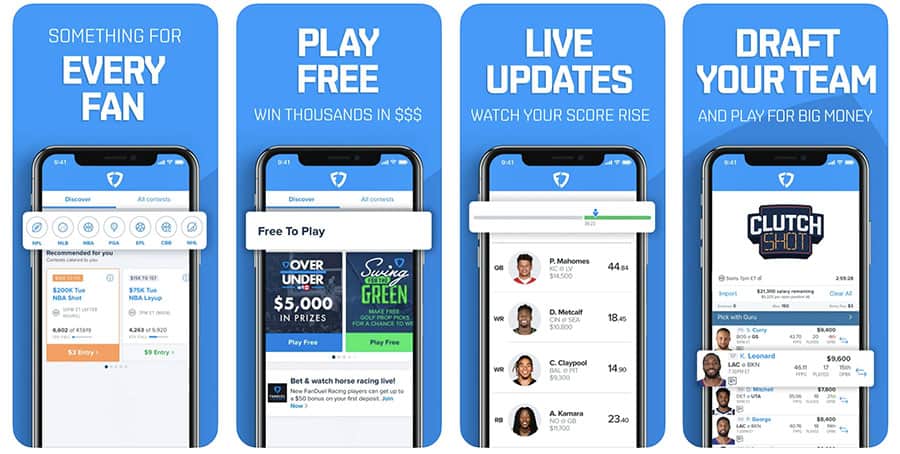 FanDuel has been around since 2009 and they have stood the test of time as one of the best companies for daily fantasy sports. FanDuel currently has 6 million users and a staff of over 1,500 employees. FanDuel has built one of the most reputable brands in the DFS industry because of its dedication to customer service.
FanDuel boasts a nifty rewards program that includes a generous refer a friend bonus. Because of the size of their user base, FanDuel can offer a wide variety of options to suit your DFS needs. There's a quality DFS game for every type of player at FanDuel.
FanDuel's DFS home page is one of the best in the business today because it is so robust. This is convenient for all of FanDuel's members. It's nice to be able to see all of your fantasy sports info on the same page. Like DraftKings, FanDuel offers a weekly million-dollar contest throughout the NFL season. They also offer some of the largest college football and college basketball contests in the industry.
Perhaps our favorite thing FanDuel does is cater to new players. As a new DFS player, you can choose to compete only against other new players in FanDuel's beginner contests. If you are going to play DFS, you can't go wrong with FanDuel.