Jock MKT offers the best stock market DFS app in the industry! Buy low on players you love, or bid live as games play out, and cash in when they have big fantasy weeks. It's like a stock exchange for daily fantasy sports! Why buy stocks when you can buy players and win real money? Sign up today using the Jock MKT promo code EWB1 to receive a 100% deposit bonus worth up to $100.
Must be 18+ (19+ in AL and NE, 21+ in AZ, IA, LA, and MA) and present in a state where Jock MKT operates. Concerned with your play? Call 1-800-GAMBLER or visit www.ncpgambling.org.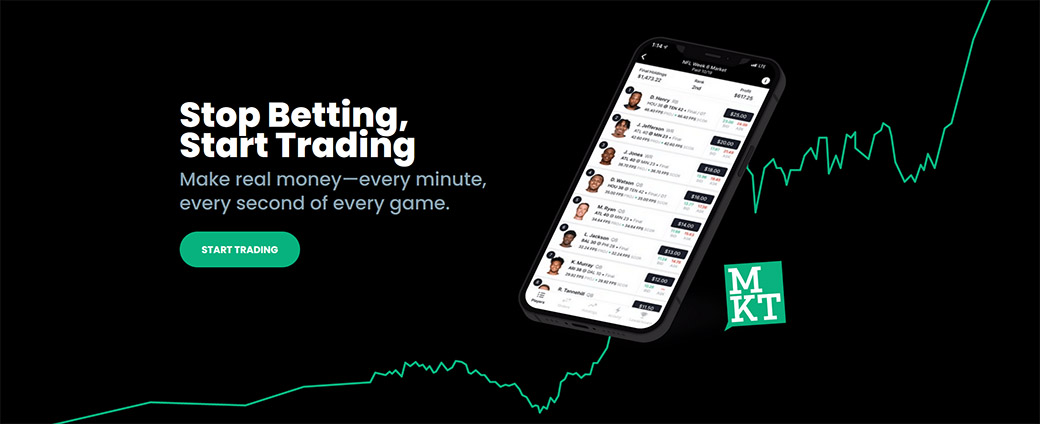 Stock MKT Promo Code Offer

New players that sign up using the Jock MKT promo code EWB1 receive a 100% deposit match worth up to $100. This is the top-rated welcome bonus offer from a fantasy sports stock exchange product, and one of the best offers in the entire DFS industry. Find the details for this promotion in the table below:
| | |
| --- | --- |
| Stock MKT Promo Code | EWB1 |
| Bonus Offer | 100% Deposit Match, Up to a $100 Bonus |
| Offer Terms | New players only, minimum deposit of $20. |
| Rollover | Funds are fully unlocked within 24 hours after at least 500% playthrough of the bonus amount. |
The good news is that it is quite easy to take advantage of the various promo codes that Jock MKT offers. With the current first deposit bonus match, all you need to do is have the promo code (EWB1) and know where to use it.
You will find a Jock MKT sign-up link through various means; just click it and you will be taken to the app where the new user registration process will begin.
To start, enter in your basic info: name, address, email, and phone number. When you have entered the relevant info, you will be able to enter in the promo code. Enter EWB1 go to the next step, which involves the minimum deposit of $20. Remember that your initial deposit will be matched up to $100, so this is the perfect spot to max it out.
How Does the Jock MKT Bonus Compare to Other DFS Apps?

Daily fantasy sports allows those who love to get in on the action to do so more regularly than they would in the average fantasy league. All it takes is a DFS platform that can meet your needs and offer the best bonuses.
Jock MKT is one of the biggest names in the DFS game but with a twist. It is a player exchange platform that allows you to buy and trade shares of players you have been watching. Think of it as the stock market for professional sports.
There are a ton of DFS platforms out there to choose from. All which require you to draft players for certain events, trying to score the most points possible. What Jock MKT does is a little different and definitely unique.
What's even better is when you combine this unique twist with Jock MKT coupons on the sleek and user-friendly Jock MKT online app, you get play DFS like you've never played before.
How the Jock MKT Promotion Works
Alright, let's get down to business. We're going to discuss exactly how the Jock MKT app works and why you're going to want to play Jock MKT.
Instead of setting a lineup like you would in a DFS platform, you buy and sell shares of players. Think of them as stocks that can be bought, sold, and traded. With the help of the promotional offer, that extra $100 can go a long way in making the smartest investments and winning fantasy points.
The promo code is in the form of a deposit match. Using the promo code EWB1, players can get a 100% deposit match on their first deposit up to $100. All it takes is creating a new account, getting it verified, and making the qualifying first deposit of at least $20. It's quite easily one of the best Jock MKT promo codes you'll ever find. Not only that, this promo code is legit unlike some of Jock MKT's top competitors.
In order to qualify for the bonus offer, all players must be at least 18 years old. More importantly, players must be physically located in a state where Jock MKT is licensed for operation. These terms are similar to those at Underdog and Vivid Picks, both of which also offer $100 deposit match promotions.

How Jock MKT Works

There are two different game types available through Jock MKT: the market and contest. Both allow for the trading of shares of players, with slight differences.
Jock MKT Contests: When you play in a Jock MKT contest, you are playing against other users. Each user will have the same chips to be used for trading. At the end, users are ranked based on how many pints and chips that they have allocated. When both have been tallied and everyone has been ranked, prizes are paid out accordingly.
Jock MKT Market: In the market, users can play for as little as $10 and as much as $10,000. Cashing out can happen in under 10 minutes, but you can remain in the IPO until the end of that given trading day. Jock MKT users can choose between being active or buying and holding, providing the same flexibility that the stock market offers.
You can choose to sell players or trade players before their price drops and capitalize on their hot streaks.
When the IPO stage opens, users can buy shares of their player by bidding on the shares. When the IPO stage closes, the user with the highest bids gets the player shares. When you get the shares, the market opens and live trading can begin.
We told you, Jock MKT is just like playing the stock market.
Payouts are simple, too. When the contest ends, prizes get paid out according to rankings of the players and shares. Selling or walking away are an option as well, allowing total flexibility for players throughout.

Jock MKT FAQs
We often get questions regarding Jock MKT, so we figured it was best to answer some of the most popular ones here. You'll find everything from how to use the platform to what types of contests are available.
As always, if you have any other questions about Jock MKT, feel free to contact us and we'll be happy to help. Or you can check back here soon for more updates.
Yes, Jock MKT is a skill-based platform that is available for anyone who meets the age requirements and is located in a state where Jock MKT is licensed for operation. That's not too difficult to do considering Jock MKT DFS is in 33 states (that's a lot of sports markets!). We'll cover which states later in these FAQs.
How much does it cost to play?
There is no cost to sign up or play on Jock MKT. You only need to deposit funds if you wish to participate in a contest or market. If you want to play with $500 (don't forget to use the Jock MKT promo code and get your $100 deposit match) and spread your bets across multiple players, you can do so without any issue.
Jock MKT accepts Visa, Mastercard, and Discover. You can also use PayPal or a Jock MKT Gift Card. It's also worth noting that you can either make a deposit through the Jock MKT site or through the Jock MKT mobile app. And don't forget your Jock MKT coupon while you're at it!
How do I withdraw my winnings?
Jock MKT winnings can be withdrawn through PayPal or by check. There is a $5 minimum for PayPal, but as with most DFS platforms, there are almost certainly minimum withdrawal limits. So this shouldn't be of a surprise.
What States is Jock MKT Available In?
If you are looking to sign up with Jock MKT, the good news is that 35 states can currently get in on the action. That said, DFS is legal in 44 states as of now, which means that there are a few states in which Jock MKT does not, as of yet, have a license to operate.

Jock MKT is in the following states: Alabama, Alaska, Arkansas, California, Colorado, Florida, Georgia, Illinois, Kansas, Kentucky, Maine, Maryland, Massachusetts, Minnesota, Missouri, Nebraska, New Hampshire, New Jersey, New Mexico, New York, North Carolina, North Dakota, Ohio, Oklahoma, Oregon, Rhode Island, South Carolina, South Dakota, Tennessee, Texas, Utah, Vermont, West Virginia, Wisconsin, and Wyoming.
You can find the Jock MKT app on both the Apple App Store and Google Play Store. It's free on both apple and android devices and has a 4.2-star rating on the App Store with over 40 reviews, so it's pretty popular when it comes to sports betting in online sportsbooks.

The best part of their online app is that you can use the Jock MKT promo code right inside the app. So you don't have to go to the Jock MKT homepage to get your welcome bonus! Take advantage of this Jock MKT offering and start live trading players today!
If you want to learn more about Jock MKT bonuses and their app, we're planning on doing a thorough and holistic Jock MKT review in 2023. So keep checking back to see our Jock MKT review.
How old do you have to be to play on Jock MKT?

Jock MKT is available to anyone at least 18 years of age. This minimum age is consistent across every daily fantasy app. So in order to create a Jock MKT account, you'll need to be at least 18. That's a state law, not some arbitrary age that Jock MKT created.

Will the Jock MKT promo code expire?

The current Jock MKT promo code that we highlighted in this Jock MKT review is good through the end of November. However, we think they'll either extend it or create a new one. We're always staying on top of every Jock MKT bonus so you can get the maximum bonus.

Jock MKT Pros and Cons
Jock MKT offers a new and exciting twist on traditional daily fantasy sports that DFS fans can't get enough of.
While we think the Jock MKT product is the best in the industry, there are still some areas it could improve. However, those that play DFS on a regular basis will most likely see through their shortfalls and really enjoy this innovative DFS platform.
Let's take a closer look at the pros and cons for the current Jock MKT app:
Jock MKT Pros
The $100 promo code offer is easily the best bonus from any stock market fantasy apps.
Sleek mobile app and desktop designs that are easy to use.
The only DFS app that allows you to play during live events.
Jock MKT features great customer support and wide variety of cashier options.
Jock MKT Cons
As it is quite different from traditional DFS, there is a learning curve for new players.
While they do offer a challenges program, there is no rewards program at the moment.
We love new, innovative products and any new contest game such as the Jock MKT DFS, which is why we feature apps like ParlayPlay and heavily across our site. 
Jock MKT fits right in with this group. Its unique approach to fantasy sports is one of our favorite new ways to play. And who doesn't like promo codes?
We highly recommend Jock MKT to our readers that love to play fantasy sports!
Jock MKT Review
Folks who love DFS and the stock market will be more than pleased with Jock MKT. Players can participate in IPOs or even trade during games. All IPOs open up 24 hours before game time, so keep that in mind if you're going that route.
Our Jock MKT promo code, EWB1, gives new users a deposit bonus of up to $100. This makes this promo right in line with other competitors like PrizePicks and Underdog Fantasy.
This review was updated on November 2, 2023, and includes feedback from hundreds of actual Jock MKT participants.
| Review | Jock MKT App and Promotions |
| --- | --- |
| Details | Jock MKT's goal was to shake up the DFS landscape in a positive way, and that's exactly what they've achieved. We love that Jock MKT offers free and paid contests, and the way these folks combine sports with the stock market is pretty remarkable. The $100 deposit bonus isn't too shabby, either! We can't wait to see what the future holds for Jock MKT. |
| Author | Chris Lollis |
| Rating | 4.7 (out of 5) |
Must be 18+ (19+ in AL and NE, 21+ in AZ, IA, LA, and MA) and present in a state where Jock MKT operates. Terms apply. Please Gamble Responsibly. Concerned with your play? Call 1-800-GAMBLER or visit www.ncpgambling.org; AZ: 1-800-NEXT-STEP (1-800-639-8783) or test NEXT-STEP to 53342; NY: Call the 24/7 HOPEline at 1-877-8-HOPENY or Text HOPENY (467369), TN: Call/text TN REDLINE at 1-800-889-9789.