Maximize Your Winnings: Play the Lottery Online in NY
No more queuing at lottery booths or missing out on your chances to strike it rich. Those days are gone!
Today, you can play the NY lottery online. With just a few clicks, you can immerse yourself in an exciting world of possibilities where a life-changing jackpot could be just a play away.
Let's delve into online lotto games and discover how to turn your dreams into reality with a simple click of a button.
How to Play NY Lottery Games Online
First things first. Let's clear up the state lottery laws in New York and the online options available.
The New York State Lottery does not sell individual tickets for any NY lottery online, but there are subscriptions you can purchase for draw games like Mega Millions and Cash4Life. However, there is an official New York Lottery app that allows you to purchase tickets and scratch offs.
There are online lottery services like JackPocket.com that allow you to play official New York Lottery games online. And with the New York Lottery Subscription Center, you have the power to take control of your lottery journey right from your computer or smartphone. It's super handy!
Keep in mind—not all New York Lottery games are available for online play. So, be sure to check out the ones that are ready for digital action. You need to be 18 years or older to join in on the fun. It's all about having a responsible and legal gaming experience.
Why New Yorkers Decide to Play Lotto Online
Playing lottery games online comes with a plethora of benefits that can enhance your lottery experience and maximize your winnings. Here's why you should consider playing online:
Unmatched Convenience
With online lottery tickets, convenience becomes your closest companion. Whether you're at home, in the office, or on the go, all it takes is a few clicks to access a world of exciting lottery games. No more worrying about missing out on your chance to play. 
Wide Game Selection
The online platform opens up a treasure trove of diverse game options within the New York Lottery. From the highly anticipated Mega Millions and Powerball to the enticing Cash4Life, you'll find an array of captivating games to suit your preferences and increase your chances of hitting the jackpot.
Explore the range of draw games available and discover new favorites that can bring you closer to your dreams of wealth and prosperity.
Enhanced Security
Playing online provides an added layer of security and peace of mind. No more worries about misplacing or damaging your physical lottery ticket. When you play online, your entries are stored securely in your account.
This means your tickets are protected from loss or damage, ensuring that your rightful winnings are never lost in the shuffle. Feel confident that your chances of claiming your prizes remain intact with the enhanced security measures in place.
Lightning-Quick Prize Claims
Winning should be a joyous occasion, not a tedious process. When you play the New York Lottery online, claiming your prizes is quick and easy.
The online platform streamlines the prize claiming process by automatically crediting your winnings to your account.
Say goodbye to cumbersome paperwork or visits to claim centers. With just a few clicks, you can withdraw your winnings or reinvest them into future games, allowing you to focus on enjoying your newfound success.
Access to Comprehensive Game Information
Knowledge is power, and when it comes to lottery games, having access to comprehensive game information can significantly boost your chances of success. Online platforms provide you with a wealth of data, including past results, odds, and prize breakdowns.
Instant Notifications
Imagine the excitement of receiving that notification right to your email or mobile device, informing you of your newfound wealth. Instant notifications ensure that you never miss a beat and stay connected to the thrilling world of the New York Lottery.
Now that we've covered the "why," we'll get into the "how."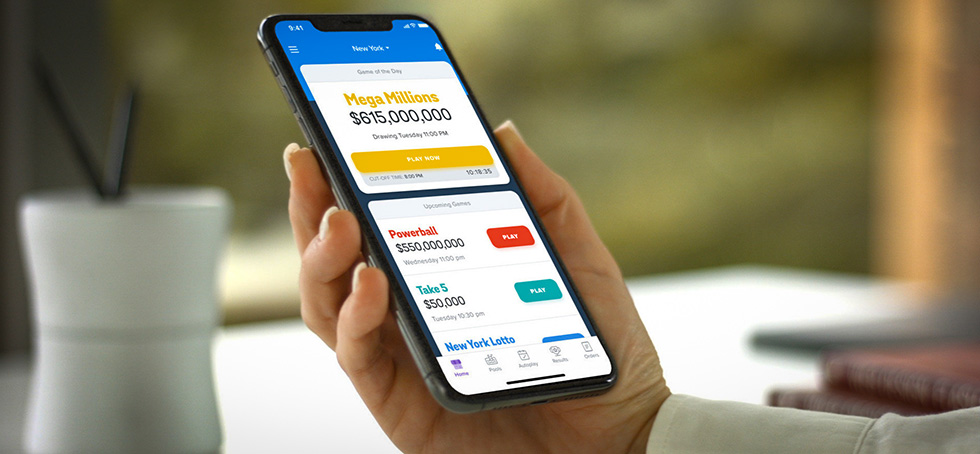 Which NY Lottery Games Can You Play Online?
Here is a rundown of the current selection of thrilling lotto games that you can play online:
Mega Millions
Increase your chances of winning big with Mega Millions. You can conveniently purchase subscriptions for this captivating draw game through the NY Lottery mobile app. It's just a few taps away from potential fortune!
Cash4Life
Embrace the opportunity to win $1,000 every day for life with Cash4Life. This enticing draw game is also available for online subscription purchase through the NY Lottery mobile app.
New York Lotto
Want to try your luck with New York Lotto? You're in luck! Purchase subscriptions for this exciting draw game online through the NY Lottery mobile app. Don't miss your shot at incredible prizes.
Draw-Based Games
Experience the convenience of Lotto.com, an online lottery service that brings the draw-based New York Lottery games straight to your fingertips.
Purchase your tickets online and participate in the exhilarating draw games from the comfort of your own device. It's never been easier to get in on the action!
Multi-State Draw Games
Looking for even more excitement? You can buy online subscriptions for multi-state draw games, such as Mega Millions, through the NY Lottery mobile app. Don't let geographical boundaries limit your chances of winning big!
Special NY Lottery Online Promotions
Mobile players can rejoice as these great New York Lottery promotions are specifically tailored for you. Take advantage of exclusive offers and bonuses available to mobile players. Plus, don't forget to check out the New York Lottery Players Club for exciting drawings and additional perks for loyal ticket buyers.
About the New York Lottery Subscription Service
Discover the convenience of the New York Lottery Subscription Service, where you can effortlessly purchase, renew, and manage your subscriptions online. It's a game-changer!
This service is available for three exciting games: Lotto, Mega Millions, and Cash4Life. Say goodbye to missed draws and hello to hassle-free subscription management.
Setting up your online access is a breeze. Simply click the "Set Up Account" button and provide your email and password. That's it! Existing customers can easily link their subscriptions to their online account for seamless management.
If you're new to the subscription service, registering is easy. Just provide your personal information, including your legal first and last name, and you're good to go. It's time to embark on your lottery journey with confidence.
It's important to note that alongside the official subscription service, there are also lottery courier services available in New York.
However, please be aware that these services are not affiliated with the New York Lottery and may have different terms and conditions. Stay informed and make choices that align with your preferences and needs.
Additional States With Online Lottery Games
New York is not the only state in the U.S. that offers online lottery. Here is a fantastic lineup of states that currently offer lottery either online or through a mobile app:
Georgia
Illinois
Kentucky
New Hampshire
These states have embraced the digital age, allowing players like you to enjoy the convenience and excitement of online lottery games.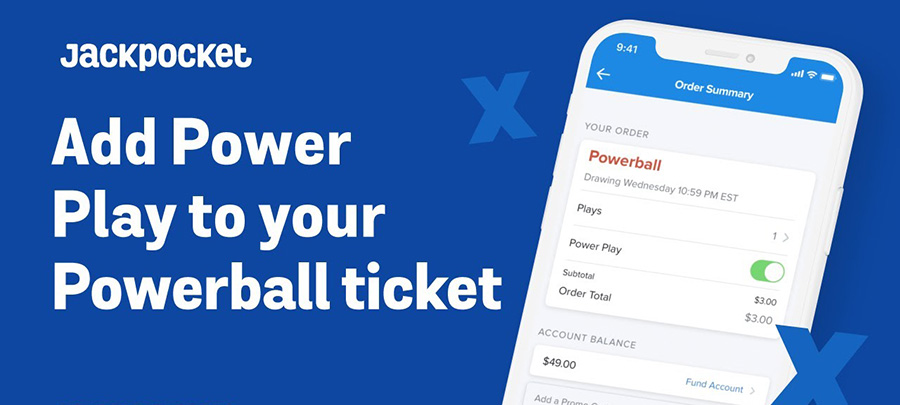 Ready to Experience the Thrill of Online Lotteries?
Unlock the world of online lottery play in New York with these four exciting options:
Jackpot.com
With a smooth registration process and great website, the easiest way to buy a lotto ticket in New York is Jackpot.com. New players that sign up using our Jackpot.com promo code can receive a free $2 for registering and making a deposit.
Jackpocket
Jackpocket is another popular lottery ticket website/app that is available in New York. Like Jackpot.com, every new Jackpocket user can get a free $2 ticket with any deposit. In addition to a great website, the Jackpocket app is available for iPhone and Android users.
New York Lottery Mobile App
Purchase tickets and scratch-offs with ease, right from your smartphone with the New York Lottery App. You can even schedule an appointment online to claim your winnings at a lottery office or conveniently send in your tickets via mail.
Lotto.com
This trusted online lottery service electronically delivers your lottery tickets, allowing you to indulge in your favorite games without leaving your home. Convenience at its finest!
Online Subscriptions
Although purchasing individual tickets online isn't available in New York, you can still enjoy the excitement of online subscriptions. By purchasing online subscriptions, join the action in multi-state draw games like Mega Millions and Powerball. Manage your subscriptions effortlessly through the New York Lottery Subscription Center, ensuring you never miss a chance to win big.
Third-Party Platforms
Residents and non-residents alike can explore the world of online ticket purchasing through authorized third-party platforms. However, it's crucial to exercise caution and ensure that the platform you choose is legal and licensed to operate in New York. Prioritize safety and legality while venturing into the realm of third-party ticket purchases.
Embrace the convenience and possibilities of online lottery play in New York. Get ready to immerse yourself in the thrill of online play and embark on an exciting journey toward your dreams of lottery success.
Please play responsible. Must be 18+ to purchase a Lottery ticket. Gambling problem? Visit NYProblemGamblingHelp.org. Call the HOPEline 1-877-846-7369 or text 467369.