The 2021 NFL Draft is just one month away and not only marks the next big betting event for the NFL but the last until the new season kicks off in late August. This article looks at what bets are available for the draft, the latest odds, and promotions from each of the major US sportsbooks offering NFL Draft betting.
Best NFL Draft Wager Menu Amongst US SportsBooks
We compared the betting menu from each of the top US sportsbooks to determine which book currently has the best betting options for the 2021 NFL Draft. Our team will continue to monitor the bets available at every book to ensure our subscribers can always find the Draft bets they are looking for.
PointsBet
At the moment, PointsBet has the best wagering menu for this year's draft. With nine different bets available and the most player-friendly odds for all of the top bets, PointsBet is easily the top option for US bettors looking for draft action this March.

Available Bet Types for 2021 NFL Draft
As the draft nears, sportsbooks will begin expanding the variety of bets available. Currently, there are just three different bet types available to bettors.
First Overall Selection - Obviously Trevor Lawrence is free money here. That being said, sportsbooks have made it impossible to make any real money betting on Lawrence to come off the board first. At the moment, you would need to bet $10,000 on Lawrence to make just $100.
Second Overall Selection - While you will likely be able to bet on picks 3-5 in the near future, the second overall pick is the only other wager available at the moment. Zach Wilson is currently the odds-on-favorite to go second overall, but would not be our bet. Check out how we are betting the 2021 Draft to learn why.
First Picked by Position - The only other NFL Draft bet type available at a US sportsbook this March is first picked by position. This does include seven positions: running back, wide receiver, offensive lineman, defensive lineman, linebacker, cornerback, and safety. Looking at the current odds, most sportsbooks see Chase as a lock at WR, Sewell as a lock at OL, and Micah Parsons as a lock at LB.
What Bets Will Be Available by Draft Day?
We saw a wide variety of lines pop up in the month leading up to the 2020 NFL Draft, and expect to see the majority of those bets again here in 2021. This included second position player drafted picks, we should see those lines pop-up where there is a heavy favorite including second quarterback selected and second wide receiver selected.
Additionally, you will see prop bets for individual players. For instance, one of our favorite bets from last year was Henry Ruggs III under 13.5 (-125). We knew the Raiders had him as their #1 WR and they were going receiver at 12, which made him a near-lock to go in the top 12.
Top SportsBook Promotions for NFL Draft
Every major US sportsbook is running a new player bonus offer this March. While some are still specific to March Madness, many can be applied to the Draft as well. This includes the $500 deposit bonus from PointsBet and $1,000 risk-free bet from FanDuel. We will keep the section below updated with our top-rated offers as we approach the start of the 2021 NFL Draft.
Book
Offer
Link
[rating stars="5.0"]
100% Deposit Bonus, Up to $500
Use Promo Code: GOODFOOD
Get Offer
[rating stars="4.9"]
$1,000 Risk-Free Bet
100% Refund if First Wager Loses
Get Offer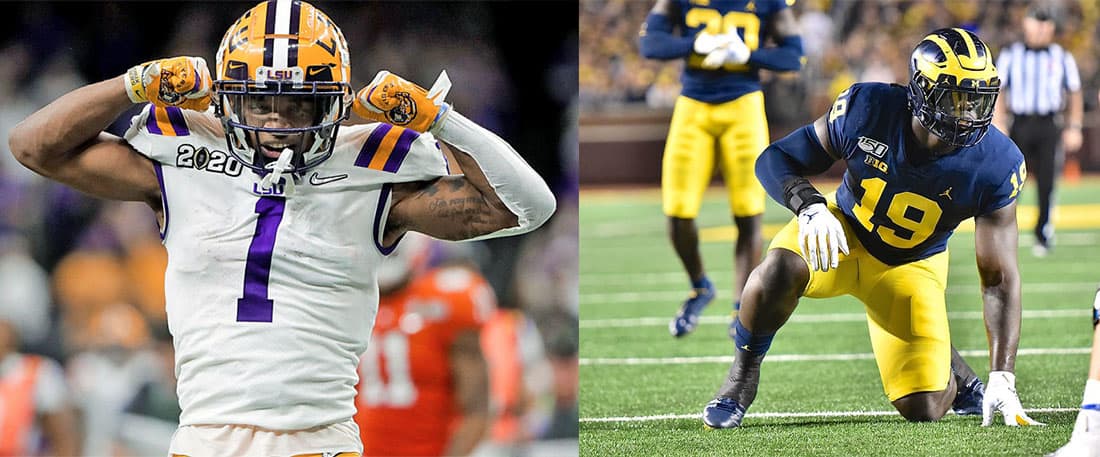 How We Are Betting the 2021 NFL Draft
The real value bets in this draft will have to wait until we see over/under odds for individual players. Those should start to pop up as March Madness starts to wind down over the next two weeks. FanDuel had odds posted for the top 53 prospects about two weeks prior to the start of the 2020 draft.
Top Bet: Second Overal Pick
The first bet that stands out to us right now is the number two overall pick. While we would agree Wilson deserves to be the favorite to go number two overall, there is a chance it would require a trade for that to happen. There have been rumors out of New York as recently as this week that the Jets are going to stick with Darnold for at least one more season.
Clearly, if that is the case, the Jets are going to add weapons around him and it won't be Sewell. The Jets view Becton and Fant as starters at the tackle spots. Ja'Marr Chase (+2500) is viewed by several NFL scouts as the best receiver prospect since Larry Fitzgerald. If the Jets plug him in alongside Mims and Crowder, with Chris Herndon getting a fresh start without Gase, Darnold would have some truly elite weapons around him.
At +2500, a $20 bet on Chase would pay out $520. That is a ton of value for a guy that many draft experts have as the number two player in this class and that happens to be a fit for the team drafting second.
Top Bet: First DL Selected
The other bet that stands out today is Kwity Paye (+175) as the first defensive lineman selected. Paye is regarded by nearly every draft expert as the top edge rusher in this year's draft. This is also a draft that lacks top-end talent at the interior defensive line.
Looking at PFF's Big Board, Paye is currently the 11th overall prospect with Jayson Oweh coming as the second edge rusher at 20. Oweh is expected to run a 4.4 40 but doesn't profile as a player that can play all three downs. Paye runs a 4.5 but has the build to be an every-down defensive end in the NFL. At +175, you are getting great value for a guy that looks like the clear favorite to be the first defensive lineman off the board.
Browse Latest Articles