If you have a little bit of maverick in you as a sports bettor, and you want to fade the public with a willingness to wait for some sweet, delayed gratification, futures betting just might be your jam.
Your average betting tutorial won't have a little social commentary in the intro. Bet on that. Anyway, moving on to why we're here. In this betting tutorial, we'll dive into all the details of what futures are, potential strategies you can deploy, and ideally answer any and all questions you could ever have about this style of longer-term betting.
The good news is, if you're totally new to this, it's rather straightforward. You shall see in due time.
What is Futures Betting?
Well, the answer is in the name itself. As opposed to placing a wager on a game that's happening in real-time, a futures bet is any bet that requires to you to bet now, and wait until some set time in the probably-distant future for it to pay off.
Be careful not to lump this in with the most widely deployed bets such as spreads, moneylines, or totals. If you place pregame bets on those primary lines, you typically have a period of hours or days before you find out the result.
Team Futures are the Most Common Type of Futures Betting Odds
Futures bets take even more of a long view than that. "Futures" have their own tab in sportsbooks for all the major leagues. The broadest categories are as follows:
…And so on. You can also find lines on, say, individual golfers to win each week. Most sportsbooks list the odds for major championships very far out (Masters, PGA Championship, U.S. Open, and Open Championship). The same goes for Grand Slam tennis events like the Australian Open and Wimbledon.
These are the broadest and probably most common categories. You can also bet on conference winners, division winners, and other team-specific props, such as "Yes/No" props for whether or not, say, the Buffalo Bills will make the playoffs, or the Over/Under on how many games the Jacksonville Jaguars will win for the season.
Shopping around at different sportsbooks to get the best odds possible is highly advisable. Not all oddsmakers will have the exact same lines. Some books have alternate win total props as well.
If you're confident that a particular team will exceed expectations, you can reach for a higher win total at longer odds through some sportsbooks. That can help you avoid surged juice/vig on the teams you want to bet on at other books.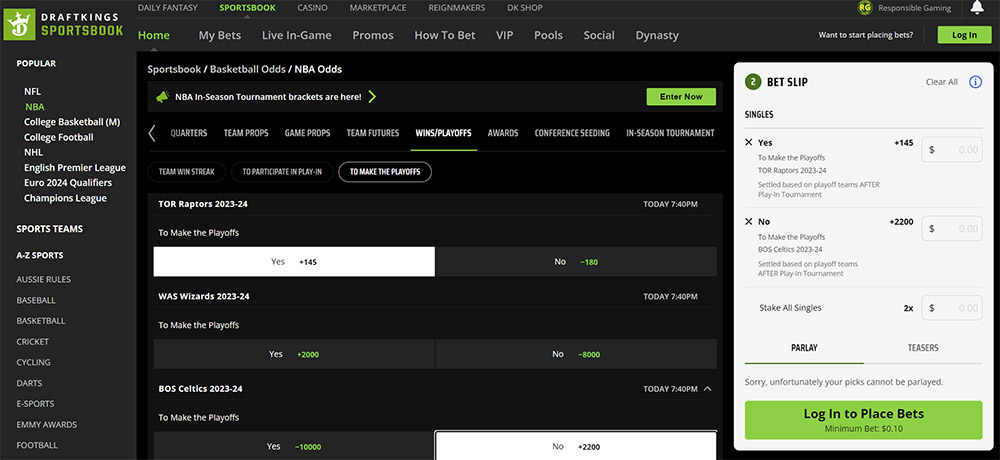 Preseason Player Prop Futures
If you like betting on player props for each game (e.g. Justin Jefferson Over/Under 83.5 receiving yards), you can do that for the entire season if you'd like.
For these season-long player props, it takes a bit more of an experienced bettor with expertise in a specific league or sport and a lot of offseason research/numbers crunching. It'd be something like the Over/Under on how many receiving yards Justin Jefferson will gain for the season, or the number of TD passes Joe Burrow will throw.
We'll talk more about the pros and cons of futures betting here in the upcoming sections. As you can probably infer, betting on a player's season-long stats can be risky. In order to produce to the sportsbooks' expectations, they need to be healthy and available as much as possible. That can be easier said than done when you're forecasting that far out.
Advantages of Futures Betting
Really, there's one big one you should know right out of the gates. It's obvious when you look at the lines. With futures betting, you get much longer odds than a pre-game wager.
This is partially because the bet takes so long to pay out, and so many factors go into the bet that can play out over an entire season.
Thanks to the longer odds, you don't have to bet as many units — read: as much money — as you normally would on a straight, standalone bet. Even the biggest favorites to win the NBA championship or Super Bowl typically have odds around +500, or 5-to-1.
In that scenario, you'd be betting $10 to win $50. Mid-tier contenders can be had anywhere between +2000 to +3000. Then, the real longest shots who are perceived to have no chance of contending can have odds that stretch to as high as +10000. Imagine that payout.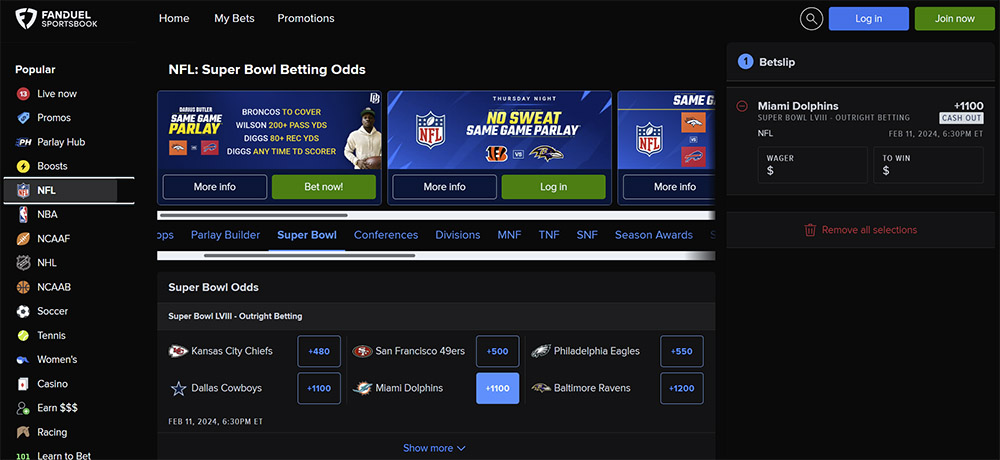 Disadvantages of Futures Betting
The clear downside to futures betting is the unknown factors that can dramatically affect your wager.
Say you bet on a team to win the Super Bowl prior to the NFL season, and a superstar player got injured in the first game. We saw this with New York Jets quarterback Aaron Rodgers in Week 1 this year.
That's an extreme case, and perhaps some generous-feeling sportsbooks might refund those wagers due to such extraordinary, catastrophic circumstances. However, if a key player goes down in, say, Week 9 and tanks the season for the team you bet on, well… tough luck.
As mentioned in the introduction of this betting tutorial, so much of the fun many bettors have is throwing down wagers on today's games. Most folks want to get in on today's action. Again, there's a delayed gratification and extremely belated payoff element to futures betting that isn't for everyone.
One more potential downside is the fact that the odds are constantly changing as the season wears on.
Say you bet on the Miami Dolphins to win the Super Bowl at +1000, after their 70-20 romp over the Denver Broncos earlier this NFL season. Maybe their odds before that blowout were closer to +1400, and you want to jump on the bandwagon now. Well, what happens later on when they lose to quality teams like the Eagles and Chiefs is the odds move back to +1400 or even longer.
Futures Betting Pro Tip: Hedge Your Bets
If live betting on this week's games is like riding the roller coaster of the stock market, futures betting is more akin to investing in mutual funds. There may be the occasional drastic movement, but it's much more of a big-picture overview of a particular sport or league.
So the biggest tip? To continue the financial analogy, diversify your portfolio by hedging your bets.
Hedging is probably its own standalone betting tutorial. Long story short, a hedge bet is when you bet on alternative outcomes within the same event. It's personal insurance in a way. You're not putting all your eggs in one basket. You're not putting all your money on one team to win the championship.
Example of Hedging a Futures Bet
To keep going with NFL futures and Super Bowl odds since that's the most popular league in the U.S., think of it like this: Betting on Patrick Mahomes and the Chiefs to win the Super Bowl isn't the worst idea. They've hosted the AFC Championship Game for the past half-decade.
However, you're not going to get very good odds on that compared to other contenders. Perhaps you sprinkle a pretty penny on the Chiefs, because you're confident in them, and you have to bet a little more to earn a worthwhile payout from one of the big favorites.
But in addition to that wager, you take a team with an outside shot at the Lombardi Trophy, such as the Cleveland Browns. Finally, maybe you want to toss in a long shot at much higher odds, so you take a flier on the Houston Texans.
I'm obviously speaking in retrospect, with knowledge of how about half the NFL season has gone. So I'll make up the preseason Super Bowl odds for these three teams, just to give you an idea of how you can apply this hedging strategy to futures betting. We'll go with a modest budget in this exercise. Here's how it'd break down.
Chiefs +500 ($50) = $250 payout
Browns +2000 ($20) = $400 payout
Texans +10000 ($10) = $1,000 payout
That's a total of $80 invested to potentially win either $250, $400, or up to $1,000 if C.J. Stroud and the Texans pull off the Cinderella run to end all Cinderella runs. Instead of having only about a 3% chance to pick one winner out of 32 teams, you risk a little more money, but with the benefit of having three potential winners out of 32. Suddenly, your flat chances rise to about 9.4%
You can mix and match teams and odds however your heart desires. Whatever is most comfortable. This is a mere example of one way to approach it.
There's no guarantee this is a winning strategy, to be clear. You can think of it almost as if you're building a daily fantasy lineup, except that it won't pay off until the Super Bowl is decided — if at all.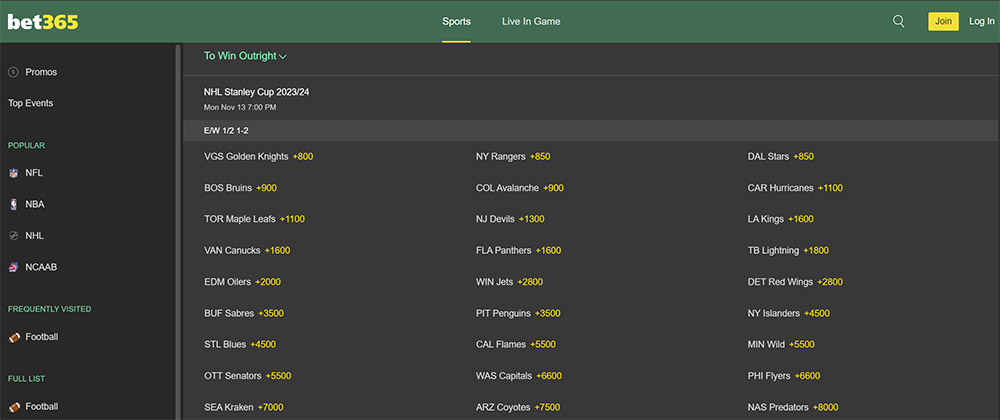 Futures Betting FAQs
And with that, we've reached the FAQ section, where we'll try to drill down and reemphasize the major elements of futures betting.
What's the most common type of futures betting?
Championship odds in the major sports leagues are the most common type of futures betting. You can bet on a team to win the Super Bowl or the NBA championship before the season or wait to do so at any point during the season.
What are the biggest challenges in futures betting?
The odds are constantly changing. Whether you wait till the games begin, or take the plunge during preseason, there's always the risk that you won't bet on your desired team when they're at peak market value. Another challenge, to quote Tom Petty: "The waiting is the hardest part." Futures betting takes serious patience because payouts only occur once the final event has been decided. That's either at the end of a season or after the playoffs in the vast majority of cases.
Can you mix and match sports for a futures betting parlay?
You obviously can't parlay futures bets together for the same event, like the Super Bowl, where there can be only one winner. Some sportsbooks allow you to parlay futures together, though. For instance, you might want to bet the Boston Bruins to win the Stanley Cup, and combine that with the Denver Nuggets to win the NBA championship, and the Philadelphia Eagles to win the Super Bowl. The payout can be massive if you hit. Again, though — that's a long, painful wait. Especially if you hit on that Eagles Super Bowl ticket in February, only to have to wait months to see whether the Bruins and Nuggets pull through!
Is futures betting worth it?
Betting futures is an exciting way to find action before a season starts. If you believe you can find an edge on a team or player that sportsbooks are overlooking, it can be a solid investment. However, you always have to weigh in the risk of the unknown as well as the fact that your bankroll is tied up for the length of the season.