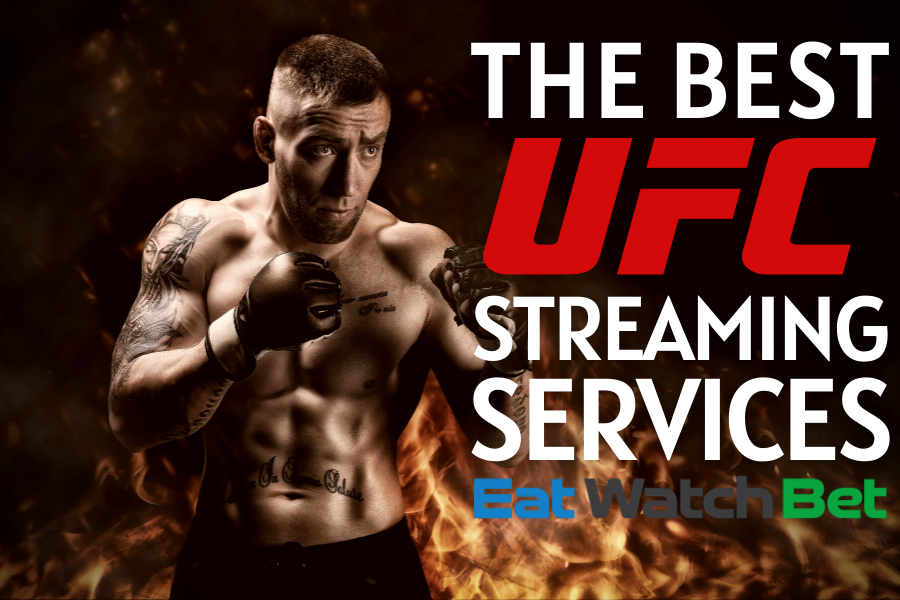 The sport of Mixed Martial Arts has exploded in popularity in recent years, mainly thanks to Dana White and the Ultimate Fighting Championship (UFC). Many experts agree that the UFC is now worth around $5 billion!
With that being said, it can be tough to find the best way to watch UFC fights if you're a passionate MMA fan.
Thankfully, our team has put in lots of research to help you find the best UFC fights for you and your wallet. Here are the 5 best UFC streaming services of 2023.
Features to Look For When Selecting a UFC Streaming Service
Finding the right UFC streaming service can be a tall order because it's difficult to know what to look for. After all, streaming services still haven't been around all that long. Here are a few features to look for when selecting a UFC streaming service.
Amount of Coverage: This one is a biggie and it depends on how much UFC you want to watch. Do you want historical UFC matches or just the major UFC streams?
Picture Quality: What good is lots of coverage if there are a ton of lags while you're streaming a fight? You'll tend to get this when you use free UFC streaming sites.
DVR Options: This comes down to personal preference and if you want to rewatch any fights. This is an option you don't typically get with free UFC streaming sites.
Price: Unfortunately, price is always a factor in our sports viewing decisions. While most want free UFC streaming, sometimes you get what you pay for.
Number of Simultaneous Streams Allowed: Pay attention to this if several people in your house want to watch different sports at the same time. UFC streaming sites use a lot of bandwidth, so keep that in mind.
Before deciding on a UFC streaming service, make sure that you are clear on which of these features are the most important to you. As a good rule of thumb, it's best to find a streaming service that checks at least three out of the five boxes.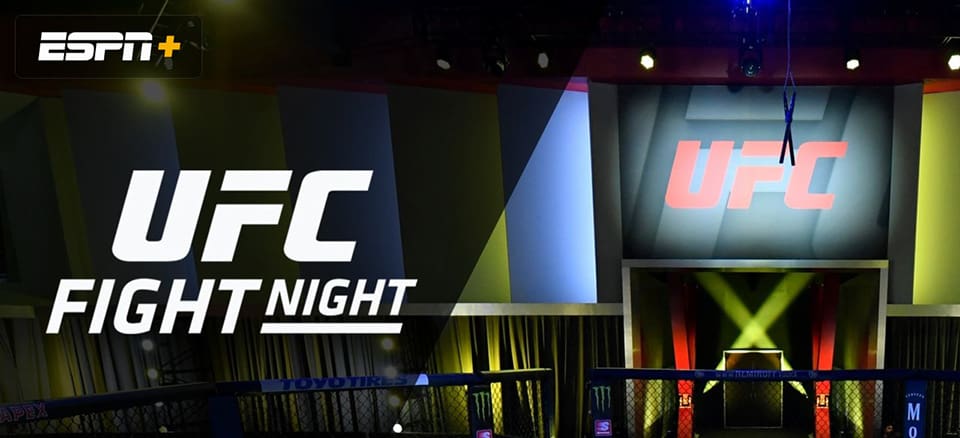 Best UFC Streaming Service in 2023: ESPN+
ESPN+ gets the nod as the best UFC streaming service in 2023. ESPN+ offers a ton of UFC coverage including the Early Prelims, Prelims, and even some of the Main Cards when it's a "Fight Night" event. You can even stream Dana White's Contender Series on ESPN+.
Unfortunately, ESPN+ does not offer the Main Cards for Pay Per View UFC events so those must be purchased separately. However, if you want to purchase any UFC Pay Per Views in the future, you must have an ESPN+ account. This was a slick move on ESPN's part, and a great way to try and corner the lucrative UFC market.
The price of ESPN+ is only $9.99 per month, which is an incredible deal when you consider how much sports coverage you get. You can also get even cheaper access if you decide to pay annually instead of monthly. The annual cost is only $99.99, which ends up saving you about 20 bucks over the monthly payment option.
Another nice thing about ESPN+ is that you get a lot more than just quality UFC coverage. Folks who buy ESPN+ can enjoy international soccer, boxing, tennis, cricket, rugby, hockey, baseball, and a wide array of college sports. If you're serious about UFC or about sports in general, you won't be disappointed with ESPN+.
UFC Streaming Service with Best Free Trial: Fanatiz
Although we just went into great detail about how great ESPN+ is, the one thing they don't offer is a free trial period. This is a bit of a turnoff, especially for folks that prefer to try out streaming services before committing to one. This is where Fanatiz really shines by offering a 7-day Free Trial with no strings attached.
Fanatiz has been around since 2016 and they are based out of Miami, Florida. The price for Fanatiz is $7.99 per month, which is just a tad bit more than ESPN+. However, Fanatiz comes with nine different sports channels and a good amount of UFC coverage. They also offer you the opportunity to customize your overall viewing experience by getting news and stats about your favorite sports team.
While Fanatiz is a good choice for some UFC coverage, their main specialty seems to be international soccer. Another unfortunate thing about Fanatiz is that they only allow you to stream on one device at a time. ESPN+ allows its subscribers to simultaneously stream on up to three different devices.
All in all, though, Fanatiz is a fine product and not a bad option at all for UFC fans. We highly recommend taking advantage of Fanatiz's 7-day trial offer. That's a great way to see if their service will work for you and your sports viewing needs.
Most Options to Watch UFC Fights: UFC Fight Pass
We really have to hand it to the UFC for having foresight when it comes to streaming services. They created their own streaming service called UFC Fight Pass way back in 2013, which is rather impressive as far as streaming goes. It's hands down one of the best MMA streaming sites on the internet.
UFC Fight Pass has everything a fan could ever hope for when it comes to UFC coverage. It is a fantastic service that allows users to watch live events from various promotions such as Cage Warriors (British promotion), Pancrase (Japanese promotion), TKO (Canadian promotion), Invicta FC, and more.
Fight Pass also streams live combat sports such as Glory Kickboxing, Karate Combat, Muay Thai Grand Prix, Friday Night Fights Thaiboxing, QUINTET (grappling), Eddie Bravo Invitational (grappling) and many others.
One of the best parts of UFC Fight Pass is their library has over 20,000 historical fights from over 35 promotions including UFC, PRIDE FC, WEC, Strikeforce and more.
While it's not a free UFC stream, it's still relatively inexpensive at only $9.99/month or $95.99 a year.
Best Bang for the Buck to Stream UFC Fights: Amazon Prime
There is an old saying that goes, "you get what you pay for." That is definitely true when it comes to streaming UFC fights. While you can sign up for one of the services listed above and get access to some great content—Amazon Prime offers a lot more bang for your buck.
When it comes to streaming UFC fights, Amazon definitely delivers.
What makes this worth the money out of all the sites to watch UFC is that you also get everything else Amazon Prime provides. Dollar for dollar, no other streaming service can match what Amazon Prime offers.
You get access to all the UFC fight cards and events with an Amazon Prime subscription, but you also get access to movies, TV shows, music, shopping discounts, and a bunch of other perks. All this for just $14.99 per month or $139 per year!
If you're not a Prime subscriber but still want to get into the UFC streams, don't worry, non-members can take advantage of Amazon's Pay Per View program. This allows users to rent or purchase individual fights, cards and events.
Most Channels in Addition to UFC Events: YouTube TV
We get it. We love to watch UFC fights live and stream UFC fights when there are big matches, but sometimes you just want to watch the other sports channels and watch some regular programming.
If that's the case, then YouTube TV is your best bet. You get over 70 channels in total with your subscription, including ESPN, Fox Sports 1 and 2, CBS Sports Network and others.
In addition to an awesome lineup of live streams, YouTube TV offers a 14 day free trial to new subscribers. This will let you test out their service and see if it's right for you before committing to a full subscription.
For those that want to mix it up between UFC fight night and local programming, YouTube TV is an awesome option.
Free Sports Streaming Sites
There are plenty of sites that allow you to stream live sports for free. These sites are often unreliable, however, and can be a bit sketchy depending on where you're streaming from. They also don't always offer the best quality streams or up-to-date content.
One of the most popular free sites to watch UFC fights is Stream2Watch.
Think about Using a VPN.
With some of these sites you may find yourself locked out due to geographic restrictions. If that is the case, consider using a VPN service. A VPN will allow you to mask your location and access content from other countries.
Just make sure you do your research before signing up for a VPN and take into account the safety of your connection as well as the quality of the service. If you're wanting to use a free VPN you might want to reconsider, as a free VPN can be unsafe and slow. Plus, they're not very expensive and plans start as low as a couple bucks a month.
UFC Live Streaming FAQ.
With so many options to watch UFC streams, you probably have a few questions. Whether you're a hardcore UFC fan or just a casual watcher looking for UFC fights for free, we answer all of your questions right here.
What are the best streaming sites for UFC?
If you want to watch UFC fights online then your best bet is one of the streaming services we listed. This includes UFC Fight Pass, ESPN+, Amazon Prime, YouTube TV, and Fanatiz. They all offer live streams of UFC events as well as plenty of other content.
You can also check out some of the free sports streaming sites online but be aware that they may not always have the most reliable or up-to-date content.
Where can I stream UFC live?
There are hundreds, if not thousands, of free streaming websites that will show UFC matches and MMA fights. Sure, some might be sketchy, so it's important to be aware of potential security threats.
If you want the best streaming experience for UFC fights then check out one of the services we've listed above. Not only do they provide live streams of UFC events, but also an abundance of other entertaining content. Plus, they're relatively cheap and provide a safe environment.
Is UFC free on Amazon Prime?
Amazon has announced that UFC pay-per-view events will be available on Prime Video, with no membership required. Each event can be purchased separately for $64.99.
Is UFC on ESPN free?
To purchase UFC PPV events, you must be an ESPN+ subscriber. Existing subscribers can buy the events in HD for $59.99 each and gain access to exclusive UFC Fight Nights, the best of the UFC Fight Archives, and ESPN+ exclusive features.
How much is UFC fight pass?
It's fairly inexpensive. You can subscribe to UFC Fight Pass for as low as $9.99 a month or $95.99 a year (with an annual subscription). They also offer various pay-per-view options, depending on the event.
Can I watch old UFC fights?
Of course! While most MMA streaming sites don't offer the option to watch old fights, you can stream UFC fights from past events by subscribing to UFC Fight Pass. The service offers access to a library of past fights, exclusive events, and more.
Does the UFC Fight Pass include PPV?
UFC's Pay-Per-View events are available as an individual purchase, offering 24 hour access. Depending on the region, these events are distinct from the UFC FIGHT PASS subscription.
How can I watch UFC for free?
If you're feeling adventurous, you could try a local sports bar or free streaming websites. Nevertheless, these streaming options can be unreliable and may not provide the highest fidelity streams.
There are some free UFC streaming sites out there, but you'll most likely be inundated with ads and a stream that continuously buffers.
How can I watch UFC fights on Roku for free?
Roku does not offer any free UFC streaming services, but you can purchase UFC PPV events via ESPN+ for $59.99 each and access exclusive UFC Fight Nights, the best of the UFC Fight Archives, and ESPN+ exclusive features.
You can also watch a selection of live sports broadcasts on Roku with YouTube TV.
Ready to watch UFC online?
Watching UFC fights online is a great way to stay up-to-date with the latest bouts and events.
With so many options available, you can find something that works for you regardless of your budget or technical know-how.
Whether it's an official streaming service like ESPN+ or a site to watch free UFC streams such as Stream2Watch, there are plenty of ways to watch all the action from the comfort of your own home.
Just make sure to do some research before signing up for any services and always consider safety when using VPNs or other streaming sites.