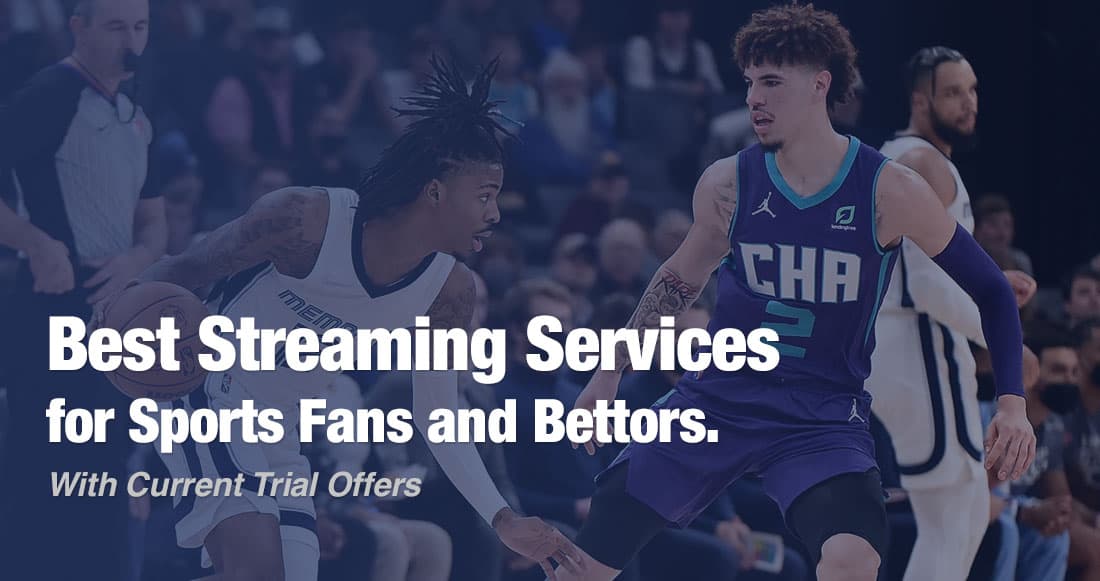 Have you noticed that more and more people are cutting the cord to save money? With inflation on the rise, even avid sports fans are looking to save a few bucks by switching from cable and satellite to a live streaming service.
Do you want to make the switch to streaming and need some help getting started? Our goal is to help with that. Here is our list of the 5 best streaming services for sports fans and bettors.
1. FuboTV
Current Trial Offer: 1 Free Week | Monthly Price: From $74.99
FuboTV offers a massive selection of live and on-demand sports, with the option to add DVR service. FuboTV gives fans and bettors an impressive selection of sports channels.
With a FuboTV subscription, folks can enjoy ESPN, ESPN2, ESPNU, Fox Sports 1, Fox Sports 2, Big Ten Network, CBS Sports Network, Golf Channel, MLB Network, NFL Network, and NHL Network. They also offer a ton of international sports coverage through beIN Sports and TUDN. No matter what your favorite sport is, you'll find it with FuboTV. Simply follow the above link and type in your zip code to find out how many channels FuboTV offers in your area!
Best Option for International Soccer Fans
Sports fans who love international soccer will especially enjoy FuboTV. FuboTV is one of the few streaming services that offer beIN Sports, which specializes in soccer coverage around the globe. Watch matches from all sorts of leagues like LaLiga, Serie A, and Bundesliga when you sign up with FuboTV.
---
2. ESPN+
Current Trial Offer: None | Monthly Price: $9.99
With exclusive PGA and UFC coverage, as well as every NHL game, ESPN+ is a must-try streaming service for sports fans. The price is also incredibly low at less than seven bucks a month. Folks can get an even better deal by paying the yearly fee of only $99.99.
If you're interested in signing up for ESPN+, make sure you do so. This price could increase at anytime since demand is increasing, so jump on this offer while it's still around.
Sports fans will love getting to indulge in the entire ESPN 30 for 30 library. This incredible on-demand feature comes in handy on those rainy spring and summer days. ESPN+ also offers at least one MLB game on a daily basis, which is an obvious plus for baseball fanatics.
Best Option for UFC, NHL, and Golf Fans
The entire offering from ESPN+ is impressive! However, their UFC, NHL, and PGA Tour coverage is remarkable. If you're a fan of any of these sports, you've got to give ESPN+ a shot! Sports fans with families may opt to purchase a bundle that includes ESPN+, Disney+, and Hulu.
---
3. Hulu with Live TV
Current Trial Offer: None | Monthly Price: From $69.99
Hulu offers a massive selection of live sports, includes ESPN+, and has a huge library of on-demand TV shows and movies. In short, there's nothing Hulu doesn't have!
Hulu with Live TV is a bit pricey, but it's right in line with competitors like YouTubeTV and they offer even more sports coverage. The $69.99 a month price includes the ESPN+ and Disney+ bundle.
Best Option for Live Sports and Families
If you're a hardcore sports fan with a wife and children, you know it's hard to find a streaming service that keeps everyone in the house happy. Hulu with Live TV checks all the boxes, as they truly do have channels for everyone.
---
4. DAZN
Current Trial Offer: 1 Free Month | Monthly Price: $19.99
DAZN offers a great alternative to the pricier options on this list, with a sports-first channel lineup and exclusive MMA content. DAZN also has a nice boxing archive where fans of the sweet science can watch some of their favorite all-time bouts.
We also like that DAZN offers a decent amount of coverage on other sports like Darts, Soccer, Billiards, Snooker, and Indoor Football. They don't show any of the mainstream sports like football, baseball, or basketball but for less than $20 a month, DAZN is worth trying out.
Best Option for Sports Fans on a Budget
Are you a sports fan who is mainly into MMA and boxing? DAZN may be just the ticket to save you some money. Some folks will especially like the interesting sports documentaries that DAZN shows.
---
5. Fanatiz
Current Trial Offer: 1 Free Week | Monthly Price: $9.99
Fantatiz is the easiest and cheapest way to stream the top European leagues including the Premier League, La Liga, Serie A, Ligue 1, and all things UEFA. Soccer fans are also able to customize their settings so that they get news, stats, and highlights of their favorite team!
Fanatiz also offers on-demand coverage of each soccer match for up to 72 hours after the match ends. This is a nice feature for soccer fans that want to watch a game that they may have missed earlier in the day.
Best Option for European Soccer Fans on a Budget
At less than 10 dollars a month, European soccer fans will be thrilled with the amount of coverage they get with Fanatiz. It's hard to beat getting 17 channels for such a low monthly price.