Need a good place to watch and bet on your favorite team in Virginia? Check out our list of the best sports bars in Virginia right here!
Best Sports Bars in Northern Virginia
Nellie's Sports Bar
Nellie's Sports Bar stands tall as a go-to destination for sports lovers looking to catch a bite and have a great time. With its lively atmosphere, wide array of games on display, and welcoming
ambiance, Nellie's Sports Bar has become one of my favorite local destinations. A few other noteworthy reasons I'll keep coming back to Nellie's:
Unparalleled Sports Viewing: Nellie's boasts an impressive lineup of screens – you wont miss amoment of the game. Whether it's football, basketball, soccer, or any other major sporting event, I always know I can catch the game at Nellie's. The energy is contagious. From die-hard fans decked out in team colors to casual viewers looking for a good time, this place brings them all in. There are also occasional game-day specials for drinks and/or appetizers, which is always nice!
The Amenities: Plenty of seating options, great staff, and a killer menu. I haven't had anything here that I haven't loved yet, and I'm always pleasantly surprised at how kind and attentive the staff is.
Local Support + Inclusiveness: Nellie's has established itself as a hub for supporting local sports teams and events. From organizing viewing parties for college tournaments to hosting fundraisers for youth athletics, the establishment actively engages with the local sports community. They even sponsor a local Quidditch team! This place is well known for being a welcoming, inclusive environment, which should be the norm, but sadly isn't for a lot of sports bars. If you're swinging through DC, or live there but haven't been yet, I highly recommend popping into Nellie's.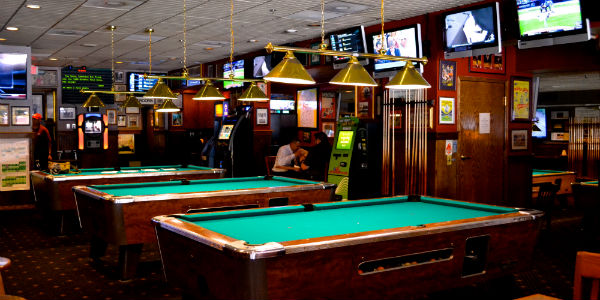 Crystal City Sports Pub
Crystal City Sports Pub is located in Arlington, VA, less than 10 minutes from Reagan National Airport. It is 3 floors of sports watching awesomeness! Yes, 3 floors of wall-to-wall TV's, you can catch any game your heart desires.
You can also find pool tables, and they have poker on Monday and Tuesday nights if you want to do something other than watch sports. They are open for breakfast, lunch, and dinner. A sports bar that serves breakfast all day? You do not find that too often.
Crystal City Sports Pub claims to have the "Best Crab Cakes in Town". Naturally, I had to try them. The menu is extensive. Burgers, sandwiches, entrees, soups, salads, and lots of appetizers to choose from. But, of course, they have crab cake options. Crab cake dip, Chesapeake lump crab eggs benedict, crab cake sandwich, and crab cake platter.
I opted to try the crab cake sandwich served with French fries. I agree, that was the best crab cake sandwich I ever tasted. The crab cakes have no filler, made with all crab meat. You can also order the famous Crystal City crab cakes online.
In addition to tasty food, they have some awesome happy hour specials. Monday - Friday is $4 beer, drink, and appetizers. On NFL and college football game days they have great specials on beer. Draft, pitchers, and buckets. The list of beers is impressive, as is the selection of wines and cocktail menu. Word of warning, get there early on game day, it fills up fast.
Best Sports Bars in Eastern Virginia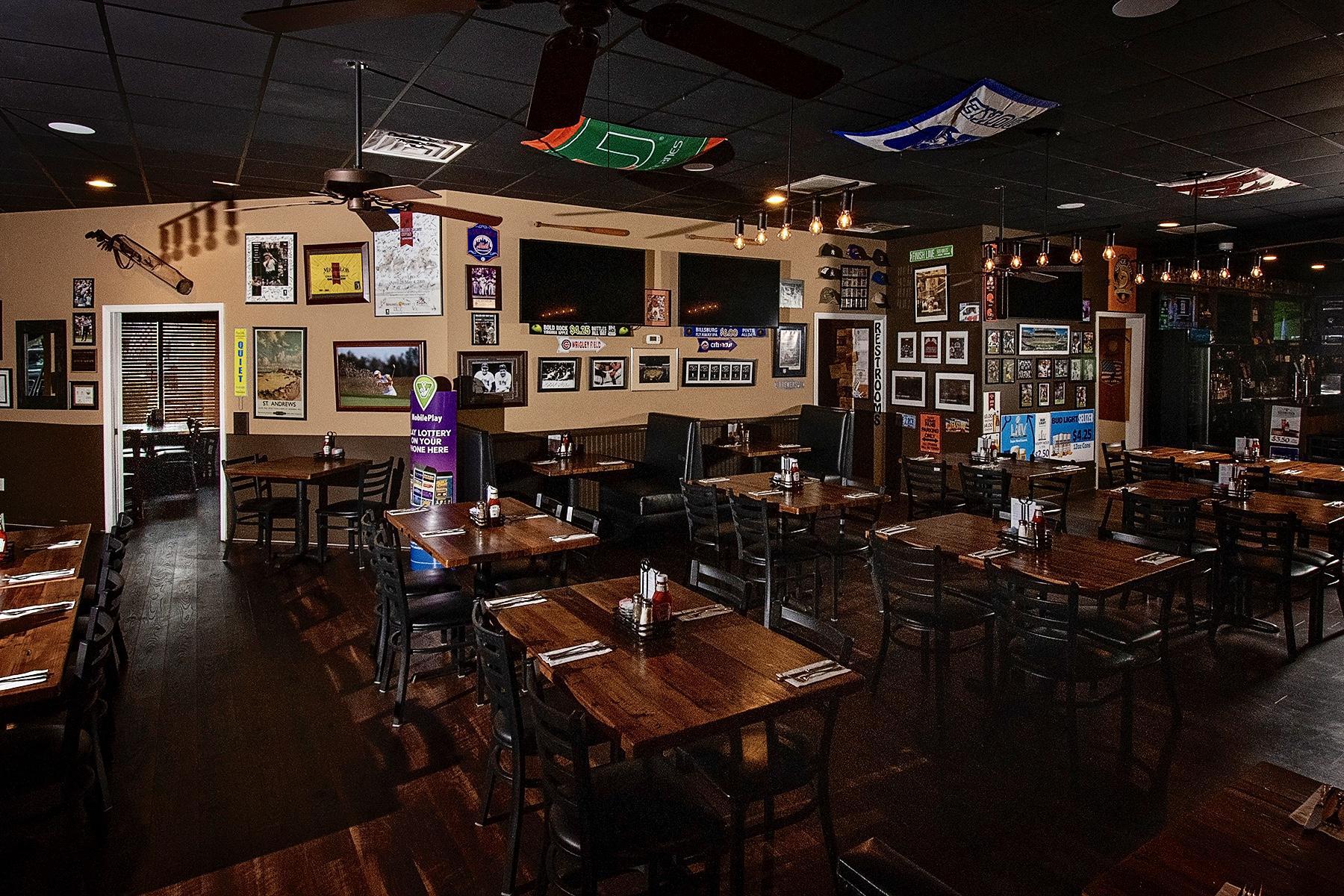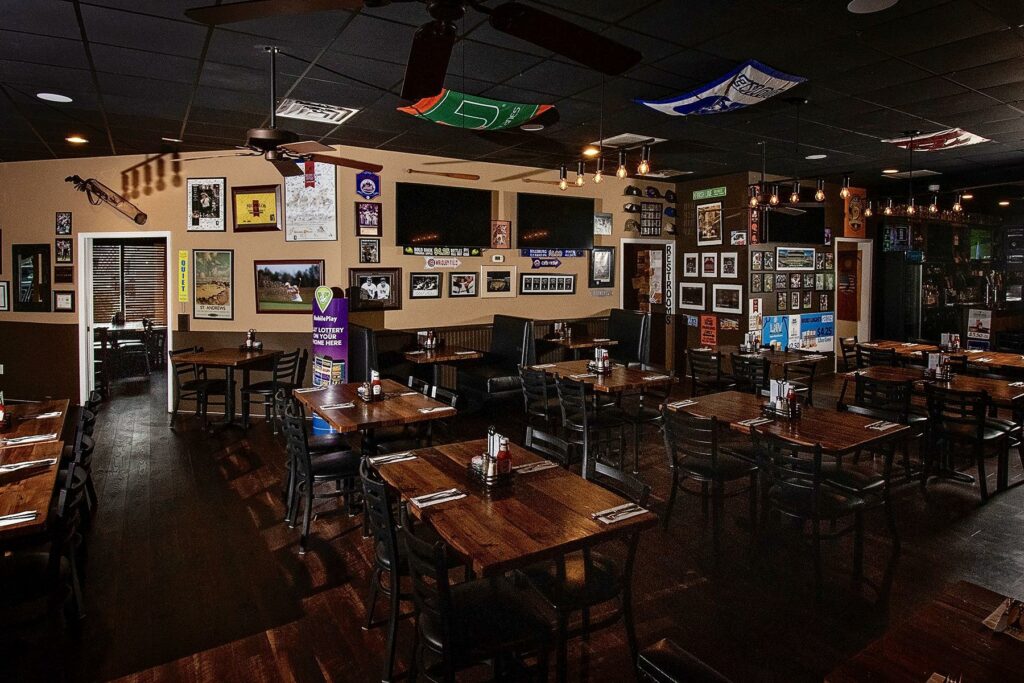 Sportsmans Grille
As a frequenter to Williamsburg, Sportsman's Grille has carved its place as a cherished local hotspot for me. A few good reasons to check this place out:
The Food/Drinks: From classic pub fare to tantalizing specialties, their menu is dynamic without skipping the important classics. They've got a fantastic lineup of burgers, great wings, and a chili I cannot get enough of. As far as drinks go - I like to keep it simple with a domestic, but they have something for most preferences!
The Patio: You can't beat a good patio. Not ideal for Winter months, but that's what inside is for (with plenty of TVs for watching the game). The patio is dog-friendly, which would be a HUGE plus for me if I lived here full time. For those who don't identify as dog-people, the tables are spread out enough that I wouldn't be too concerned about sitting outside.
Family-Friendliness: Sportsman's prides itself on being a family-friendly establishment, and it is. Kids eat free all day, every day, with the purchase of an adult meal. Attention other restaurants: we want to see more of this! Just make sure to mention that you saw the deal on their website before you order.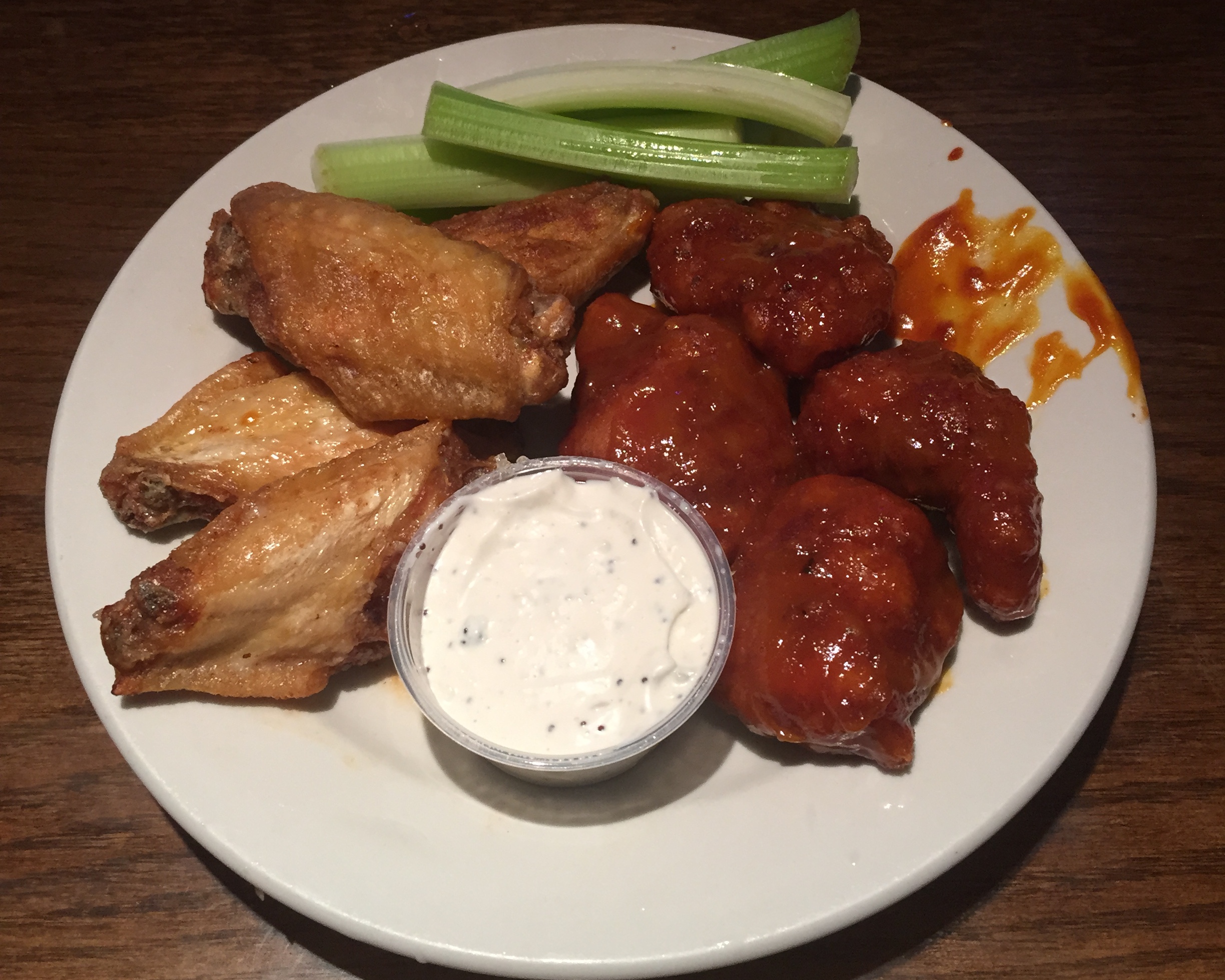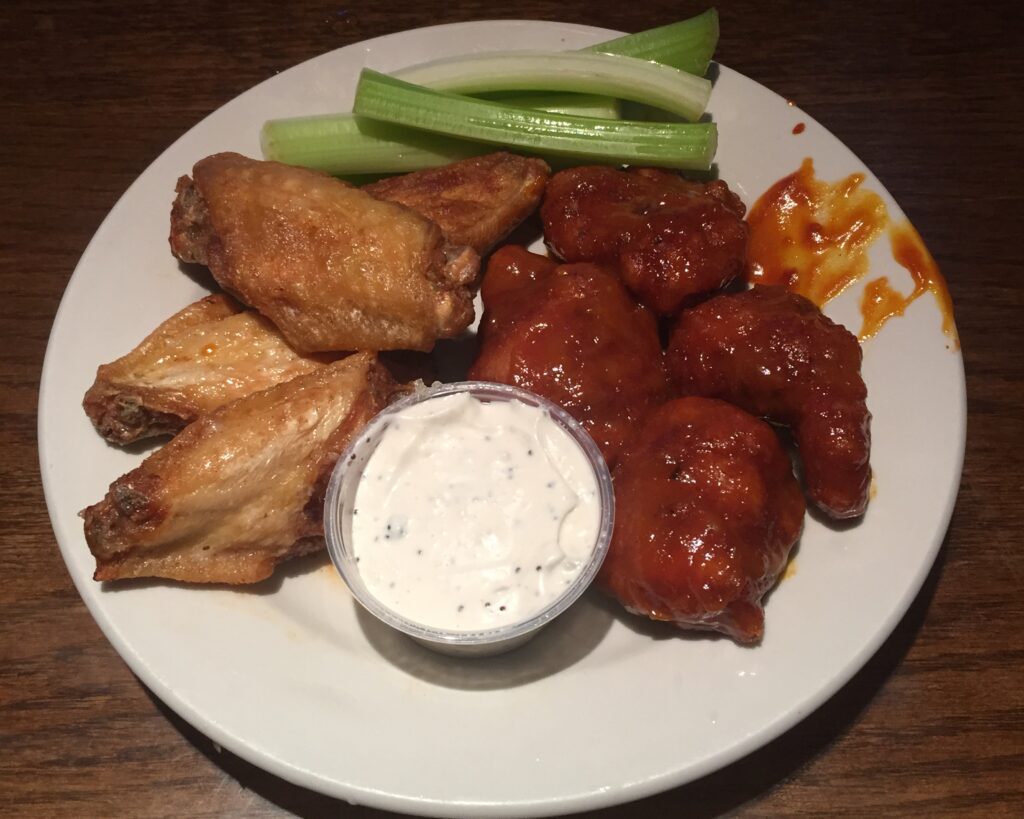 Wild Wing Cafe
Wild Wing Cafe provides an energetic and exciting atmosphere to watch the big game while enjoying delectable food and cool beverages. It's perfect for sports betting enthusiasts and bettors alike.
Established in 1990 as a locally owned franchise with 40 locations nationwide since then, its irresistibly delicious wings, fantastic entertainment offerings, and dedication to local talent make Wild Wing Cafe an unrivaled experience for sports enthusiasts and bettors alike.
More Praise for Wild Wing Cafe
Wild Wing Cafe is the destination of choice for sports bettors for many reasons, including:
Rewards Program: Wild Wing Cafe has designed an impressive rewards program to thank its loyal customers for visiting. By becoming frequent visitors, you'll unlock exciting perks and benefits - plus, their mobile app makes ordering delicious cuisine to complement sports betting fun easier than ever.
Entertainment: Wild Wing Cafe has long been recognized for its commitment to supporting local musical talent. Since their humble beginnings on Hilton Head to their various nationwide locations, they have provided an outlet for up-and-coming musicians like Edwin McCain, Zac Brown Band, Hootie & the Blowfish, Luke Combs, and many others.
Gastronomic Delights: While Wild Wing Cafe specializes in wings, their extensive menu offers something delicious for every palate. Choose between classic buffalo wings, juicy burgers, or delectable wraps. Plus, they have takeout and catering services if you prefer eating at home or work.
Best Sports Bars in Western Virginia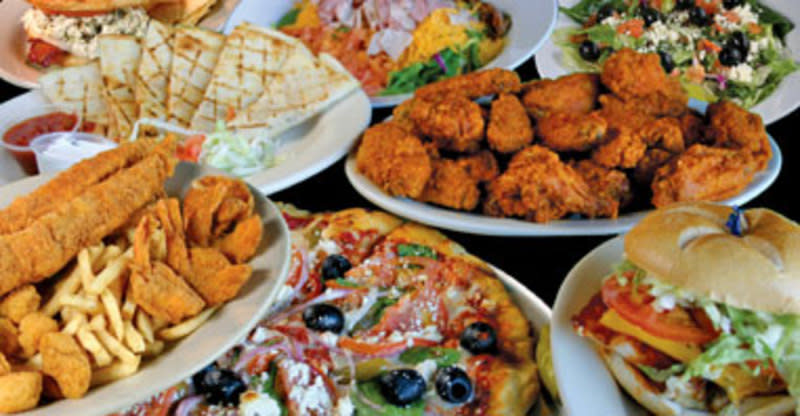 All Sports Cafe
Looking for a place to watch the game, get a cold beer and score delicious wings? No, I'm not talking about BWW, I am talking about All Sports Cafe. With over 20 sauces and a multitude of ways to get them cooked, there's a wing for everybody.
The wings come breaded, naked or boneless. If you like your wings with lots of sauce, get them "swimming". Prefer your wings more on the dry side, get them "Eddie-style", slightly sauced then charred on the grill. Depending on your spice tolerance level, they have a wide variety of sauce options.
Mild and BBQ for those you prefer little to no spice up to Red Devil and Cry Baby, for those who like their wing to pack a punch. Of course, they offer much more than wings. Not a wing person? That's OK. They have burgers, chicken sandwiches, wraps, salads, and a variety of appetizers.
Naturally, I had to try the wings. I like mine spicy and with a lot of sauce. I ordered breaded wings swimming in "Who Dat?" sauce. The sauce was super flavorful and tasty, but I was expecting a bit more heat. Wings were served with celery and choice of ranch or blue cheese. Wings can be ordered as 6 wings with fries, 10, 20 or 50. I recommend the wings and fry combo if you do not want to share.
All Sports Cafe has some amazing monthly and lunch specials. The June special is 30 wings for $30. That's a great deal in my book! They also have a "sauce of the month". July's flavor of the month is the Carolina Tangy Gold BBQ. Be sure to check their website AllSportsCafe.net to see what their current specials are. Lunch specials are $10.33 and include some of their most popular menu items served with fries, a side and soda.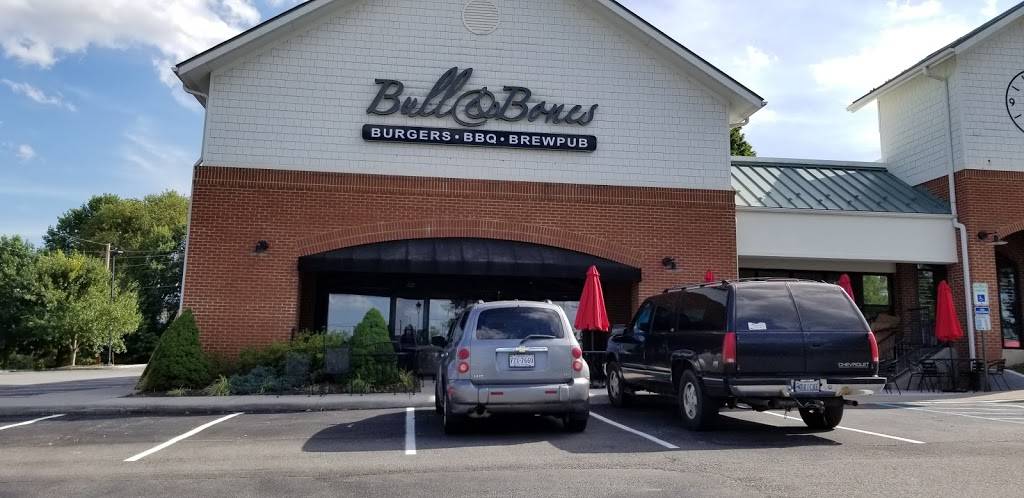 Bull and Bones Brewhaus & Grill
Bull and Bones Brewhaus & Grill has been a fan-favorite since opening its doors in 2008. A family-owned and operated establishment, this place is known for being the oldest brewery in Southwest Virginia. They have since expanded to two locations: Blacksburg and Christiansburg.
They offer a delicious combination of southern barbecue and beer for sports bettors and enthusiasts alike. They have a selection of 7 unique craft beer varieties in their 10-barrel brewhaus.
If you want to watch the game, Bull and Bones is the place to be. They have big-screen HDTVs, tons of entertainment options, special events, and an irresistible menu with frequent happy hour specials!
More Praise for Bull and Bones
If you're a sports bettor in Virginia, here are a few reasons you should check out Bull and Bones:
Authentic Wood-Fired BBQ: Bull and Bones Brewhaus & Grill is committed to authentic wood-fired BBQ. As one of few establishments in the area offering this true Southern grilling style, it boasts authentic flavors from chicken to burgers and more. You won't want to miss their tender seafood dishes, either! Their commitment to quality shines through with every mouthful they create, and each sip of their handcrafted beer complements these flavorful BBQ meals for an unforgettable dining experience.
Giant HDTVs: Bull and Bones offers sports bettors an impressive array of HDTVs. The upscale dining area has 20 television screens spread throughout for a panoramic view of the game from every vantage point. Whether you're sitting at the bar, a table, or exploring one of many entertainment offerings, you won't miss any part of the action. Cheering for your team while indulging in delicious food and drinks makes this spot an ideal venue for gathering with friends or family and getting caught up in the thrills of sports betting!
Entertainment Options: Bull and Bones has an assortment of entertainment options for sports bettors to enjoy while they wait. If you're a billiard enthusiast, you will appreciate the seven diamond pool tables where you can showcase your skills or challenge fellow patrons. It's fun for everyone - no matter your skill level! Plus, Bull and Bones features an exclusive championship 9-foot pool table to enhance the experience. Thursday nights offer the chance to unleash your inner superstar with Karaoke sessions starting at 10 pm, where you can show off those singing skills or simply soak up a lively ambiance.
Happy Hour Specials: The menu includes several happy hour specials every day of the week. Take advantage of $20 mimosa pitchers and $3 bloody marys on Sunday afternoons. On Monday, Tuesday, and Wednesday, you can choose from unbeatable specials, including $2 Bourbon and Tequila. On Thursdays, you can get boneless wings for $0.75, or $2 12 oz draft beers during "Power Hour" on Tuesdays and Wednesdays between 5 pm and 7 pm. No matter when you visit, you'll likely run into some of these special prices that will make you feel like a VIP!