Massachusetts is a state that's rich with a ton of popular sports teams. Because of that, thousands of fans were elated when the Bay State legalized online sports betting on March 10, 2023. This outstanding news came just in time for the NCAA Men's Basketball Tournament.
Need to know the best places to eat, watch, and bet on sports in Massachusetts? We've got you covered. Whether you're a fan of the Patriots, Celtics, Bruins, or Red Sox, you'll have a blast at any of these sports bars!
Best Sports Bars Near You:
Best Boston Area Sports Bars
Boston is one of the most iconic sports towns in America. With teams like the Celtics, Patriots, Bruins, and Red Sox, sports fans are always fired up about something in Beantown. Check out the 5 best sports bars in the Boston area below.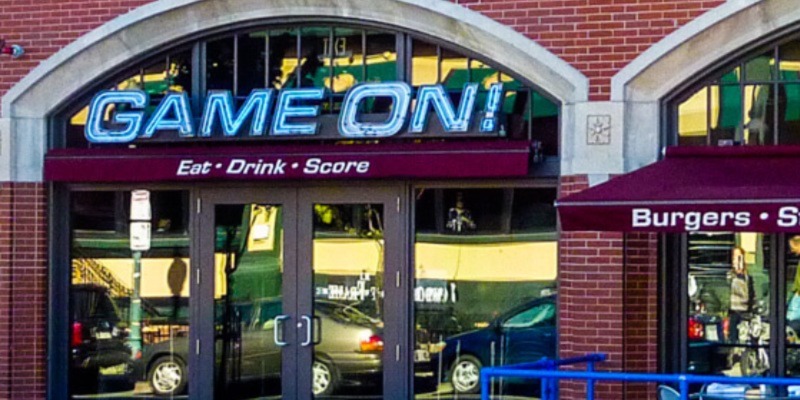 1. Game On Fenway!
Game On Fenway is a must-visit for sports enthusiasts, foodies, and those who enjoy a more
lively social atmosphere. As someone who frequently visits sports bars during my travels, Game
On has become a go-to spot in the area for a few reasons.
Sports-Centered Experience
Regardless of your allegiance to a particular team, Game On is a great place to catch the game.
The walls are decked out with sports memorabilia, the team flags, player photos, etc. They have
plenty of TVs and there aren't too many seats with a bad view. It's also fun to see people pop in
for a drink before or after watching the game from Fenway.
Awesome Staff
The bartenders and servers deserve a special call out here. I've never had a bad experience
when it came to service here, and everyone seems to be having a good time. I had an appetizer
that came out a tad bit cold once. I hesitated to mention it, but when I did the situation was
resolved almost immediately.
Food, Drinks, Games
The food is great here. I'm a burger and nachos guy, and Game On doesn't miss the mark on
getting these right. On top of great food and plenty of drink options, this place has a bunch of
other recreational games - like a sports-themed adult arcade. I might bring my old shooting
sleeve for the "pop-a-shot" next time I go.
2. Bleacher Bar
Looking for a place to pregame before a Red Sox game at Fenway? Do you fancy someplace fun to grab a bite after touring historic Fenway Park? Want a unique way to watch a baseball game? Then you gotta give Bleachers Bar a try! It's quite possibly the most interesting ballpark dining experiences I have ever tried.
Bleachers Bar is located at Fenway Park, under the bleachers, in the center field. Yes, you can watch the game, players warm up, and see Fenway at ground level right there at Bleachers. Reservations are highly recommended on game day. You can make reservations on Bleachers Bar website, www.bleacherbarboston.com. I will warn you, it does get pretty loud, so be ready for lots of fun and excitement. You might just make a new friend or two in the process, unless you are cheering for the other team.
Outstanding Food
The food at Bleacher Bar is pretty good too. They offer your typical sports bar food. Wings, burgers, sandwiches, and more, everything you would expect on a bar menu. Nothing fancy, just good food done right.
Personally, when I go to a sports bar, I enjoy nibbling on appetizers. The fried pickles were pretty tasty, and the chipotle aioli dipping sauce it was served with had the right amount of kick. I also enjoyed the wings tossed in the Thai chili sauce and the loaded fries.
When they say loaded, they mean it! Fries topped with pulled pork, warm melted cheese, onion strings and a fried egg. Delicious! The prices are reasonable as well. I think I paid the same as I would for food inside the stadium.
Great Beer Menu
Of course, like any good sports bar, they have an extensive beer menu. Everything from draft, can, bottle, and tallboys. There's nothing better than watching a game with a cool one in your hand, am I right?
I will say this, I was not as impressed with the cocktail menu. I feel they missed an opportunity to be fun, creative and exciting. I love trying a uniquely crafted cocktail with a clever name. Sometimes I will try a drink based on the name alone. That being said, they do have a full-service bar, so they can make pretty much anything you would like.
Stellar Service
The service at Bleachers Bar is spot on. The servers are fun, friendly and engaging. Hot food comes out hot, cold beers come out cold. Don't need to worry about going too long without a beer. They are on it.
I should mention, it gets incredibly busy during prime game time, so one needs to be a little bit patient. But they are pretty good at getting food and drinks to the table quickly, even amongst the chaos of a game time rush.
I highly recommend Bleachers Bar to all baseball fans. Even if you are not a Red Sox fan, you should give it a try. Where else can you eat field level while enjoying a baseball game? It's like you are right there in the game with the players. I think that is pretty darn cool.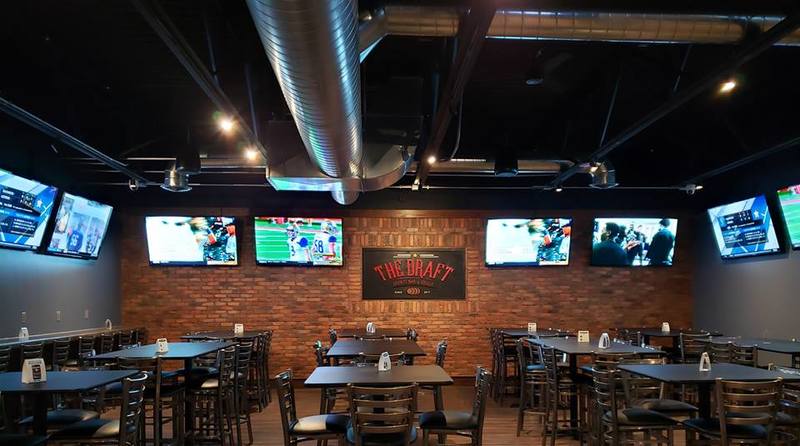 3. The Draft Bar & Grille
Looking for a fun spot that has that dive bar feel? You gotta give The Draft Bar and Grill a try. You can tell the second you walk in that it's a favorite with the locals and the college crowd.
Like any good dive bar, it has a jukebox and pool table, which adds to the chill and laid-back atmosphere. There's also a nice patio out back, so if it gets too crowded, or you simply want to enjoy the weather, you can go outside and enjoy a beer or two.
Money-Saving Specials
One of the main reasons I decided to give The Draft Bar a try are the specials! The prices are already reasonable for the Boston area, but the specials are incredible. On Sunday and Monday they have 75 cent wings! It's probably their most popular promotion which explains why it was so busy on a Monday.
The wings were delicious and a good size, not at all skimpy. I went with the standard buffalo sauce, but they had 8 different sauces to choose from. Some other specials include $10 burger/beer combo on Tuesdays and on Thursdays they offer $2 sliders and $7 pitchers.
Standard Beer Menu
The one thing I was slightly disappointed in was the beer selection. I was hoping for more craft beer options, but I guess PBR, Bud Light and Ultra are what one should come to expect when patronizing a location like The Draft. They have plenty of brews to choose from, but it's a standard beer menu. The same you would find at your local Applebee's.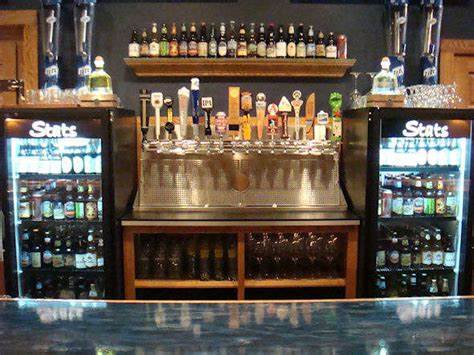 4. Stats Bar & Grille
Stats Bar & Grille has earned its place as a beloved South Boston landmark for over a decade, becoming a go-to spot for sports fans and bettors alike. Offering an extensive menu, welcoming atmosphere, and unparalleled game views, Stats offers an unforgettable experience to every patron that enters its doors.
Stats Bar & Grille boasts an impressive array of 24 TVs arranged throughout its venue to ensure you never miss a moment of the game. From thrilling touchdowns to game-altering three-pointers, you will always have an excellent view with crystal-clear HD screens immersing you in every move.
More Praise for Stats Bar & Grille
Stats Bar & Grille is the ultimate destination for sports bettors - here's why:
Menu Offerings: Stats offers an expansive menu, from classic favorites to new and exotic options designed to please every palate.
Dining Options: This place has plenty of dining options with indoor and outdoor seating. You can also stop in and order for pickup.
Great Game Views: Their 24 strategically placed TVs give them prime viewing positions to capture every thrilling moment in real time!
Opening Hours: Stats Bar & Grille is open 7 days a week, so there's no limit to when sports bettors can enjoy great food while watching the game of their choice.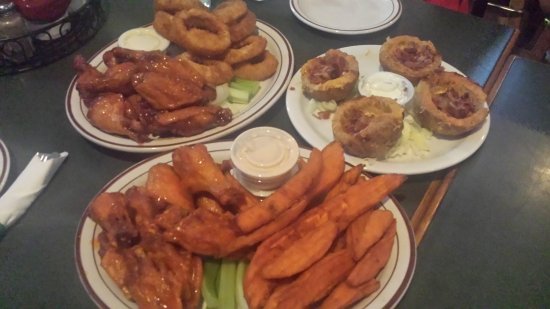 5. Buff's Pub
Buff's Pub offers the ideal combination of great food and drinks while watching sports action. Established in 1976, this long-standing establishment has provided sports lovers with an amazing experience since their opening. Buff's is widely known as one of Boston's premiere wing joints, providing outstanding sports fan entertainment.
As soon as you step inside Buff's Pub, you'll be welcomed by a cozy yet welcoming environment that is sure to elevate your game-watching experience. Its classic decor exudes old-school charm, with cozy booths and an extensive bar where you can order drinks. With eight HDTVs strategically positioned throughout the pub you won't miss any action no matter where you decide to sit!
More Praise for Buff's Pub
Here are some reasons why sports bettors should choose Buff's Pub as their sports betting spot:
Excellent Food: Buff's Pub has earned itself a stellar reputation for serving delicious wings and tenders smothered in buffalo sauce. Enjoy these mouthwatering treats as part of your game-day experience.
HDTVs: With eight HDTVs at your disposal, you'll have a front-row seat to all the sporting action. From key playoff matches and intense rivalries to thrilling single game contests and exhibitions, the crystal-clear picture quality ensures you won't miss any thrilling moments during any sporting event.
Atmosphere: Buff's Pub offers a lively and energetic environment that's contagious. Cheers from fellow sports fans add extra excitement to each game; whether celebrating victory or commiserating over close losses, Buff's Pub offers an unrivaled atmosphere.
Beverage Selection: Buff's Pub offers an impressive beverage selection in addition to delectable food. Enjoy a refreshing pint or sip one of their specialty drinks while cheering for your team!
Best Framingham Sports Bars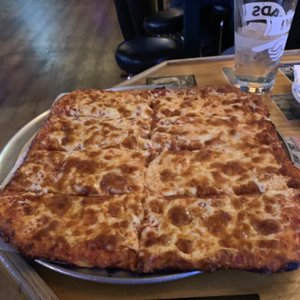 The 4's Sports Pub
The 4's Sports Pub is a Framingham, MA original. The pub has been around since the 1930's and has been serving loyal Boston sports fans for over 90 years. It's a small hole-in-wall venue, but they have 6 big screen TVs, so can always catch your favorite Boston team.
The 4's Sports Pub is a great place to watch sports, but they also have dart boards, a juke box and live music on the weekends. It's a great place to grab a bite to eat, get a cold beer and hang out with friends. The friendly staff and fun atmosphere add to the experience.
Incredible Pizza
Their motto is "Live Fast, Eat Well" and that sums up The 4's perfectly. They are famous for having delicious pizzas, and I agree! They offer 9 specialty gourmet pizzas on the menu, but I went with the build-your-own option.
The basic cheese pizza is $9.99 and its $1/topping. I added pepperoni and mushrooms to mine. The crust is thin, but not too thin, and that is just the way I like it. Great sauce, good amount of cheese, cooked to perfection.
Good Burgers Too
The burgers are juicy and delicious, as any good sports bar burger should be. There is an up-charge for onion rings as a side, but it's worth the 75 cents, because they are so good.
The beer menu is standard and reasonably priced. They offer the typical macro-beers and some local beers as well. The important thing, the beers are served nice and cold.