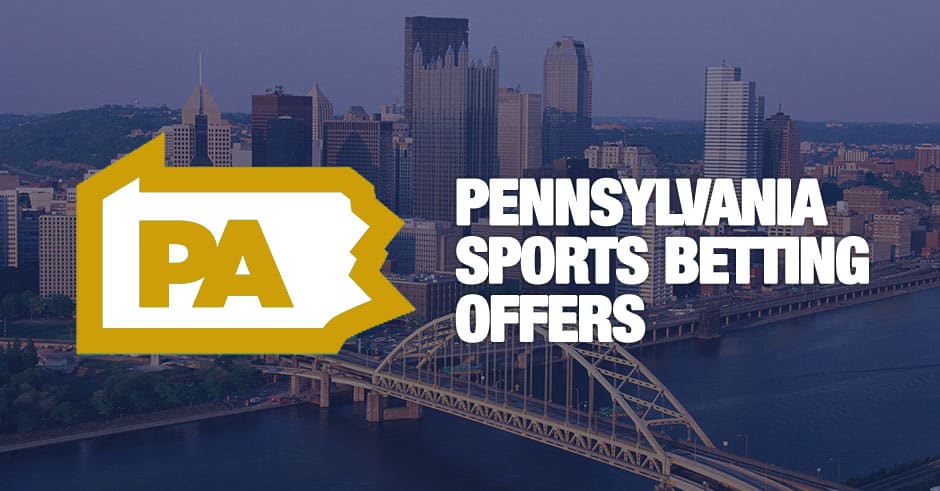 Our staff has ranked the top promotions from every Pennsylvania sportsbook to help you find the best bonus promo available this November. Use the rankings table found below to find our picks for the best (and worst) sportsbook offers for November.
Pennsylvania bettors must be 21+ and present to place wagers in the state. If you or a loved one is experiencing problems with gambling, call 1-800-GAMBLER or visit https://responsibleplay.pa.gov/
Types of Sportsbook Promotions Available in Pennsylvania
There are countless types of bonuses throughout Pennsylvania sportsbooks. Before we jump into the best sportsbook bonus offers in the state, we want to cover all of the different types of promotions available.
Welcome Bonus: We're starting off with the lucrative welcome bonus. Welcome bonuses are mostly reserved for new players and offer great value to those looking to start their sports betting experience with a bang. They can come in many forms and typically change throughout the year. You might find a sportsbook in Pennsylvania offering a second chance bet, deposit bonus, or bonus bet depending on the time of year. These are all types of welcome offers that we'll cover here.
Bonus Bets: These are special bonus offers that existing players can take advantage of throughout the year. Oftentimes times the sportsbook offers bonus bets to match a bet that you've placed. For example, FanDuel has their Bet $5, Get $200 offer, which is a bonus bet you'll receive after placing your first $5 wager. BetMGM has their second chance bet they like to offer to new players. These are just two examples of bonus bets you can find at Pennsylvania sportsbooks.
Deposit Bonuses: These are bonuses that require a deposit from the player in order to take advantage of the offer. The sportsbook will typically match your deposit up to a certain amount or give you bonus money when you make a certain deposit. For example, they might have a 100% match up to $200. That means if you deposit $200, the sportsbook will match it and give you a total of $400 to start playing with.
No-Deposit Bonuses: These types of bonuses are a bit more elusive but still worth taking advantage of if you can find them. A no-deposit bonus is exactly as it sounds – the sportsbook will give you a bonus simply for signing up. It could be bonus money or free bets, and all you have to do is create an account and take advantage of the offer. There are very few strings attached, and that's why they're a bit rare.
Reload Bonuses: One of our favorite types of bonuses, reload bonuses, is a great way to keep your bankroll healthy. Reload bonuses offer players bonus money when they make a certain deposit. It could be a percentage match or bonus cash, but the idea is that it's an easy way to add extra funds to your account without having to jump through any hoops. The difference between a deposit match bonus and a reload bonus is that the reload bonus happens after you've already made a deposit. So if you make a second or third deposit at a sportsbook, they may offer you an extra bonus to sweeten the deal.
Cashback Offers.: Another of our favorite bonus offers, cashback deals, is great for those looking to hedge their bets a bit. The sportsbook will typically offer you a percentage back on your losses – usually between 5-10%. This means that if you make $200 in wagers and lose it all, the sportsbook may give you back $20 to help ease the pain. It's a great way of cushioning your losses and keeping your bankroll healthy.
There are always new and exciting promotions and bonuses in Pennsylvania; however, these are just some of the more common types you'll find. Keep an eye out for other unique promotions and offers, as sportsbooks are always trying to one-up each other when it comes to bonus offers. With that said, let's take a look at some of the best sportsbook bonuses in Pennsylvania right now.

Current Pennsylvania Sportsbook Promo Codes
There are 7 online sportsbooks really worth their mustard in Pennsylvania. Keeping up with the latest sportsbook promotions and bonus offers can be a bit of a chore, so we've done the hard work for you. Below is a list of all the current promo codes active in Pennsylvania and what kind of welcome offer each one provides.
FanDuel Online Sportsbook Pennsylvania Offer
Another powerhouse in the US sports betting world, FanDuel Sportsbook, is offering players a Bet $5 Get $200 deal when they sign up. This means that if your first bet loses, you'll still get $200 in bonus bets. It's a great way to give yourself some wiggle room and have a bit of extra cushioning on the first wager. We love these types of bonuses. What's even cooler is that they'll also give you $100 off NFL Sunday Ticket!
DraftKings Online Sportsbook Pennsylvania Offer
Ah yes, one of the biggest names in the US sports betting world. DraftKings Sportsbook is currently offering a $200 bonus for new players who sign up and make their first bet of $5. This offer is a lot like an odds boost of sorts. It's not the most lucrative bonus we've seen, but it's still worth taking advantage of.
Unibet Online Sportsbook Pennsylvania Offer
One of the newer names on the block, Unibet Sportsbook, is currently offering a generous Bet $25, Get $100 deal. This means that you'll get $100 in bonus bets after placing your first $25 wager- no questions asked. If you're already familiar with sports betting, this bonus is great for those who want to take a riskier approach. It's also great for beginners who aren't sure what bets they want to make and just want the security of knowing their first bet is covered.

BetMGM Online Sportsbook Pennsylvania Offer
You've probably seen the iconic MGM lion in movies and TV shows, so it's no surprise that BetMGM is a major player in Pennsylvania. They're currently offering players a $1,000 new account bonus when they sign up with them. This means that if you make a wager of at least $1,000 within your first 7 days after signing up and that wager loses, you'll get your money back up to $1000. It's a great way to hedge your bets and have some extra cushioning in case of unexpected losses. Be sure to use our exclusive promo code - EWBET1 - when signing up so you don't miss out on this awesome deal.
BetRivers Online Sportsbook Pennsylvania Offer
BetRivers is the last major sportsbook we're looking at, and they have a great welcome offer of their own. They're offering players a $500 second chance bet when they sign up. This means that if your first wager of at least $50 loses, you'll get it all back in bonus money up to $500. It's a great way to hedge your bets on the first wager and give yourself some added protection. You don't need a promo code to get in on this bonus. Also, it's worth noting that BetRivers has one of the best (if not the best) rollover requirements in the industry, with a 1x rollover.

PointsBet Online Sportsbook Pennsylvania Offer
This Australian-based sportsbook is fairly new to the US market, but PointsBet is already making waves with the welcome bonuses they're offering new players. They're offering $250 in second chance bets, meaning you get $250 back if your first bet of at least $50 loses. It's a great way to give yourself some added protection with your first wager and really get the ball rolling. Of course, when you sign up, be sure to use promo code BVIEW1 to get in on the action and claim your second chance bet.
What Makes the Current DraftKings Promotion the Best Offer in PA?
Follow these steps to lock in your Bet $5 Get $200 offer at DraftKings today:
Sign up at DraftKings and make a minimum deposit of $5. Register from the offer landing page.
DraftKings will give you $200 in Bonus bets after making your first $5 wager.
Use these bonus funds however you like!
DraftKings has upped the ante on this bonus considerably. In the past, this bonus offer was only a 20% deposit match. This is huge for new players in The Keystone State!
New sports gamblers in Pennsylvania will love how easy the DraftKings sports betting app makes it to place bets! The app is always as fast as lightning, and it is extremely user-friendly. It is one of the highest-rated sports betting apps on both the App Store and the Google Play Store!
PA residents will also love the giant player props offering that DraftKings Sportsbook PA puts out each day! No matter what your favorite sports league is, you'll find something you like at DraftKings. They also have an impressive amount of futures betting options.
Important Terms for Each Bonus Offer
As important as the total bonus is for each of the sportsbook promotions available in PA, the terms attached to each bonus can be just as important. Promotions available from some of the top sportsbooks in Pennsylvania can require as much as a 30x rollover before receiving your funds.
This would mean that to receive a $100 bonus, you would need to first place a total of $3,000 in bets. So, as you can clearly see, rollover is something to always pay attention to when deciding on what offer to sign up for in PA.
---
BetMGM Offer Terms
BetMGM recently revived its Second Chance bet offer to the state. For now, folks in The Keystone State can take advantage of a $1,000 Casino Bonus from BetMGM, which is ideal for folks who love casino games!
---
FanDuel Offer Terms
FanDuel is currently offering a Bet $5, Get $200 deal for new clients! All you need to do is sign up for a new account, make at least a $10 deposit, and make your bet on any game!
After completing these steps, FanDuel will load your account with Bonus bets! They'll also give you $100 off NFL Sunday Ticket! That's pretty hard to beat! FanDuel Sportsbook also has a phenomenal sports betting app that is easy to use on all mobile devices.
---
Unibet Offer Terms
Unibet just rolled out a new promotion for the NFL season for folks in Pennsylvania. This offer will give you a Bet $25, Get $100 deal when you sign up as a new customer. This is one of the top bonus bet offers in PA and just shows how aggressive Unibet is when it comes to signing up new customers.
This promotion offers a great way to build your bankroll, especially since you're getting $100 in bonus bets. That would be a great way to start off this football season. You could then put a few bucks down on the Philadelphia Eagles to win the Super Bowl.
---
BetRivers Offer Terms
BetRivers has our highest-rated deposit bonus from a Pennsylvania sportsbook this November . This bonus includes a Second Chance Bet of up to $500 and has an industry-best 1x rollover requirement. As we talked about above, a low rollover is the key to a solid bonus!
Simply register at the link found at the top of this page, make an initial deposit, and BetRivers will give you a Bonus bet to cover you if your first bet loses. While bonus funds are added to your account, they cannot be immediately withdrawn, but that being said, anything you win using your bonus funds is yours to keep.
Tips for Using These Pennsylvania Bonus Codes
We've put together some tips to help you maximize your potential when making use of the fantastic offers available from PA sports betting sites.
Capitalize on the Bonus
When a sportsbook matches your bet with a second chance bet or matches your deposit, take the time to capitalize on that bonus. Max out the bet or deposit so you can get the full return on the bonus. Often times sports bettors will deposit $50, so the match is only $50 when the sportsbook is willing to match up to $500. That's like leaving $450 on the table. Don't be that person.
Check the Rollover Requirement
You always want to check what the rollover requirement is for a bonus offer. It's likely going to range from 1x-3x, but it could also go much higher in some cases. If you come across an offer with a very high rollover requirement, make sure you understand what that means and whether or not it's worth taking advantage of. You'll also want to make sure you read the terms and conditions of any bonus offer you are considering. These are usually found online on the sportsbook website, but they can also be sent via email as well. This is important because these terms may have changed since the time the bonus was offered.
Keep an Eye Out for Promos
Sportsbooks are always offering new and exciting promotions, so make sure you keep a lookout for them! Many sportsbooks will email out special offers to their customers as well, so make sure you're subscribed to any newsletters or mailing lists that may be available. If they offer odds boosts for single games or reload bonuses for a specific period of time, you'll want to know about it so that you have the chance to take advantage.
Stick with what you Know
Don't bet on sports you're unfamiliar with. It's easy to get carried away when there are so many games and matchups to choose from, but it's important to stick with what you know best. If you don't feel confident about a certain game or match-up that's being offered, it might be best to pass on the bet altogether. For example, if you follow the NBA but there are only NHL games being offered, it's best to stay away. That way, you can use your bonus funds more effectively when you feel more confident about the game being wagered on.
FAQs for PA Sportsbook Promotions
Pennsylvania has enjoyed legalized sports betting for quite some time. Even still, new sports bettors are popping up all over the Keystone State, and they are sure to have questions. The following FAQ will help provide some clarity in regard to bonus offers in Pennsylvania.
Is sports betting legal in Pennsylvania?
Yes, thanks to the Pennsylvania Gaming Control Board, residents can now bet on sports legally in the state. Online sports betting launched in Pennsylvania in November of 2018. The growth of sports betting within the state has been remarkable.
How do I find the best bonus promo codes in Pennsylvania?
Be sure to bookmark our Best Pennsylvania Sportsbooks page as we will continue to update these rankings as sportsbooks update the promotions available to Pennsylvania bettors. Additionally, we add new sportsbooks to this page as new operators enter the PA betting market, so you may find your next sportsbook by visiting this directory on a regular basis!
What are the best bonus offers currently available in Pennsylvania?
DraftKings is currently offering the most lucrative bonus in the Keystone State for the month of November. All new players can enjoy $200 in Bonus bets after making a $5 bet! This is the perfect way to start your sports betting journey! We also highly recommend PointsBet Sportsbook because they offer up to $250 in 2nd Chance Bets. That's the largest Second Chance offer in the sports betting industry! It's also the perfect opportunity to try out their Points Betting format.
Can I play for free in Pennsylvania?
No, unfortunately, there are no online sportsbooks in PA that are currently giving away no-deposit offers. This may change in November when the 2023 NFL season cranks up, however, so check back soon. We'll keep you updated on all the latest news!
How do we identify the best bonus promo in Pennsylvania?
Our staff ranks each bonus promo according to the overall dollar amount, terms, and the amount of deposit that is required at signup. This gives our readers an overall snapshot of just how good each bonus is in Pennsylvania. We want to help you find the best online sportsbook for your sports betting needs.
When are the best offers available in Pennsylvania?
The most lucrative offers in the sportsbook industry always pop up shortly before the start of the NFL Playoffs. However, we expect to see some nice bonus offers in Pennsylvania sometime in November before the start of the NFL regular season.
How does the FanDuel bonus promo work?
The FanDuel Sportsbook Bet $5, Get $200 offer is a nice bonus for Pennsylvania sports bettors. Simply place your first bet, and FanDuel will give you Bonus bets if your bet wins or loses. It truly is one of the best deals in online sports betting!
How often do you update your offer rankings?
Our staff updates our bonus rankings quite often. It all depends on how often the sports betting operators change their bonuses, which range from weekly to monthly. This should help you quickly find the best sports betting sites in Pennsylvania.
Who are the most popular sports teams in Pennsylvania?
PA is a state that is rich in sports history! In the NFL, PA has the Philadelphia Eagles and the Pittsburgh Steelers, which are two of the most popular professional sports franchises in the country. PA also has two Major League Baseball teams, the Pittsburgh Pirates and the Philadelphia Phillies.
The NBA is also represented in PA with the Philadelphia 76ers. The NHL also has two teams, including the Pittsburgh Penguins and the Philadelphia Flyers. As far as college football goes, you'll find avid fans for both the Penn State Nittany Lions and the Pittsburgh Panthers.
How do I deposit money into a Pennsylvania sportsbook?
While each sports betting app has its own rules, all of them will accept major credit cards, debit cards, ACH through a bank account, and other options. Depositing money is easy, and it usually only takes a couple of minutes. Making a withdrawal is also easy as can be.
Can I bet on college sports in Pennsylvania?
Yes, online sports betting is allowed on all college sports in PA! This is sure to make hardcore fans of the Penn State Nittany Lions and the Pittsburgh Panthers quite happy. Both of these teams have quite the following in college football and college basketball.
Pennsylvania bettors must be 21+ and present to place wagers in the state. If you or a loved one is experiencing problems with gambling, call 1-800-GAMBLER or visit https://responsibleplay.pa.gov/.